Having long been the breeding ground for independent thinkers and those who eschew the traditional, Karangahape Road's new generation of hospitality operators are contributing exuberantly to the area's vibrant heart and soul, firmly establishing it as a destination for both gastronomic pleasure and rollicking good times.
We spoke to the owners of natural wine bar Clay and handmade pasta restaurant Cotto about how K' Road has become the go-to for diners seeking superb food in unpretentious settings, and what they love about the area.
Halfway down Karangahape Road, Dan Gillett and Brendan Manning, co-owners of natural wine bar Clay, are adding to the sense of culinary allure to the street. They launched their venture with a clear shared ambition, "From day one, our focus has been to have the most exciting wine offering in Auckland."
Having opened in December last year, Clay has proved itself a welcome addition to Karangahape Road's varied gastronomic scene, with its large, banquet-style shared table, mosaic floor and sun-trapping courtyard out the back.
With organic and biodynamically-grown, low-intervention wines only rising in popularity in New Zealand, Gillett in particular has been a key part of this movement on our shores through his import and distribution company Wine Diamonds. After meeting Manning in London at — where else — a natural wine bar, the two lamented the lack of establishments in New Zealand pouring the types of wines they liked to drink, and the idea for Clay was to be realised some two years later.
With a 200-strong selection of bottles in the space's five temperature-controlled fridges, Clay attracts a variety of demographics from regulars who come in for dinner each week, to couples on date night and families having a catch-up. "We don't just tick the box for one demographic of people," says Manning.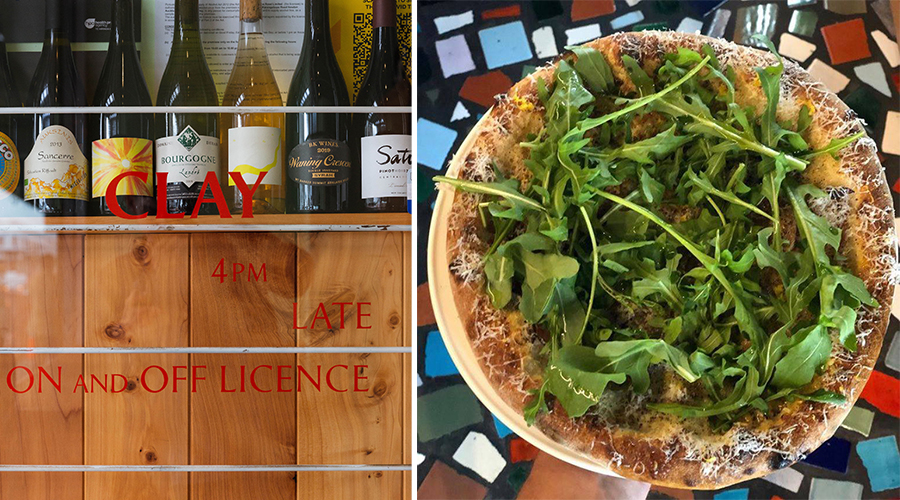 Changing weekly, chef Ray O'Connor's menus revolve around inventive but never over-complicated sharing plates. There's always a sourdough pizza or two, a handmade pasta (O'Connor's speciality) and usually a good proportion of vegetable-focused dishes to boot. The food fits with Gillett and Manning's philosophy of simplicity done well.
As for the bar's location, they wouldn't want it to be anywhere else in the city, says Gillett. "K' Road appealed a long time ago, and it still does. One of the reasons it's become so interesting is it's one of the last remaining affordable places to rent in Auckland, that's still close enough to where everyone is. There's everything you need here, be it public transport or options for dining, drinking, galleries and more."
"I think it also makes it a lot more authentic," adds Manning, "because it's not been set out in a very strategic way. It's a lot more organic the way people have come here, and I think now that's reflected in the way it's more of a dining destination, a dining precinct even, that you don't even have to walk 100 metres on K' Road and there will be somewhere nice to drink."
Despite the obvious recent challenges, the duo are optimistic about the future of Auckland's hospitality industry as a whole. "In any period of downturn, it forces the competition to work harder, to be better, to improve on their offering and not become complacent," says Gillett. The pressure's on, he says, but ultimately he thinks it's for the good of the industry. "If we have to work harder for it, that's good for us, it's good for the customer, and overall it's good for the industry because we improve on what we're doing, and we can take ourselves to a point where we can stand head to head with bigger, more popular cities around the world."
Manning agrees: "During the time that I've been in Auckland, I've never seen such an inspiring range of hospitality offerings. It's great to have that energy in the industry, for both the people in it, and for the people who live here coming to experience it."
Across the street, Cotto has had a large part to play in channelling this energy. Its menu is a love letter to the beauty and satisfaction of handmade pasta, and a testament to the power of honing in on a singular vision. So too is the fact that, at peak dinnertime most nights, there's roughly a two-hour wait to get a table.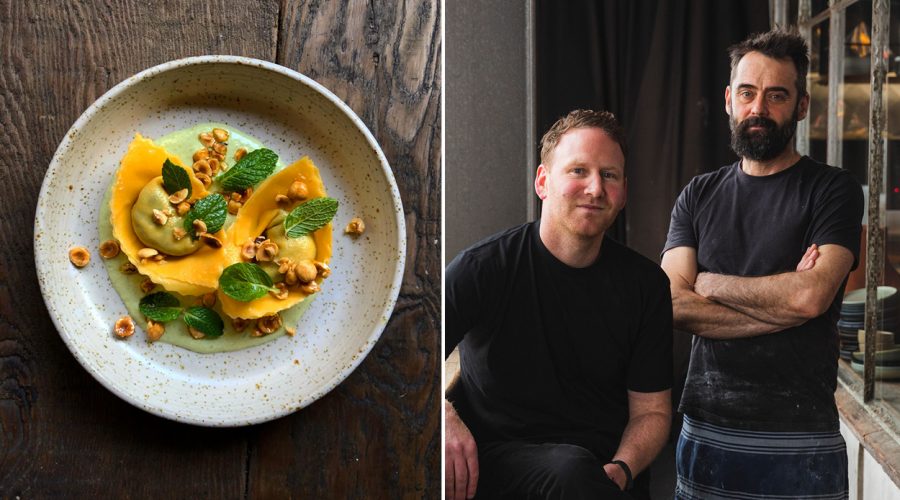 Helmed by chefs Hayden Phiskie and John Pountney, Cotto started life as a pop-up in 2017, inside what was then 69 bar at 375 Karangahape Road. Shortly after, 69 had run its course and Cotto, which had been immensely popular even then, took over the premises.
"For John and I, it was important to have a concise offering," explains Phiskie. "It terrifies me when I see a huge menu, when people try and do something to appeal to everyone. How do they do that? How is it fresh, and how is everything going to be good?"
Sticking with a seasonally-focused selection of handmade pastas, plus a handful of protein and vegetable options should someone not want (or not be able to eat) the aforementioned, Cotto's exquisite dishes are affordable, designed for sharing, and come out as and when they're ready — not a new concept by any means, but at the time of its creation, there wasn't anyone doing the same thing with pasta that Phiskie loved about visiting any one of Auckland's noodle or dumpling houses.
"We want everyone to feel welcome and for Cotto to be inclusive," says Phiskie. "That's our main objective. I really love it when we see the customer base. It sounds cheesy, but I don't want to make it exclusive to people of a certain bracket — it's a good business decision too, but I just think it's awesome that everyone can come and feel comfortable."
Indeed, looking around on any given night at Cotto, which does a roaring trade in group bookings thanks to the size of the space (and a new, large function room upstairs), one might see a family gathering, a table of friends starting their night out with a plate of pasta, work functions, and more. It echoes the Cotto team's love for K' Road and all its various walks of life co-existing.
As for its steady transformation into a dining destination, Phiskie remembers how different things were even a decade ago. "Ten years ago you wouldn't come to K' Road [to eat] — maybe you'd go to Coco's, but usually you'd walk down and maybe go to a club. Now, you come and dine here, it's so cool."
While each plate at Cotto is visually beautiful, at its core pasta is food that lacks pretension — no microgreens or smears here. "That's the cool thing about pasta, you get rid of all that bullshit. You can only put, like, three flavours on a plate and every one of those flavours has to be really strong. There's nowhere to hide."
Cotto will always be synonymous with Karangahape Road, says Phiskie. He also believes there's a lifespan to restaurants, but says "I don't think we've hit that yet." The restaurant's legions of loyal diners are sure to agree.