While one of the most humble and homely eats around, there's no denying there's an art to the perfect sandwich. From bread to filling ratio, to condiments and accoutrements, there's plenty to consider when it comes to crafting a tasty sammie. Luckily, we've done the hard work for you and narrowed down the best places in Auckland to find an excellent sando, and which signature creations are worth sinking your teeth into.
Pastrami & Rye
Ellerslie deli and sandwich house Pastrami & Rye has been on our radar since it opened, serving up truly drool-worthy sandwiches since 2017. Inspired by the bustling delis of New York City, Pastrami & Rye proudly cures its own meats and churns out homemade preserves and pickles. It's tough to pick just one sandwich from its star-studded line-up, but the Cubano, a swoon-worthy creation with pork, ham, pickles, mustard and melty cheese, is a hard one to beat.
Caffetteria Allpress on Drake St
While they may look uncomplicated, one bite of Allpress Caffetteria's delectable sandwiches will quickly teach you not to judge a book by its cover. Some of the fillings change on a daily basis but the tuna, egg and mayo along with the Reuben are the staples we've come to rely on come lunchtime. The fillings in the vegetarian sandwiches change seasonally, but when you see the pumpkin with pecorino cheese and walnut, don't think twice before ordering.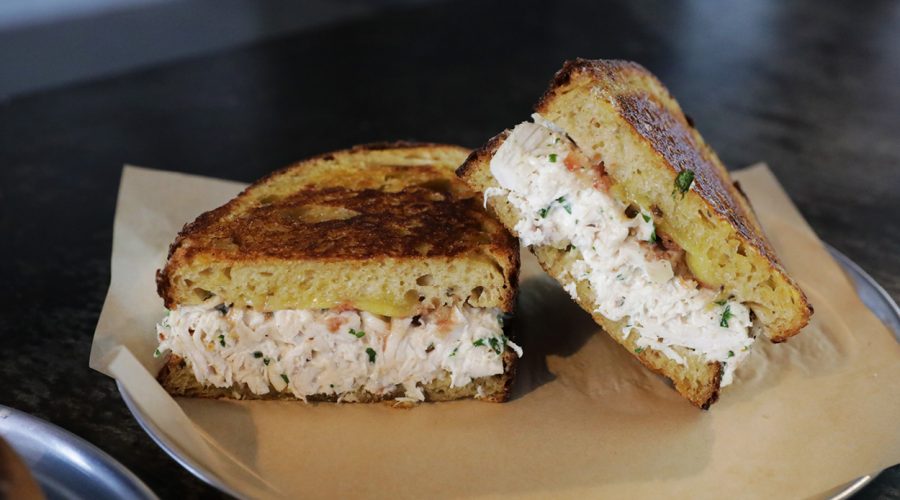 Hero Sandwich House
Hero Sandwich House's expertly made sandwiches are so in demand it added a second location to its stable earlier this year. Serving up a mouthwatering selection of sandwiches, buns, bagels and rolls, Hero's approach to sandwiches is simple but never boring. Try irresistible iterations of American classics such as the Rueben, Philly cheese and tuna salad, or go for our favourite — the CBJ. Layered with heavenly chicken, melted cheddar and a swipe of bacon jam for good measure, this thick and tasty number requires two hands for eating.
Hare and the Turtle
When an eatery doubles down and does one thing, and one thing well, you know you're on to a good thing. This is definitely the case with neighbourhood hotspot Hare and the Turtle, which has become the city's suburban sandwich don since it opened in New Windsor in 2017. The secret? The housemade buns, which manage to be fluffy, soft and perfectly crusty, all at once. We can never go past the eggplant parm, a solid offering of panko fried eggplant, housemade tomato sauce, provolone cheese, mayo and basil.
The Mercury Plaza
Keeping the spirit of Auckland's iconic Mercury Plaza alive, Cross Street's The Mercury Plaza has a solid reputation for serving some of the best cabinet food around. While we are partial to its toasted sandwiches (mince and cheese, anyone?), they also do a mean range of sandwiches and rolls. While the selection changes daily, you can trust chef Ryan Pearce (formerly of Avondale's Te Whau eatery), to serve up goodies like better-than-a-bakery chicken mayo buns with pickles, cheese and the obligatory slice of boiled egg.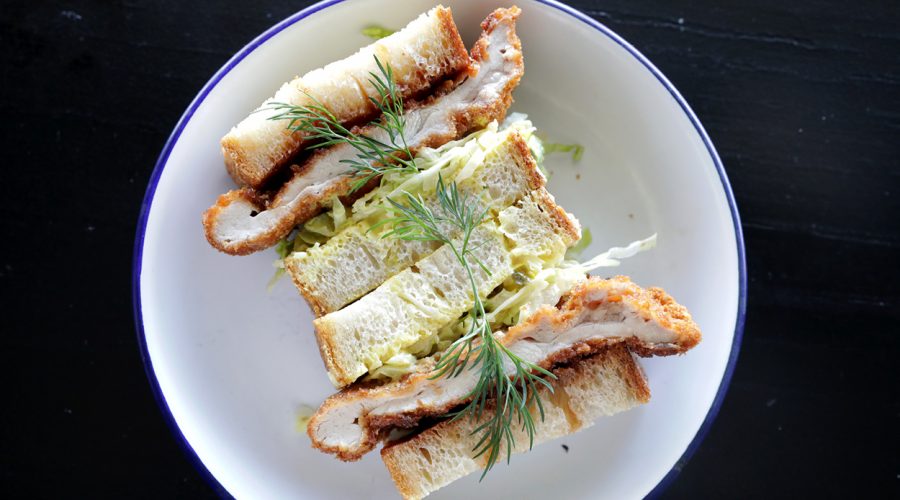 Young George
Neighbourhood eatery Young George may have only just opened its doors, but this humble hidden gem has already got a solid following for its selection of sandos and top notch coffee. Tucked away in a tiny block of shops in the Mt Albert suburbs, Young George serves up some of the best sandwiches we've sampled, seven days a week. The chicken sando is unmissable, comprising of juicy crumbed chicken slathered with tonkatsu sauce and deliciously tangy 'special sauce' — reminiscent of Big Mac sauce or something similar — sandwiched between ultra-soft Japanese milk bread, toasted for a bit of crunch.
Fort Greene
The folks at Fort Greene make some of the best loaves in town, so it's no surprise they're also responsible for some of the city's most impressive sandwiches. Its recognisable Karangahape Road storefront (painted a pleasing shade of green) is the ideal place to settle in for a lunchtime sandwich and grab a loaf of sourdough to go. While the fish sandwich, boasting homemade kahawai fish fingers, mushy peas and tartare sauce, has become somewhat of an icon, the vege one is not to be missed. Its combination of tofu cream, homemade kimchi, pickled wakame and sesame rye lavosh cracker for added crunch is a vegetarian dream.
Lowbrow
Lowbrow's sando selection is a thing of glory — an expertly curated list rooted in nostalgic flavours from childhood (but done way, way better than you remember). A cheeky take on fast food favourites, creations like the Mac Daddy complete with brisket patty, iceberg lettuce, melty cheese and mac sauce have all the comfort of a classic drive-thru meal (with chef-made patties, sauces and restaurant-worthy ingredients, mind you). Our favourite, however, is the fish sando with hot spiced tempura fish, iceberg lettuce, tartare sauce and cheese on a seedy sesame roll. Yum.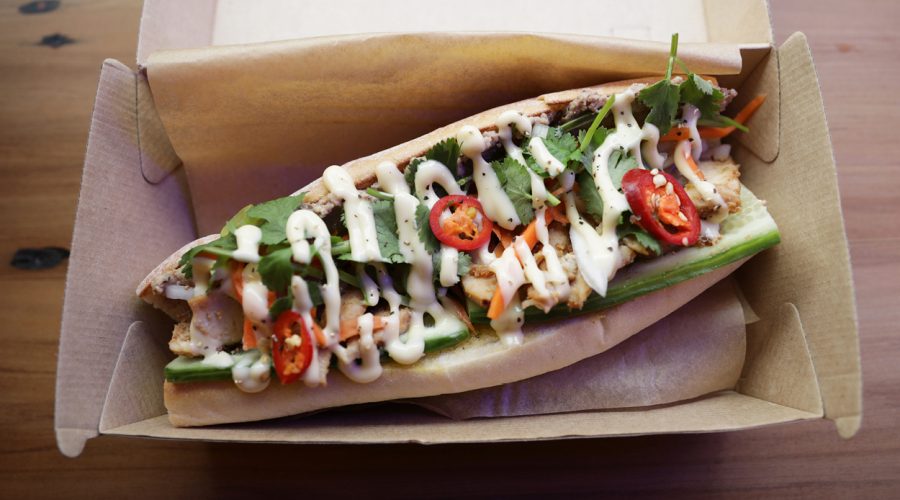 Luna's Express
When a bánh mì craving strikes, best scamper down to Luna's Express, a popular inner-city lunch spot that's home to one of the best bánh mì in Auckland. This traditional Vietnamese roll is what sandwich dreams are made of — filled with chicken pâté, pickled vegetables and plenty of herbs. Whether beef, chicken or tofu (complete with vegan pâté) is your speed, there's an option to suit your tastes. Plus everything is made from scratch, from the bread to the pâté. What more could you want?
Omni
Since it opened in July, there is one particular dish that has captured the hearts and taste buds of Omni diners — the katsu sando. The only sandwich on a menu peppered with a delectable variety of chicken skewers and various sharing plates, Omni's iteration is the ultimate ode to this quintessential Japanese street food. The pairing of juicy, panko-coated handground chicken patty with perfect circles of fluffy white bread and crunchy cabbage is simplicity at its most delicious. Pair with a frosty craft beer and you're in for a treat.
The Crab Shack
The Crab Shack has re-opened in a covetable new location (previously occupied by The Culpeper), and with this has launched a refreshed menu with old favourites and new offerings alike. One new dish to note is the crayfish and prawn roll — a buttery indulgence filled with a mouthwatering mixture of crayfish, prawn, Old Bay spice and chipotle mayo. Yes, while it's not strictly within the parameters of a traditional sandwich, we do classify the crayfish and prawn roll as a bread-based cousin that should not be missed.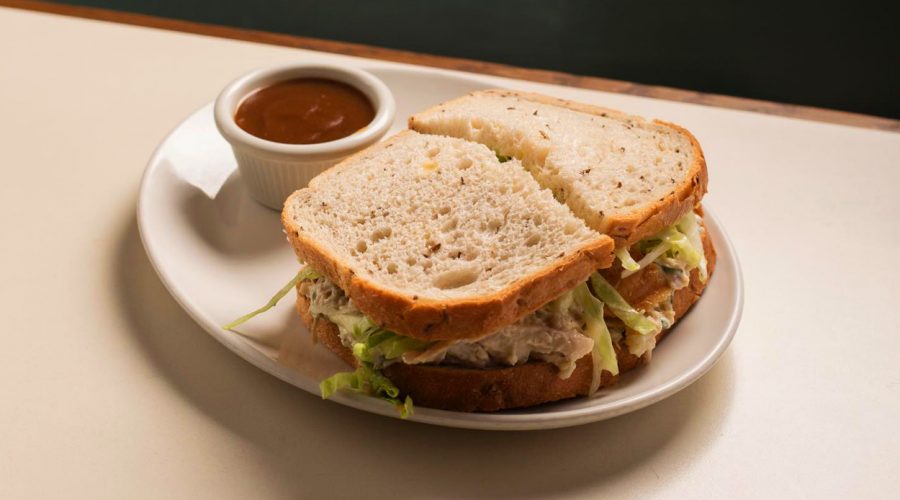 Federal Delicatessen
If there's one thing we can trust in these uncertain times, it's The Fed's ability to turn out a damn good sandwich. The Federal Street institution's chicken salad sandwich has reached cult status — for both its consistency and its undeniable deliciousness. Composed of a magical chicken-mayo mixture, crunchy iceberg lettuce and crispy bits of chicken skin for good measure, this sandwich famously comes with gravy on the side for dipping. Available from lunch 'til late, this sandwich is here to satisfy cravings at all hours.
Daily Bread
Daily Bread is no slouch when it comes to sourdough, with five locations around town (including a new city kiosk) to keep fans of its loaves, pastries and pies well-fed. Fittingly, its sandwiches are in just as high demand, with fresh baguettes, hot milk bun sandwiches, sourdough toasties and ciabatta sammies all up for grabs. While offerings differ at each site, you can rely on finding the chicken baguette wherever you go — its combination of chicken, cream cheese, artichoke, herbs and jalapeno is too good to miss.