"An ice cream a day" might be our summer mantra, but this frequency can make it necessary to branch out from the typical flavours. From gourmet gelato to classic cones, these are the best ice cream scoops to seek out around Auckland.
Duck Island
One of our favourites has to be Duck Island's Salted Caramel & Cacao Crumb flavour, perfectly sweet with a moreish hint of salt, finished with clusters of cacao nib crumbs layered throughout to offer a bit of chew and texture. That said, this renowned ice cream purveyor has just released a new flavour which is looking set to become our summer go-to. Strawberries and Cream sees fresh strawberries whipped into something delicious and nostalgic, with just the right amount of sweet.
Find Duck Island in Ponsonby, Takapuna and Newmarket. See here for details.
Miann
The Pistachio, Honey & Baklava flavour from Miann is a fragrant treat that sees candied pistachio praline and smashed baklava rippled through a pistachio-based gelato. Or, if you're after something slightly more indulgent, the Sea Salt Caramel gelato loaded with caramel sauce and roasted walnuts is an utter showstopper.
Find Miann in Ponsonby Central and in Britomart (next to Tiffany & Co.) See here for details.
Little Lato
Taking nuttiness to a whole new level Little Lato's indulgent (and award-winning) Peanut Butter Chocolate flavour. It's even dairy-free, so plant-based eaters can also enjoy a scoop or two. Otherwise, find uniquely mouthwatering flavours like Christmas Pudding, Vietnamese Iced Coffee, Lime, Coriander & Grapefruit and Vanilla Cookies at this always-creative ice cream outlet.
Find Little Lato in Point Chevalier, Titirangi Rise, Kohimarama Beach and Orewa Beach. See here for details.
Charlie's Gelato
An absolute institution in Warkworth, Charlies Gelato is the perfect place to pick up a scoop or two before enjoying a stroll around Matakana. The Black Doris Plum Sorbetto is heavenly, but even better when paired with the best-selling Dark Chocolate. You're welcome.
Find Charlie's at 17 Sharp Road, Matakana. See here for details.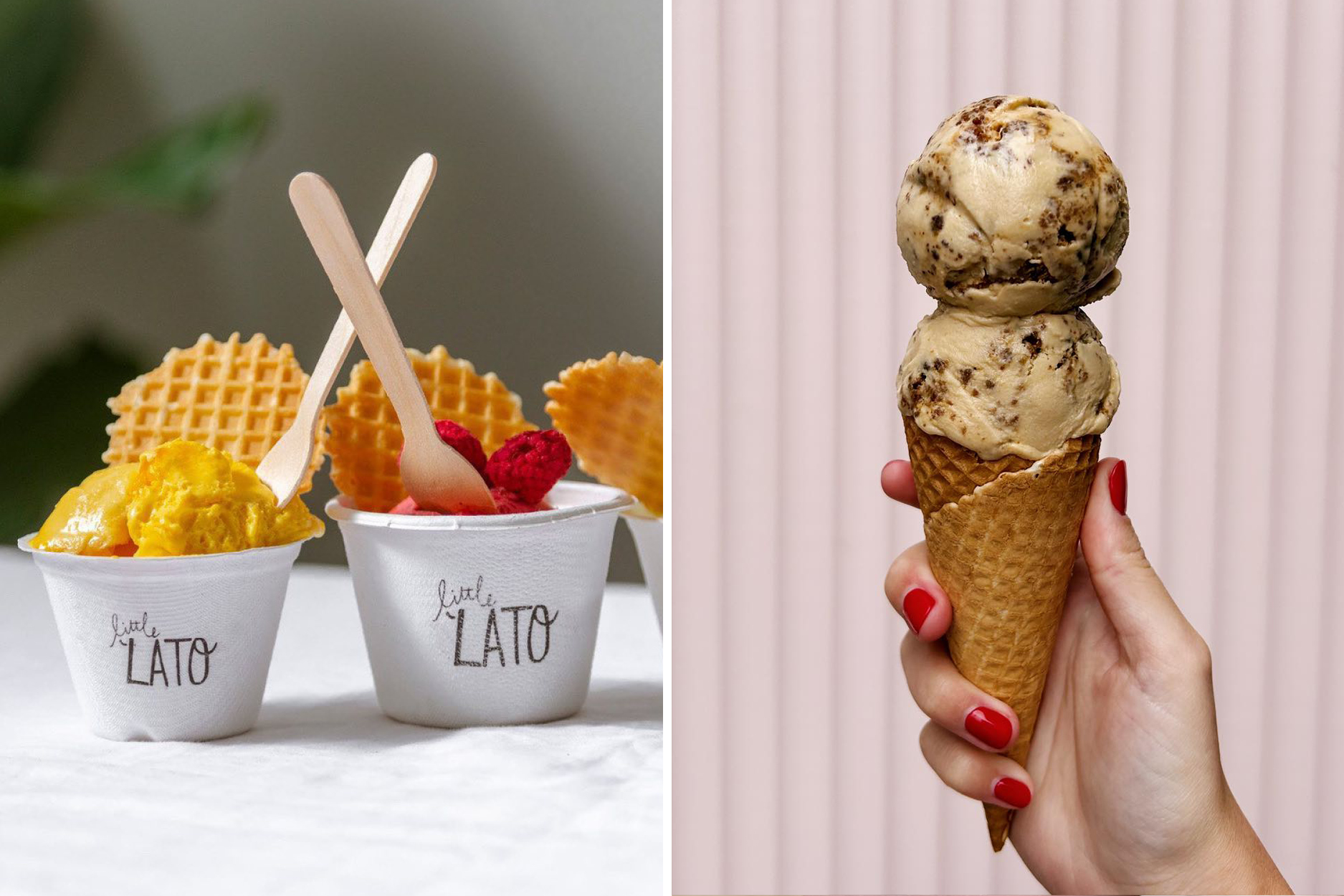 Island Gelato
There is a reason that Island Gelato has expanded well beyond its Waiheke Island beginnings — the flavours here are exceptional. In fact, Island Gelato took home 13 awards in this year's Ice Cream and Gelato Awards, an acknowledgement of the creativity and quality at play with these clever purveyors. Here, find options like Blueberry and Lime sorbet, Salted Coconut and Passionfruit Sorbet, Chocolate Mandarin Coconut gelato, Dulce and Buttermilk gelato and so much more.
Find Island Gelato in Auckland CBD, Ponsonby, Newmarket, Waiheke Island and Mission Bay. See here for details.
Giapo
Operating under the philosophy that 'normal ice cream is boring', head to Giapo for something a little less 'vanilla'. Here, from the cones to the flavours to the toppings, there is no limit to the ice cream makers' creativity, frequently dubbed the best ice cream in Auckland. And while there are a number of showstopping scoops to choose from, the Coconut Chocolate Cookies and Cream is always a winner — so creamy you'd never know it was vegan.
Find Giapo at 12 Gore Street, Auckland CBD. See here for details.
Ben & Jerry's
One for the seasoned sugar fans that love a bit of extra buzz, Ben & Jerry's Coffee Coffee BuzzBuzzBuzz flavour comprises a base of coffee ice cream with espresso bean chocolate chunks. Otherwise, opt for this iconic purveyor's new Sofa So Good Together flavour, which combines a creamy, salted caramel swirl with chocolate cookies and chewy brownies.
Find Ben & Jerry's in Commercial Bay, Ponsonby, Sylvia Park and more. See here for details.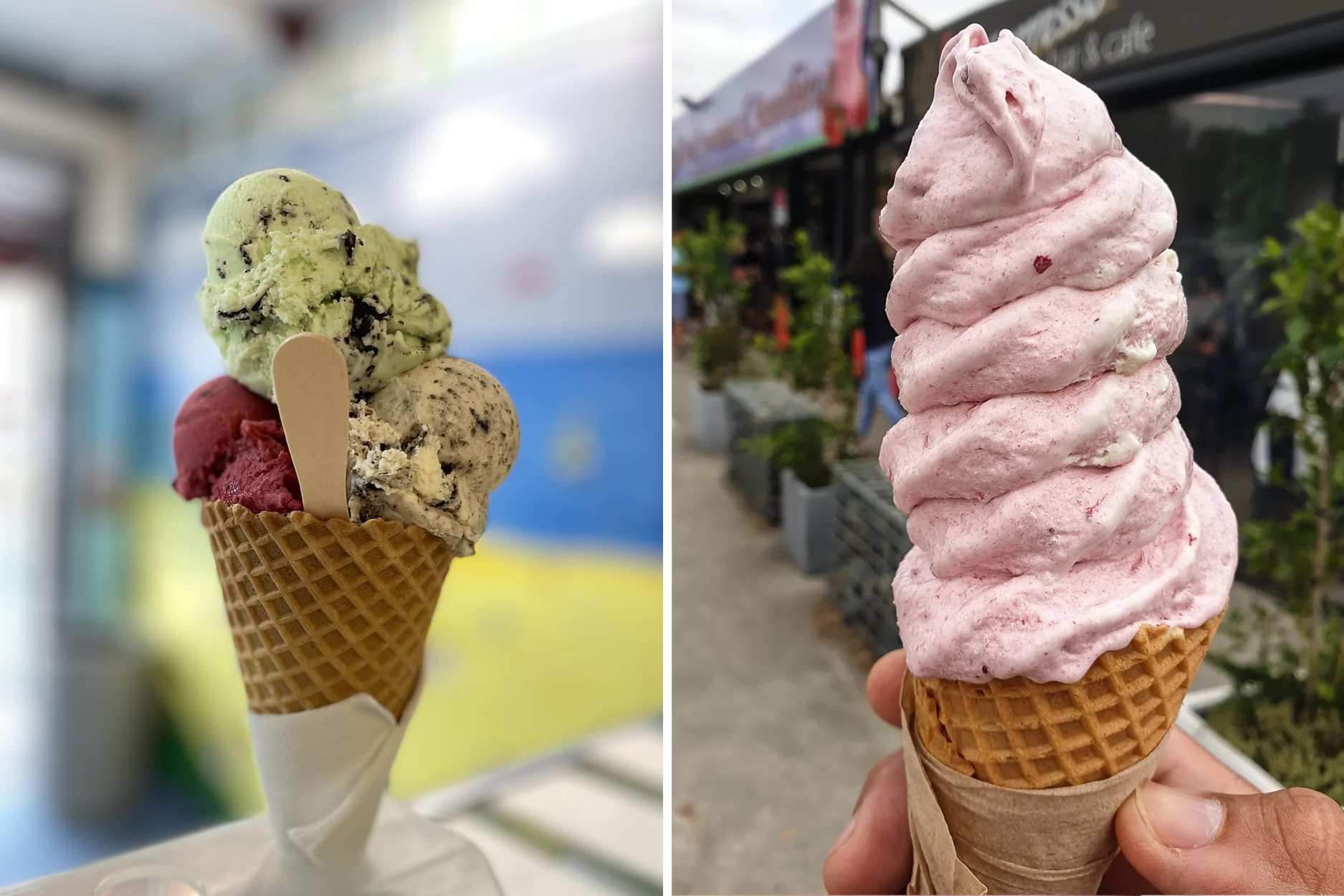 Penguino
Take a trip down memory lane at Browns Bay's iconic gelato parlour, Penguino — renowned for its deliciously creamy, handmade scoops and tasty flavours that change daily. If you can get your hands on a scoop of the Cotton Candy or the Coconut Choc Chip, you're in luck.
Find Penguino at 55 Clyde Rd, Browns Bay. See here for details.
Phil Greig Strawberry Gardens
Heading to Muriwai for a beach day? Stop off in Kumeu at Phil Greig Strawberry Gardens for real fruit ice creams and smoothies. Generously sized even if you order the smallest version, our favourite is always a frozen yoghurt, mixed berry combo.
Find Phil Greid Strawberry Gardens at 464 State Highway 16, Kumeu. See here for details.
Movenpick
Of course, summer in the City wouldn't be the same without a walk along Mission Bay, finished off with a scoop from Movenpick. Our favourite would have to be the classic tiramisu in one of Movenpick's renowned waffle cones. That said, there are Movenpick locations all around Auckland, if you can't make it out East.
Find Movenpick in Mission Bay, Ellerslie, Mount Eden, Newmarket, Parnell, Auckland CBD, Maraetai and Takapuna. See here for details.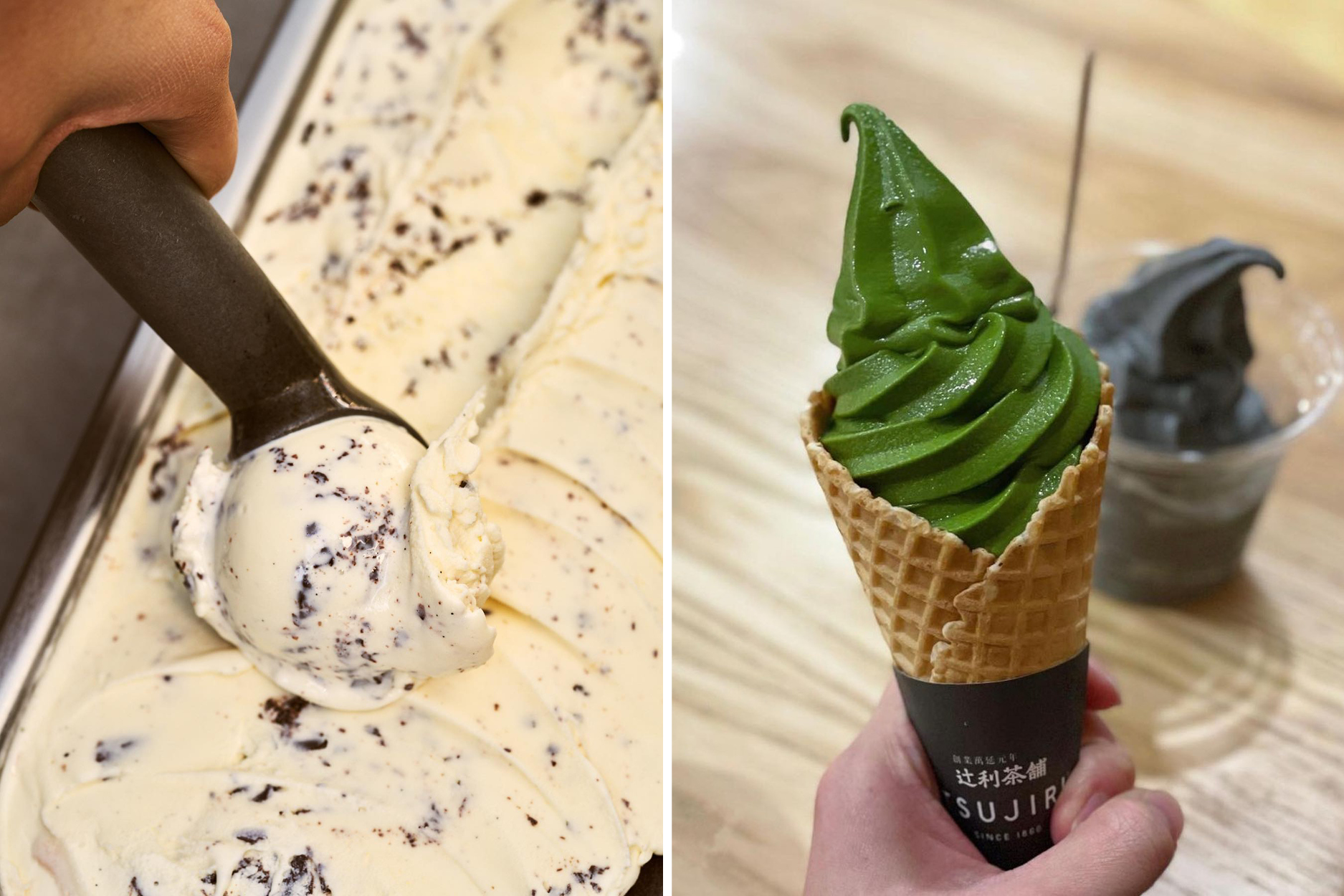 Tsujiri
Mad for matcha? Tsujiri has two locations in Auckland and undoubtedly serves the best matcha soft-serves in town. A niche but always very delicious option, quickly earning a place as some of the best ice cream in Auckland.
Find Tsujiri on Lorne Street and in Newmarket. See here for details.
Takapuna Beach Cafe
During the long and hot days of summer, you can't go wrong with a trip to the North Shore, especially when it includes a stroll along Takapuna Beach. This is only made better with a scoop (or two) of gelato from Takapuna Beach Cafe in hand — where you can find flavours like Cool Mint and Bittersweet Chocolate, Blood Orange Sorbet, Chocolate Hazelnut gelato and Honeycomb gelato.
Find Takapuna Beach Cafe at 22 The Promenade, Takapuna. See here for details.
Ollies Burgers & Ice Cream
An iconic ice cream parlour that offers some of the most beloved, nostalgic Tip Top scoops around, Ollies Burgers & Ice Cream in Royal Oak has been running for 50 years and is still a firm favourite among those looking for a satiating scoop. Proving that you can't beat the classics, this recognisable corner spot is a summertime must-visit.
Find Ollies Burgers and Ice Cream at 802 Manukau Road, Royal Oak. See here for details.