The Auckland brunch scene was taken aback when Billy Cafe entered the game with its other-worldly creations such as hashbrown sandwiches and coconut cake French toast. Now, the culinary genius behind those dishes, Jenny Hongthong (originally from Thailand) is starting to make waves in another scene, teaming up with her Billy collaborator, Poom Saengngam to open Thai restaurant — Soho.

Located in Smales Farm's ever-growing food hub, The Goodside, Soho sits right opposite Fantail and Turtle and next to &Sushi. Quite frankly, it's impossible to miss, as the wafting scents of fresh Thai herbs and steaming coconut green curry lure you towards its doors from the moment you step foot in the vicinity. The fit-out is pristine and refined while remaining comfortable and casual, and is able to seat up to 60 patrons.

Soho's menu boasts authentic Thai dishes that are painstakingly prepared from scratch and centre around the use of fresh, premium ingredients. And while ordering a Pad Thai at a Thai restaurant would, under normal circumstances, be unoriginal and safe, Soho's Pad Thai is a must-order dish. The king tiger prawns are cooked perfectly to remain plump and are mixed in with the rice noodles laced with crispy dried shrimp, crunchy peanuts and a slightly spicy tamarind sauce to stop the dish from being overly sweet.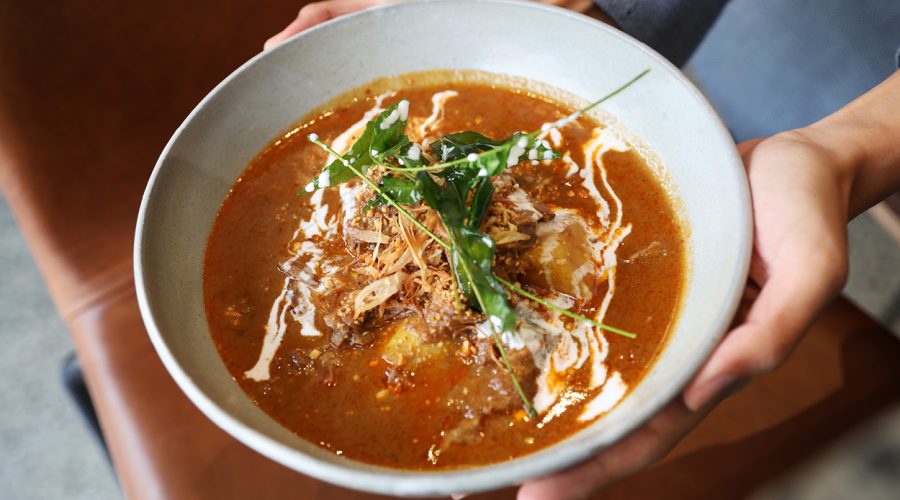 The house signature massaman curry is another classic executed perfectly. The creamy, thick, gravy-like curry is filled with tender morsels of lamb that melt apart effortlessly in every mouthful. Large chunks of sweet kumara are added to the curry to give the dish some heartiness before it is garnished with fried, aromatic herbs and a drizzle of coconut cream. Soho is not afraid to experiment with more modern renditions of Thai cuisine either, and this is seen in the crispy skin lemongrass snapper tacos with green papaya slaw and roast beef shin marrow — a real standout dish. The braised beef brisket has been infused with Thai Panang curry and sits on top of succulent bone marrow for a rich, flavoursome dish unlike any we've tried before.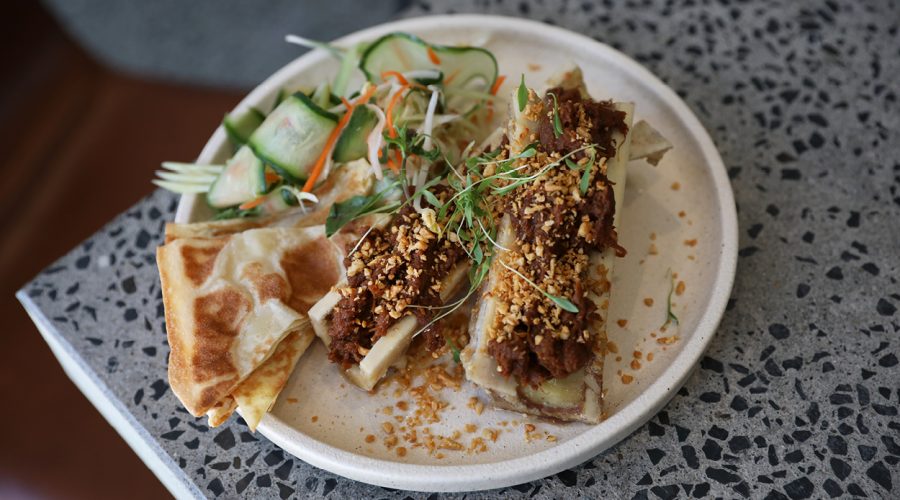 Managed by Joyce Lauese (also the manager at Billy) whose attention on offering perfectly-roasted coffee is something she's brought from her previous position, Soho churns out premium, morning java for the workers in the Smales Farm area, before transitioning into a bar at 11am. The cocktails draw inspiration from traditional Thai flavours and offer a comprehensive line up of entirely original, refreshing libations. The tom yum negroni contains the classic notes of deep and bitter gin and Campari but is given a spin with kaffir lime and chilli to mimic the sweet and sour profiles of a tom yum soup. The pandan margarita is a refreshing potion of tequila and Cointreau and is sweetened with a fruity and aromatic pandan syrup for a subtle yet distinct flavour.

It seemed as though The Goodside couldn't get any better. But Soho is taking the precinct to a whole new level and the Takapuna locals should consider themselves lucky to have a restaurant of this calibre in such close proximity. As for us? Trips across the bridge are becoming much more frequent.
Opening hours:
Monday — Friday, 9am until 10am (coffee service), 11am until late
Saturday and Sunday, 11am until late

Soho
The Goodside at Smales Farm
72 Taharoto Rd
Takapuna
Auckland