It's ten o'clock in the morning in Auckland, and I'm sitting in a conference room waiting to video call with one of New Zealand's most successful entrepreneurial exports. He's in San Francisco, so when my screen flickers to life to reveal him in a similar room, it's lit with a three-pm glow. Perhaps it's because we're competing with the lackadaisical nature of his late-afternoon time zone that the technology we are relying on refuses to work. Or, at least, that's what I think as he shrugs apologetically through the screen after a few failed attempts to switch the sound on.
"I'm so sorry about that," Tim Brown says, his first words after the two of us decided to cut our losses and chat over the phone instead. It feels like a somewhat ironic start to an interview with someone for whom tech innovation has played such a pivotal career role. If you weren't already familiar with Tim Brown, you wouldn't have been able to remain in the dark much longer. With Allbirds, his Silicon Valley start-up now reportedly valued at an eye-watering US$1.4 billion, the former professional football player (Brown's previous career saw him representing New Zealand as the captain of the All Whites) alongside his business partner Joey Zwillinger, is being hailed as a pioneer in the realm of sustainable footwear, having created a shoe that, soon after its launch in 2016, Time Magazine dubbed 'the most comfortable in the world.'
"It felt like a bit of a nod to all the hard work that had been done with our material innovation," Brown tells me, speaking about how this initial accolade for the brand was a significant moment in his entrepreneurial journey. "We launched three years ago with four employees out of the garage of my business partner's mother-in-law," he explains, underlining how, despite the appearance of very quick success with Allbirds, it hadn't been an overnight triumph. "It was a bad idea for seven years before it was a good one," Brown chuckles, citing the years of research and painful trial and error it took to create the shoes that Allbirds is now renowned for. And it has to be said, they certainly live up to their reputation.
The distinguishing feature of Allbirds shoes is their revolutionary fabric. Made from superfine New Zealand merino wool, Allbirds' signature styles are impossibly soft, water-resistant, temperature-regulating and machine washable and at the time of their release were, as Brown says, "something that really hadn't been done before." But rethinking the traditional footwear model has been Allbirds' driving mandate since the beginning. "We took a contrarian approach to building a business in footwear based on years of seeing how the industry had done it, with a belief that there was an opportunity to do it differently," Brown says, explaining how, while simple design and superior comfort were and still are key factors in the brand, it was the idea of sustainability that transformed Allbirds from a good business into a groundbreaking one.
"I think the realisation of the larger purpose of the business took some time," Brown articulated, "but it's been critically important to unearth because it's the driving force — the difference between doing something really well and doing something great." Although sustainability in the wider context of fashion has become a topic of increased discussion and debate, its zeitgeist-y nature making it the crusade of choice for fashion-weary Millennials, in the footwear industry, there has been a conspicuous ignorance of the issues. Globally, the industry emits a staggering 700 million tonnes of carbon dioxide every year, with an annual production of around 20 billion pairs of shoes. It's as prolific in production and sales as it is detrimental to the planet, and, until Allbirds came along, there were very few companies endeavouring to change those statistics. Brown and his company is one of the few existing in the sustainable fashion space whose commitment to the cause goes beyond 'greenwashing,' to produce very real, tangible change. So much so, that Allbirds attracted early funding from a number of environmental bigwigs, like the actor Leonardo DiCaprio, who made an undisclosed investment in the business last year.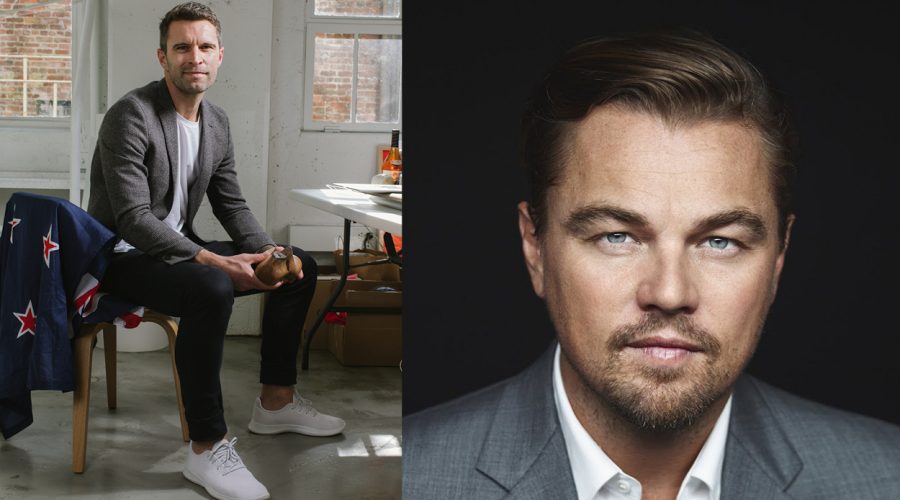 The wool used in Allbirds' original sneakers comes through organisations like ZQ Merino that work to ensure high standards of farming, environmental management and animal welfare. And after the first collection landed to much acclaim, Brown and his team released a second major material innovation that saw a slightly sportier range of shoes fashioned from South African tree fibre. Breathable and flexible, the brand's TENCEL™ Lyocell fabric uses 95 per cent less water than traditional materials like cotton and is FSC Certified (meaning it meets strict requirements around forest conservation). The ethos of sustainability even extends to the smaller details. The laces in Allbirds' shoes are made from recycled plastic bottles. The packaging is made from 90 per cent recycled cardboard. The eyelets come from a bio-based material created thanks to microorganisms that consume plant sugars. And Brown tells me that they have recently released another milestone innovation, in the form of an eco-friendly EVA which, in its synthetic form, is one of the most commonly-used materials in the soles of shoes. "It's basically a green EVA made from sugar cane," Brown explains, "carbon negative in its raw form."
Notable beyond the astonishing science at play is the fact that Brown decided to make this pioneering new material (aptly named SweetFoam™) open-sourced to the wider industry. "I found out today that there have been an enormous number of other companies that have come to test it out and use it," he tells me, "so it feels like a completely new model for how to do business in the footwear space." It's something Brown says reminds him that Allbirds is just a "tiny drop in an enormous market", and although it's true, it feels compellingly humble considering the significant waves that his "tiny drop" has initiated.
Perhaps this comes down to his work ethic. Explaining the painstaking development process of SweetFoam™, the entrepreneur tells me, "we spent two years working on it and eventually released it as a flip-flop," quickly clearing his throat before correcting himself, "jandal." It's a slip of the tongue that reminds me of Brown's inherent Kiwi-ness. Regardless of the Silicon Valley origins of his business, he still embodies the archetypal traits that have long given New Zealanders the ability to punch above our weights. They are traits like a dauntless work ethic, a quick humour and a propensity to be humble and it's clear that part of Allbirds' success lies in the fact that, in many ways, it embodies the same values as its co-founder. "I think the Allbirds brand has been built with a Kiwi sensibility," Brown says, "going after something very, very serious, like sustainability, but not taking ourselves too seriously in the pursuit of that challenge." And he's right. The quirky, cartoon motifs that weave through Allbirds' branding combined with their cutesy environmental puns make talking about a subject as dense and often discouraging as the future of the environment far more approachable.
But Brown is keenly aware of his mission and the urgent need for change beyond simply encouraging people to reconsider the environmental cred of their trainers. Recently, he announced the Allbirds Carbon Fund, and with it, the fact that Allbirds was transitioning into an entirely carbon-neutral business. The fund has seen a self-imposed, internal carbon tax put into place, related to every tonne of carbon dioxide Allbirds emits (from the sheep on the merino farms to the lights in the office). Proceeds from the fund are put towards supporting various emissions reduction projects, and with every pair of shoes bought, the Allbirds customer can decide which of these projects they would like a portion of their purchase put towards. It's an unprecedented move and something Brown says he feels particularly excited about. Alongside the fund, Allbirds recently released a new style of shoe that feels like a culmination of all the work Brown and his team have done so far. Made from the company's tree-derived material with soles of comfortable SweetFoam™, the Tree Breezer slip-on flats are an entirely new look for the brand and signify a definitive new chapter in its development.
But despite the incredible breakthroughs, the widespread recognition and the external acknowledgement of his success, Brown doesn't come across as someone who could ever rest on his laurels. When asked what kind of advice he would give to other young entrepreneurs, Brown insists the importance of trusting your gut and listening to your instincts. "I think the idea of challenging conventional wisdom and doing something that people haven't thought of before necessities that people will probably think it's a little silly," he says, underlining how in the beginning he had to forge on, relying on a mix of bravery and confidence in the face of numerous people maintaining that what he was trying to achieve simply couldn't be done.
On the cusp of welcoming his second child, I asked Brown about the idea of legacy and what he hoped to leave behind for his children and in turn, theirs. "When Joey and I got together we genuinely imagined a business that we would tell our grandkids about," Brown replies, "a business based in sustainability and one that was, hopefully, part of the leadership in a revolution of the way things were made." It's a vision he's on track to achieve. But for all of his success and for all of the ways he is shaping the conversation of sustainability in fashion, Brown is just one person who has set out to make a difference in a world where people striving to do that in a meaningful way are few and far between. And if that isn't heroism in action, I don't know what is.
To read more about Tim Brown's inspiring journey with Allbirds, pick up a copy of the latest issue of Denizen magazine, out now. Or click here to subscribe.
Image credit: Peter Prato