Any gourmand knows that a burger is a dietary staple. They also know that careful thought goes into each and every creation. We've spent a fair few months scouring the city for said sandwich-like handiwork and what we've found is an extensive list — from beef and cheese to chicken, breakfast buns and even hybrids — of the best burgers in Auckland.
Chicken Burger from Burger Burger
We're big fans of a chicken burger and this tender, cajun grilled chicken thigh number from Burger Burger is no different. Accompanied with red pepper salsa, tomato jam, aged cheddar, rocket aioli and wild rocket, it will always be one of our go-to's.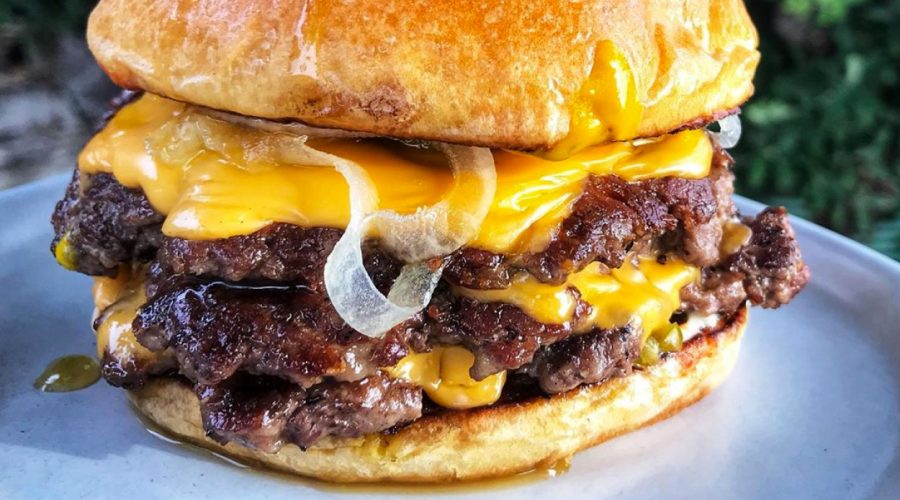 Oklahoma Dreaming from BabyG Burger
The burgers from Auckland-based pop-up BabyG Burger are… let's just say, indulgent. They're what you want to eat when a no-holds-barred approach is required. Specialising in the double smashed patty burger, utilising a technique whereby the spatula is used to spread the patty onto the grill for ample surface caramelisation, Oklahoma Dreaming also incorporates four slices of American cheese, raw onion, pickles, kewpie mayo, habanero mustard, maple syrup and chilli sauce. Phew.
Smokey Five-O from Five Boroughs
Another popular pop-up, the Five Boroughs crew are taking their sell-out burgers to the Fried Chicken Festival in Auckland from on 8th August. Their special Smokey Five-O burger contains smokey BBQ fried chicken, grilled pineapple, bacon, jalapeños, mayo and Jack Daniels BBQ sauce.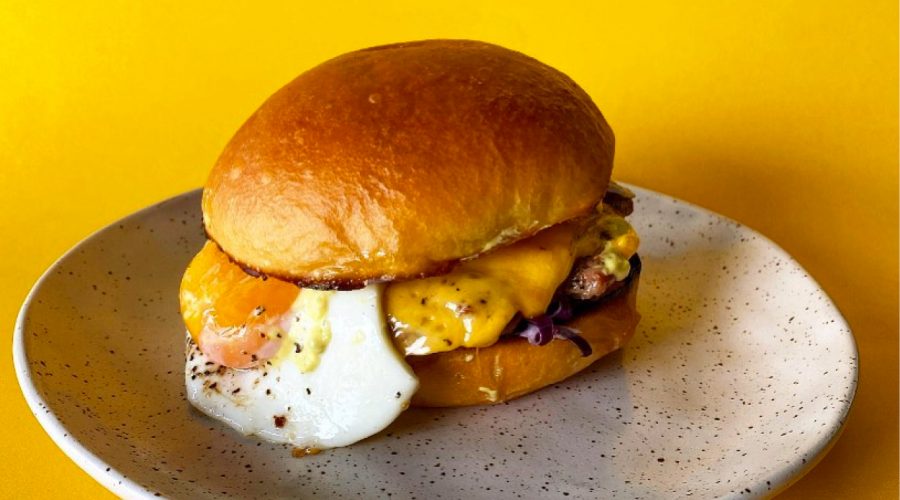 #2 Pork and Fennel Sausage from Williams Eatery
This crowd favourite from Charles Williams' days as the owner of Grafton spot Ceremony is a must-order. From the oozing over-easy egg to the slaw, cheese and spicy mayo, it hits the spot every time. The vege iteration is also fantastic if you're that way inclined.
Filet o' Market Fish from Celeste
If you're in need of a late night bite, and only one of the best fish burgers in town will do, Celeste is the place you need to be. The buzzy K' Rd bistro now only serves its famous fish burger after 10pm — second dinner, perhaps?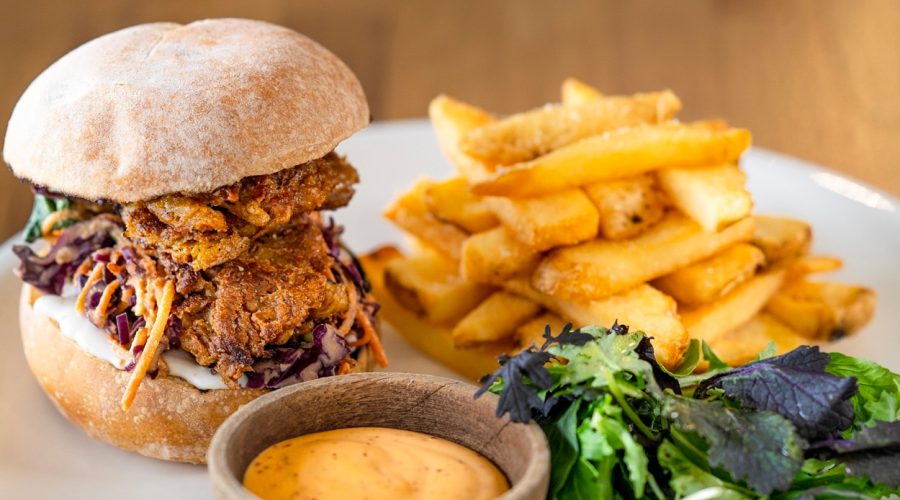 Sunfed 'Chicken' Burger from The Butcher's Son
Don't let the entirely vegan menu fool you — The Butcher's Son isn't messing around when it comes to its rendition of a chicken burger. Made with crispy Sunfed 'chicken' fillets (made from pea protein), miso slaw, baby spinach, chilli jam and a side of fries and salad, one bite and you'd be none the wiser that no animal products were used in its making.
Swanson Burger from Burger Geek
This isn't your classic burger. What makes this standout is not only Burger Geek's house blend of Wagyu and Angus freshly ground each day, but also its smoked bacon, onion strings and bourbon BBQ sauce.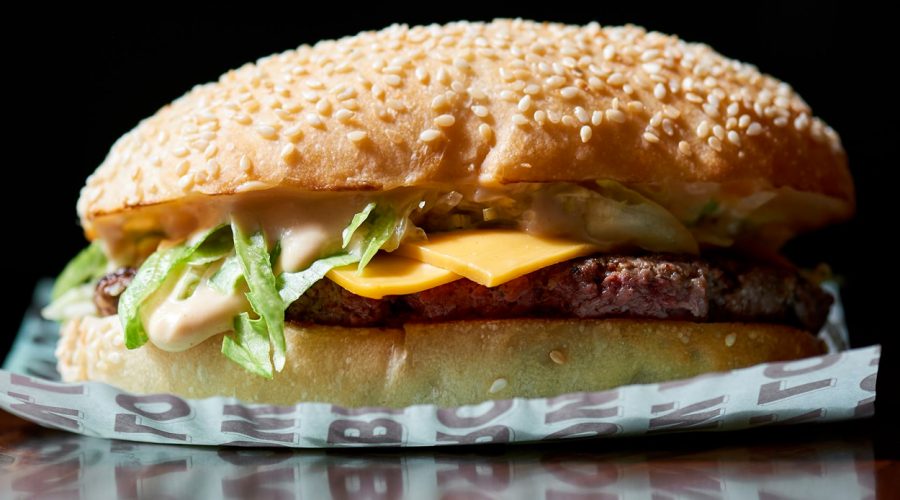 Macdaddy Sando from Lowbrow
Lowbrow's flash fast food is second to none, and its sandos are our go-to for when we crave a burger. The Macdaddy is the one for when you don't quite want to stoop to a Big Mac, and the spicy chicken is also a winner.
Classic Fishburger from John Dory's
In the fickle borough of Herne Bay, where only a few establishments have stood the test of time (John Dory's being one of them), you'll find a delicious fish burger. You can choose to have your fresh snapper or salmon fillet crumbed or cajun spicy grilled, then wedged into a sesame seed bun slathered in lemon aioli with tomato, lettuce and onion. Be sure to request avocao as an extra.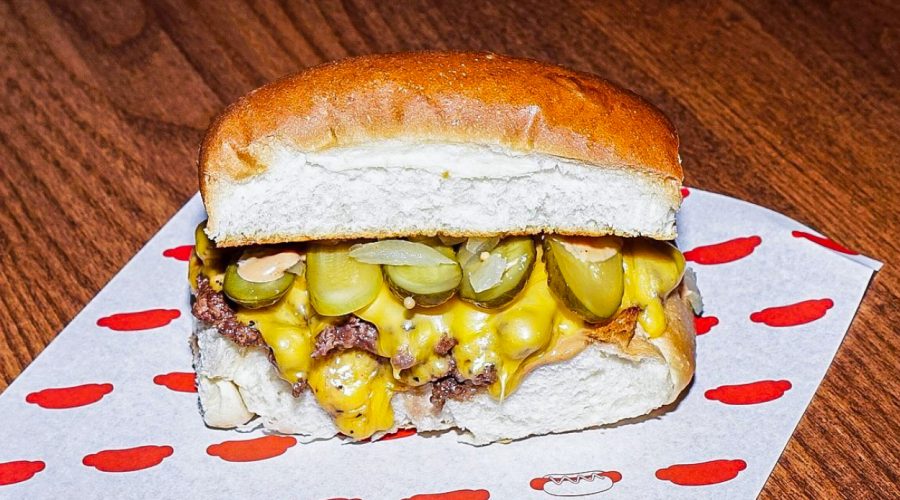 Cheeseburger Hoagie from Good Dog Bad Dog
Hotdog experts Good Dog Bad Dog have proved they also know their way around the flavours of a burger with their cheeseburger hoagie. Served in a long bun, this indulgent burger features double smashed patties, double cheese, special sauce, pickles and onion.
Chicken 'steamed bun' from Happy Boy
Technically a steamed bun, but with all the components you'd find in a burger, we couldn't leave this one out. Made with free-range chicken katsu, white cabbage, pickled ginger, curry mayo and bulldog sauce, you really ought to add Happy Boy's Japanese-inspired burger to your list.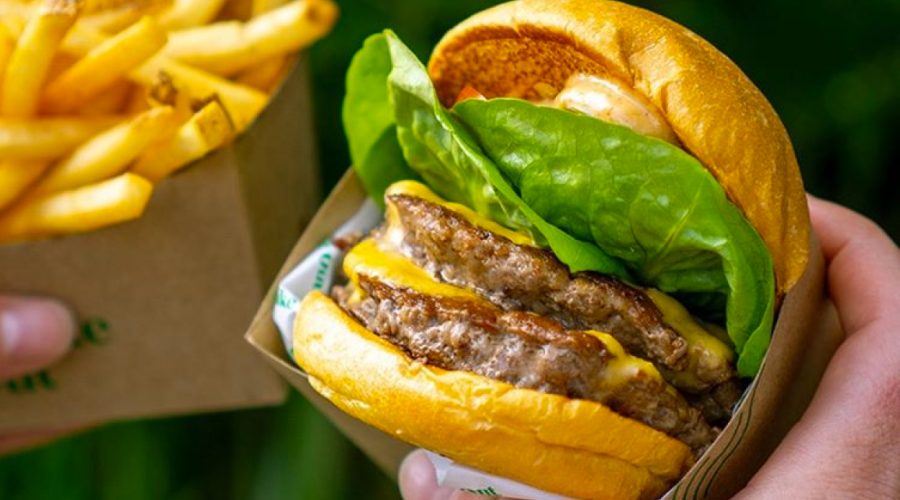 Cheeseburger from Shake Out
Shake Out's burgers are the perfect easy bite — not too over-the-top, they're simple and delicious. The cheeseburger contains grass-fed beef in a potato bun with pickles, tomatoes, cos lettuce and creamy Shake Out sauce. Plus, all Shake Out's packaging is compostable, a detail we're more than on board with.
The Beef Burger from Grangers
Regardless of whether you find yourself heading to Waiheke on the car ferry, we suggest you make a trip to Half Moon Bay and visit Grangers Tap House. Not only for the views but for the beef burger that comes with crispy smoked bacon, tomato, lettuce, cheese and a side of fries. Here, the burger sauce oozing out is not optional, it's necessary.