When it comes to summer escapism, Waiheke Island needs little introduction. With elevated restaurants, cafes and bars befitting its idyllic nom de plume of the Isle of Wine, Waiheke has no shortage of exceptional eateries to explore. To make things as fair as we can, we have ordered our recommendations in order of potential appearance when venturing from Matiatia and the main wharf.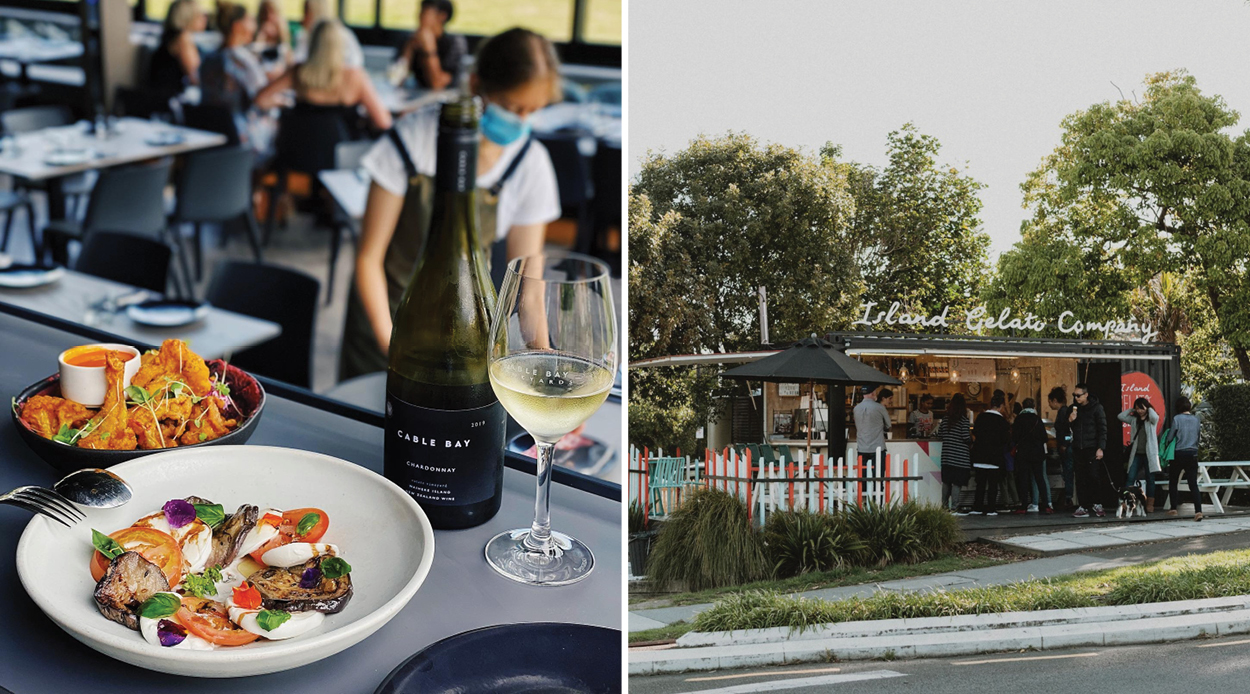 Cable Bay
When thinking of where to wow visitors to Waiheke Island, Cable Bay is often first in mind. Both its award-winning dining room and the more casual wine bar have served many intimate dinners and laughter-filled lunches for over a decade, all to the stunning backdrop of its sweeping views back to Auckland city. With an ever-revolving display of produce, Cable Bay's focus on seasonal goods means that we're met with different, garden-fresh fare on every visit. The short meander back to the ferry through native bush afterwards completes the full experience.
Island Gelato Company
Built on the nostalgia associated with ice cream and balmy kiwi summers, Island Gelato Co. has long been the go-to spot for a taste of island paradise. Owners Ana Schwarz and Geoff Tippett opened their gelateria originally as a pop-up in Oneroa eight years ago, and — three new openings on the mainland and a new location on the Island (up Ocean View Road) later — it still has us lining up for more.
The Courtyard
Whether you're out for a casual dinner, ordering takeaways to be enjoyed on the beach, or slurping a few Bloody Marys the 'morning after', The Courtyard is up to the task. Set off the main stretch in Oneroa, the carefree restaurant has a bach-like feel to it, with a mix of indoor and outdoor dining and enviable water views. Stop by no matter the time of day and enjoy a relaxed atmosphere, with refined food.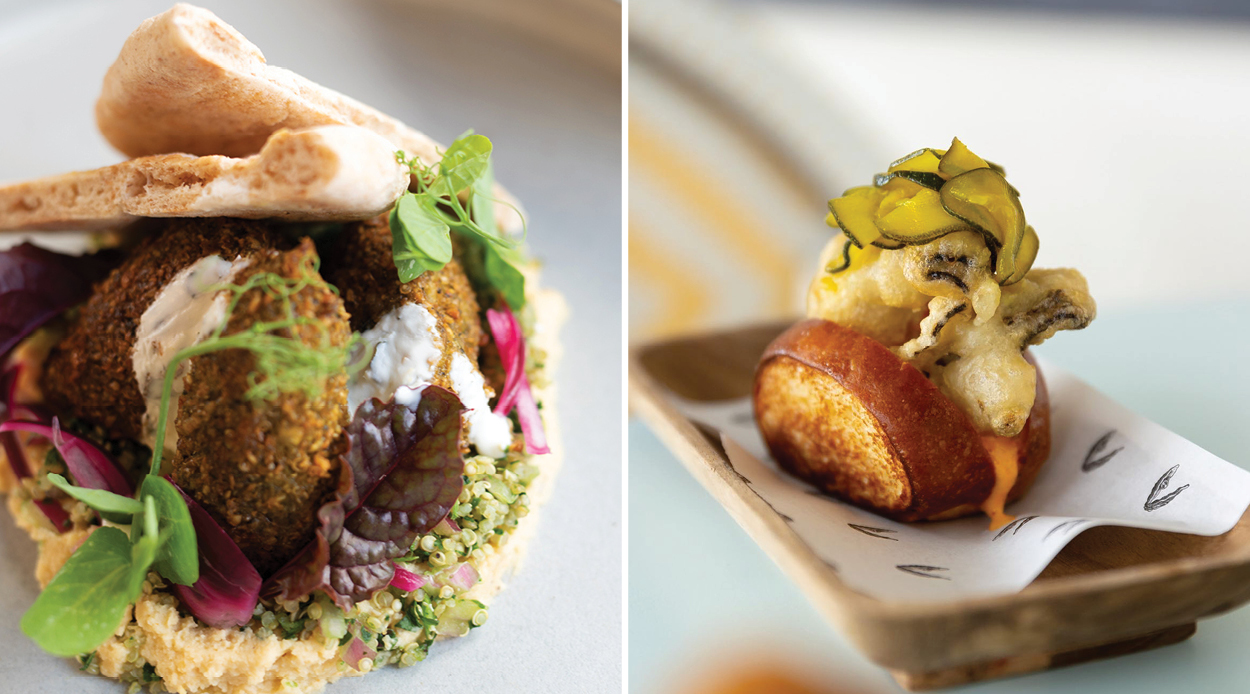 Akitō
They say good things take time, and this is exemplified at daytime eatery Akitō, named after the word for doing things slowly in te reo. Owners Shantala Tengblad and Simon McNeish's approach their cooking and food practises with patience, love and attention, especially with their plant-focussed pickling, preserving and fermentation. With inventive twists on typical brunch and lunch fare, this holistic eatery on Ocean View Road, Oneroa, is a welcome addition to the Waiheke weekend.
The Oyster Inn
Josh and Helen Emett were regulars at The Oyster Inn since it opened in 2012, and made their presence official in 2020 when they became the new 'innkeepers', taking the restaurant and hotel on an exciting new trajectory. Situated above the shops on Ocean View Road, it has charming views of Oneroa Beach, and often boasts majestic sunsets. The coastal-inspired bistro menu features fresh seafood dishes and seasonal crowd-pleasers. The namesake oysters come from Waiheke's own Te Matuku, harvested fresh daily.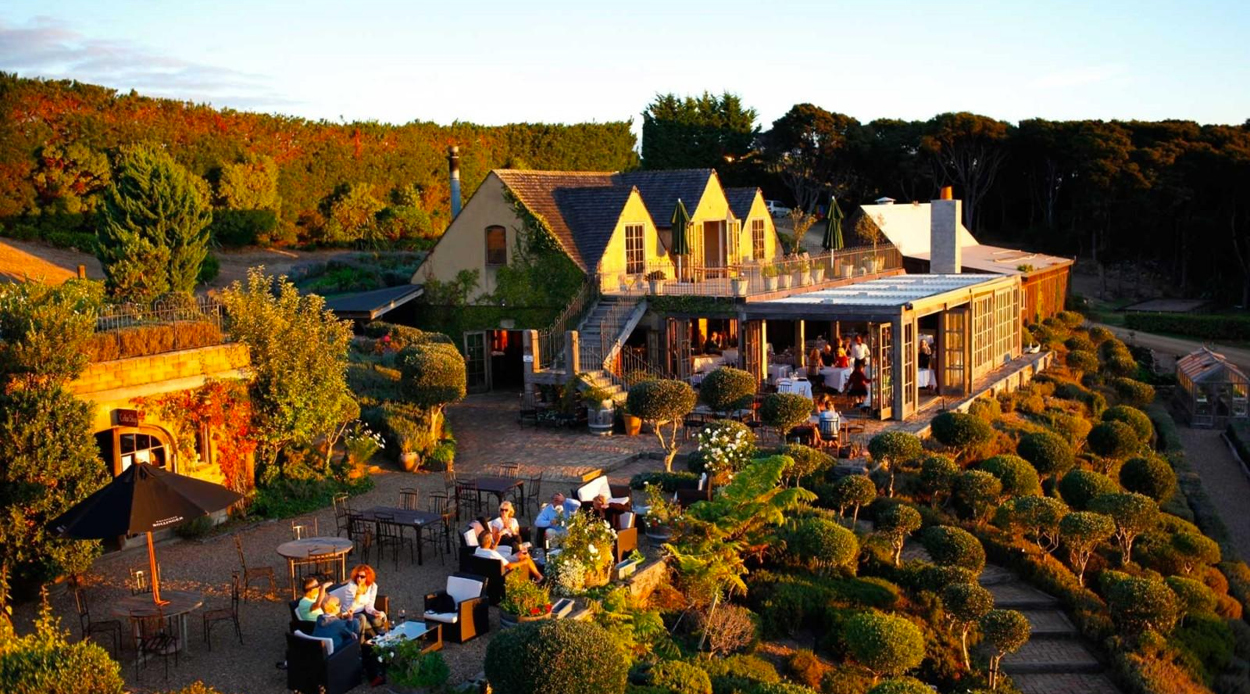 Mudbrick
The most romantic spot on the Island, in our opinion, Mudbrick Vineyard & Restaurant is a charming estate to while away the hours on Waiheke. The Restaurant offers a sensory culinary experience while its modern bistro, the Archive, serves island-inspired dishes in a relaxed setting. With an outdoor bar and charming private dining rooms also available to book, Mudbrick sparkles as much as its view of the Hauraki Gulf.
Casita Miro
A little bit off the beaten beach track, Casita Miro is found in the frondescence of the Miro Vineyard. Set back from Onetangi Bay with views to the township and sea, Casita Miro is a Spanish-inspired tapas restaurant that appears more like a greenhouse than a dining room. With a colourful tiled ascent and courtyard, charming gardens and twinkling fairy lights at night, it lends itself to truly unique and memorable occasions.
Stonyridge
Nestled in a valley of olive trees, Stonyridge Vineyard & Cafe offers an enchanting experience. The ongoing dream of owner Stephen White, it's situated on an ideal north-facing site to both harvest vino and welcome visitors. Enjoy Stonyridge's platters and seasonal plates with a glass of the estate produced Waiheke Bordeaux wines under the shade of its vines, which grow overhead — and all around.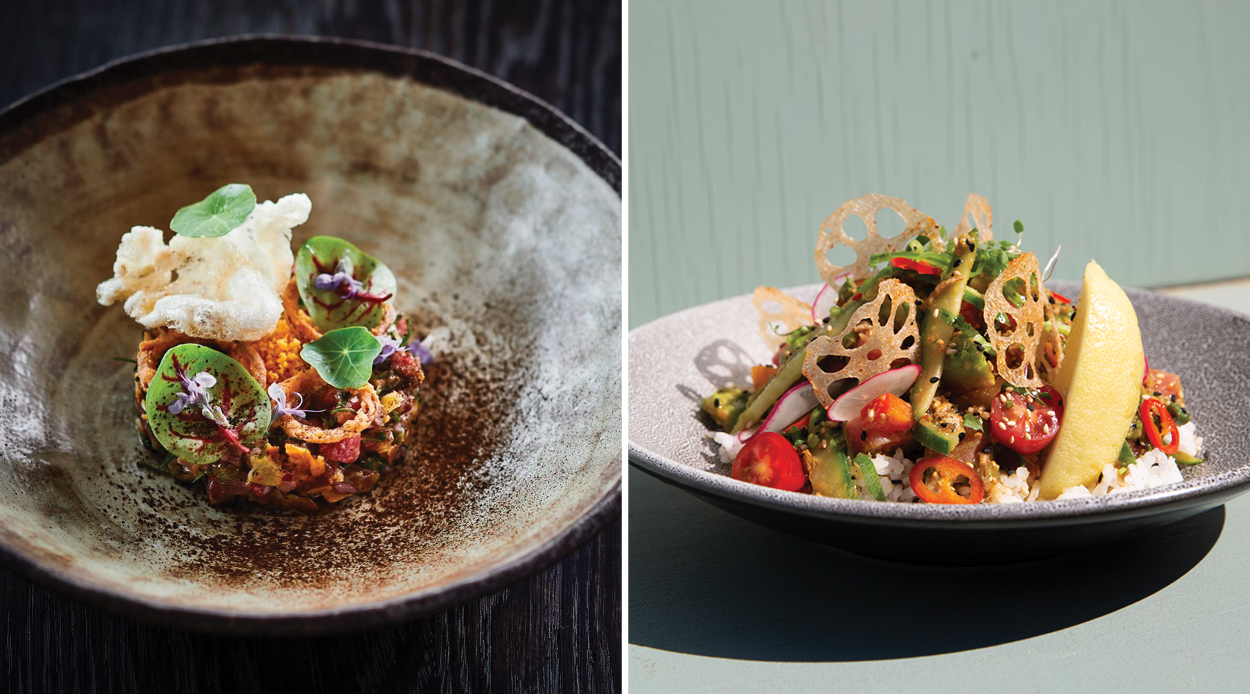 Tantalus
Since they opened their impeccable new space (the work of Cheshire Architects) in Onetangi Valley, Tantalus has gone on to be widely loved for its stunning location, inventive food and award-winning wines to pair it all with. Even the approach from the driveway is enough to take our breath away — and it only gets better from there. Downstairs, you'll find the speakeasy-esque Alibi Brewer's Lounge, a little more relaxed for the beer drinkers at your table.
The Heke
As the new kid on the block, The Heke has been welcomed by Onetangi as a must-visit destination — home to a wood-fired restaurant as well as the award-winning Waiheke Whisky and Waiheke Brewing Co. Owned by two Waiheke families, who have created a welcoming feel, you can park up at one of the many outdoor tables, watch the kids bounce around on its jumbo bouncing pillow and have a thoroughly lovely afternoon.
Charlie's
Nowadays, Onetangi is a world-class culinary destination with a line-up of sophisticated eateries with sweeping views of its beautiful beach. But before all this, there was Charlie Farley's, a laid back restaurant and bar that locals and visitors alike kept coming back to. After a recent refurbishment, and the new moniker of Charlie's, this Tropicana-inspired eatery sets the scene for an array of crowd-pleasing dishes. Open for breakfast, lunch and dinner — and complemented by suitable cocktails all day long — Charlie's is holding its own among the newcomers.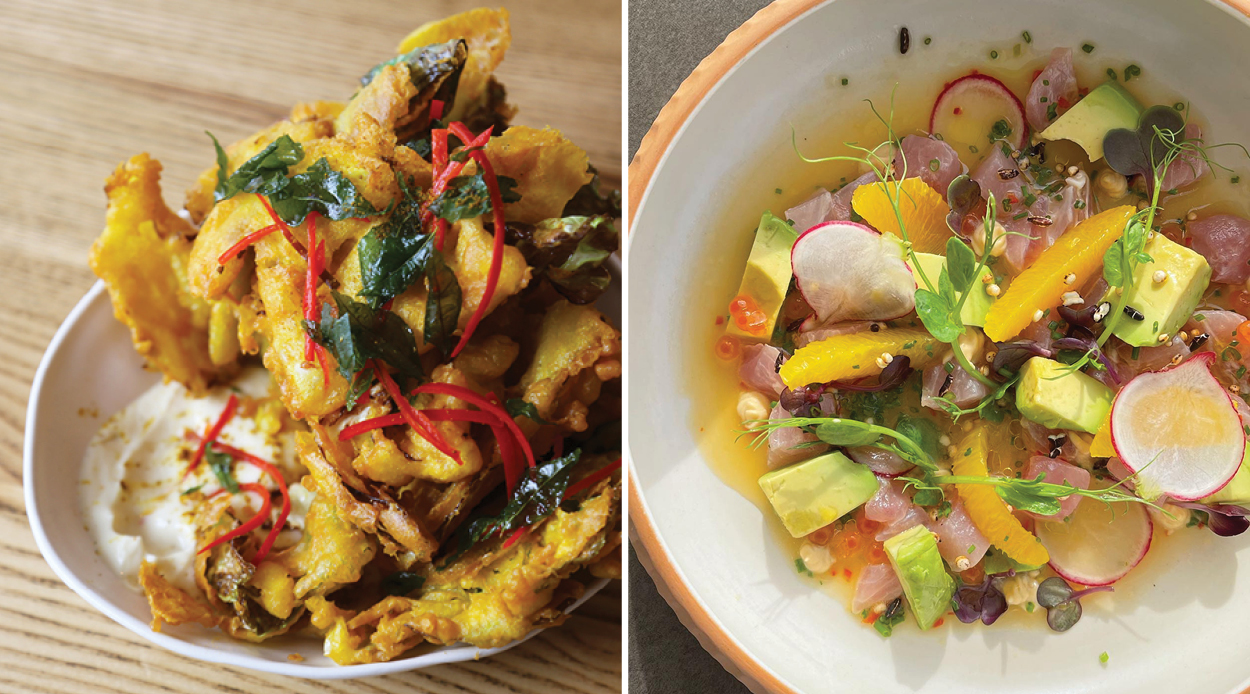 372
On the aforementioned Onetangi promenade, 372 takes casual dining up a notch while keeping a breezy island vibe. Run by Luke and Helen Carter, who, in fact, originally set up their neighbouring stalwart (Charlie's) — 372 feels like a luxury resort offering with an expansive front deck overlooking the beach, and a sheltered patio with a showcase bar towards the back. The menu subscribes to summery by-the-beach food with an elevated edge.
Ki Māha
The third, and finest, jewel in Onetangi's crown is Ki Māha by Dominique Parat. The artfully designed restaurant has a front deck with panoramic views that are a pleasure to be a part of. Indoors, the sophisticated interior is just as charming. The menu combines sustainably harvested seafood and ethically farmed meats, with locally sourced seasonal fruit and vegetables — expressing the essence of Aotearoa cuisine.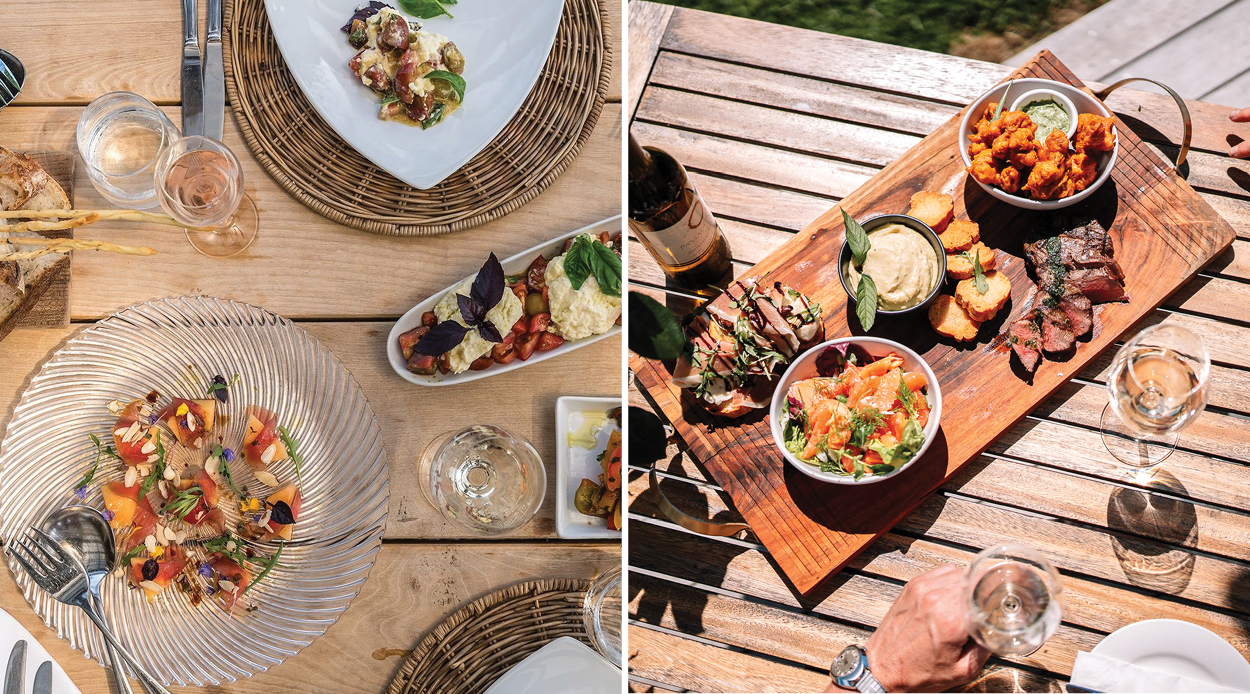 Poderi Crisci
At the end of a country lane in the Awaawaroa Valley, Poderi Crisci is an Italian family-owned vineyard and restaurant. As such, it's a stunning destination vineyard, which appreciates the art of al fresco food and wine, and fine gardens. Antonio Crisci and his partner Vivienne Farnell also originally opened the charming Non Solo Pizza in Parnell, but now their focus is on this slice of Tuscany, on Waiheke. The main restaurant is inspired by the finest traditional cuisine of the chefs' homeland, prepared with local produce and modern touches. Nextdoor, La Locanda is a breath of fresh air, for those who prefer a more casual outing — still with freshly shucked Te Matuku bay oysters accompanied by a glass of Poderi Crisci Arneis.
Passage Rock
It seems the further we get from the main township of Waiheke, the more carefree things become. Passage Rock Wines in Te Matuku Bay was established in the 90s, and while the team takes great pride in their award-winning 14 varietals, their home base is a friendly, casual place where you can enjoy pizza, platters and tapas over summer. Surrounded by Syrah vines, the Bistro café comes with lawn games to entertain all ages and encourage the whole family to enjoy a day out.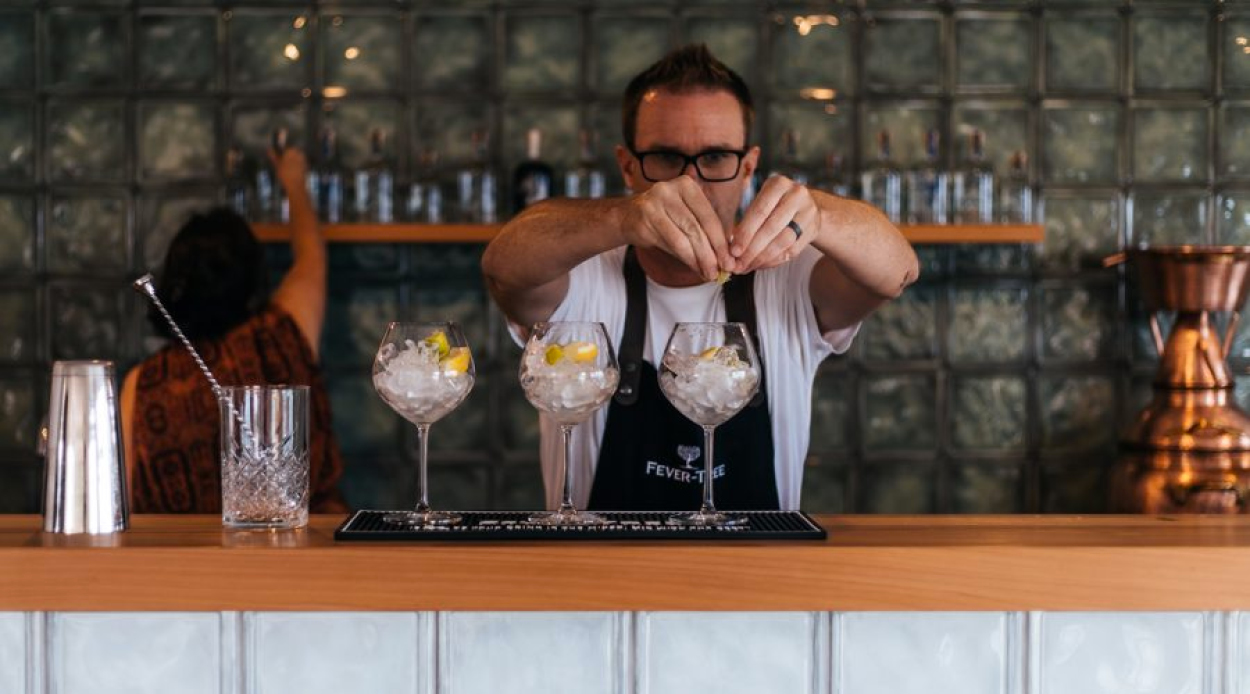 Waiheke Distilling Co.
On the ridge above Cowes Bay, Waiheke Distilling Co. has unrivalled views of the 'other side' of the Island, looking out to Pakatoa Island and the Coromandel beyond. The artisan gin producer led by Liz Scott and Glen Cadwallader champions the local botanicals that grow in abundance in the area, while also allowing visitors to enjoy the beauty of the surroundings. Not only the birthplace of brand new gins, but home to a stunning garden bar as well, they deserve to pour themselves a drink — for a job well done.
Man O' War
On the far Eastern side of the Island, Man O' War is a complete slice of paradise. It's where you will find 75 of Waiheke's 100 vineyards. At the start of it all, the winery's exquisite beachfront Tasting Room spills out onto a lawn where long lunches can be indulged in, before a stroll along the tranquil Man O' War Bay. With covered and outdoor park bench seating, and plenty of room for little ones and pets, you can get that picnic feeling all year round.