There is something special about New Zealand's South Island. Its palette is markedly different from the North, faded and earthy instead of crisp and saturated. Its landscape feels surprising and unruly, its vistas seem to exist on a more spectacular scale and its architecture is stoic and laden with history. For these reasons and many more, the South Island has become a destination for international travellers seeking otherworldly experiences. And as these tourists grow increasingly scarce, the experiences still remain. Now it's our time to explore the worldclass things to do, see and eat in our own backyard — from horse riding and stargazing to renowned restaurants and relaxing hot pools.
Backcountry Horse Riding — The Lindis, Ahuriri Valley
An experience offered by Central Otago luxury lodge The Lindis, on Ben Avon station in the remote Ahuriri Valley, backcountry horse riding is one of the most beautiful ways to explore the area's untouched, romantic landscape. With 14-bay stables, 12 horses and a team of experts to guide guests around the Ben Avon's exquisite high-country farmland tracks, The Lindis has taken a time-honoured tourist activity and elevated it to suit the subtle luxury of the lodge, while ensuring every ability of guest is catered to.
From the Lagoon trek (which sees riders taken across a Birch stream and up to a natural terrace overlooking the Ahuriri lagoons), to the Woolshed trek (which guides guests past Ben Avon's historic woodshed and offers views over the station's dam), to the Beech Forest trek (a visually arresting path that tracks uphill through native Beech trees before ending in natural, sub-alpine herb fields), The Lindis ensures that every experience is not only a visual feast, but will give riders a newfound appreciation for the beauty of Central Otago.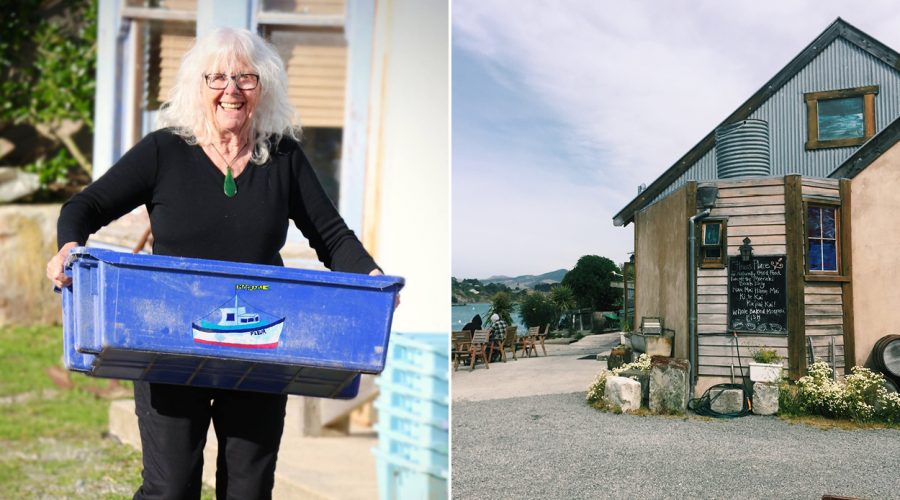 Fleur's Place — Moeraki
With a seaside location an hour north of Dunedin affording it access to exceptionally fresh seafood, Fleur's Place might present as a simple, local spot, but it's not to be underestimated. Within the walls of this restaurant is served some of the most deliciously simple, exquisitely seasonal food in the country, and it's earned the place (and its owner, Fleur Sullivan) a culinary reputation that extends well beyond New Zealand. From its unique structure that was built using discarded materials gathered from around the country, to the scrawled messages from satisfied customers that cover the walls inside, Fleur's Place is charming, homely and tranquil.
Perched on the waterfront, it's hardly surprising that the menu showcases sea-to-table fare at its best — think Blue Cod and Cockles steamed in a bull kelp bag, smoked mussel pie and fresh clams. Everything arrives from local fishermen daily, and as such, the menu is subject to change depending on what's available. Even the vegetables change depending on what's been sourced from local, organic growers. With a dedicated following and its own cookbook, Fleur's Place has become a bona fide institution, that's well-worth journeying off the beaten track for.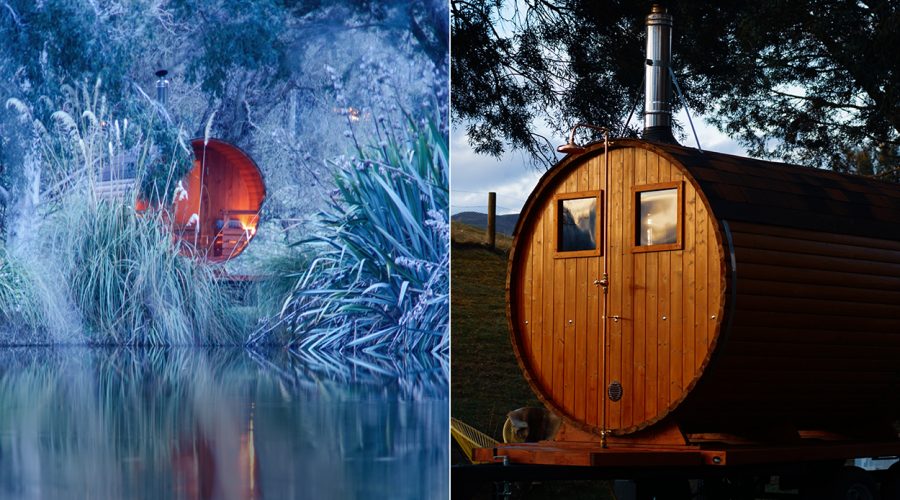 Outdoor Sauna — Arrowtown
Step outside your comfort zone and emerge invigorated with this novel sauna experience, set either in picturesque Arrowtown, or on your own private property. Established by Adam Chalmers, who was inspired by traditional Scandinavian saunas, this barrel-shaped, portable sauna (crafted from European Spruce) offers ancient contrast therapy, in which users move between hot and cold immersion in order to improve circulation, detoxify the skin, balance blood pressure and relax muscle tension. It is also, according to Chalmers, an effective method of calming the mind, settling the nervous system and indulging in a few moments of inner peace and quiet. The sauna itself is heated via wood-fired stones poured over with essential-oil-infused water to create humidity.
Overheating isn't something to be worried about however, as Chalmers provides traditional felt sauna hats to regulate head temperature. In between the sauna rounds, users either immerse themselves into a lake or river, or stand under icy-cold showers. This cycle is repeated again and again throughout the session, which usually takes two-to-four hours. The cold immersion is just as important as the sauna itself for the way it closes the pores, constricts the blood vessels and creates a pumping motion within the body that, when partnered with heat, floods the muscles with fresh blood and nutrients. Usually set up in a beautiful spot in Arrowtown, surrounded by nature and offering plenty of privacy, Chalmers is also able to bring his sauna experience to you, making it (for most people) an entirely new experience, certainly worthy of adding to the bucket list.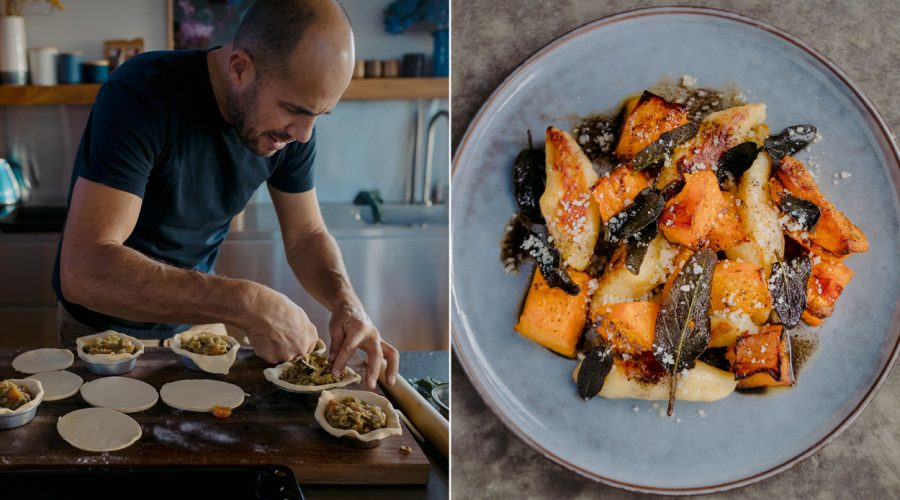 Riverstone Kitchen — Oamaru
After years working for renowned restaurants in London and Australia, chef Bevan Smith returned to his native New Zealand in 2006 to establish the now famous Riverstone Kitchen on his family farm in Oamaru, laying down the foundations for what would become one of this country's most acclaimed culinary destinations. Riverstone Kitchen was built-on the concept of showcasing hyper-seasonal, local produce — something that might be taking off now but that back then, felt cutting-edge in the culinary world — weaving simple ingredients seamlessly into hearty dishes (a signature is potato gnocchi with roast pumpkin and burnt-butter sage).
Not only does the restaurant offer a short, uncomplicated menu which changes according to the seasonal availability of ingredients, but many of the ingredients are sourced from Smith's own garden, which can be seen surrounding the grounds of the restaurant itself. Smith's food has been so well-received, in fact, that the chef has his own cookbook that encourages home cooks to adopt a similar, locally-focused approach to food.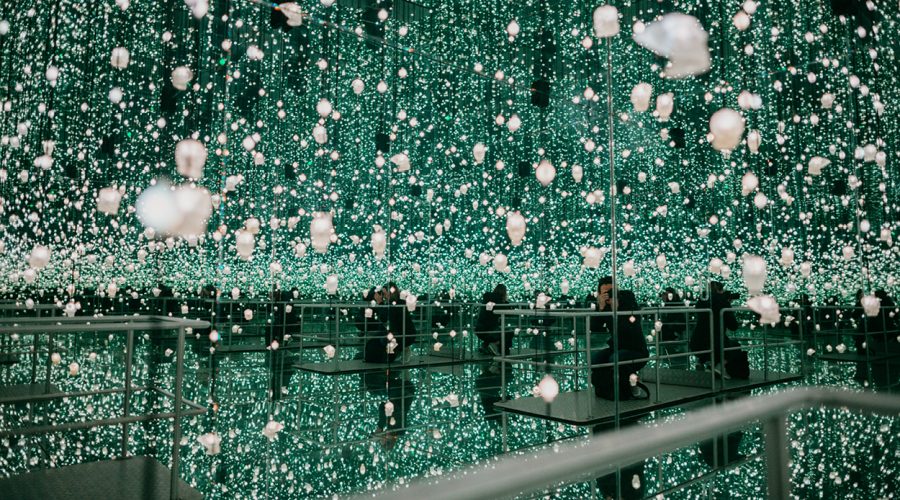 Steampunk HQ — Oamaru
For anyone unfamiliar with Steampunk, it's a niche subsection of Science-Fiction that combines historical settings with anachronistic steam-powered machinery and technology, and its New Zealand hub is in Oamaru's fittingly historic 'Grain Elevator' building. Built in 1883, this building is located at the entrance to Oamaru's Victorian Precinct, and was originally built for bulk storage and export of grain. Now, it houses a fascinating series of installations dedicated to an industrial version of Steampunk, which includes retro-futuristic art and movies, gallery exhibitions and interactive light and sound experiences like a mirrored infinity room called 'The Portal.'
It even has a full-scale steam-engine train at the front to welcome visitors with plumes of smoke, and a blimp (a common Steampunk motif) hovering over its yard. Established by a group of creative minds who wanted to bring the fun and quirky nature of Steampunk to life in New Zealand, the Steampunk HQ is an attraction worth visiting for the way it promises to transport visitors to another world — one where unusual machines and strangely-dressed inventors preside over a futuristic vision
of 19th Century England.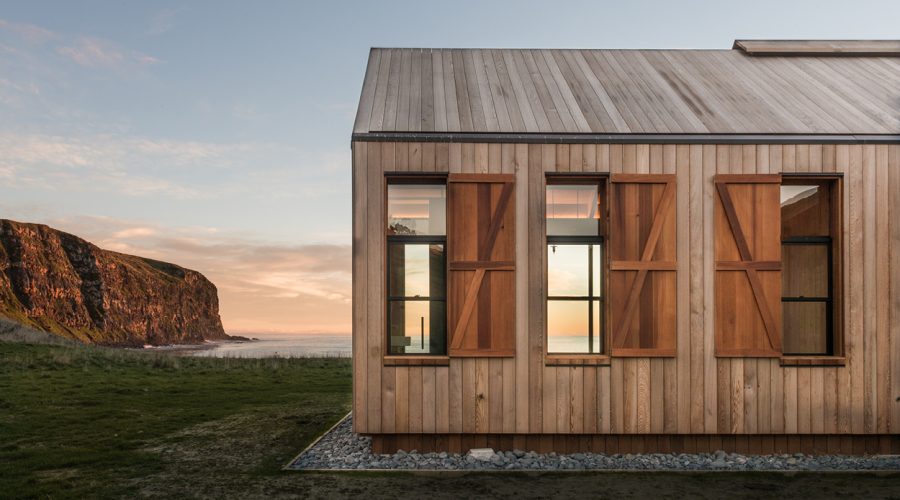 Scrubby Bay — Annandale Farm, Pigeon Bay
Standing proudly on the foreshore of one of New Zealand's most renowned pieces of coastal farmland, the Scrubby Bay house at Annandale (on Christchurch's Banks Peninsula) offers an escape unlike anything else. Overlooking the rugged waves of a remote surf beach and framed by the wild landscape of its working sheep and cattle farm, Scrubby Bay is perhaps the best example of a contemporary Kiwi escape, where farming meets breathtaking scenery and some exceptional architecture to boot.
Designed by Patterson Architects, who took their inspiration for Scrubby Bay from the qualities of a piece of slowly-ageing driftwood, the main structure is simple, linear and clad in cedar that blends beautifully into its surroundings. It embodies a subtle sophistication that belies its massive scale, which allows for accommodation of up to 14 guests and features a sprawling deck, swimming pool and spa.
From its untouched location to its sleek design, Scrubby Bay epitomises off-the-grid luxury. With plenty of living space to allow large families and groups to kick back and enjoy some time away from normality and the option available for guests to have a private chef come to the house, a stay on this exceptional property will be an experience to remember.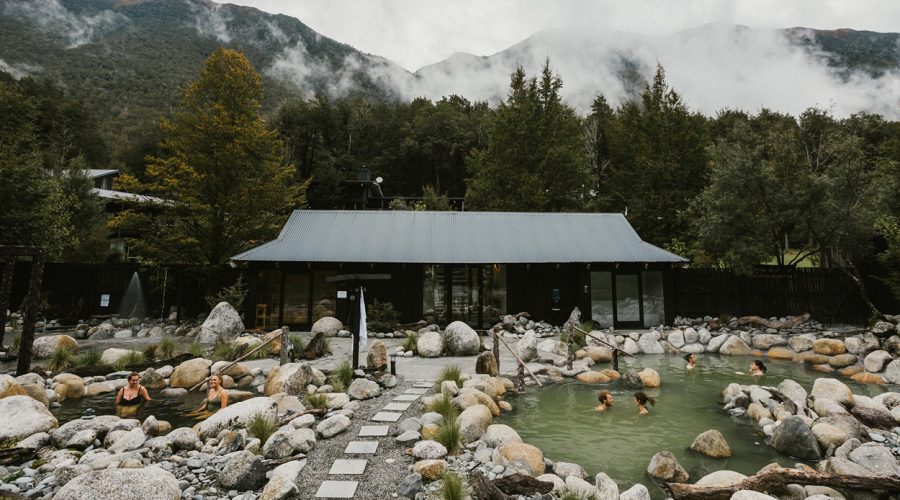 Maruia Hot Springs — Lewis Pass Scenic Reserve, Canterbury
Escape for a few days at Maruia Hot Springs, a resort and spa surrounded by pristine native beech forest and the mountainous landscape of the Lewis Pass Scenic Reserve. A historic site of relaxation and rejuvenation, the geothermal pools at Maruia were first used by Māori pounamu traders and warriors as a place to rest weary bones, and now, provide the same service to those in search of something that will detoxify their bodies and replenish their souls.
Here, guests can bathe in natural hot pools (packed with minerals), indulge in saunas and luxurious treatments and immerse themselves in outdoor experiences along the Maruia riverbed, or through protected forest to a breathtaking waterfall only a short walk away. The resort offers a number of rooms for anyone wanting to stay longer than a day, alongside glamping options and a self-contained campground (where campers have access to Maruia's sauna and bathing areas for the duration of their stay), ensuring there is something suited to anyone looking for a uniquely natural getaway.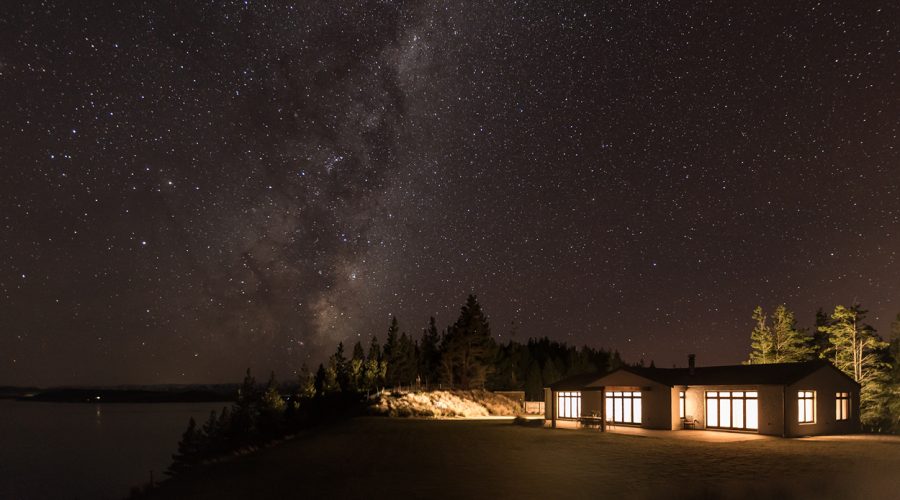 Pukaki Wine Cellar & Observatory — Mt. Cook Lakeside Retreat, Lake Pukaki
Is there anything that makes us contemplate our position in the universe more than gazing into the vast expanse of space? If your answer is yes, then you clearly haven't visited the Pukaki Wine Cellar and Observatory, located in the Aoraki International Dark Sky Reserve at Mt. Cook Lakeside Retreat, Lake Pukaki. Deemed a world class destination for stargazing, the sky above the observatory boasts zero light pollution, which allows visitors an up-close-and-personal tour through the stars, planets and nebula that comprise our current night sky, using both the naked eye and the facility's cutting-edge telescopic technology.
Best when undertaken with a small group, the immersive experience starts in the cellar with nibbles and a tot of whisky or glass of carefully-selected local wine, before moving into the main observatory, where guests are given a glimpse into the Milky Way via a six-inch refractor telescope. The roof of the observatory also retracts to reveal an awe-inspiring smattering of stars overhead — a sight that would feel entirely unfamiliar to anyone who has spent most of their life in a city. And for anyone interested in astro-photography, the observatory guides are on hand to give tips on how to get the best pictures of deep space using special techniques and wide-angle lenses.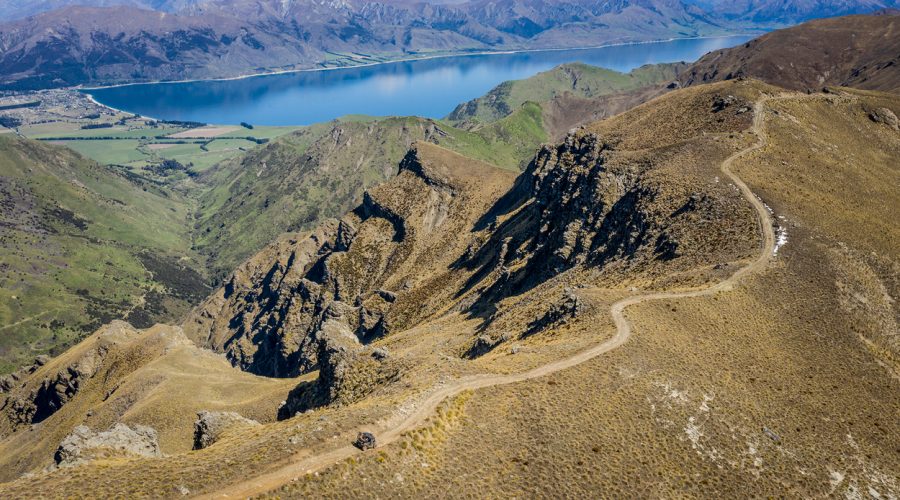 Tūtira High Country Farm Tours — Queenstown Lakes District
Tūtira is New Zealand's first climate positive tourism provider offering the ultimate high country, low impact experiences. Its guided electric motorbike tours explore some of the most majestic privately-owned stations in New Zealand, where you will feel but a blip in the breath-taking landscapes. Kiwi-made electric motorbike technology ensures each ride is smooth and silent, allowing you to take in the serene and expansive scenery in all its glory. One of the locations on offer is one of New Zealand's finest high country land holdings, Lake Hāwea Station. The 6500-hectare property produces top-grade merino wool, lamb and purebred Angus beef.
Guests here enjoy exclusive access to the farm's dramatic landscapes, which undulate from the pristine lakeside to tussock covered hilltops and rolling backcountry. With curated rides available for groups of up to ten, this is your chance to experience outstanding high country hospitality and the rustic charms of your surroundings. Tūtira's off-the-beaten-track adventures are typically three days — with three-course meals featuring local produce served each day along the way.
In Te Reo Māori, Tūtira translates to gathering together in a row or a line, which is similar to how guests experience the stations on an at-your-own-pace ride. Encouraging guests to understand the past and look ahead to the future, Tūtira shares the tangatawhenua, history, heritage and environmental story that makes each high country visit unique.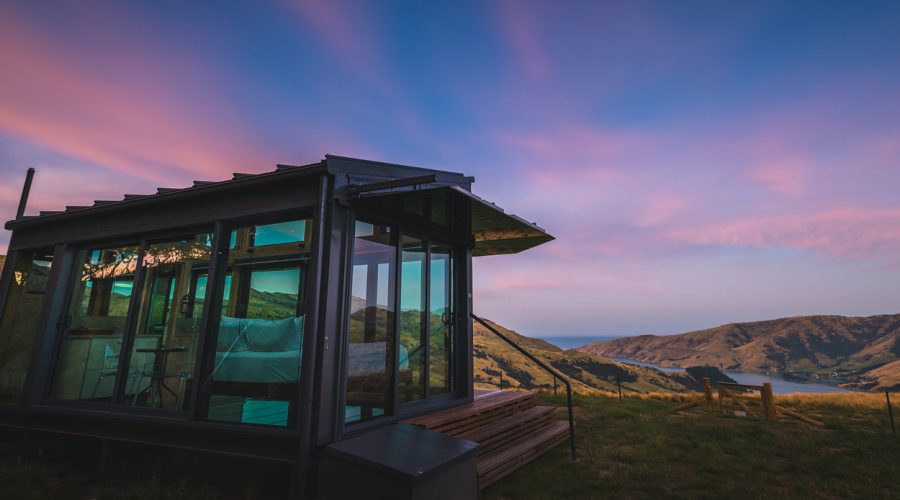 Pure Pods — East Coast, South Island
Designed to offer unprecedented access to nature, Pure Pods comprise cabins that are nestled into untouched landscapes along the East Coast of the South Island, making them the perfect accommodation for experiencing the South Island's delightfully wild character. Made entirely from glass (including the floors and ceilings) the six Pure Pods are small cabins that, in the summertime, can be opened to their surroundings, while in winter, keep occupants completely insulated from the elements.
A simple concept executed to perfection, the aim of the Pure Pods is to encourage guests to reconnect with both nature and each other, and as a result, to reconsider the way they interact with the world around them. Continuing in this vein, each Pod is powered by solar electricity, heated via a bio-fuel system and is fitted with a mechanism for sustainably harnessing local water and rainwater. Whether you're seeking mountain views, lakeside vistas, an expansive coastline or simply somewhere to see the stars, Pure Pods will immerse you in some of the most incredible settings in New Zealand, while ensuring you remain sheltered in luxury.