When it comes to food and drink, Takapuna is one of Auckland's steadily and consistently expanding areas. Whether its breakfast, lunch or dinner you're seeking, a spot of dessert or even somewhere to sip a few cocktails, these are the best places in Takapuna to satisfy any and all cravings.
Morning fix
Ark Coffee Company
For artful coffee and surroundings, make your way along to Ark Coffee. Established by two sisters, Naomi and Ulala, who are passionate about an excellent brew, a Probat L25 takes centre stage at Ark, roasting the single origin and blended beans on site. Sip away on your favourite blend in store, or take a bag to go for a taste of Ark at home. In the warmer months, coffee jelly and espresso soft serve are a major draw card for a cooling coffee hit.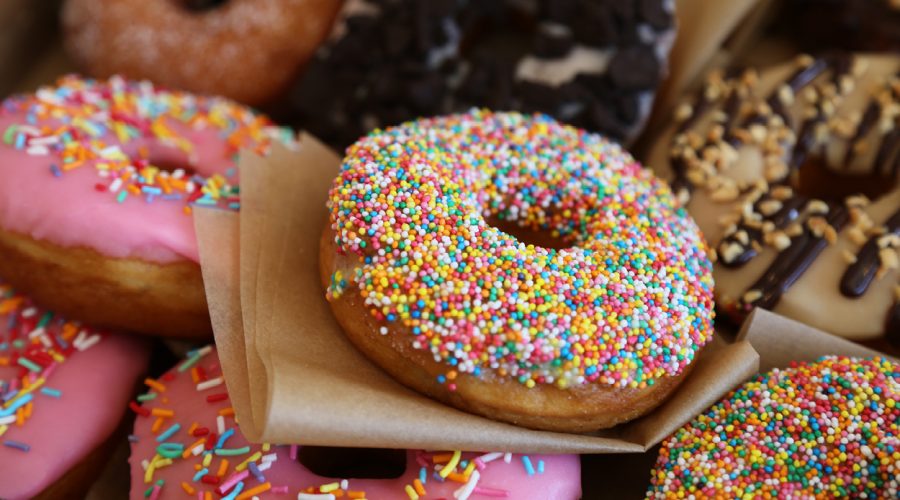 Holy Shot
In the heart of Takapuna sits Holy Shot, a cute spot serving up two essential ingredients guaranteed to get you through the day — coffee and doughnuts. From the early hours of the morning, the friendly and highly-skilled baristas at this local can be seen churning out fresh brews of Havana coffee. Days are made at Holy Shot thanks to its stellar service, premium coffee and of course, its assortment of tasty doughnuts from The Pie Piper.
Breakfast
Takapuna Beach Cafe and Store
There really isn't anything quite like tucking into some delicious food surrounded by a breathtaking view, and Takapuna Beach Cafe and Store offers both. Complement the vista by opting for the scampi omelette with fennel and sautéed greens, served with a crispy slice of sourdough.
Honey Cafe
Although Honey Cafe does not have beachfront views, its quirky yet stylish space along with the quality of the food that comes from it, make it one of our favourite places for a morning bite. While its menu comprises a number of tasty breakfast dishes, the house red velvet pancakes are a must if you're feeling decadent. The fluffy stack is served with blueberry compote and is adorned with fresh seasonal fruit, chocolate soil, honeycomb mascarpone and a generous scoop of vanilla ice cream.
Mimosa
Proving that healthy eating needn't be bland, Mimosa showcases how food can be tasty and nourishing. Its cabinet is stocked with sweet treats, fresh salads and sandwiches, making it a favourite among those who work in the area as the perfect place to get a fast and fulfilling meal. Mimosa's impressive menu manages to cater to most, if not, all dietary requirements, with dishes like the balanced big breakfast coming complete with spicy tofu scramble and tempeh bacon. Don't leave without sampling the matcha latte, a beverage so delicious it might just have you forgetting all about coffee.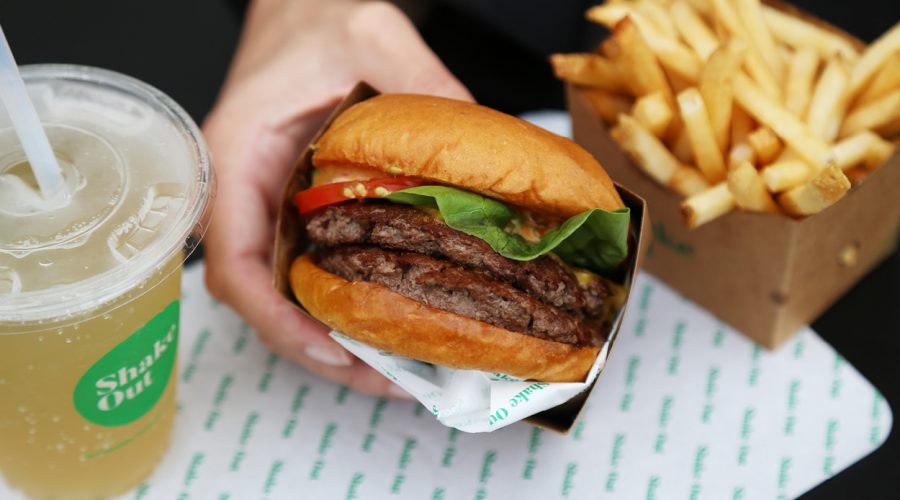 Lunch
Shake Out
Inside Goodside at Smales Farm is Shake Out, the burger joint that has people from all over Auckland flocking across the bridge. Widely acknowledged as offering some of the best burgers in town, Shake Out's signature buns are made from a blend of potato and pumpkin flour, rendering them pillow-soft and incredibly fluffy, while its fillings are exactly what a burger should be — simple and high-quality. Shake Out also offers a number of enticing shakes, sides (like crispy shoestring fries, cheese dipping sauce optional) and sweet treats, making it the perfect place to drop into for an easy takeaway.
Ripe Deli
It's impossible to visit Goodside and leave without being seduced by the sumptuous treats in Ripe Deli's cabinet. With an assortment of fresh salads, wraps, sandwiches and savouries, Ripe's virtuous lunch offerings can only be topped by one of its many sweet treats. The salted caramel chocolate brownie is a rich slice of pure chocolatey decadence.
Mamak
Offering aromatic, authentic flavours that accurately speak to the kind of hawker centres one might find in Malaysia, Mamak Restaurant has become the go-to for many Malaysian people residing in Auckland. With a number of delicious dishes on its menu, the stand-out has to be the chicken satay skewers, with meat that is both perfectly cooked and enticingly smoky, and flavours that strike a delicate balance between sweet and savoury.
French Rendez-vous Café
Tucked away on the shores of Lake Pupuke, Pumphouse Theatre adjacent cafe French Rendez-vous is the understated eatery that consists of classic dishes a la français. Cheesy galettes are a signature, and pastries, foie gras and cheese plates are also on offer. No matter what you end up nibbling on, the view across the serene waters and peaceful setting makes it a culinary experience unique to the area.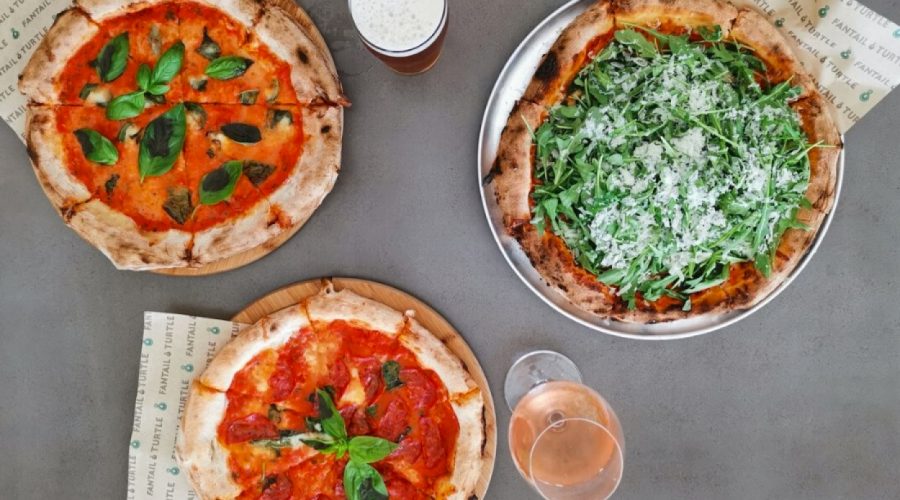 Quench your thirst
Fantail & Turtle
Another entry from Goodside — the precinct that never stops giving — Fantail & Turtle offers a comprehensive drinks menu, as well as a number of delectable bites such as spiced hoki croquettes, platters and pizzas to accompany your beverage of choice. Craft beer, ale, cider and kombucha flow from its over 30 taps across its two bars, and its wine list comprises of nearly 50 varieties from some of the most prestigious viticultural regions in the world. With a welcoming ambience and ethos of offering something for everyone, Fantail & Turtle is somewhere where anyone is sure to feel at home.
Regatta Bar & Eatery
Perched just up from Takapuna Beach, Regatta Bar & Eatery catches all the rays of the sun, making this beach house-like eatery the ideal place to crack a cold one. Open from early in the morning, all the way until late at night, Regatta is the place to go if you're looking for somewhere to kick back and relax while sipping on your favourite drink.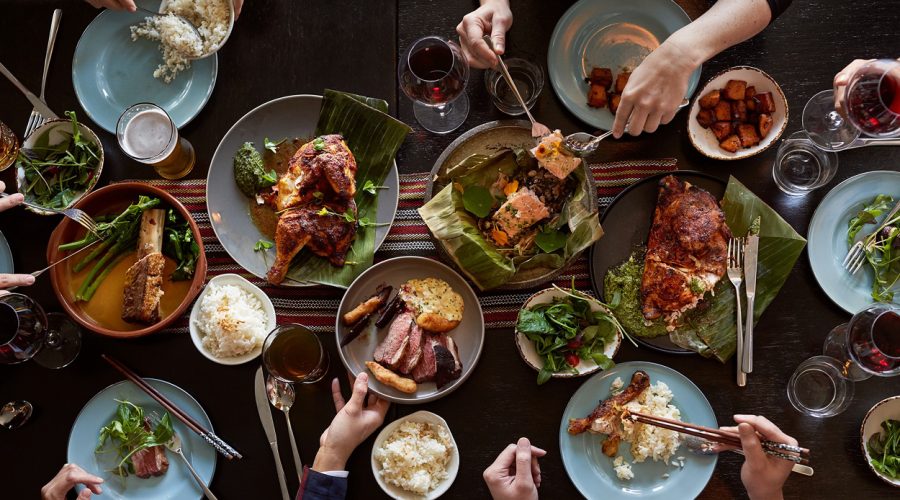 Dinner time
Nanam
With a cult following for its unique, modern take on Filipino fare, Nanam is a favourite with both Takapuna locals and longtime fans of the Pinoy restaurant who have been patrons since its humble Royal Oak beginnings. Nanam's chicken sinigang is unlike any sinigang we've tasted as it's soupless which is unheard of in the Philippines. Where usually a flavourful, aromatic broth would be the star of the sinigang, Nanam's Executive Chef Jessabel Granada has managed to capture all the flavours in a thick sauce that she glazes over the chicken.
The Place
One thing the North Shore beats the central suburbs in every time is the quality and quantity of its Korean restaurants. Takapuna is home to one of the best in Auckland — The Place. Located on Hurstmere Road, it is quite literally the place to be if you're craving a Korean feed. Serving all sorts of traditional Korean dishes, this restaurant goes beyond the usual fried chicken, Korean barbecue and bibimbap, to offer more interesting and intriguing dishes, like pork backbone broth soup and army stew.
Burger Burger
Crowned as the Best Cheap & Cheerful eatery at the inaugural Denizen Hospo Heroes, you can trust Burger Burger to deliver the goods come dinnertime (or lunchtime, come to think of it). Its Takapuna location is always humming, serving up its much lauded burgers (with vegan options abound) and unbeatable sides, of which the charred broccoli and shoestring fries are accompaniments we simply can't go without.
El Humero
If you've never experienced a Colombian-style barbecue, El Humero is the perfect restaurant to start your love affair with what we can guarantee will become one of your favourite cuisines. The meats are cooked over wood-fire and chargrill, lending them a succulent and juicy texture and also an unbelievably smoky aroma. And aside from its meat options, El Humero's vegetarian empanadas are an absolute must-try.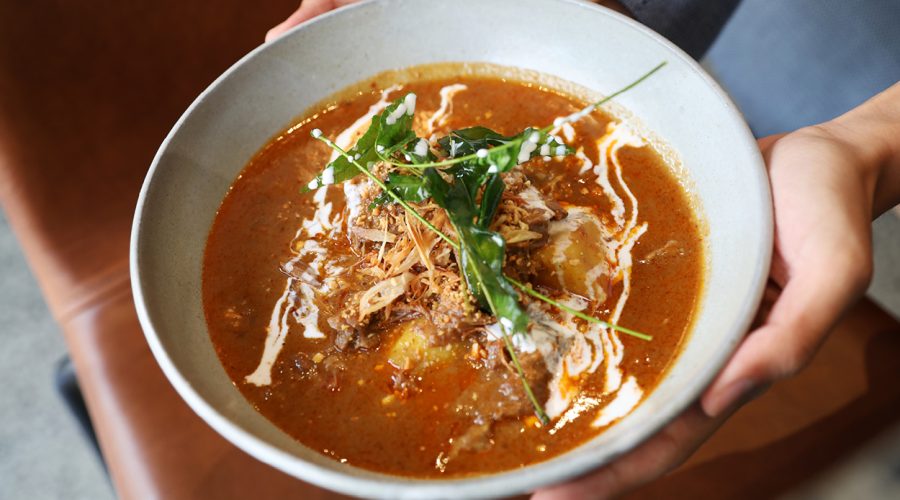 Soho
For quite some time, there seemed to be a lack of Thai eateries in Takapuna. That is, until the chefs from Newmarket's Billy Cafe (who are in fact, Thai) opened Soho at Goodside, its quick popularity proving just how much Takapuna locals wanted somewhere to go to get a taste of this cuisine. The lamb and kumara massaman curry, tiger prawn pad Thai and the gai yang green curry are some of Soho's standout dishes, as they simultaneously remain true to the authentic flavours of Thailand and offer modern, refined flavours, the like of which we've never tasted before.
Ramen Lab
Finding a good bowl of Japanese ramen in Auckland is harder than you might think, so Takapuna locals should consider themselves lucky to have Ramen Lab right on their doorstep. The tonkotsu ramen at this joint is thick and creamy with just the right amount of salt. The thin noodles have a firm centre, preventing them from going soft or soggy no matter how long they sit in the broth for. And although karaage chicken is considered a compulsory starter dish at any ramen restaurant, Ramen Lab's iteration is particularly delicious.
Dessert
House of Chocolate Cafe
A sweet tooth's paradise, House of Chocolate Dessert Cafe is regularly heaving with customers no matter what night of the week it is. Renowned for its freshly-made waffles that are served with a raft of indulgent toppings, NY baked cheesecakes and other creative desserts such as banoffee Alaska with banana, salted caramel, shortbread and Italian meringue, this Takapuna drop-in might have lines of people out its door, but never let that put you off — a short wait will lead to a big pay-off.