Love truffles? Those who covet the intoxicating, opulent taste of truffles will be pleased to know that the time has come to celebrate gastronomy's black gold in all its glory. Whether shaved over a bowl of handmade pasta, tucked into a toastie or layered through a decadent wedge of cheese, those seeking to indulge in a little luxury will be spoilt for choice with the irresistible creations on offer at eateries across Auckland.
Truffle & comté toastie and homemade truffle Brie de Meaux from Apero
Hunkering down at K'Road's ever-popular Apero is the epitome of cosy comfort — especially when you add its truffle offerings to the mix. The toastie stuffed with comté cheese and freshly shaved truffle is a must, as is the truffle Brie de Meaux — which sees a heady truffle mixture sandwiched between layers of indulgent Brie de Meaux cheese. Enjoy paired with a glass of something good (ask Mo for an impeccable recommendation).
Add truffle to any order from Euro
As if its new, Parisian-style menu wasn't enough to have us finding every excuse to visit Euro for a meal, the waterfront stalwart is offering the option to add truffles to any dish for just $10 per gram. We're already salivating over the thought of adding truffle to the hand-cut duck fat chips with smoked and cured yolk and pecorino.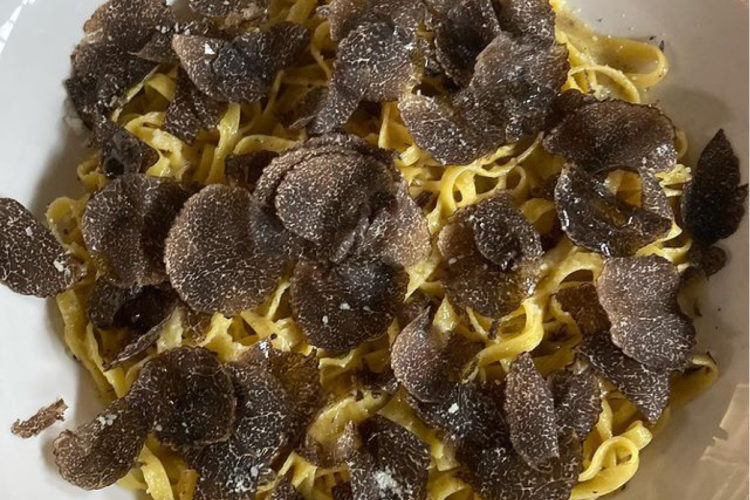 Winter truffle tagliatelle from Farina
When we think of the perfect way to enjoy truffles, our mind wanders to the winter truffle tagliatelle from Ponsonby's Farina. Tossed in a wheel of Parmigiano-Reggiano and topped with shaved truffle, this dish is too good to miss. Keep an eye out for more of Farina's enticing truffle specials — with the likes of truffle and scampi risotto and the truffle burrata also proving equally tempting.
Sunday roast from Ostro
Just when you thought Ostro's famous Sunday roast couldn't get any better, along comes this tempting offer. For $15 you can add freshly shaved truffle to your favourite Sunday roast dish — think the ever-popular beef Wellington elevated with the addition of black Perigord truffle from Rikawa in the Tasman District. If a truffle-smattered roast dinner doesn't tickle your fancy, we recommend truffle-ifying Ostro's black origin wagyu carpaccio, crayfish linguine, smoked kahawai omelette and pure South beef scotch. Vegetarian? The special truffle and pecorino romano risotto is a must.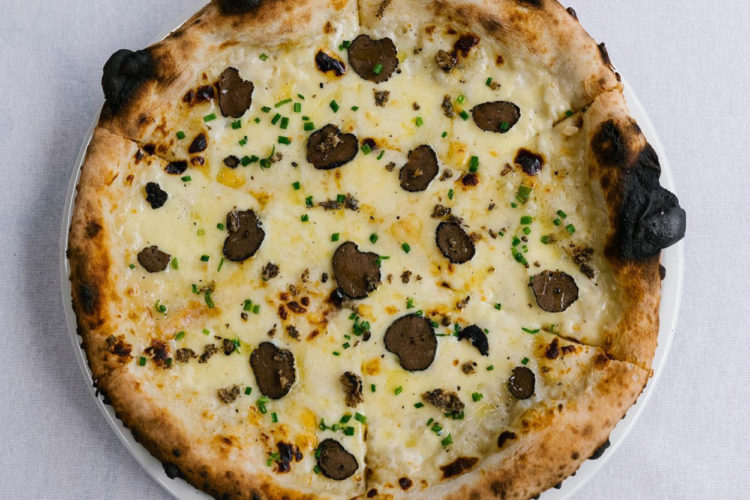 Discovery of truffle pizza from Elmo's
When one dish just won't do, head over to the folks at Elmo's to partake in its fresh truffle bar. Here for a limited time, the menu features everything you could want from Ponsonby's trusted truffle dealers, with the likes of truffle Croque Monsieur and crayfish and spanner crab raviolo with fresh Perigord black truffle shavings. We're also eyeing up the 'discovery of truffle' pizza — a cheese lover's dream with mozzarella, taleggio, gruyère, gorgonzola and fresh black truffle. You can also add fresh truffle shavings to any menu item for $10. Truffle potato skins, anyone?
'Fried' truffled brie from Culprit
We never miss the opportunity for a delicious meal at inner-city eatery Culprit, and the innovative restaurant has elevated the concept of fried camembert to new heights. Over The Moon truffled brie is wrapped in nasturtium leaf and layers of filo pastry for textural contrast, before being grilled until crisp. If you're after something more light and fresh, you will also find a kingfish sashimi dish with truffle and Gisborne yuzu — Nelson truffle gel plus extra fresh truffle make this one for the die-hard truffle lovers.
Truffle linguine from Onslow
Keeping it simple, this blissful dish from Onslow allows the sublime flavour of Nelson black truffles to shine. With buttered handmade linguine, garlic and parmesan, this scrumptious pasta is only available at lunch for a limited time.
Goat's cheese souffle from The Engine Room
The Engine Room's iconic twice-baked goat's cheese souffle is almost impossible to resist in ordinary circumstances — but when you throw in the option to add freshly shaved truffle to the mix, resistance truly becomes futile.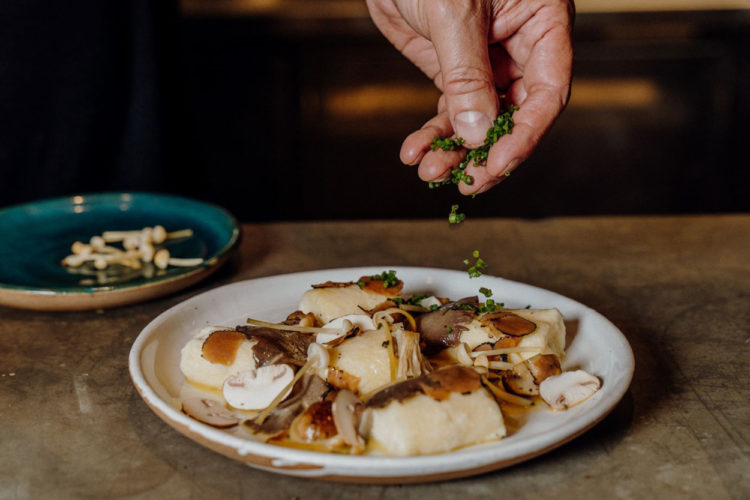 Truffle Triumph Lunch from Esther
Truffle fanatics best make a booking for Esther's Truffle Triumph Lunch, which showcases eight dishes featuring truffles from Canterbury's Twenion Truffière, designed by top chef Sean Connolly. Taking place on Saturday 10th July, this is one of the most extensive truffle menus in Auckland. From truffle fonduta (Italy's answer to cheese fondue) to an orgy of mushrooms with ricotta gnocchi and Perigord truffle, and apple tart with truffle ice cream for dessert, it's advised to be quick to secure your seat to this decadent event. You'll also find selected dishes available to order a la carte for a limited time.
Tagliatelle, truffle & parmesan from Amano
Trust pasta masters (and Denizen Hospo Heroes winner) Amano to pull out all the stops when it comes to honouring our favourite fungi. This dish sees handmade egg dough ribbons paired with Christchurch Perigord truffle and plenty of parmesan cheese.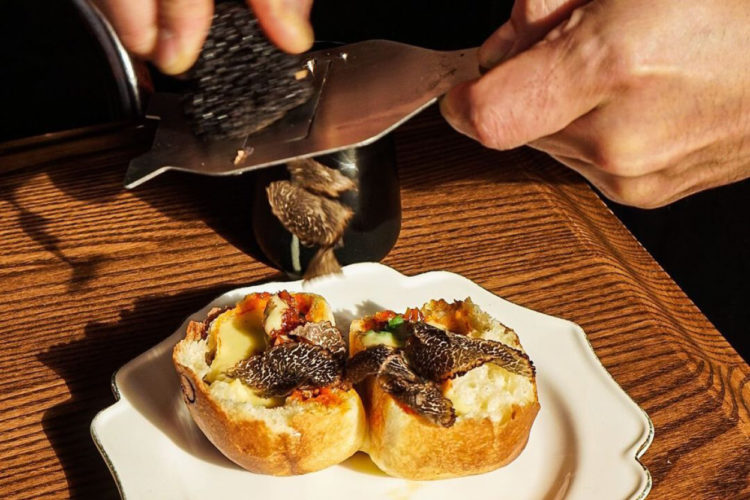 Truffle milk bun from Gochu
Currently crowned as one of the most beloved dishes in Auckland, Gochu's spicy pork and kimchi milk bun just got fancy with the addition of freshly shaved black truffle. If you're feeling extra naughty, don't leave without trying the double down — a cheeky take on a fast-food favourite that sees fried chicken paired with Perigord truffle, raclette cheese, duck liver parfait and hash brown. Swoon.
Ciabatta with tru­ffle & ricotta butter from Soul Bar & Bistro
You'll never look at bread and butter the same way again thanks to this clever little pairing from Viaduct Harbour's iconic Soul Bar. Dusty Apron ciabatta is a match made in heaven with thickly spread tru­ffle and ricotta butter. Pro tip: Try dipping your fries into this dreamy butter for a deliciously mischievous treat.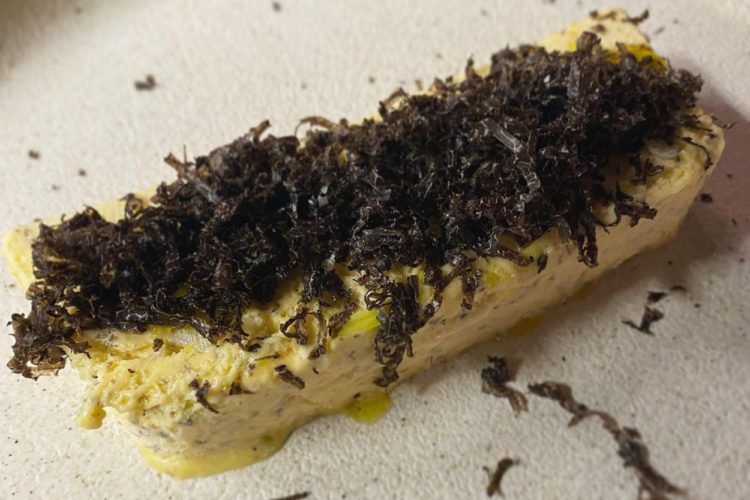 Truffle semifreddo from Hugo's Bistro
While we often think of truffle in relation to savoury dishes, it also shines with the sweet stuff. Hugo's Bistro's olive oil semifreddo with black truffle is a decadent end to any meal, while the beef carpaccio of seven-year-old black Angus, shallots, vintage Waikato and black truffle is the perfect option for those hankering after something to satisfy their savoury cravings.
Truffle macaroni cheese from Andiamo
Herne Bay hotspot Andiamo is making it oh-so-easy to embrace your truffle penchant, with the option to add one gram of freshly shaved truffle to any menu item for $10. The Ceaser salad, Bianca pizza, spaghetti carbonara, and confit duck risotto all benefit with a sprinkling of the good stuff — although we can't go past adding it to the always stellar macaroni cheese.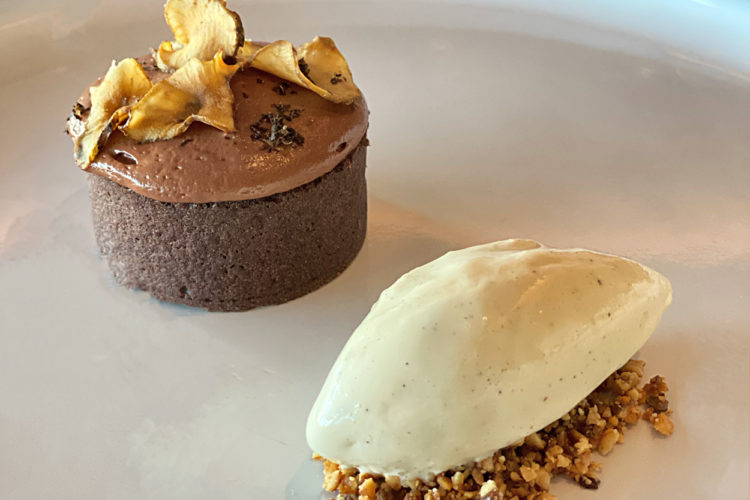 Chocolate tart with truffle ice cream from Onemata
The talented team at Onemata knows a thing or two about turning out a showstopping dessert, with the latest fancy creation coming in the form of this exquisite chocolate tart. Featuring chocolate cremeaux, Jerusalem artichoke puree and truffle ice cream, this dish belongs on your list.