Any prospective home buyer who has had to make the choice between a contemporary, design-led apartment and a nature-immersed lifestyle will know, it's not an easy toss-up to make. The acquisition of greenery, airiness and proximity to water might come with a home that doesn't necessarily include all the desired mod cons, and vice versa.
This is not the case with Elementum, a premium residential project that offers resort-style living in the heart of Long Bay Village — mere minutes walk from the beach and Long Bay Regional Park. Presenting as a hidden oasis of landscaped spaces, it will boast both apartments and terrace houses that will ensure you can escape the suburban norm for beachside living, while enjoying all the benefits of a premium design aesthetic.
Elementum is being developed by Templeton Group, which has overseen other popular projects such as the NXN apartments in Kingsland, and has a stellar reputation for attentively crafted, quality places for people and families. Award-winning cross-disciplinary practice, Studio Pacific Architecture is behind the design, having completed numerous high profile residential, civic and commercial projects including Wynyard Quarter development 30 Madden Street.
The Elementum complex will be formed of nine, three-storey buildings, comprising 107 apartments and 15 terraced homes. The walk-up apartments are available in a multitude of designs, and will feature open-plan living that harmoniously encompasses secluded balconies, overlooking green spaces. With a price range of $560,000 to $1,100,000, there is a range of layouts to choose from to suit a variety of lifestyles.
Each apartment will be imbued with a welcoming, homely feel thanks to exceptional details like high ceilings, fully tiled bathrooms and high-spec kitchens featuring European appliances and stone benchtops.
The 15 terraced homes will be north-facing and overlook the landscaped internal space, each facade denoted by a sloping, mansard roof and white brick exterior. Starting from $1,475,000 for a four-bedroom terraced home with a two-car garage, those who live in these beautiful abodes will also be privy to a hidden green oasis of native plants and trees.
The layout design includes high-quality kitchens on level one with European appliances and stone benchtops, and an open-plan living and dining room, while the master bedroom and ensuite sit alongside a second bedroom and bathroom upstairs, with two more spacious bedrooms and a full-sized bathroom completing the top level. A two-car garage sits on the lower level, with a laundry and ample storage.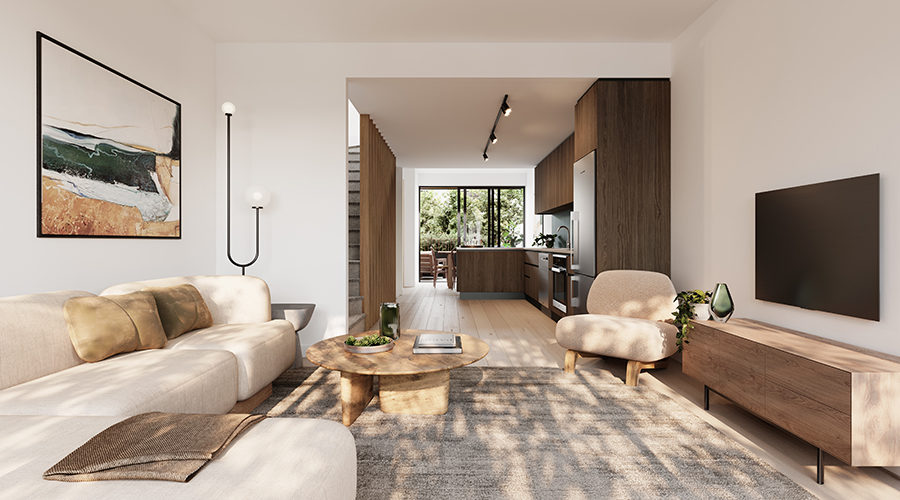 "I love the challenge of understanding the environment we're working with, how we work with the land," says Templeton Group founder Nigel McKenna. "With Elementum, the coastal context lends itself to natural and raw materials and plenty of lush planting. The apartments and terraced homes are set in an oasis of landscaped spaces, creating a relaxed, tropical sanctuary. Within collections of foliage sit interwoven timber platforms and boardwalks with bench seating creating places to gather and connect."
In terms of Elementum's location, beachside community Long Bay is located approximately 22-kilometres north of Auckland city, with a direct bus route to the extensive Albany retail precinct (which offers a park and ride system) and the Northern Express bus to Auckland CBD. The on-ramp to central Auckland is a 10-minute drive away.
Long Bay Village Centre won the 2021 Auckland Architecture Award for planning and urban design, thanks to its impeccably considered positioning and design. With Elementum's proximity to the village, a vital sense of connection and community can be cultivated with ease.
"You have all the amenities you need as well as plenty of shared open spaces and hubs where people can gather and meet which fosters connectivity and a sense of belonging," adds McKenna. "Our aim at Long Bay is to create a unique living environment that connects the people who live there with the stunning surrounding environment."
Visit the Elementum sales suite to discuss your options.
Open Tuesday - Sunday, 11am - 3pm
88 Te Oneroa Way, Long Bay Village, Auckland 0792 (Opposite New World)
For a private appointment please contact Colliers.