For the last few months, there has been Gemmayze Street-shaped hole in our stomachs while the Karangahape Road favourite was closed for a revamp. Originally opening in 2016, Gemmayze Street garnered swift and widespread acclaim for its delectable modern-Lebanese menu and lively St Kevins Arcade location. So popular was it, in fact, that by the time it closed its doors, the 40-diners-an-evening that had been predicted by owner Samir Allen, had swelled to around 200 punters on busy weekends. After a while, it became clear that a change was needed to keep up with demand.
Despite having talked about reimagining the space as far back as 2019, Allen had to put his plans on hold due to Covid-19 disruptions, deciding to take the leap at the end of last year, and finally reopening his doors in early March — much to the relief of Aucklanders who had been deprived of his particularly delicious take on Middle Eastern fare for far too long.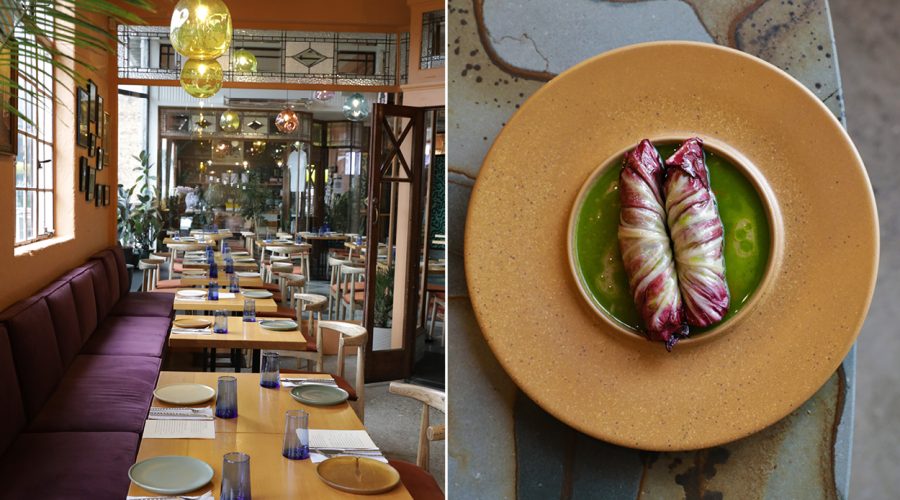 Inside, the new space is not only more interactive but stands as a much more accurate reflection of the type of food Allen serves and the community feel he seeks to cultivate. With a new pastry area where diners can watch desserts being made, a new bar, indoor banquette seating and importantly, a brand new kitchen (designed by Wonder Group) that is 50 percent bigger than previously, Allen explains that the overall effect is a restaurant that feels more connected, and facilitates the flow of service far better than before.
Aesthetically, the new Gemmayze Street features an interior of rich purple velvet with textured terracotta-toned walls and accents of copper and gold. An ode to the district of the same name in Beirut, the finishes are sumptuous without feeling over the top and offer a modern interpretation of more classical Middle Eastern design mores. (Think handblown glass lamps by Luke Jacomb to reference the iconic, multi-coloured lamps so often associated with the Middle East).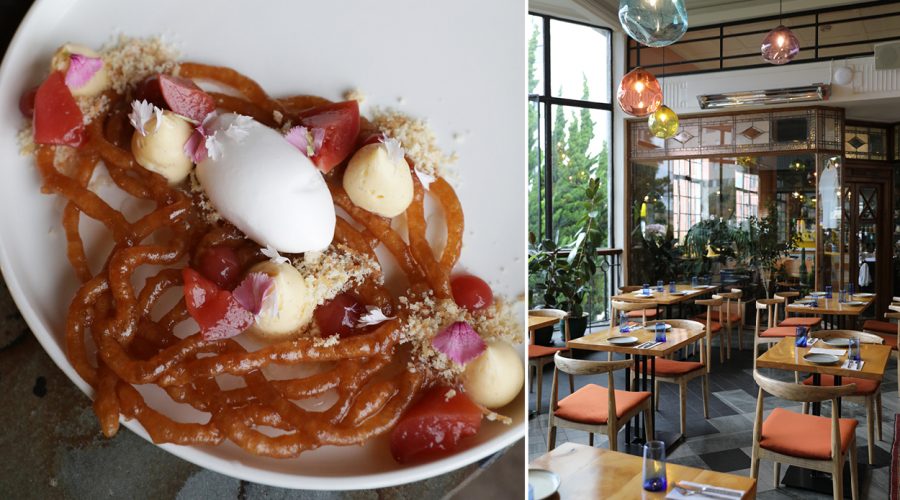 On the menu, while the concept has remained more or less the same the dishes have been taken to a whole new level. Expect the same complex flavours you loved from Gemmayze Street before, but executed in a way that feels entirely more refined. This is still, as Allen puts it, his take on his grandmother's table, and a love-letter to the traditional flavours of Lebanon, but it is also a dining experience that feels suited to our contemporary tastes, and one that meets our expectations of excellence with ease.
The reimagined Gemmayze Street not only improves on the experience of its diners, but its newer, bigger nature allows Allen the scope to push his concept further if he wants. Something that will surely be on the cards if Gemmayze Street's popularity continues to surge.