What's not to love about a hot pie? The pastry-laden dish is a national favourite for a reason — filling, a bit indulgent and ultimately very satisfying, pies are the quintessential comfort food and we're craving them regularly now that a chill has set in. While we aren't scared to admit we love a service station pie as much as the next person, we thought we'd go for a slightly more elevated experience. Without further ado, here are our favourite restaurant-quality pies in town. 
Otago lamb shank pie from Akarana
Akarana's signature pie is recognisable indeed, thanks to the (slightly confronting) bone sticking out of the middle. Despite the presentation, it's always a winner, with rich lamb filling, expertly crafted pastry and a side of mashed peas with mint, and gravy.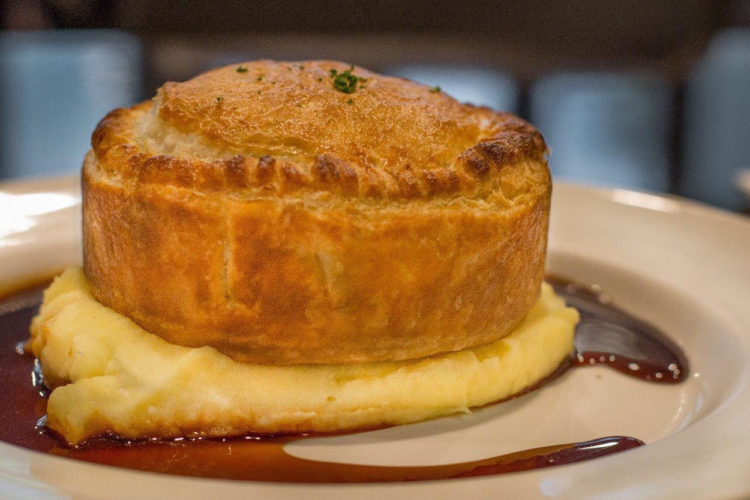 The Pie from Prego
The arrival of Prego's world-famous-in-Auckland pie usually heralds the start of winter, making the onset of short days and long nights all the more bearable with its presence. Set upon a luscious bed of mashed potato, the Prego pie's flavour changes regularly but is always delicious. Currently, it's smoked kahawai with sweet leek and dill, and a lime and dill hollandaise. Other iterations that might be on offer are spiced lamb ragu, beef short rib or occasionally, depending on supply, venison. While Prego's classic Italian fare is divine, we usually find ourselves forgoing pizza and pasta if this pie is on the menu.
Meat Pie Croquette from The Lodge Bar & Dining
The delectable Meat Pie Croquette is part of Commercial Bay eatery The Lodge Bar & Dining's snack menu and it packs a big hit of flavour in a small mouthful. Perfect for when you want the taste of a pie without the inevitable full belly, this clever morsel comes out shaped like an innocuous croquette but bite into it and a delicious meaty filling with smoked cheddar will have you questioning why you ever ate anything else.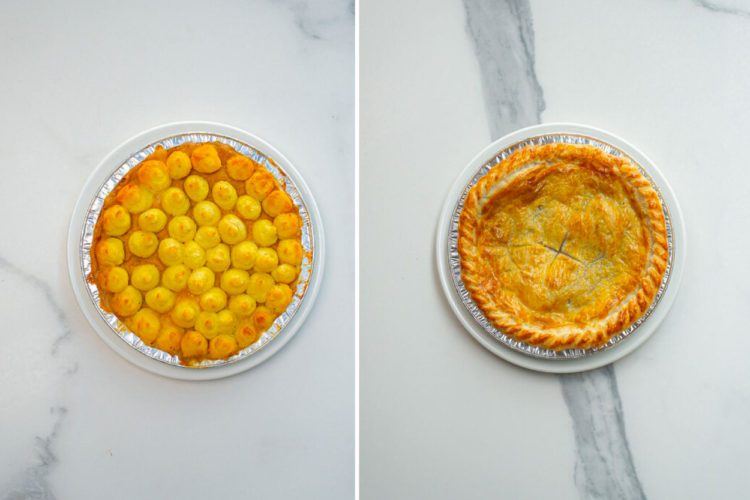 Fish pie from Ostro
Widely acclaimed for their sensational fish pie, filled with snapper and prawns and finished with a creamy potato top, Ostro has led the charge on restaurant-quality pies since it first opened. While the pie may not be on the restaurant's dine-in menu, you can order it from the Savor Goods website to heat and eat at home. And if seafood is not your thing, the braised beef pie with red wine, bacon and mushroom or chicken and vegetable with a pastry top is equally as compelling — each serving four people.
Pies of the day from Daily Bread
Admittedly these pies can be taken away and eaten fresh out of the brown paper bag but they can also be enjoyed onsite at one of Daily Bread's bustling bakeries — we had to include them as they are, like everything from the baked-good maestros, always of exceptional quality and are very delicious. The flavours change with seasonal availability, but the current flavours are bolognese and mozzarella, mint and mutton, and pumpkin amaretto (a great one for vegetarians out there).
Lamb and cheese savoury from Ahi
Another snack-size pie, the lamb and cheese savouries from Ahi are a must-order (along with the tahr tartare and the scampi corndog). With moreish, flaky pastry forming the base, a topping of lamb and melted Clevedon buffalo mozzarella makes these bites all the more luxurious and decadent.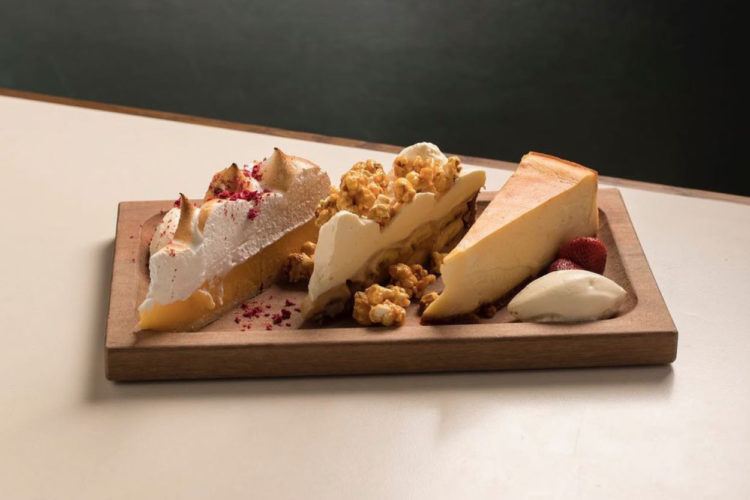 Sweet pies from Federal Delicatessen
It would be remiss of us to skip a sweet pie when celebrating national pie day — after all, the best is often saved for last. The Fed's sweets menu is renowned for how impossible it is to resist, and while we love the NY-style cheesecake, it's the pies we'll be making a beeline for this time. The lemon meringue pie is oh-so silky, while the banana and toffee pie with caramelised popcorn is heaven for fans of banoffee and the pecan pie is everything we want the classic pie flavour to be.
Apple pie from The Pie Piper
Is there anything better than a hot apple pie served with cold whipped cream or ice cream? We challenge you to think of anything after tasting the classic apple pie from The Pie Piper. Sliced apples are tossed together with a mixture of sugar and warming spices, then encased in a lattice-top flaky pastry. Available for takeaway and serving six to seven people, this pie is perfect for an easy, ready-made dessert.