Blink and you'll miss the latest new opening we're excited about, tucked down a city-fringe back street and marked by a black door and a subtly lit, dark red sign. But head through the door and downstairs to the subterranean space, and once you've had a taste of what Bar Magda has to offer, you'll be glad you found it.
Located at 25B Cross St, Bar Magda is owned by a trio with extensive and varied experience in the hospitality industry — Carlo Buenaventura, Craig Thompson and Matt Venables. Buenaventura is a familiar face from all over the food scene, having moved from his native Philippines to Aotearoa in 2010 and worked his way up the ranks in Queenstown, Wellington and Auckland for eateries including Matterhorn, Orphans Kitchen, Burger Burger, Culprit and Gemmayze Street.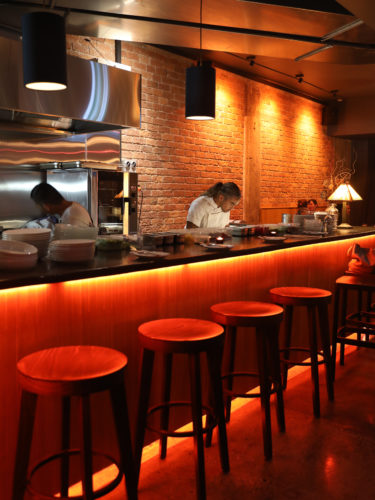 He has worked as both a chef and front of house, in management roles and assisting roles, always with the aim to absorb more information, practices, techniques and strategies for when he would eventually open his own venue.
Buenaventura's most recent venture was his popular The Cult Project restaurant pop-ups, which took place in eateries country-wide including Waipara Valley's Black Estate, Madame George, and Hillside in Wellington. He and co-owners Thompson and Venables knew each other from around the hospo circuit, and all bring different strengths to the venue. Thompson was the bar manager at Orphans Kitchen and runs Bar Magda's drinks programme, and Venables also comes from a bar background on more of the operations side.
The space itself has a darkly cool vibe, like entering a subterranean club but more polished. Which makes sense, because it's in what previously used to be X nightclub. Glowing, red-tinged lights line the underside of the bar and floor, with jewel-like round pendant lights dotting the space. Exposed brick walls, wooden banquette seating, concrete floors and glass tiles all come together to create a textural yet unfussy ambience.
Bar Magda seats 52, and is cleverly divided into three zones — there is a more intimate, quiet dining area near the open kitchen, and then a bar and dining space through a glass door that has both standing room, tables and bar leaners, with a dividing curtain separating the solely dedicated bar area.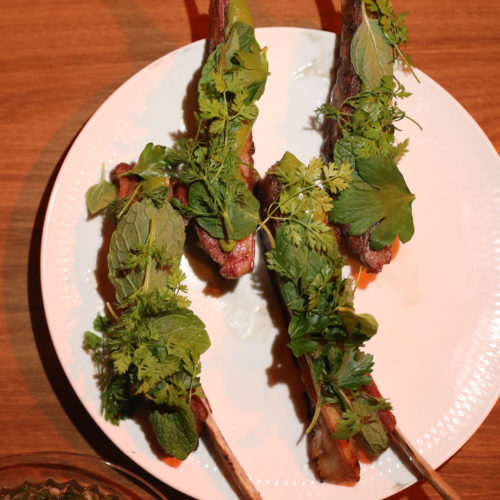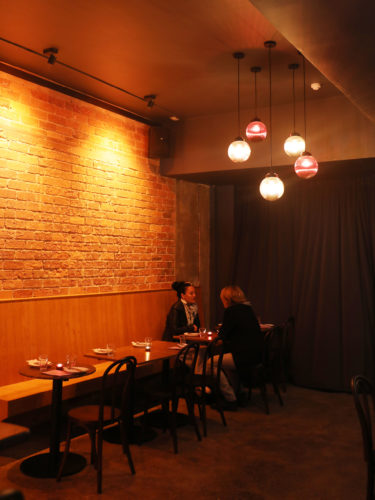 In terms of the food offering, Buenaventura describes it as 'seasonal produce through a Filipino lens'. It's not 'modern Filipino food', he says but the main direction of the kitchen, flowing through to the bar, is focused on the flavours he grew up with. "Some of the dishes are not in any way, shape or form a traditional Filipino dish", he says, "but, there are flavours in there that people who grew up in the Philippines would find familiar."
Bar Magda, like the name suggests, certainly has a strong drinks focus, but equally, it is a dinner destination, serving a fairly comprehensive menu of sharing plates that span snacks, and both hot and cold larger plates. Expect flavours that centre on sour-salty, sour-sweet, sour-spicy, and desserts that are more sweet-salty. When we visited we were struck by how different the food is from anything else we've seen locally.
The house-made bread of the day can be ordered with a very intriguing-sounding parmesan custard spread, garnished with preserved scallion and sweet gherkin — addictively creamy and cheesy with a bite of freshness from the scallions, it turns out that it's inspired by Cheez Whiz, which Buenaventura grew up eating. Served in this iteration, we can certainly get on board. From the 'something cold' section, triangles of preserved kohlrabi are incredibly tangy and spicy, made with a riff on a traditional fermentation method that is normally done with shrimp paste but Buenaventura has replicated with other spices for the same effect, and coloured with beetroot. They are topped with creamy dollops of a boiled potato, saffron and egg mixture, which adds moreish contrast.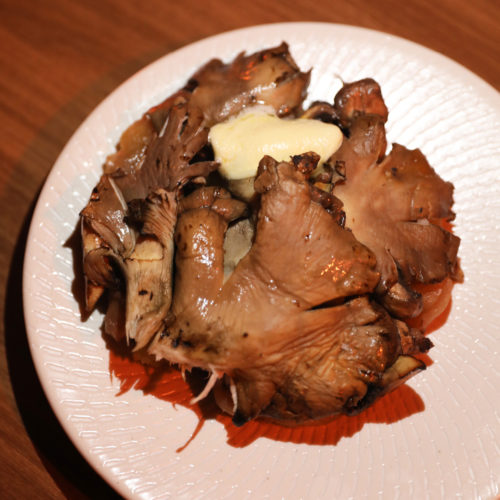 A dish of roasted, slightly smashed yams topped with oyster mushrooms and pickled mushrooms is beautifully comforting and earthy, and has added richness from a duck fat buttercream (which can be left off to make it vegan). We also highly recommend the lamb ribs 'pyanggang' with herbs and green sambal — the ribs are cooked until tender, meltingly soft and slightly charred, topped with a herbaceousness that cuts through the fat.
"We want the dishes to be generous but not too much", says Buenaventura; for two or three people, you could order four or five dishes to share, plus dessert. With Bar Magda's kitchen being open later than most — 11pm during the week and 12:30am on the weekends — the team are happy to cater to diners spaced out through the evening, coming in later rather than the typical 7pm slot.
Bar Magda is in its 'soft opening' phase until the 17th of July, meaning they're still seeing what works and what doesn't, ironing out kinks and refining the offering for what it will be more permanently moving forward. Regardless, we think it's more than worth a visit, and can almost guarantee you'll try something you have never tasted before.
Opening hours:
Tuesday to Thursday: 5pm — 12am (kitchen closes at 11pm)
Friday & Saturday: 5pm — 2am (kitchen closes at 12:30am)
Sunday & Monday: Closed
Is there a new opening you believe should be on our radar? Let us know at [email protected]
Bar Magda
25B Cross Street
Auckand CBD