While beauty trends seem to come and go at lightning speed, thankfully when it comes to our eyebrows we can leave the tweezers firmly locked in the bathroom drawer as the collective preference for fluffy, full-looking brows still reigns supreme.
When we need a little help in this department, we find ourselves turning to the team at Cityworks Depot beauty studio Lash Noir who are (as the name would suggest) experts in the lash department, but certainly know their way around a pair of brows, too.
"Our philosophy is a balanced approach", says Lash Noir founder Rebecca Hutchinson. "We take into consideration the intensity of your other features such as lashes and natural brow hair, to design something that looks good with a full face of makeup, and also without a full face of makeup."
The Lash Noir team specialises in the sweet spot of enhancement that doesn't look applied, but instead fits in with its surrounding features. "Brows are best tackled conservatively and less truly is more. We follow the contours of the face and don't overcorrect."
Whether you have patchy brows, down-growing hairs or are blessed with full brows and want to simply keep them groomed, here are the best treatments to consider.
For a natural-looking result with your own brows, plus minimal investment and minimal maintenance: Lash Noir's signature brow shape (and optional tint) is called Brow Magic. What sets this 30-minute treatment apart is the detailed face-mapping technique used to plan a well-suited shape to the client's facial features. "We love goal-setting, and working towards your best brow," says Hutchinson. Available both with wax and without for sensitive skin, Brow Magic can be done with fully customisable colour, and make sure you ask for Christina or Zoe.
For those who are keen to create bold and defined brows, or have patchy or uneven brows: Utilising a unique henna/tint combination, the Hybrid Colour service is specially designed to not only define the brows but to also stain the skin underneath. Staying in place for between eight and 14 days, this technique eliminates the need for brow pencils, powders and pomades, and is customisable to create warmer or cooler shades depending on your skin tone. It also doesn't discolour or fade in a patchy way like some other skin stain options can, and we would highly recommend Zoe, Hana or Kirstin for this 40-to-50-minute service.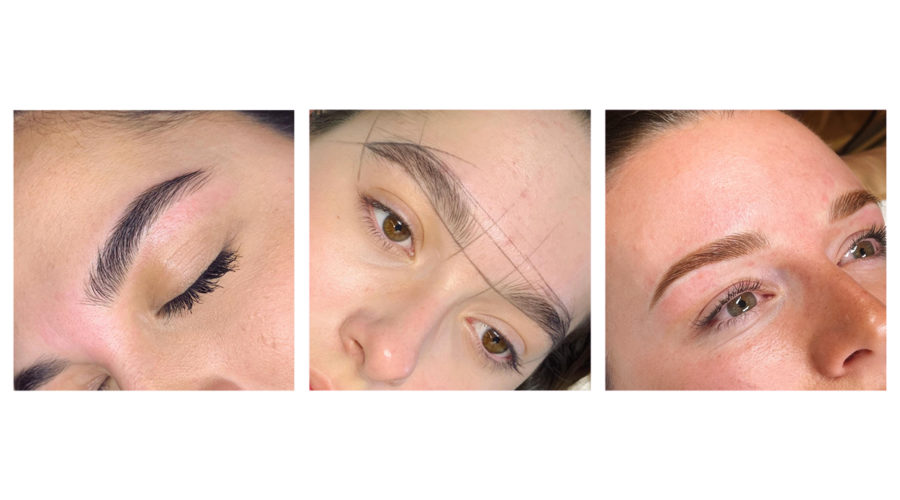 For those who draw their brows on daily, or want an overhaul of their shape plus previous tattoo cover-ups: The Ombre Mist Brow Tattoo treatment involves a super-soft powder effect that sits on the skin like a mist behind the brow hair. More low maintenance than hair-stroke tattoos, it can be used on a wide range of skin types — including oilier skins that might not be well-suited to a hair stroke-style tattoo — and offers a wide colour range. Even if you have little to no brow hair, it still looks natural. There is also the Ombre Mist Combination service, which offers the defined tail with powdered mist as mentioned but softens it through the fronts using hair strokes. This is perfect for people with sparse areas at the front of the brow. Specialists Britney and Ellen are Lash Noir's star therapists for this one, and it requires two visits of around one-and-a-half hours each
For those who want a textured fluffy look, have downturned brow hair growth or are after a 'feature brow': Using a keratin-based lamination product, Yumi Brow Lamination sculpts the hair into the desired direction and sets it close to the skin, resulting in a more manageable textured brow. Lasting four-to-six weeks, this treatment takes one hour and both Kristen and Steph are the experts to take your brows to wow.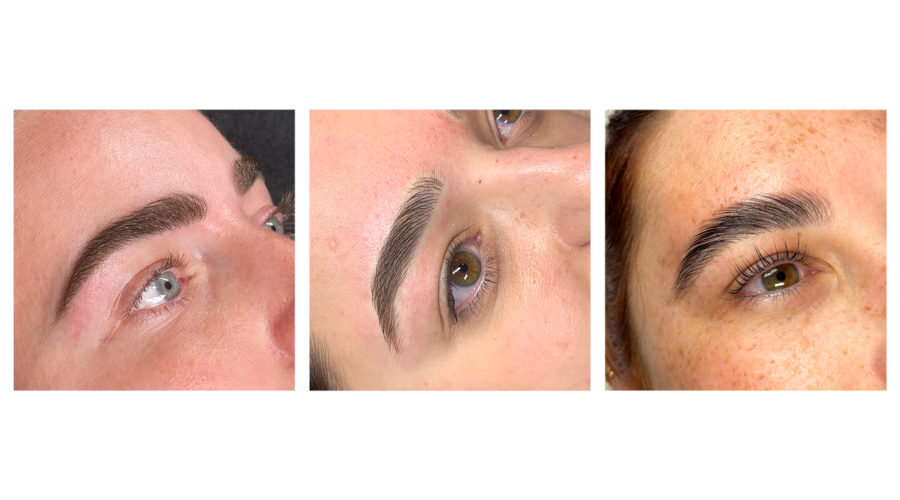 For those who want a seamlessly realistic effect, volume with texture and who don't like a soft, powder look: Great for people who are happy with their natural brow placement but wish to perfect and add to it, the Feather Touch Tattoo offers the most realistic and natural result. Best suited to normal skin types, as oily skin types can blur the strokes, this tattoo treatment seamlessly blends in with the natural hair, with a customised shape design and stroke pattern. It will take two-to-three two-hour sessions, and while all the specialists will do right by your brows, we've been recommended Tahlia and Brogan.
For those who are after a take-home product to help with a lack of natural hair and patchy hair growth: If you're not naturally endowed with full brows or have had too much taken off in the past, Revitabrow Growth Serum is a miracle worker and key component in brow rehabilitation. Working brilliantly with any one of Lash Noir's other services, it takes roughly eight weeks of daily use at home but the great results speak for themselves.