Ben Bayly keeps himself somewhat under the radar. Known for creating versatile menus that balance international influences with local flavours, Bayly's particular style of wholesome cuisine has been honed over years of experience working in Michelin-star kitchens in London and Paris, and immersing himself in the culture of places like Northern Italy.
Not one to forget his roots, Bayly has built a respected name for himself in New Zealand for both the award-winning restaurants he has helmed, and now, the ones he has established himself: The Grounds in Henderson, Aosta in Arrowtown and most recently, Ahi in Commercial Bay. But, despite Bayly's accolades, his approach is grounded in hard work and celebrating the simple things — friends, family, and creating experiences that are truly fulfilling — which is why his food continues to resonate long after the tables have been cleared.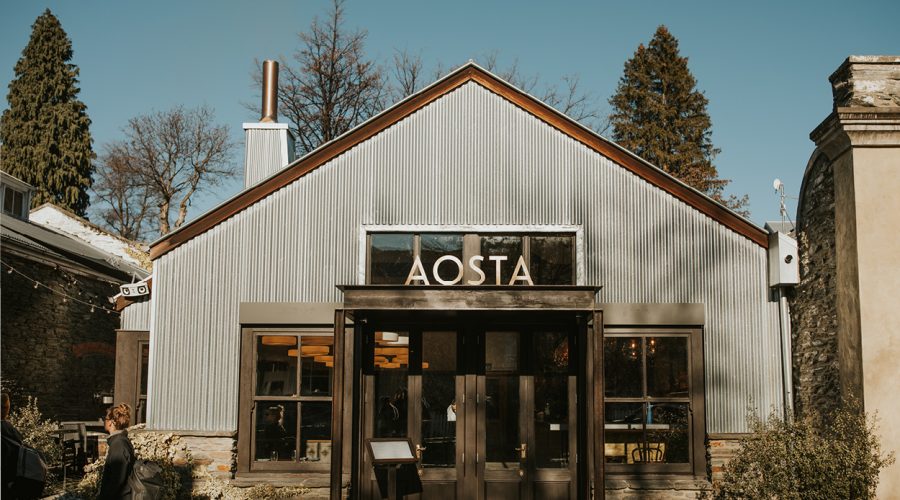 Restaurants tend to be a risky investment, so running them successfully is all about understanding how the financials actually work. A lot of people can make nice food, but turning that into a commercial reality is another thing. When I was in my 20s, I focused on working in the best restaurants I possibly could. In my 30s I was trying to make a name for myself. And now, in my 40s, it really has become about understanding the ins and outs of how a restaurant operates.
That's the greatest challenge. You need to know how much you're spending daily and how much you're taking daily, because if you're not able to be nimble around spending, and you leave it too late, the horse will have already bolted. So it's about constantly making sure you're not going backwards… and if you are going backwards, doing something about it, fast. It creates an interesting juxtaposition between seeing dollar signs above everything you do and still putting love into your dishes, keeping one eye on the money and one eye on the creative and experiential side. The risk versus reward is not great, which is why you just have to love it.
I've had to learn to be good with money. You might be the best chef in the world but when you're opening your own business you have to be able to find a way of raising the capital to get it off the ground. So you should start as early as you can. So, when you're working at a restaurant, start figuring out how it makes money. Ask yourself how it can afford to pay your wages? As an employee, be super proactive in helping the restaurant you work for be successful. Learn the prices of everything, from pork belly to chives, to bottles of wine and work out how much that bottle of wine has to be sold for to pay the rent and to pay the staff. And when you start to understand that and you start to run your costs right, and you make your mistakes using other people's money, you'll be in a much better position to go out on your own.
If you're working in a restaurant, and have aspirations of owning your own one day, I'd advise you to walk into your work and pretend you own it. Just walk in the door and say, 'this is my restaurant' and approach your work through the lens of an owner. And if you do that for a few years before you open your own place, you'll be fine. That, combined with working at the best restaurants possible, with the best people possible, who will teach you. If you're keen to know.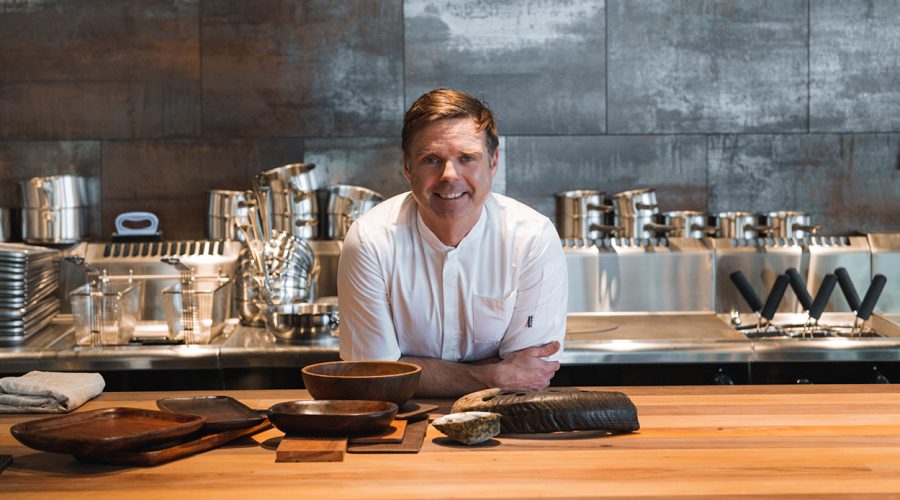 I want to scale up. I've never been interested in having a small, 20-seat-type place in a back alley somewhere. That's not to criticise that, or say there's a right or wrong way to run a restaurant, but that's just not what works for me. What I often suggest is for people to think about how to build something where they can create small incomes from multiple places and diversify their income. I've got my Italian restaurant down South, I've got my family one out West and now I've really got my dream restaurant, Ahi, where I feel I can really express myself, so that's probably enough, for now.
I love the freedom of working for myself. That was the main appeal of owning my own restaurants. I love not having to answer to anyone (to a degree) and having freedom around time and finances. But that does come with its own risks.
I always say to my guys, open your own restaurant, I'll help you, I'll teach them what I know because I know that when I'm showing them these things, my restaurant will be in better hands. (Even if it might only be for a short time.)
Looking back, I'm happy with the way my life has played out — no regrets. I can't think of anywhere else I'd rather be right now than New Zealand. I always thought that I wanted to travel more, but the regrets that I thought I would have as I grew older have dulled, and I'm much more aware that there is actually a silver lining to everything. You can't sit around wishing you did something. There's a path for everybody and you just have to follow it. I'm quite a driven person and I really don't know why. But I am, so I'm always trying to do something.
Success in this industry is 80 percent attitude, 20 percent talent. If you're a young person and you're wondering whether this is something you'd be interested in, it's an amazing career. But you need to have the right attitude. If you do, you'll go far. It's like that old saying about eating an elephant. How do you eat it? One bit at a time. You slowly earn things and become better at things, but it's certainly an industry that requires determination and a bit of courage. I don't consider myself very successful yet but I am tenacious, hardworking and not afraid of failing, which has helped.
Between age 16 and 30 I was lucky enough to work with some great head chefs who pushed, encouraged, bollocked and inspired me. These days I don't have to look much further than my wife and kids for inspiration and motivation. I've also been working alongside our Executive Chef Mike "The Russian'' Shatura for 12 years now and we're still going strong.
I spent 10 years living and breathing the food culture of different countries and cooking their cuisines. It made me ask myself: what is New Zealand food? Kiwis are such well-travelled people (we're like the Irish) and I think we don't know the answer to that yet. It's going to take time. There are a number of chefs and restaurateurs out there doing awesome 'New Zealand' food, so I think we'll be closer to understanding what New Zealand cuisine is in a few years. As more people come back, the landscape of food here will change, especially as the next generation comes through. New Zealand is such a young country and we've been heavily influenced by migration (in the last hundred years we've grown dramatically in population and diversity) and while we might have hangi and pavlova and lamingtons and custard squares, we don't really have our own 'super-dishes', or distinctly regional dishes. And it's probably not something we'll be able to determine for a while now.
Businesses that are brave, kind and have a social conscience are the ones that most impress me. Kōkako coffee is one that comes to mind, led by Mike Murphy who is someone that I've only just started to get to know. Now he's providing the coffee at Ahi. I've also recently become involved with a company called Citizen, with similar values again around sustainability and waste and rescuing products and food that would usually end up in landfill.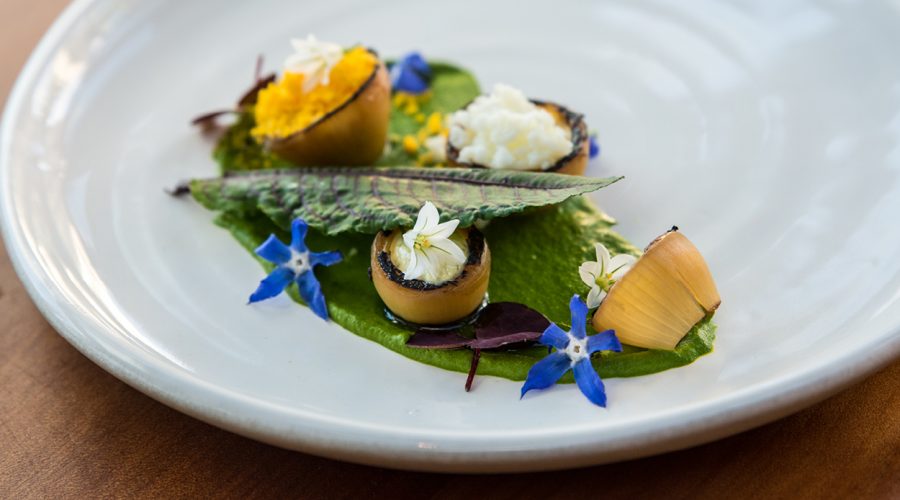 Both my grandfathers had boats and they would take all us grandkids fishing any chance they could get. From my perspective, if I had the money and the time to have a boat and do the same with my kids and grandkids, then I would consider myself successful.
I love watching shows like Chef's Table on Netflix, not for the food necessarily but to listen to how the brains of these modern chefs work, how they create, what inspires them and what their eureka moment was.
Being motivated is just in me. I'm not really sure where it comes from but I always need to be busy doing something. Maybe it has something to do with my upbringing? My parents always worked really hard when I was growing up and nothing was taken for granted.
My brain is always "on." But I love escaping into a podcast. I often find myself listening (selectively) to Joe Rogan, he has some really fascinating people on his show. I also listen to The New York Times podcast and I really love a show called Meateater. He's a hunter and activist who's actually all about protecting animals.
Late night snacking is my guilty pleasure. I know it's bad for me but I love it. If I'm really hungry at night, I'll always have two eggs, fried in butter and eaten with hot sauce and toasted tortillas. Then I'll brush my teeth and go back to bed. I probably should just have a protein shake or something, I know that would be better for me… but the eggs taste so much better.
I love serving customers and being involved in the experiences they have at my restaurants. You have to love that process if you want to be successful in this industry. You want to always be striving to exceed customers' expectations.
New York restaurateur Danny Meyer is someone I really admire. He says that you don't have to be the best restaurant, you just have to be everyone's favourite… I like that.