Whether as a snack or doubled-up for dinner, tacos always go down a treat. From authentic takes to something a little loco, we can't think of a more delicious meal that fits in only one hand. Forget Taco Tuesdays — try a tasty morsel for every day or the week, and well beyond.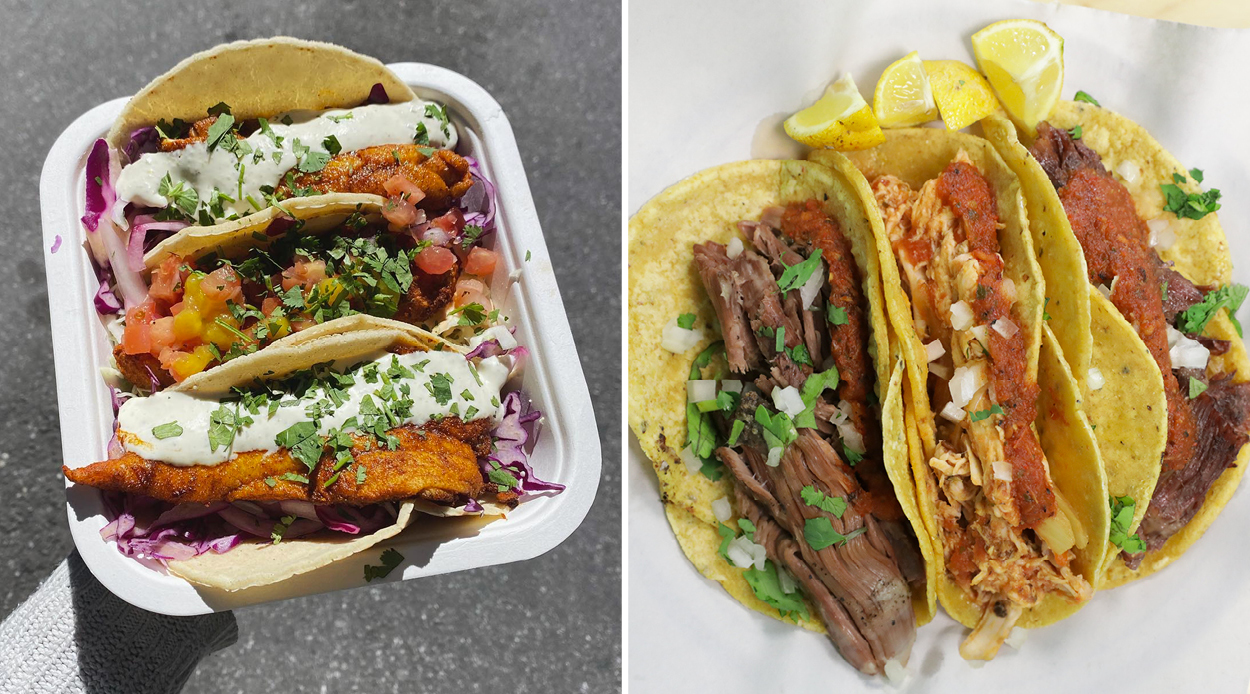 Taco Medic
New to the Ponsonby dining scene (from Queenstown), Taco Medic's absurdly tasty tacos are healthy yet full of flavour. The Kentuckyman sees Escondido spiced free-range fried chicken combined with traditional tomato salsa, mango, chipotle mayonnaise and coriander. There's also a 12-hour slow-braised beef brisket flavour and a six-hour slow-braised free-farmed pork belly, various spiced fish tacos, a marinated prawn taco, plus tasty vegetarian and vegan options.
La Mexicana
If you thought you knew what 'authentic' Mexican food tasted like, this cosy taco joint in Grey Lynn is showing us a whole different side to our favourite bite-sized morsels — with its speciality fresh corn tortillas made from scratch on site. La Mexicana's taco fillings include birria, comprising tender, slow-cooked beef cheek; carnitas, a popular confit of pork; pulled chicken in a mild chipotle sauce, and both vegetarian and vegan options for those so-inclined. Having tried most of the menu, we can confirm these tacos are delicious, and their petite size means you can try a variety of flavours without feeling overstuffed, while still leaving satisfied.
Cielito Lindo
This understated Mexican eatery in Henderson has been touted as serving the best Mexican food in Auckland. Cielito Lindo tacos are served on soft and delicate corn tortillas. The lamb option is succulent and juicy, while the nostalgic fried fish taco with nopales (an edible Mexican cactus) has the flavour of jalapeños, without the spice. The tinga (chicken) nachos are cheesy and gloriously guilty.
Frida Cocina
Frida Cocina Mexicana and Tequila Bar is a lively spot at the Viaduct Harbour. Alongside its lip-smacking selection of margaritas and mezcal is an excellent selection of tacos, including the Cochinita with guajillo pulled pork, grilled cheese, pickled onion, pineapple and salsa verde, garnished with coriander; and the De Papas with patatas bravas, salsa asada, sour cream, crispy tortilla strips and pico de gallo.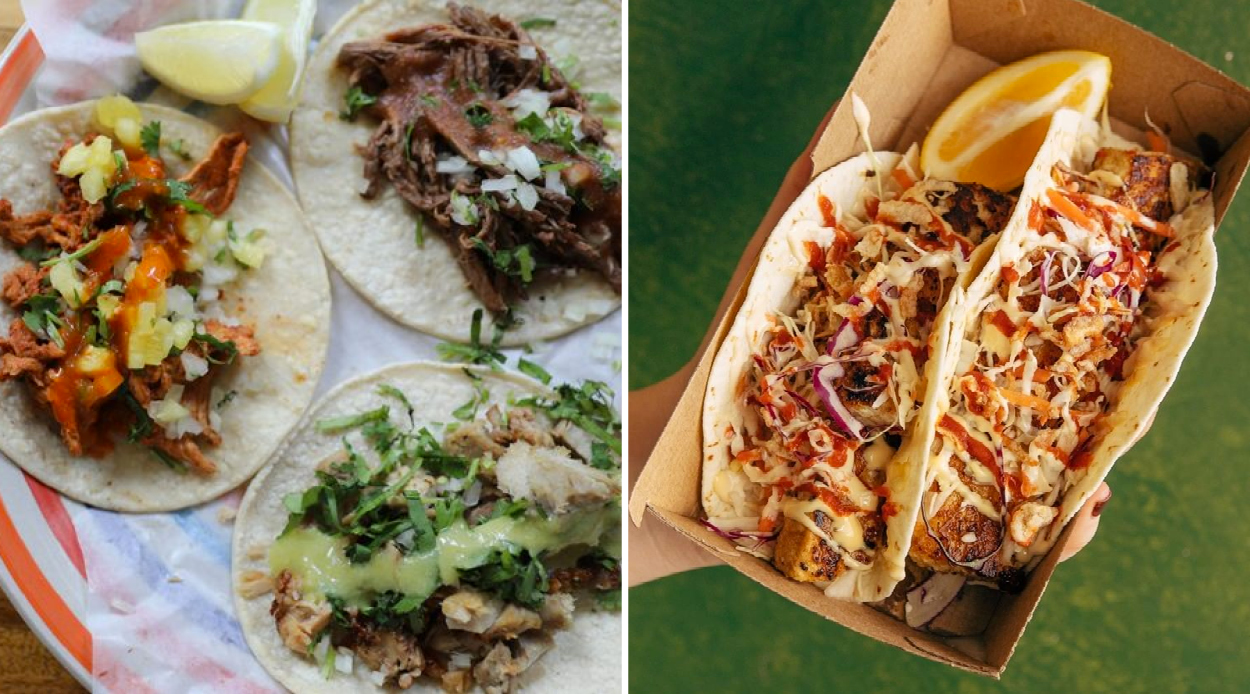 Mr. Taco
The moment we bit into one of the tacos from inner-city hole in the wall Mr. Taco – La Taqueria, we considered not sharing any information on its whereabouts so we could keep coming back again and again with less fear of them selling out. But, the selfish impulse quickly passed as we remembered our civic duty to tell you about some of the best, most authentic Mexican food we've had in recent memory. The pastor taco, the most popular at night in Mexico (we're told) comprises ultra-moist pulled pork cooked with achiote paste and a special blend of spices. It's then topped with a small helping of fresh pineapple, and each taco is served with onion, coriander and salsa of various spice levels.
Mexican Specialities
Mexican Specialties is a hidden gem in Ellerslie for those who wish to experience truly authentic Mexican fare. Their café and shop has a board of special taco options from pork to prawn, which can be served with Mexican rice and salad to make a meal of it. We suggest picking up some pantry goods while you are here, to continue your lucky taco streak.
Fishsmith
If you have your heart set on fish tacos, Fishsmith in Herne Bay has dedicated its natural resources for a pair of delectable fish tacos. The two flour tortillas are filled with spice-rubbed fish, coleslaw, ponzu mayo, hot sauce and crispy shallots. They're best enjoyed by the beach.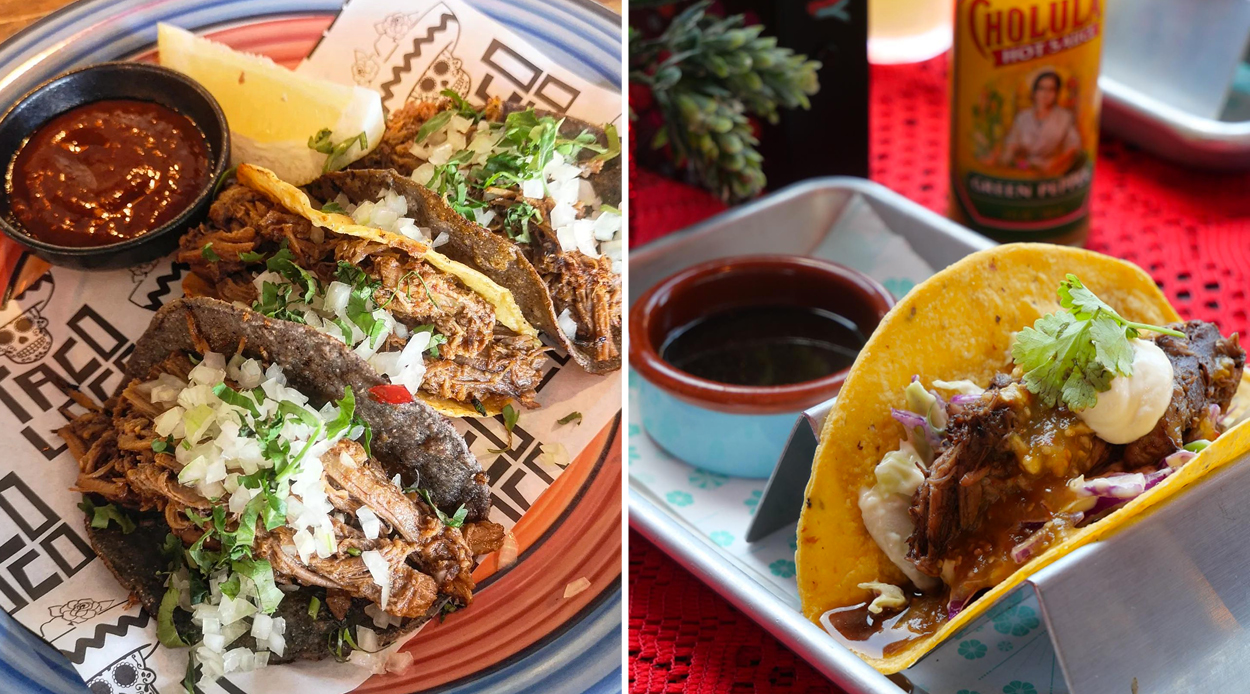 Taco Loco
The Taco Loco food truck was the rolling authority on Mexican cuisine, before setting up a stationary little cantina in Mount Albert. Although Taco Loco has a full menu, the tacos are (unsurprisingly) the most popular. For something different, try the Tacos Dorados, with four crispy rolled and deep-fried tacos with your choice of beef, chicken, or lamb — and topped with house salsa, lettuce, sour cream, feta cheese and radish. Sensational.
Ghost Donkey
Commercial Bay's mezcal and tequila bar is a lively and vibrant venue that aspires to impart Mexican hospitality to every one of its visitors. On Ghost Donkey's taco menu we order the Al Pastor, with spiced pork, pineapple salsa and chipotle mayo, and the Chipotle Jackfruit, a vegetarian alternative with papaya slaw and spiced peanuts. The Mexican Fried Chicken, with jalapeño mayo, slaw, red chilli and coriander, is also a must-try.
Loco Bros
Keeping the flavour profiles as traditional as possible, Brody Jenkins and Josh Barlow use their chef-trained cooking techniques to elevate their taco offering. Loco Bros (which can also be found permanently at Street Feast in Titirangi) serves a Carne Asada taco comprising grilled bavette steak, avocado, onion and salsa verde; Escalfada Chicken with poached organic chicken, roasted tomato mole and pickled onion; and, for those after a plant-based option, the Chilli Con Carne is made with vegan chilli, vegan queso and fresh onion.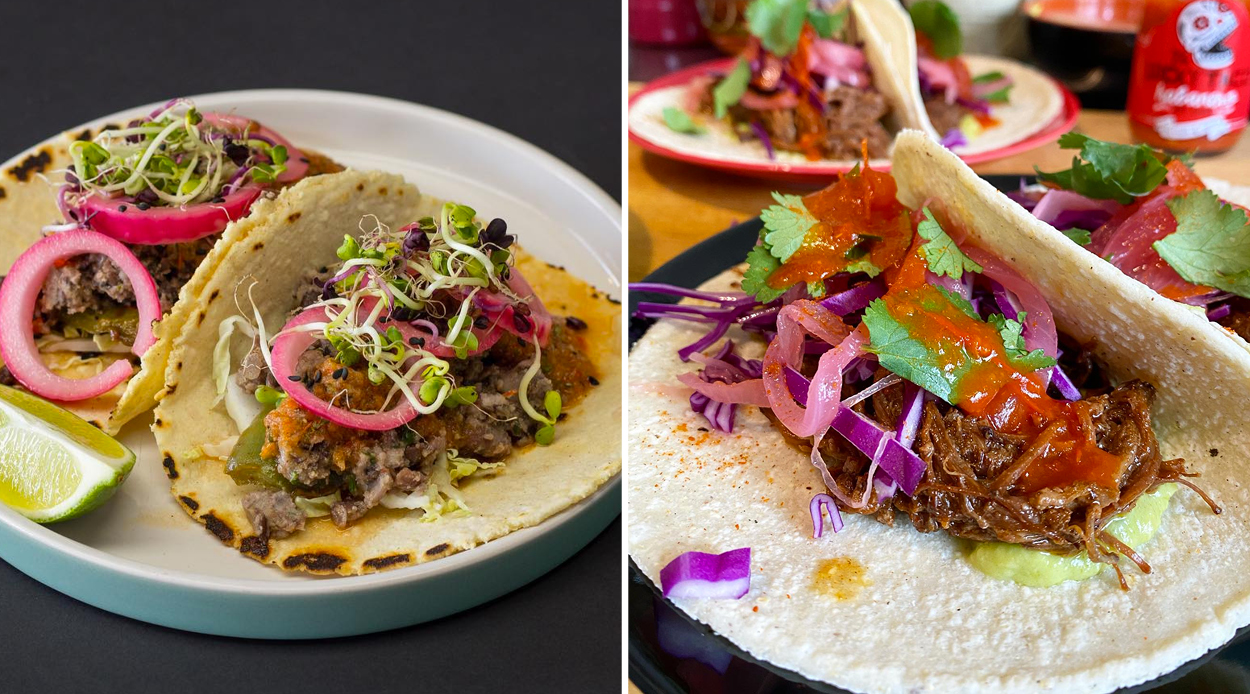 Food Truck Garage
On a mission to show that fast food can be good food, the Food Truck Garage at City Works Depot rolls soft tacos from authentic hand-made masa tortillas, which are naturally gluten-free. From spiced chicken, to braised jackfruit and chipotle prawn, layers of new flavours and sauces create one tasty taco mouthful.
Inca
Combining the flamboyance and fire of South American flavours and the careful techniques of Japanese cooking, Nic Watt's Nikkei-style restaurant Inca is now in both Newmarket and Ponsonby. The Ao Nori taco with tempura prawn, avocado, coriander, tonkatsu, and pickled white ginger is an excellent example of the collision of cuisines, as is the Blue Corn taco with BBQ oyster mushrooms, teriyaki, carrot and pickled onion.
The Lucky Taco
Considered the OG of the moveable taco circuit, this well known Auckland food truck proffers flavours such as the 'cheeseburger' taco (asada style beef with queso, pickled red onion, red cabbage and coriander) as well as the classics. If you can't find them, The Lucky Taco food truck is available to hire for a group, or you can order your own sauces, pickles and taco kits to recreate The Lucky Taco when at home.