Viaduct Harbour has long been a favourite location of Aucklanders. Its idyllic waterfront views are invitation enough to wine and dine the day away. The only struggle you may face is deciding on a place to spend a long lunch that could potentially stretch into the dinner hours. As such, we have curated a list of our favourite bars and restaurants in Viaduct Harbour, from rooftop bars to all-day eateries.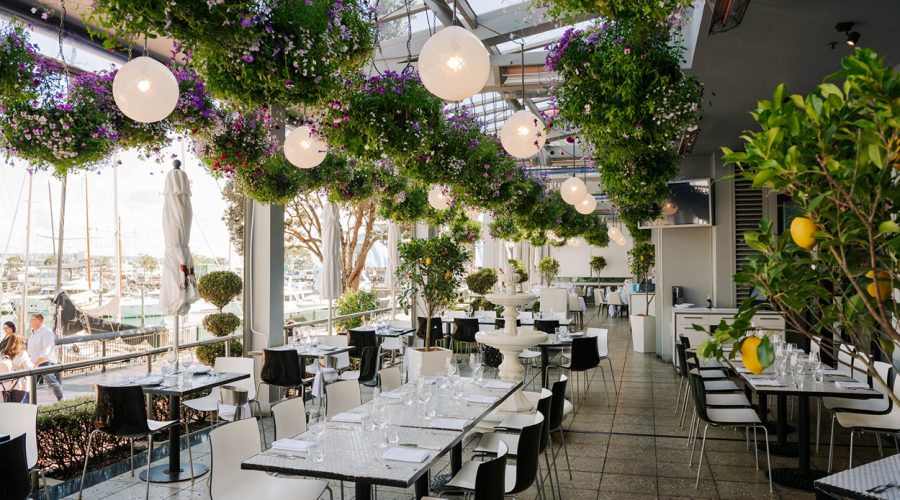 Soul Bar & Bistro
With a menu so delicious you'll want to sample every dish, it only makes sense to extend your lunch through to dinner to make the most out of your sitting at Soul Bar & Bistro. Home of some of the city's best salt and pepper squid (and don't forget the mac and cheese), Soul is the perfect place to sink an exceptional cocktail (or two, we're not here to judge) and soak up the all-weather waterfront atmosphere.
Grand Harbour Chinese & Seafood Restaurant
If you have a craving for dumplings, look no further than Grand Harbour Chinese & Seafood Restaurant. This place is an institution and has been serving yum cha to hungry Aucklanders for almost 20 years. Renowned for the freshness of its dim sum, its laden trolleys are emptied after just a single lap of the expansive dining room, ensuring dishes are always at an optimal level of tastiness. Pair with a frosty beer and you're in for a brunch like no other.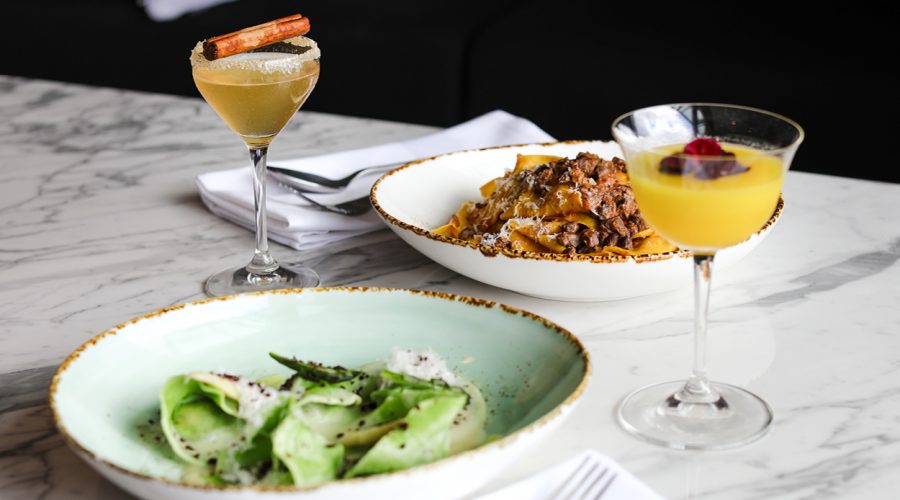 VYC Trattoria Moderna
Formerly known as Viaduct Yacht Club, VYC Trattoria Moderna's new offering is bringing laidback vibes and plenty of delicious fresh pasta to Viaduct Harbour. Open five days a week from 12pm until late, the Tuscan-inspired menu, punchy cocktails of the week and prime position are invitation enough to pay a lingering visit.
Giraffe
Open from 7am seven days a week, Giraffe has you covered across breakfast, lunch, dinner and dessert. Executive chef Simon Gault's menu celebrates the classics with aplomb, serving delicious iterations of eggs Benedict, whitebait fritters and three different kinds of steak — to name just a few.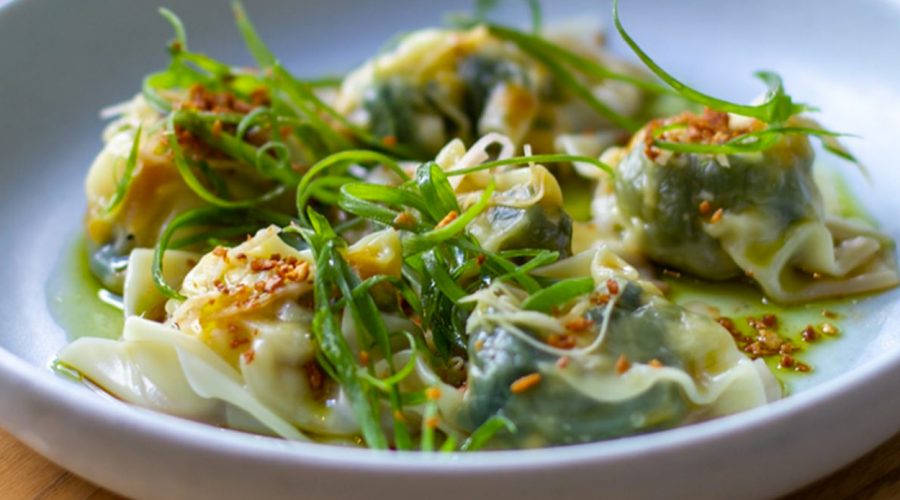 Hello Beasty
Drawing inspiration from Korean, Japanese and Chinese cuisine, Hello Beasty is the place to go when you want to take your tastebuds on a journey. The light, airy interior with open kitchen is an inviting place to post up for lunch or dinner, with favourites such as potstickers and hibachi-seared lamb cutlets sitting alongside a dedicated vegetarian and gluten-free menu. Don't miss the KFC (aka Korean fried cauliflower).
Dr. Rudi's Rooftop Brewing Co.
This rooftop brewery, bowling alley and restaurant has all the ingredients for a fun-filled day. Although the chefs at Rudi's serve up classic breakfast meals on the weekdays, this rooftop eatery and bar shines its brightest on the weekend. With plenty of beers on tap, even more stocked in the fridge and an elaborate cocktail menu, sitting at Dr. Rudi's never results in a 'quick drink.' The food offerings are just as grand, with pizzas by the foot, jalapeno and brie poppers and beer-battered McClure's pickles to boot.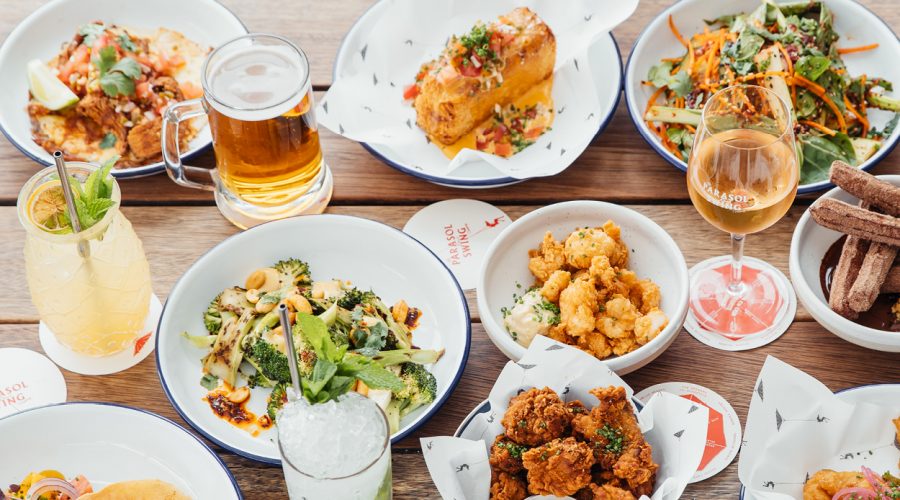 The Parasol & Swing Company
If a rooftop bar is what you're after, Parasol & Swing is here to deliver. Offering a range of interesting cocktails including a banana miso sour (think miso banana, Tennessee whiskey and vanilla pisco) alongside bottled cocktails and natural wine, it's the perfect place to settle in for a drink with a difference. No slouches in the food department, Parasol & Swing boasts a deliciously refined menu of classic bar fare, with ceviche, panko-crumbed macaroni and fried chicken all on offer.
Frida Cocina Mexicana and Tequila Bar
When nothing but a strong margarita will do, trot along to Frida Cocina Mexicana and Tequila Bar. The inventive drinks menu lists tequila, mezcal and a lip-smacking selection of margaritas, available in three different sizes depending on your thirst level. From traditional to contemporary, flavours range from 'classic' to mango, passionfruit and jalapeno. If you're feeling peckish, there's an excellent selection of tacos and sharing plates spanning guacamole, ceviche and mole poblano pork ribs.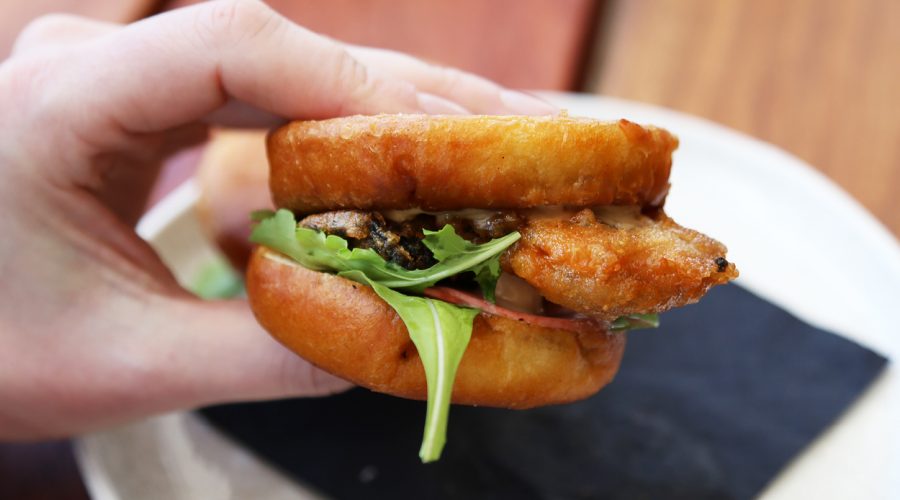 Saint Alice
From the moment we first bit into the oyster McMuffin at Saint Alice, this all-day rooftop eatery immediately became a strong favourite. No matter what day of the week or time of the day, Saint Alice always makes for an enjoyable experience. Aside from the infamous oyster McMuffin, expect to find woodfired delights, ranging from pork spare ribs to pizza, alongside top-notch seafood and refreshing sangria and Pimm's jugs.
Oyster & Chop
Oyster bar and steakhouse Oyster & Chop are experts when it comes to surf and turf, serving up classic bistro fare seven days a week. As to be expected, seafood and oysters are a speciality, with the impressive 'Taste of the Ocean' seafood platter almost impossible to resist. If turf is more to your taste, big hitters like the tomahawk for two are sure to satisfy any carnivorous craving. Be sure to snatch a spot for happy hour, with $10 Aperol Sours and $5 beers hard to beat.
Boracay Garden Restaurant
Filipino food may not be overly familiar to Auckland diners, but we predict that it will be the next cuisine to go viral in our city. The bold, distinct flavours are unique to anything we have tasted before and Boracay Garden Restaurant does the cuisine justice. The restaurant is open from Tuesday to Sunday, with a distinct lunch and dinner menu. The nighttime offering is designed to be shared family-style, so be sure to gather the troops and book a table.