If working from home has taught us anything, it's that a piece of toast sadly doesn't have the same appeal as a freshly-made salmon sushi roll. After weeks spent yo-yoing in and out of the office, now's your chance to support our inner-city eateries the tastiest way we know how — by showing some love at lunchtime. From sandwiches and salads to dumplings and noodles, these are the best places to grab a work lunch in Auckland's CBD. Tools down, forks up.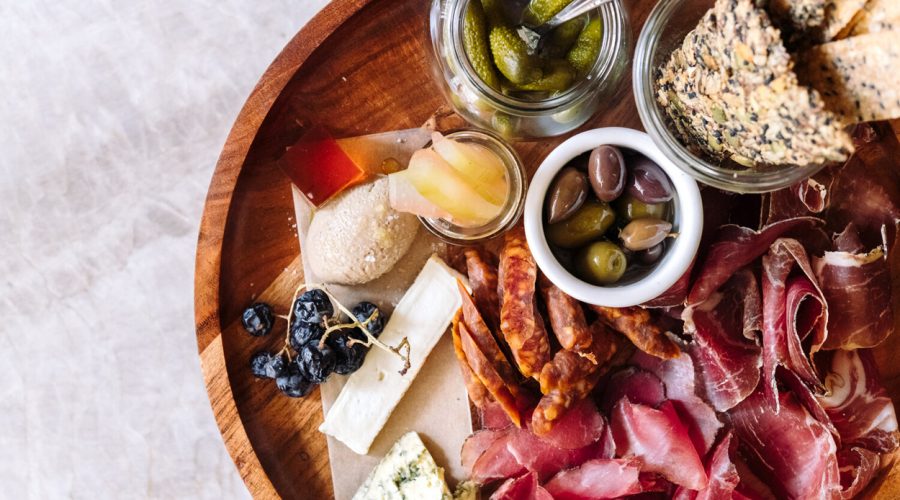 Little Culprit
Everyone's favourite spot for an after-work sip is officially open for lunch, offering excellent drinks and banging snacks even earlier in the day. From midday to 4pm you'll find Bloody Marys, Bellinis and a virgin grapefruit Collins for a pretty price, plus a delicious daytime grazing platter including chicken liver parfait, cold cuts and cheese, for just $30. 
Spectra
Situated in the expansive Sky Lobby of Commercial Bay's impressive PwC Tower, Spectra is a new daytime eatery providing the perfect space to sit down for a business lunch or grab something on the go. Peruse the array of tasty cabinet treats, or choose something from the thoughtfully refined all-day breakfast or lunch menu. Our pick is the 'The Plate', a simple, healthy option where you choose your protein (sirloin, chicken or market fish) and pair it with the salad of the day. Easy as that.
&Sushi
Located cityside at City Works Depot and Britomart, &Sushi has carved out a reputation for serving some of the most delicious, intricate pieces of sushi around. Build your dream lunch box from the enticing cabinet of sushi, nigiri and inari, or order a bowl of teriyaki chicken donburi or tofu yakisoba. Eat in or take away, &Sushi will have your lunchtime looking good and tasting even better.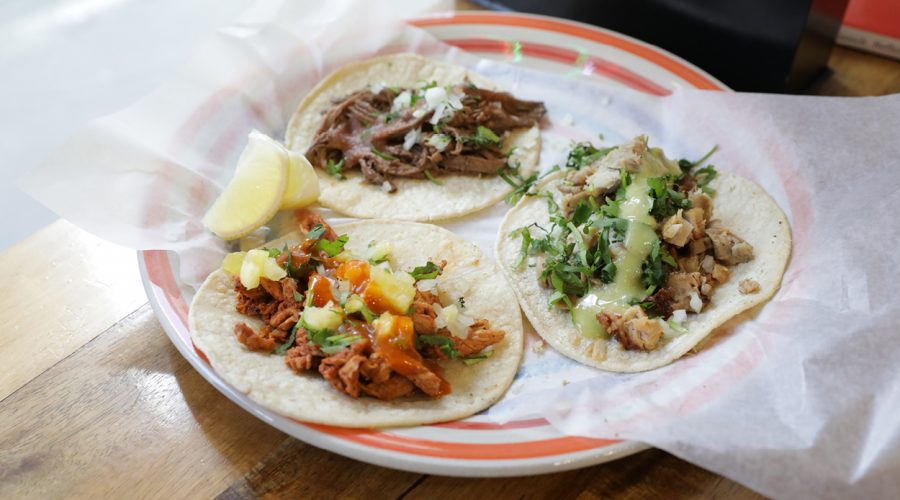 Mr. Taco
Blink and you'll miss it, this tiny hole-in-the-wall spot on Federal Street has captured our attention for serving some of the tastiest, most authentic tacos in town. With a succinct menu of traditional Mexican favourites, Mr. Taco is a compact operation, perfect for a trio of tacos or a burrito on the go. We highly recommend both the cactus and jackfruit tacos — a flavourful, delightfully spicy choice that will please herbivores and carnivores alike.
Goodlife Superfood Co.
For healthy eating that is enjoyable and delicious in equal measure, try Goodlife Superfood Co. Those looking to refuel for a productive afternoon ahead will be more than pleased with its fresh, imaginative mason jar salads such as jerk mango chicken and red grape, walnut and chicken. With dietary requirements well and truly catered to thanks to vegan, dairy-free, nut-free and gluten-free options, it's no surprise this takeaway lunch bar is constantly bustling with customers.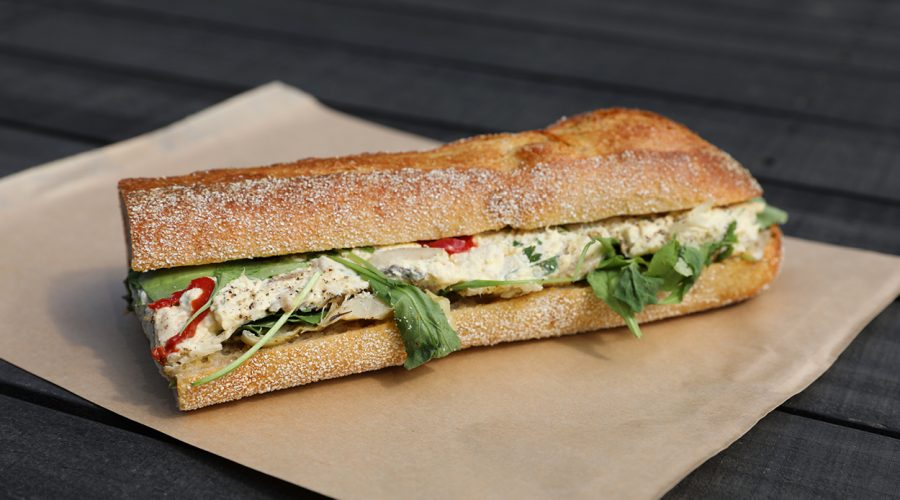 Daily Bread
City dwellers rejoice, our favourite sourdough slingers have set up shop in the CBD. Tucked away right next to Saint Patrick's Square, Daily Bread's new outpost comes in the form of an architecturally designed kiosk. Serving its signature sandwiches, pastries and pies, you'll also be able to grab a loaf of bread to take away, ensuring your next homemade office lunch is a lot more impressive than the last.
Bang Bang Kitchen
If dim sum, fried rice and Peking duck are more your speed, be sure to head to Auckland Fish Market's Bang Bang Kitchen come lunchtime. Inspired by the Hawker markets in Singapore and Malaysia, Bang Bang Kitchen are experts at Asian-fusion flavours. Choose from dishes such as warming laksa, lobster fried rice and prawn har gow, or take advantage of lunch specials such as crispy pork or Peking duck on rice.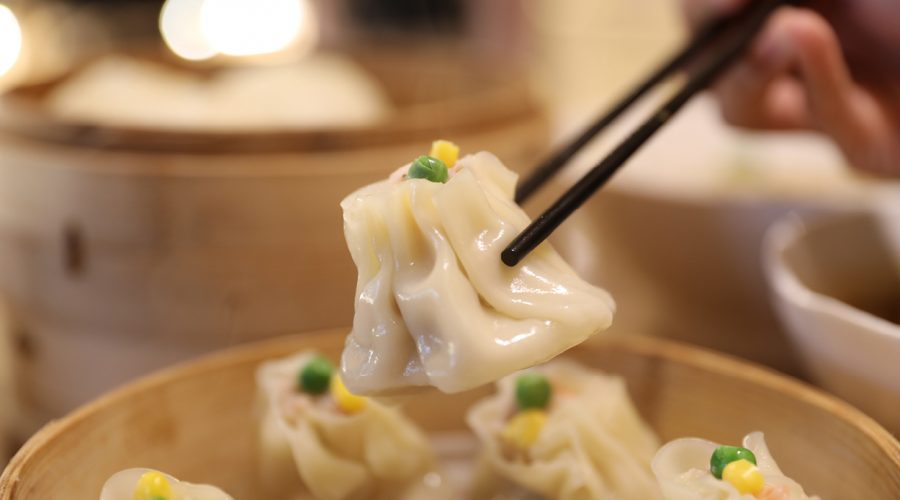 Sunny Town
Don't be put off by the queues at this Lorne Street hot spot, Sunny Town is just the ticket when you're in need of some noodles, stat. Once you've secured your seat and ordered, food arrives almost instantaneously in the form of soft, pillowy pork and vegetable buns, juicy prawn shao-mai and numbingly good dandan noodles. Eat eagerly and exit with intent, ensuring the next lucky luncher can have their fill.

Caffetteria Allpress
There's something that can be said about the classics, like having a good old fashioned sandwich for lunch. Drake Street's Caffetteria Allpress has the sando down pat, with fillings changing daily plus a few favourites like the Reuben and the tuna, egg and mayo gaining mainstay status. We can recommend the chicken sandwich — a feat of sandwich engineering combining moist, mayo-y chicken with crunchy salad and sourdough for a fresh, never soggy sandwich.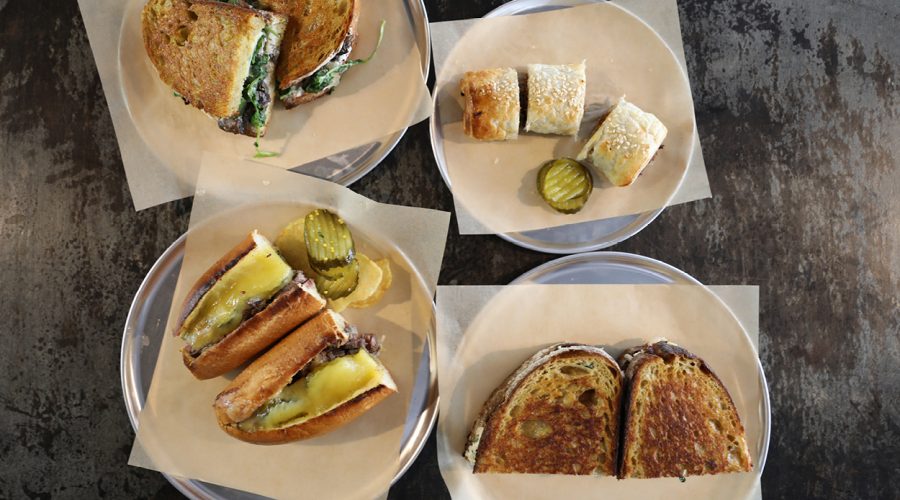 Hero Sandwich House
Speaking of sensational sandwiches, it would be remiss of us to speak of such things and not mention Hero Sandwich House, which just this year brought its legendary deli-style sandwiches to the CBD. Located inside multi-functional workshop, gallery and workspace The Tuesday Club, a visit would not be complete without the famous Philly Cheese (a brioche bun stuffed with skirt steak, jalapenos, buttered onions, pickles and cheddar), plus you can add on Proper Crisps, extra pickles and a cold drink for only $5.
Paper Crane
If you're near Wynyard Quarter, you'll find delicious Asian-fusion offerings at Paper Crane. The menu showcases many Asian favourites, from steamed baos, to sashimi, donburis, and of course noodles. Our recommendation is the misoyaki salmon on rice. Both takeaway and dine-in-friendly, Paper Crane offers local workers a reliably excellent eatery, and also a great location for meetings.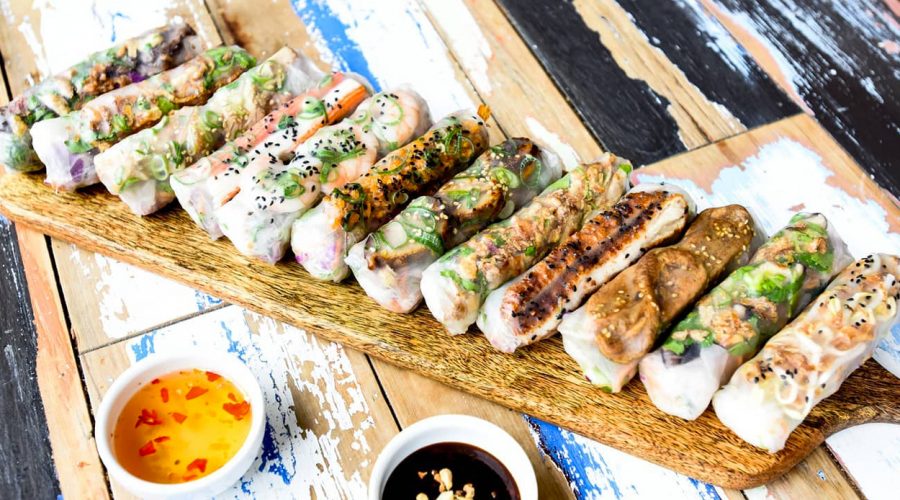 Hello Mister
Vietnamese cuisine is associated with quick, fresh, light, yet very tasty food, which explains Hello Mister's popularity. During the hot summertime, we opt for the rice paper rolls, particularly with lemongrass chicken or Peking duck fillings. If you request them to go, you can take a short stroll and enjoy their succulent flavour in the nearby park. By contrast, when winter rolls around, it's the phở that calls us to pull up a chair and dine-in.
Lowbrow
Some days call for salads, others call for sandos, curly fries and hot wings. On days like these, trust Lowbrow to deliver the goods. Located in Queen's Rise (with another location uptown in St Kevins Arcade), Lowbrow is the perfect pitstop for those seeking something seriously good to sink their teeth into. We recommend the chicken sando with spicy fried chicken thigh, cheese, mac sauce and pickles, served on a sesame bun (or an iceberg wrap if you feel so inclined). Finish strong with a birthday cake sundae for the ultimate antidote to any midweek malaise.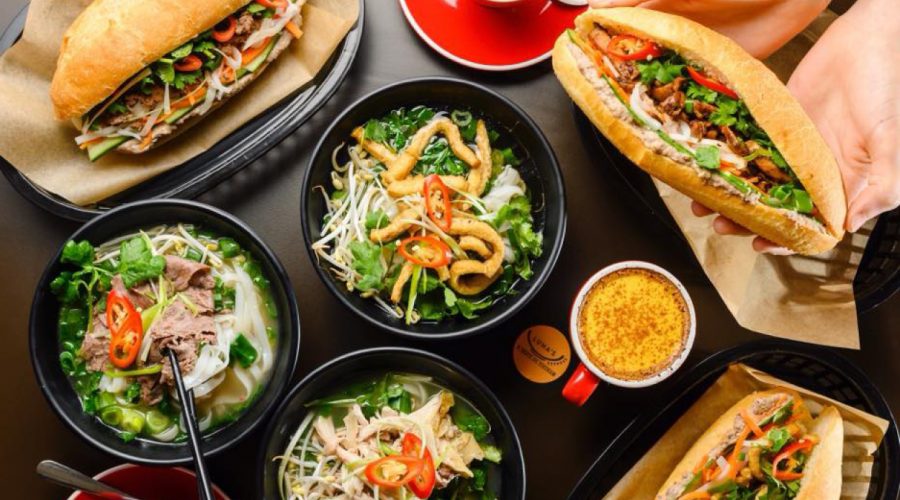 Luna's Express
A mention of Auckland's Vietnamese cuisine must include Luna's Express in Chancery Square. The summer rolls are unlike any rice paper roll we've tried but it's Luna's chicken banh mi sandwich that we consistently revisit here. From the bread to the pate, everything in this Vietnamese sandwich is made from scratch, making it one of the best bánh mì in Auckland.
Toss
Specialising in healthy salads, Toss' wholesome bowls make it easy to eat your greens. The 'Post-Workout' salad is a virtuous choice with or without the aforementioned exercise, combining several varieties of salad greens, free-range chicken, avocado, feta, quarters of perfectly boiled egg and green goddess dressing. With a range of warm bowls, wraps, smoothies, toast and a soup of the day, there's lots to love at this Wellesley Street West spot.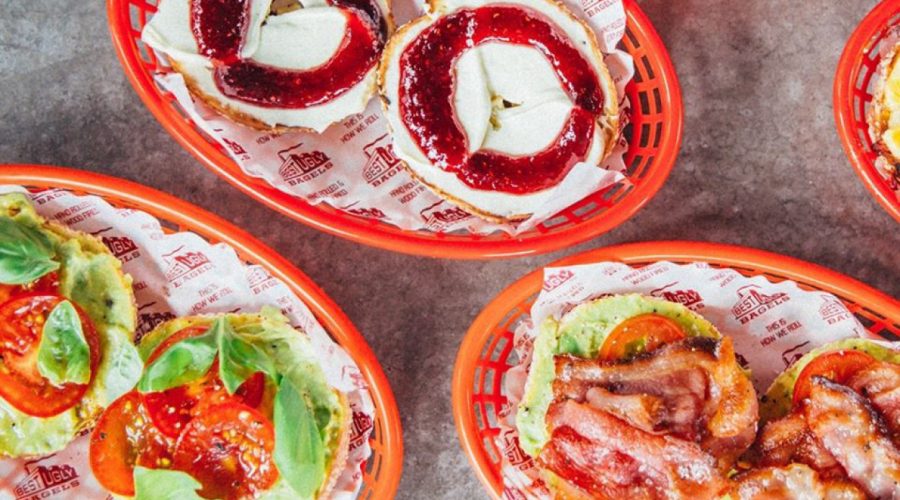 Best Ugly Bagels
Typically this New York staple leans on the heavier side of the lunch scales but it's a different story when it comes to Best Ugly Bagels. Instead of the usual dense Big Apple-style, the bagels here follow the Montreal method with a lighter texture of bread that is topped, rather than filled. These bagels make for the perfect midday meal and our highlight is the Chickaboom, with its fragrant curried chicken, rocket sauce and piquant spring onion.
Yume
Hidden away on Vernon Street, Yume (formerly known as Haru no Yume) provides all matter of fresh and tasty Japanese favourites for inner-city workers. Inviting to dine in and easy to take away, Yume has an irresistible cabinet of sushi and tempura available per piece, plus bento boxes, ramen and udon. We can't go past the tuna poke bowl with rice, pickles, salad and spicy gochujang sauce.