Situated in the expansive, light and airy Sky Lobby of Commercial Bay's impressive new PwC Tower, Spectra is the new cafe making a destination out of a corporate space.
Owned by Roger Liu, whose roster of eateries includes Albany-based Fields and Percy near Auckland Airport under his hospitality group Woozoo, Spectra aims to occupy that liminal, in-between space separating the workplace and the home with appeal and polish.
Whether the intention is to grab breakfast or lunch on the go, or to sit-down for business or leisure, visitors will find a lot to love within Spectra's clever, considered selection of dishes, all designed by Woozoo Group executive chef Logan Wang.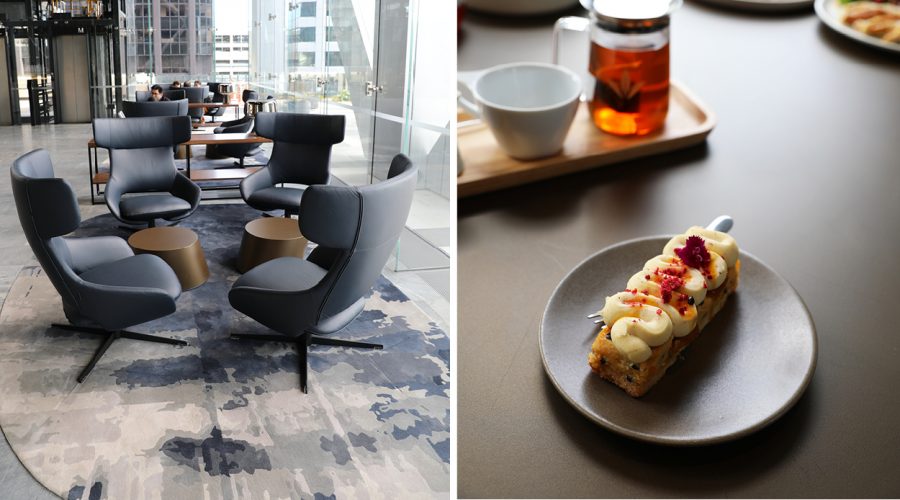 As well as favourites like eggs and toast, and a wholesome porridge, the all-day-breakfast menu includes a variety of both sweet and savoury bruschetta; we're talking stracciatella with grapefruit segments, chai preserved figs and honey comb; avocado with kimchi tempura, a salty yet sweet sprinkle of olive sugar and cherry tomatoes; and prosciutto with goat feta, tomato, basil and lemon oil.
For fungi lovers, the mushroom medley is a beautifully creamy plate of juicy mushrooms tossed with cashew cream and served with a gauzy spinach crepe, topped with pine nuts for texture.
Spectra's house crumpet arrives with orange-infused labneh, honeycomb and poached seasonal fruit — delicious alongside locally-made drinks like Batchwell kombucha or organic Zealong tea.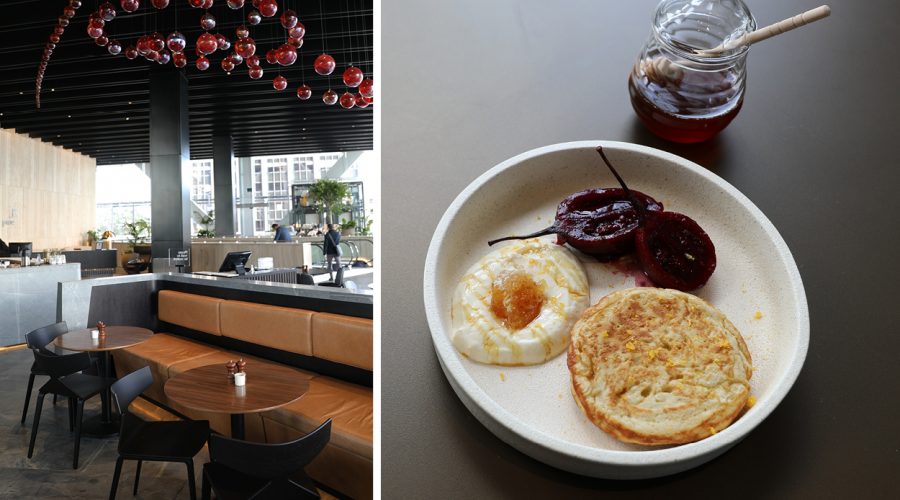 The lunch menu is purposefully concise, catering to busy people who don't want to spend valuable minutes poring over a complicated, over-reaching selection.
A rotation of daily salads can be eaten alone or supplemented with chicken, sirloin beef or fish. The chicken, we can attest, is incredibly moist and tender thanks to its treatment in a sous vide before being finished on the grill, making for a satisfying and healthy lunch.
The pasta and burger option will also be regularly changing — currently it's a very enticing bolognese and a crispy chicken burger — and for those wishing to grab lunch on the go, there's a separate takeaway counter filled to the brim with delicious sandwiches, wraps, salads and baked goods.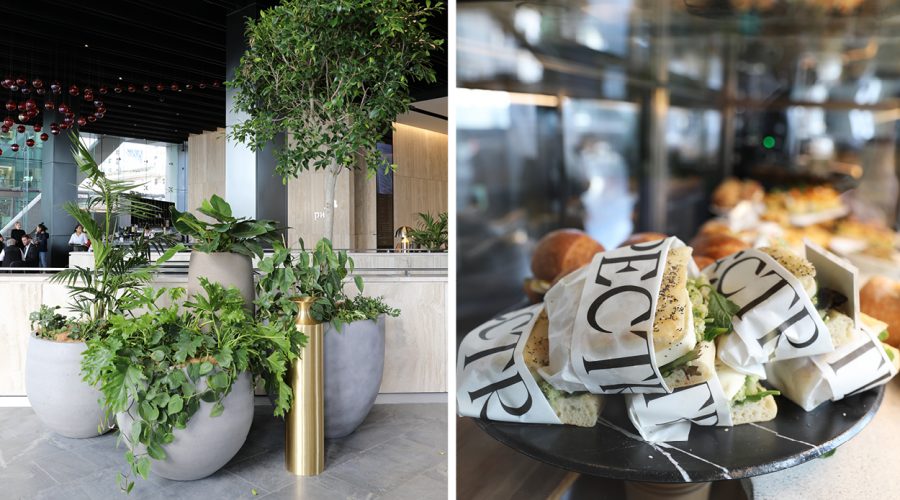 Spectra emphasises fresh, in-season produce from local suppliers throughout, with Kōkako Organic Coffee providing the beans for each delicious cup of coffee, and a state-of-the-art Modbar coffee machine pouring the perfect brew. The cafe is also fully licensed, with Brothers Beer on tap and a selection of bottled beer, plus a curation of mainly New Zealand wines along with champagne and prosecco.
Beyond the Warren and Mahoney-designed lobby, with interiors by Space Studio, there is an attractive outdoor terrace which, come summer, the team hopes will host outdoor yoga classes and the like — with refreshments provided by Spectra, of course.
Sitting in amongst the tables of humming activity within the Sky Lobby's airy space, it feels like the city has got its groove back, with Spectra in the ideal spot to provide quality fare to discerning diners.
Opening Hours:
Monday to Friday: 7:00AM — 4:00PM
Saturday and Sunday: Closed
Spectra
PwC Tower, Sky Lobby
Level 7, 15 Customs Street West
Auckland CBD
09 302 1188