During a recent lunch break I took a stroll through Auckland's CBD and while wandering along Lorne St I passed Sunny Town. When this eatery first opened in 2018, the queue was too long for my impatient tendencies and I never quite made it through the door. Fast forward to today and there's still a long line of customers willing to wait for a table at Sunny Town, which told me that for the hype to continue, there must be something pretty special about this place. My interest was piqued all over again, and this time, I wasn't going to let a line deter me.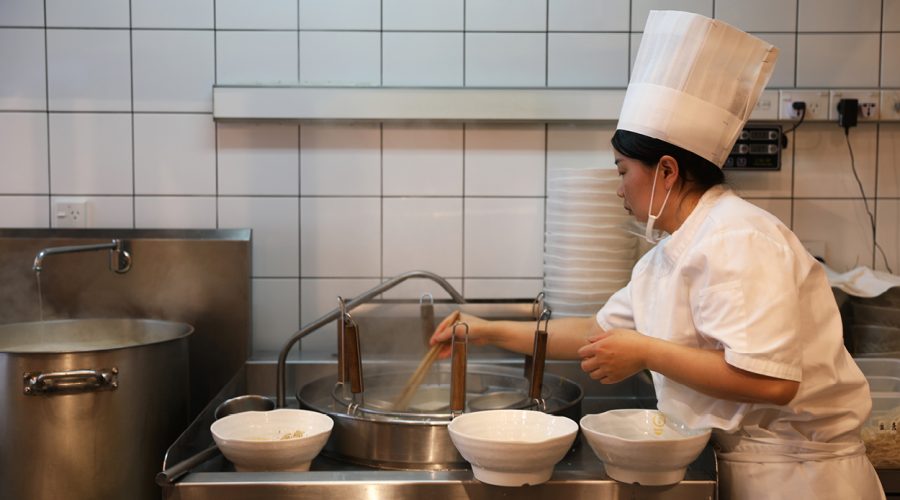 I returned the following day with my Denizen foodie confidant Clara. We strategically decided to go at 1:30pm, after the lunch rush, and were still greeted with a long line of customers. Thankfully Sunny Town runs a fast-paced operation, where people simply eat and exit as soon as they're done. Diners order at the counter, and by the time they take a seat, the food arrives in almost an instant. The menu is categorised into three sections — Noodles and Wontons, Buns and Porridge, and Drinks making the ordering an easy task.

What we ordered:
– Sauced pork buns
– Vegetable buns
– Prawn shao-mai
– Dandan noodles
– Beef noodles

Watching the chefs kneading, rolling and filling the buns while we waited for a table put our expectations high, and when the buns eventually arrived at our table, they didn't disappoint. With a pillowy-soft texture that I attributed to the fact that they are rolled, filled and steamed to order — a rarity in this town — the sauced pork buns were so soft and saucy, they reminded me of a meat pie, a very very good one. Not to be outshone, the vegetable buns were filled with vibrant greens and boasted a fresh and earthy flavour that was also utterly delicious.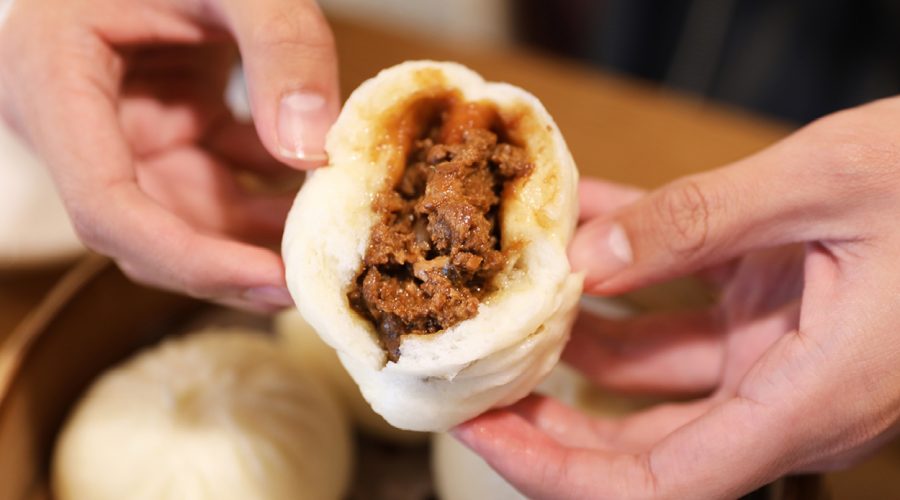 At Denizen, we love dumplings of all shapes and types, from gyoza to Italian ravioli and now Sunny Town's prawn shao-mai is also firmly on our list of favourites. The skin of the shao-mai was thin with a gentle chewiness but it was the filling that stole the show for us. An unbelievably juicy pork mince with a plump prawn, it was almost like a xialongbao and we could have easily consumed a dozen more.

The dandan noodles were a feast for the eyes. A deep bowl was filled with chilli oil and pork mince that had been infused into a soup and sprinkled with sesame seeds. Unlike most of the dandan noodles I've had in the past which left me feeling heavy and with a numbed tongue (which I love), this one was more refined, stripped back and clean-tasting. The soup included Sichuan peppercorns which Sunny Town actually imports from the Sichuan province in China and despite having the numbing effect I was expecting, were not overwhelmingly spicy. Surprisingly, the beef noodles were our favourite out of the two noodle dishes. The broth was comforting yet flavourful while the chunks of beef were tender — the perfect meal for when you're feeling under the weather.

I was admittedly quite dubious about Sunny Town before this experience. The combination of its modern and spotless fit-out, food that was ready to serve in a questionably short amount of time and the fact that it's a franchise in China had me second-guessing its authenticity and integrity. However, the flavours of each dish speak otherwise. It's simple things like the fact that the broths for the noodles are prepared in large quantities in the morning so that they gain more flavour as they brew, and the dumplings and buns are made fresh to order all day, every day by hand. Sunny Town is ultimately reshaping people's perceptions of Chinese food, proving that authenticity doesn't have to be served in a rustic restaurant that's located on Dominion Road. I for one will be returning very soon.

Opening hours:
Monday — Saturday: 10:30am until 8:30pm
Sunday: 10:30am until 3pm

Sunny Town
10-14 Lorne Street
Auckland CBD