These days, a fried chicken craving needn't be fulfilled at a greasy fast food joint or on a bad hangover. From karaage to buttermilk, Korean fried to Southern-style, the number of eateries putting their own spin on this crunchy, tender, deep-fried delight is impressive to say the least — for which we count ourselves lucky. For your perusal, we've compiled the best places in Auckland to get a fix of the good stuff.
Azabu
What do you get when you combine Peruvian and Japanese cuisine? Criminally tasty buttermilk karaage chicken with pickled daikon and mayo laced with aji amarillo — a yellow, fruity South American pepper. Both Ponsonby and Mission Bay locations have their own take on this classic dish, so you can get your fix wherever suits.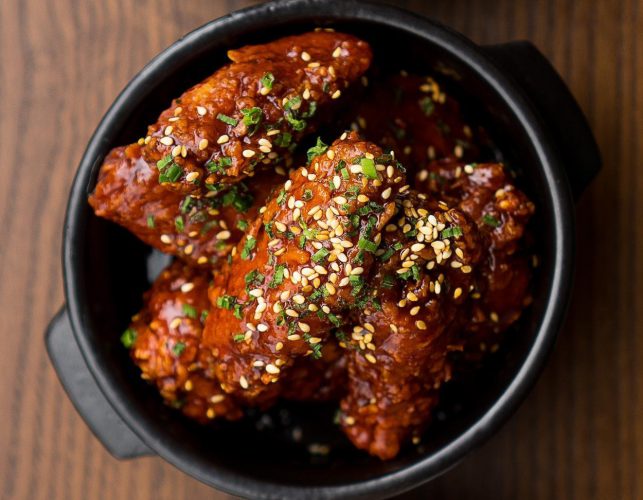 Gochu
There are many reasons to visit Commercial Bay's modern Korean restaurant Gochu, and the fried chicken is a strong contender for the top of the list. Head chef Jason Kim has made sure his signature fried chicken is irresistibly sticky, crunchy and juicy. Heat seekers would do well to order 'Jason's fried chicken, but spicier'.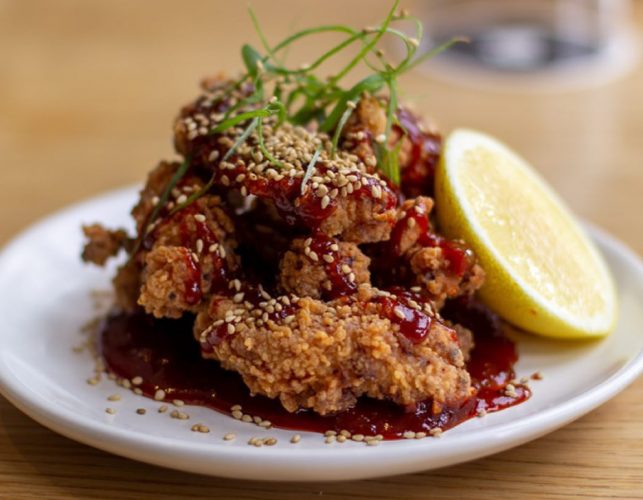 Hello Beasty
An essential addition to any order at this Viaduct favourite, Hello Beasty's kaarage chicken is served with a sweet-leaning Japanese-style BBQ sauce. A lemon wedge on the side means you can cut through the richness with a refreshing zing of citrus — making this one seriously moreish dish.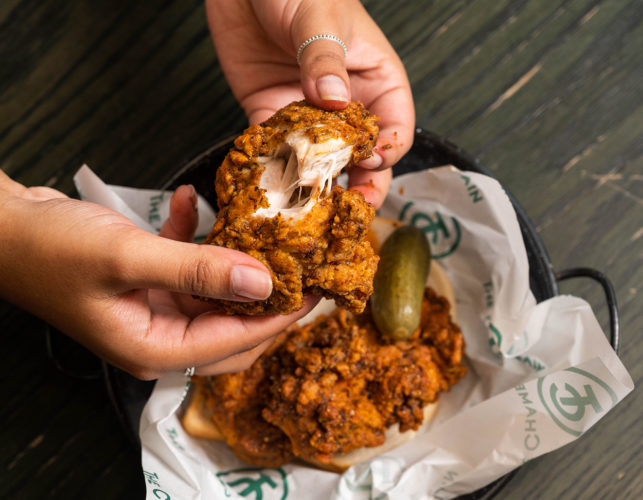 The Chamberlain
A fresh new fried chicken menu has landed at Britomart bar and eatery The Chamberlain, and it's described as being 'tasty as cluck'. Tailored to your liking, you can pick from white meat (breast and wing), brown meat (thigh and drum), tender fillets or classic wings, and choose your spice level from four tongue-tingling options. Served with sliced bread and pickles, the only thing that could make it more perfect is pairing it with one of The Chamberlain's 15 top-notch tap beers.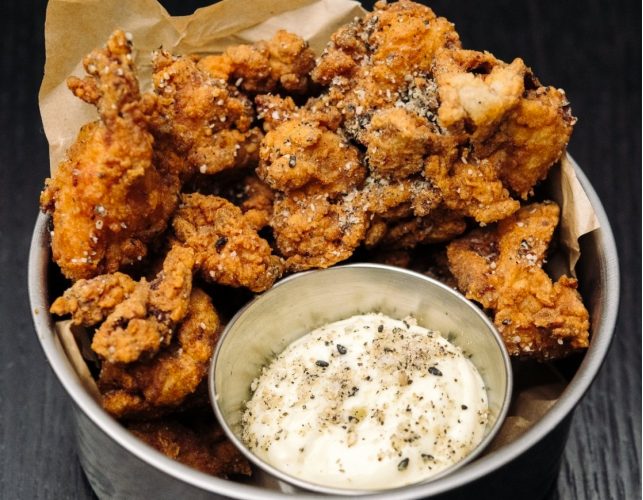 Nook
This St Kevins Arcade yakitori spot from the duo behind Lowbrow (read more about its irresistible wings below) and Culprit does great bite-sized pieces of karaage chicken. Free-range pieces of chicken thigh are lightly coated in delicious batter and served with delectable wasabi mayonnaise and a dusting of sesame salt. What more could you want?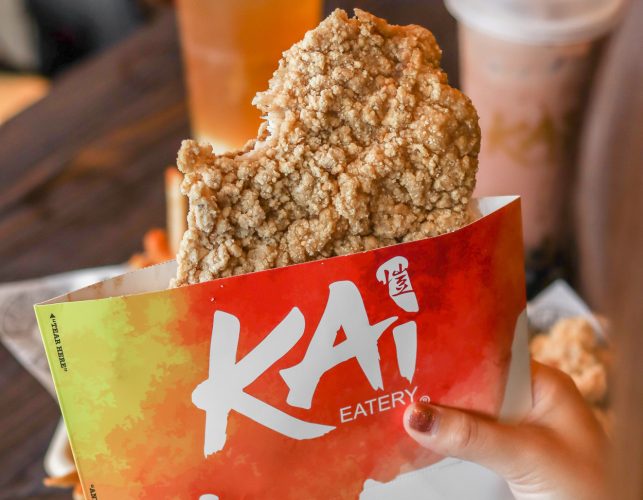 Kai Eatery
If you like your fried chicken as big as your face, you're in luck. Serving modern Taiwanese street food, Kai's infamous 'XL' chicken is the Mount Everest of fried chicken — a mighty bite begging to be conquered. Take your pick from three flavours (original, five-spice or flame-kissed charcoal sauce). If you're not up to the challenge, the fried chicken bites are a good option.
Ebisu
As the home of some of the city's best sushi and sashimi, Ebisu is our go-to when we're seeking excellent Japanese fare. It's no surprise then, that the Britomart stalwart has karaage chicken down to a delicious science. Served with crunchy, fresh mixed carrot salad and soy onion dressing, we even feel a little virtuous after polishing off this perfectly balanced dish.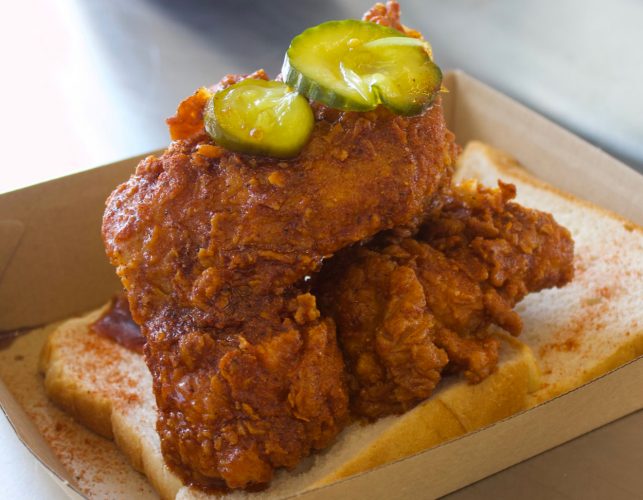 Peach's Hot Chicken
Specialising in authentic Nashville hot chicken, Peach's Hot Chicken is so popular the former food truck transitioned to a restaurant in East Auckland's Panmure. Choose your spice level (ranging from mild to Holy Cluck — described as a religious experience) and enjoy it served on either a piece of soft white bread, inside a tender brioche bun, or piled atop waffles.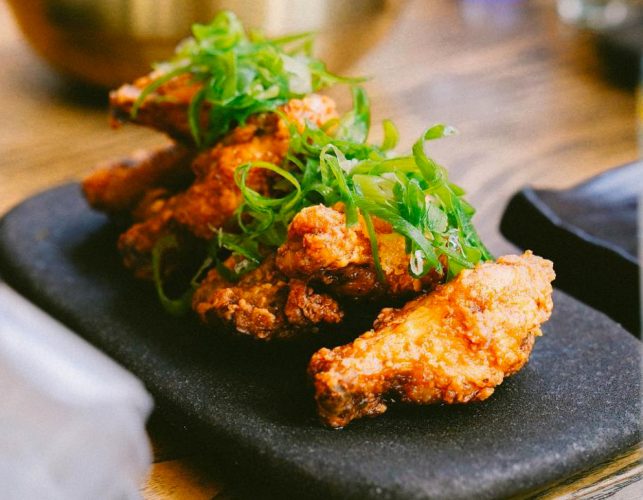 Simon & Lee
Get your hit of KFC (Korean Fried Chicken) at Simon & Lee, the Parnell eatery that indulges our desire to order chicken for breakfast, lunch or dinner. There's the KFC chicken lunchbox, which pairs chicken with slaw, pickles, shoestring fries and aioli; chicken nibbles ranging in spice level up to 'danger spicy' (you've been warned); a fried chicken burger and finally the fried chicken bao. Consider this fried chicken heaven — complete with disposable gloves to keep your paws pristine.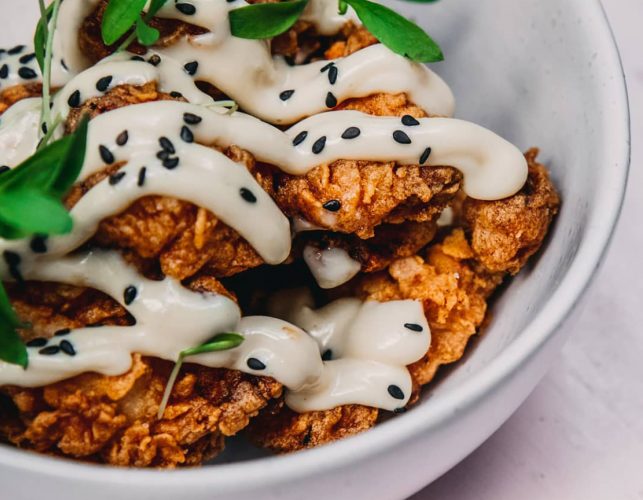 Beau
Fans of Freaky (the now defunct CBD cafe) are eternally grateful that its famous fried chicken lives on at Beau. A triumph with sesame mayo, this Ponsonby wine bar makes fried chicken and a crisp glass of something good taste like the height of sophistication.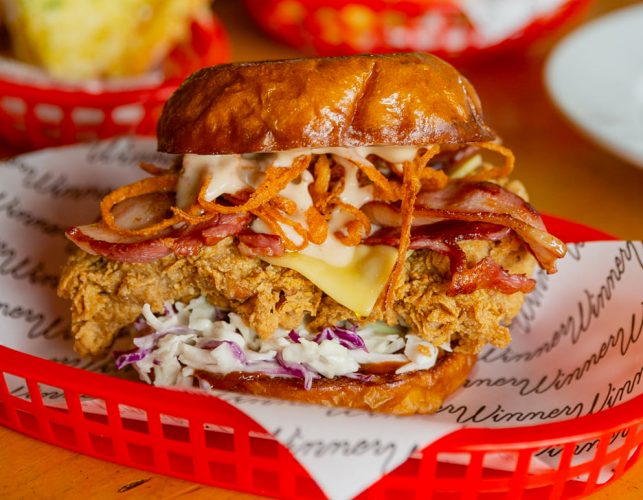 Winner Winner
Born in Hamilton, this joint is so popular it's since established branches in Wellington, Pukekohe and Takapuna. Specialising in all things chicken, these guys know a thing or two about creating a winning chicken dinner. Brined for 12 hours and fried in buttermilk, boneless bites can be ordered with ranch and pickles, in a sandwich or stuffed in a burger with white BBQ sauce and crispy onions. With three spice levels to keep any palate happy, this is the perfect quick pitstop for a no-frills feed.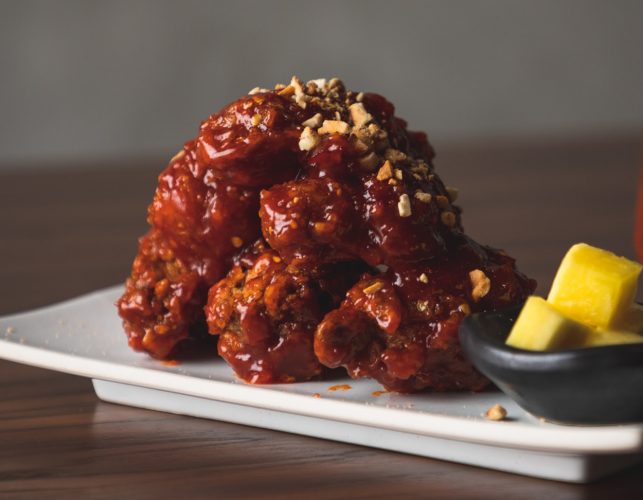 Ockhee
Ponsonby Korean restaurant Ockhee serves up two different (yet equally delicious) takes on Korean fried chicken. The sweet chilli and a roasted peanut glaze is delightfully sticky and syrupy while spicy soy and sesame glazed has a deep umami flavour. We recommend pairing with the Chun Sa Chae noodle salad for a deliciously fresh contrast.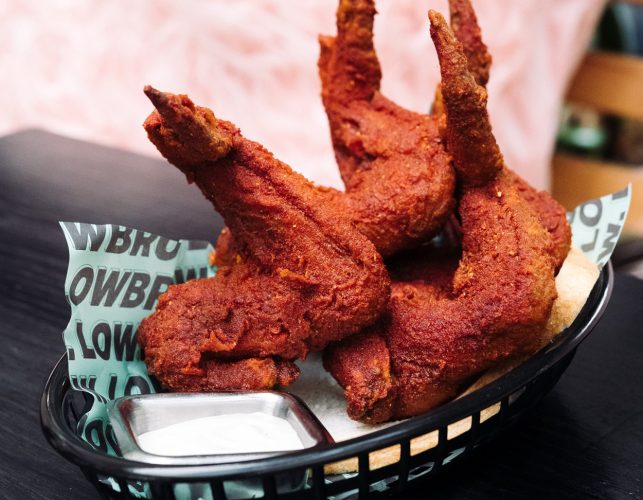 Lowbrow
As our go-to purveyors of fancy fast food, Lowbrow throws down a bloody good fried bird, taking its interpretation of this naughty nibble very seriously. The chicken sando is a thing of beauty, incorporating American cheese, iceberg, McClure's pickles, and mac sauce with free-range chicken thigh, and the organic chicken wings… let's just say a bucket disappears remarkably quickly.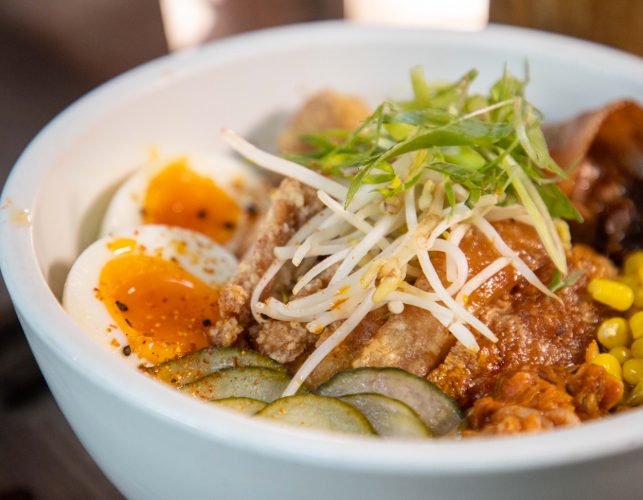 Chop Chop Noodle House
If ramen is the first thing you think of when Chop Chop comes to mind, fried chicken should be a close second. The Ponsonby noodle house can't get enough of the stuff, whether its dripping with chilli sauce, crushed peanuts and yum yum mayo, crispy with hot Ssäm sauce or placed atop of a piping hot bowl of ramen as a delicious pièce de résistance.