Britomart, the nine-block precinct that straddles the space between downtown and the waterfront, is one of Auckland's most enviable dining areas. Tempting us with a formidable range of eateries, you can be certain you'll scratch any culinary itch with its range of coffee shops, lunch spots, tasty bakeries, bustling brasseries, fine dining establishments, and cool bars. From breakfast bites to sophisticated cocktails (and just about everything in-between) here is where you should be eating and drinking in Britomart.
Morning & daytime
The Store
A longstanding favourite of the Britomart crowd, The Store boasts a two-fold offering that has made it as much a go-to for quick takeaway options as it is for longer, more leisurely lunches. The Takeaway side offers coffee, juices, smoothies, sandwiches, soups, salads and more for those seeking an easy, transportable meal; while The Diner side allows punters to enjoy an al fresco meal in a sun-drenched courtyard, with a casual, European-inspired menu that is fresh and flavoursome.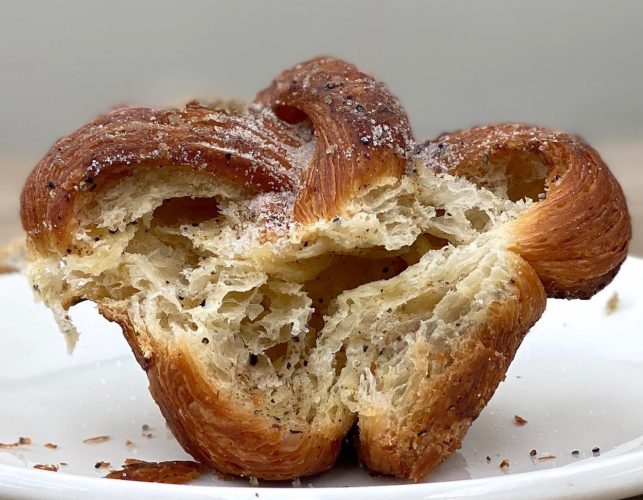 Daily Bread
Now with a number of locations around Auckland, Daily Bread has cultivated a reputation for delivering some of the tastiest baked treats this city has to offer — think expertly-made loaves of sourdough, satiating sandwiches, flaky croissants and more — and its centrally-located Britomart bakery (at the base of The Hotel Britomart) is the perfect place for a morning cuppa and a quick bite.
La Petite Fourchette
Bringing a taste of France to Britomart, this cute spot boasts an all-day breakfast menu where brunch dishes are given a delightfully French twist. (Think daily omelettes, Pain Perdu Brioché — a decadent French toast — and Galette de Pomme Terre — potato and herb hash served with a choice of avocado, bacon or salmon.) La Petite Fourchette also offers a range of delicious patisserie and savoury treats to-go.
Yeah Bowl
If it's an easy, healthy lunch you're after, look no further than the Britomart chapter of Yeah Bowl. Serving a range of poke bowls made with fresh, organic ingredients and free-range meats, this colourful, simple stop-in is on a mission to reimagine the idea of traditional 'fast food.'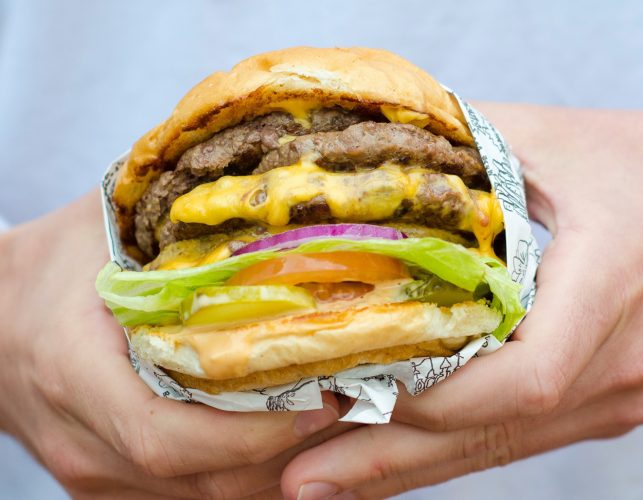 Better Burger
Sometimes, a good old-fashioned burger and shake is just what you feel like, and this Britomart spot delivers every time. With a simple menu that covers the traditional cheeseburger, a chicken burger, a mushroom burger and fries (all able to be made 'epic' with a mix of mustard, cheese, onion and 'secret sauce') alongside free-range fried chicken and shakes that are some of the best we've ever had, Better Burger is perfect if you're in the mood for something a little naughty for your lunch.
Day to Night
Ostro
One of our favourite downtown restaurants, Ostro Bar & Brasserie has long been our pick for special date nights, celebratory lunches and group affairs thanks to its consistently delicious, classic and hearty fare. Open from midday until late into the night, it isn't just Ostro's elevated location (in the Seafarer's building) that sees it rise above the rest. Its menu is a celebration of modern, New Zealand food and fresh, seasonal ingredients, and its atmosphere is sleek and sophisticated. And if all that weren't enough, Ostro recently announced that its famous Sunday roast is back on the menu — giving us even more reason to book a table, stat.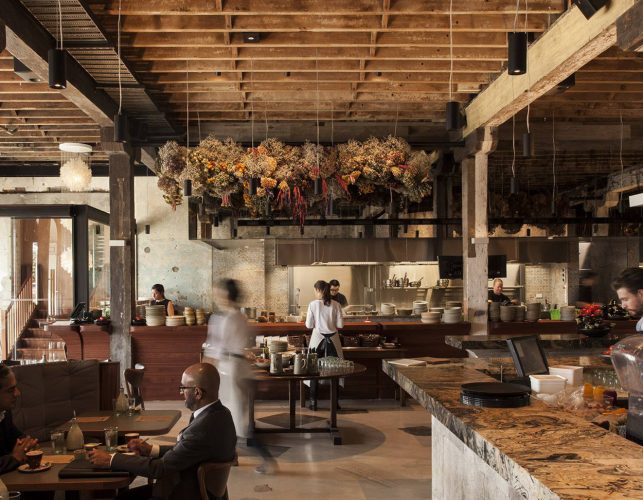 Amano
Undoubtedly one of Auckland's most popular eateries, Amano is open from early in the morning, when it serves elevated à la carte breakfast (and a selection of breakfast cocktails to boot), until well into the afternoon and evening, when it is consistently humming with hungry punters. For lunch and dinner, Amano offers a delicious Italian-inspired menu that highlights seasonal, local produce (the pasta dishes are a particular highlight) and transforms from a light-filled eatery into an elegant restaurant. Attached to Amano's expansive dining room is its dedicated bakery, where coffee, freshly-pressed juices, pastries, sandwiches, salads and more are made on-site and available for anyone seeking a simple takeaway.
Ortolana
With a name that means 'market gardener' in Italian, it's hardly surprising that Ortolana has built its reputation on serving delicious, Italian-inspired fare that showcases seasonal produce from local growers. Open from early in the morning until late into the night, this intimate, cosy spot is suitable for any situation — with a range of tasty breakfast, lunch and dinner options. Recently, we've been loving the smashed eggs with chive and prosciutto piadina and the blue cheese gnudi with mushroom, truffle and pangrattato — but expect menu items to change according to seasonal availability.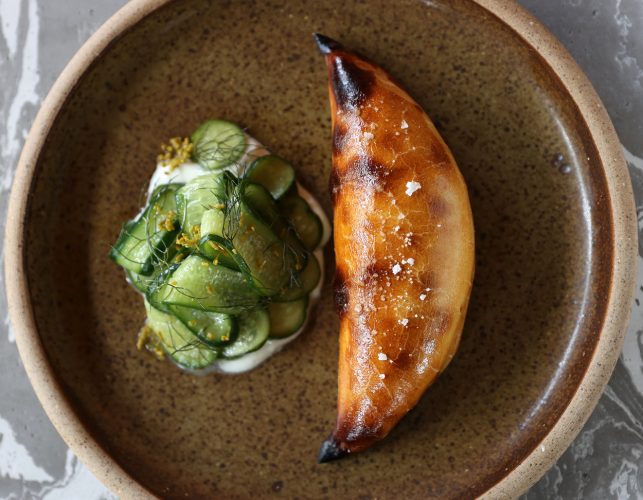 Alma
Heroing Andalusian flavours in its menu that marries Spanish culinary ideas with fresh New Zealand ingredients, Alma is a great place to post up for a delectable lunch or to book into for an intimate dinner. Serving small, tapas-style plates designed to share, this eatery has become one of our favourites for its unique food, relaxed atmosphere and impressive wine and gin list.
Lobster & Wagyu
Located on the rooftop of Britomart's Seafarer's building, Lobster & Wagyu boasts a menu that is more or less captured in its name, taking 'surf and turf' to bold new heights. Satiating lobster rolls sit alongside top-quality wagyu beef burgers and sandwiches like the Katsu Sando made with Black Origin wagyu sirloin, as well as a selection of decadent sides and desserts. Thanks to its enviable views across the Waitematā, this spot will see you rise above Britomart's daily bustle.
The Brit
Perfect for a casual lunch with friends or an after-work drink, The Brit is Britomart's answer to the classic gastropub, serving a raft of elevated pub fare and satiating share dishes. With a laid-back vibe that ramps up with screenings of rugby games and live music events, The Brit is not only an ideal place to gather with mates but is also great for dropping into with the little ones in tow.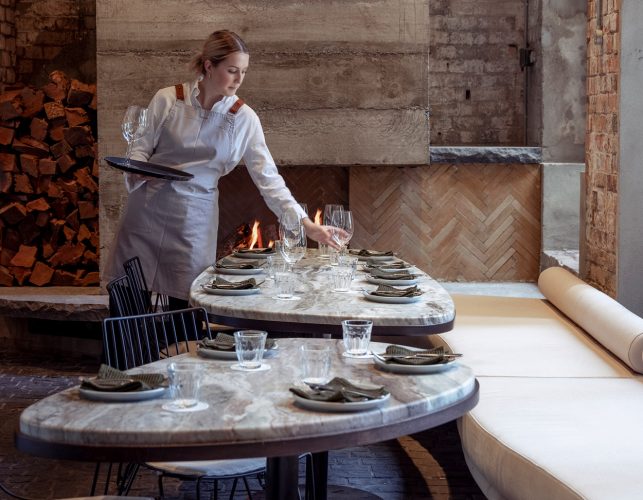 Kingi
From the guys behind Orphans Kitchen, Kingi offers a menu that celebrates our kaimoana, showcasing a range of locally-sourced, sustainable seafood that draws attention to New Zealand's unique environment. Located on the ground floor of Britomart's historic Masonic building (right next door to The Hotel Britomart) and open throughout the day, Kingi is great to drop into for breakfast, lunch or dinner, or even a quick coffee or cocktail.
Miann
If it's a sweet treat you're after, look no further than Miann. Serving up a range of decadent pastries, savouries, petit gateaux, macarons, gelato and housemade chocolates (all of which are made from ethically-sourced Cacao at Miann's dedicated Morningside factory), and open from 7am until late into the night, this is the ideal pitstop for an afternoon pick-me-up or a post-dinner dessert.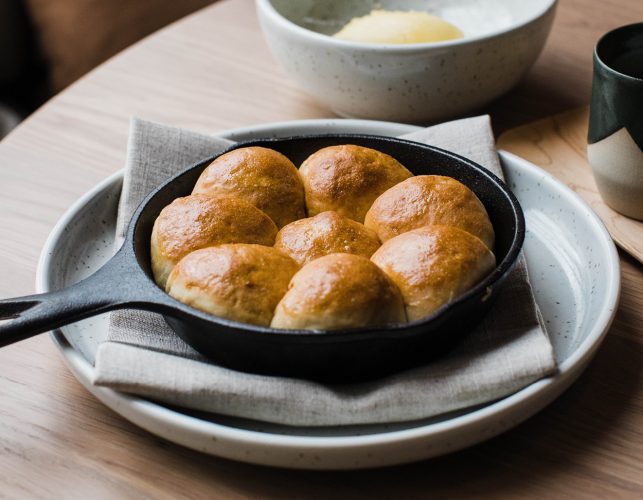 Nightime
Mr Morris
Despite being a relative newcomer to Britomart, Mr Morris has already made a serious splash. Widely praised for its food that showcases local, sustainable and seasonal produce in dishes that present as a modern mash-up of New Zealand and Pasifika cuisine, this impressive restaurant is the perfect place to go if you're looking for a calm environment and a culinary experience.
Ghost Street
Another Britomart newbie, Ghost Street was conceived by the same culinary minds behind Xuxu Dumpling Bar, Cafe Hanoi and Saan, and has fast become one of the hottest dining spots in the area. Set in what used to be the Basement of 1885, the restaurant is dimly lit and atmospheric, designed to reimagine the bustling, hole-in-the-wall eateries of Beijing's famous food street. This idea carries onto the menu too, where punchy, seasonal dishes (inspired by a wide crosssection of Chinese cuisine) run the gamut of flavours from tart and savoury to Sichuan and spice.
Xuxu Dumpling Bar
Handcrafted dumplings and outstanding cocktails collide at this cute little corner eatery and bar. From its casual atmosphere to its seriously flavoursome food and drinks, this enchanting spot will have you coming back time and time again for an easy, delicious bite and an expertly-crafted, seasonal cocktail (or two).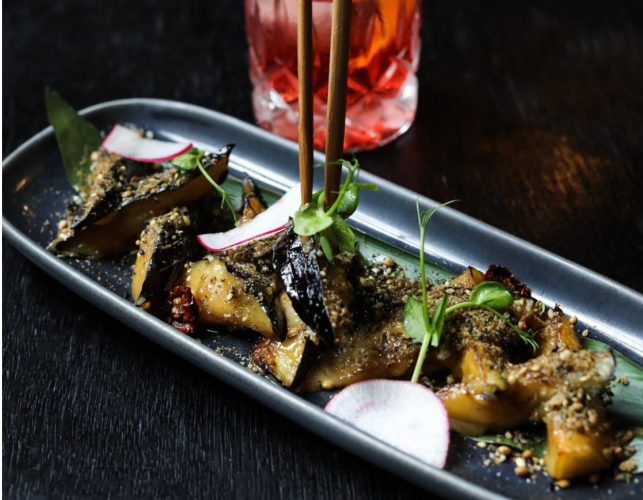 Ebisu
You'll find some of the city's best Japanese fare at this Britomart stalwart, where izakaya-style dining is given a sophisticated twist. Settle into Ebisu's moody, low-lit dining room and enjoy a selection of delicious plates to share, from sushi and sashimi to dumplings, tempura and larger dishes like seared duck breast and Kagoshima Black wagyu scotch. Although open for lunch service as well, nothing beats an intimate dinner here with friends or family.
Cafe Hanoi
Having recently undergone a relocation (although just next door) and a refurbishment, Cafe Hanoi continues to be one of Britomart's most popular eateries. From its delectable menu that takes traditional Vietnamese flavours and gives them a modern twist, to its lively atmosphere that promises a fun, buzzing dining experience, it's clear to see why this downtown hotspot has remained on our radar for so long.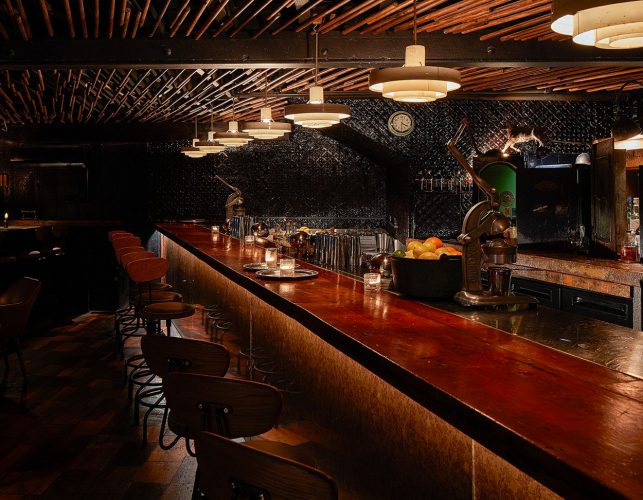 Drinks
Tommy's Champagne Parlour
An air of sophistication hangs over this opulent hideaway, tucked into level six of the Seafarer's building. Cosy and intimate, Tommy's Champagne Parlour offers more than 30 varietals of Champagne (a number of which they do by the flute) alongside a number of classic cocktails and wines, which makes its perfect place for a drink with friends or a toast to a special occasion.

Caretaker
Designed after a New-York style speakeasy, Caretaker is a cocktail lounge inspired by the golden era of bartending. Beloved for its dimly-lit, underground vibe and its meticulous cocktails (punters can choose from an extensive menu or simply 'trust the bartender' to whip up a delicious concoction) this popular bar will transport you to another world.
Fukuko
Dubbed 'the rowdy little brother to Ebisu' Fukuko offers simple, tasty bites and delicious cocktails from its small but buzzing bar on Tyler Street. Doing dinner and drinks in a relaxed, fun way, punters can satiate their hunger with a bowl of ramen, some fried chicken or a delicious donburi and quench their thirst with one of Fukuko's seasonal cocktails or Japanese whiskys.