Got a chilli craving? When an appetite for spice strikes, there's only one thing to do — plan your next meal immediately. Whether you want to simply flirt with fire or go full throttle, these dishes are sure to satisfy your need for heat, from noodles and fried chicken to tacos and curry.
Spicy pork gyoza with Sichuan pepper & aji amarillo from Azabu Ponsonby
In Azabu's unmistakable Japanese-Peruvian style, spicy pork gyoza is paired with Sichuan pepper & a spicy aji amarillo sauce. Savoury and oh so moreish, this dumpling dish is so nice you'll want to order it twice.
Bang bang chicken from The Blue Breeze Inn
Forget the pork bao, the bang bang chicken is one signature dish you don't want to miss. Cold shredded chicken is paired with tangy black vinegar, crunchy peanuts and plenty of glossy, chilli-ladened sauce. Enjoy as is or even up the spice level with Sichuan chilli sauce or minced pickled chilli available to order on the side.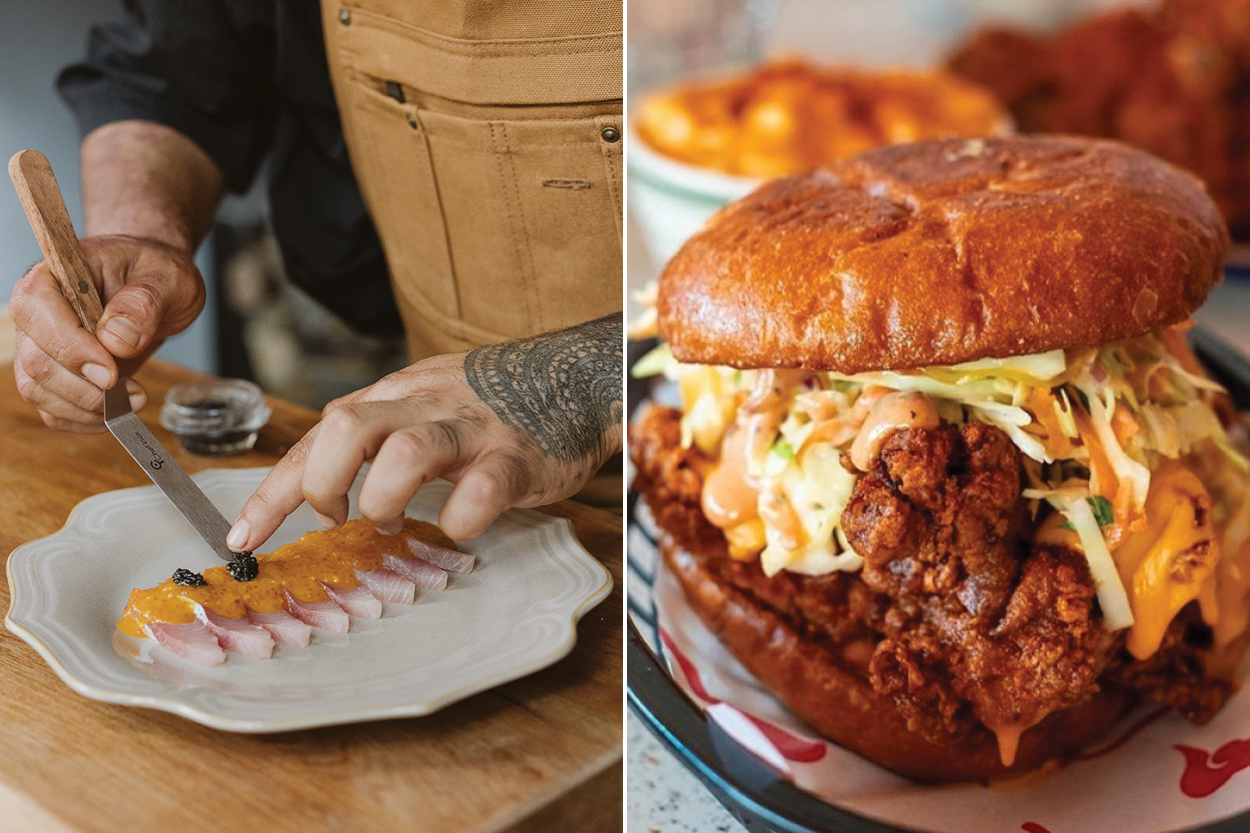 Kingfish with aji amarillo sauce and finger lime from Milenta
This Victoria Park newcomer has become a fast favourite for its strong menu of smoky flavours and expertly executed dishes. The kingfish is a standout, pairing delicate slices of fresh fish with a spicy Peruvian aji amarillo sauce that packs a serious flavour punch.
OG sandwich from Peaches Hot Chicken
Specialising in authentic Nashville hot chicken, Peach's Hot Chicken is so popular that the former food truck transitioned to a restaurant in East Auckland's Panmure. Choose your spice level (ranging from mild to Holy Cluck — described as a religious experience) and enjoy it served between two buttery brioche buns with homemade pickles and creamy aioli.
Sad cold noodles mixed with cucumber shreds in spicy sauce from Eden Noodles
The menu flags this dish, pre-warning you of its super spicy status. We can confirm it's no over-exaggeration. The refreshingly cold noodles and cucumber prove the perfect foil for the ear-ringing sauce that while punishing, is impossible to stop devouring.
Spicy soy and sesame glazed Korean fried chicken from Ockhee
Packing a gochujang-spiked punch of flavour, Ockhee's Korean fried chicken is not to be missed and pice fans will love the spicy soy and sesame glazed chicken; trust us, it brings the heat. We recommend pairing with the Chun Sa Chae noodle salad for a deliciously fresh contrast.
Thai beef roti pie from Roti Bros
Fresh from their hole-in-the-wall spot at Commercial Bay, Roti Bros signature pastries combine soft, buttery roti paratha and South Asian flavours with the classic Kiwi pie. For those wanting a kick we recommend the Thai beef roti pie which is is a delicious and bold combination of spicy, salty, sweet and sour.
Boneless chilli chicken from Spicy House
Let's be honest, anything from Balmoral's Spicy House is sure to satisfy any and all spice cravings. However, the chilli fried chicken served here has made quite a name for itself and after you taste it, you'll understand the hype. The chicken is seasoned with a copious amount of chilli and is perfectly cooked so that once you sample it for the first time, you'll be addicted for life — seriously.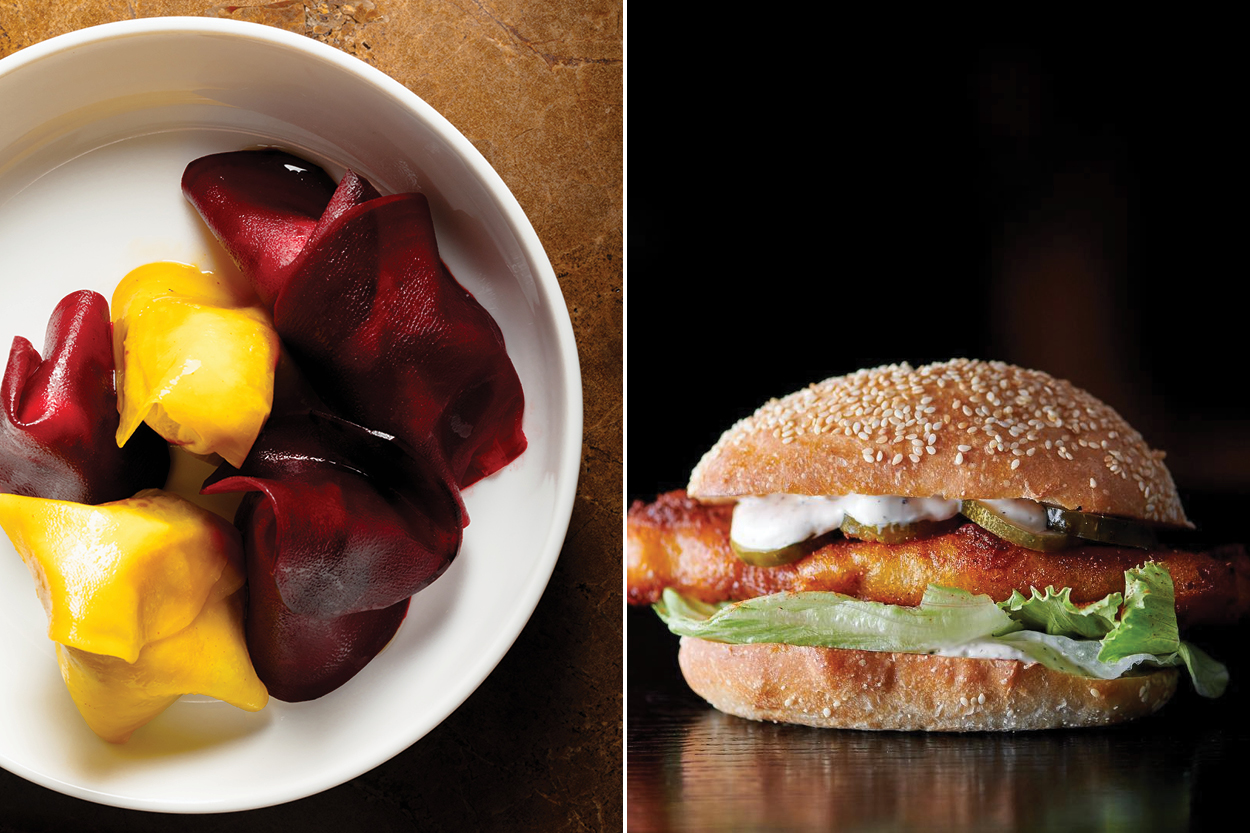 Purple kumara, clover honey soy, goats cheese and Sichuan pickled beetroot from Bar Magda
New kid on the block Bar Magda certainly knows how to make an impression when it comes to a fusion of flavours. While most of the dishes carry a certain level of kick, paying homage to their Filipino heritage, the Sichaun pickled beetroot is an entirely comfortable way to uplift an otherwise creamy and utterly comforting dish. It's one that, try as we might, we can simply never look past ordering.
Fush sando from Lowbrow
While there are two versions of this irresistible sandwich (original and hot spice), we are not ashamed to say the spicy kind gets our order, every time. Tempura market fish is dusted in mouth-tinglingly hot spice, paired with cooling lemon pepper mayo, and served on a pillowy soft potato bun. Finish with pickles and crisp lettuce and every bite will be heaven, down to the very last.
Smoked mushrooms, fenugreek, truffle from Cassia
This comforting curry from Cassia has it all — creamy mushrooms, a deep umami flavour and a decent heat kick that isn't overwhelming, but rather makes the other layers of spice sing. Paired with fluffy naan and rice, this may just be the perfect vegetarian meal.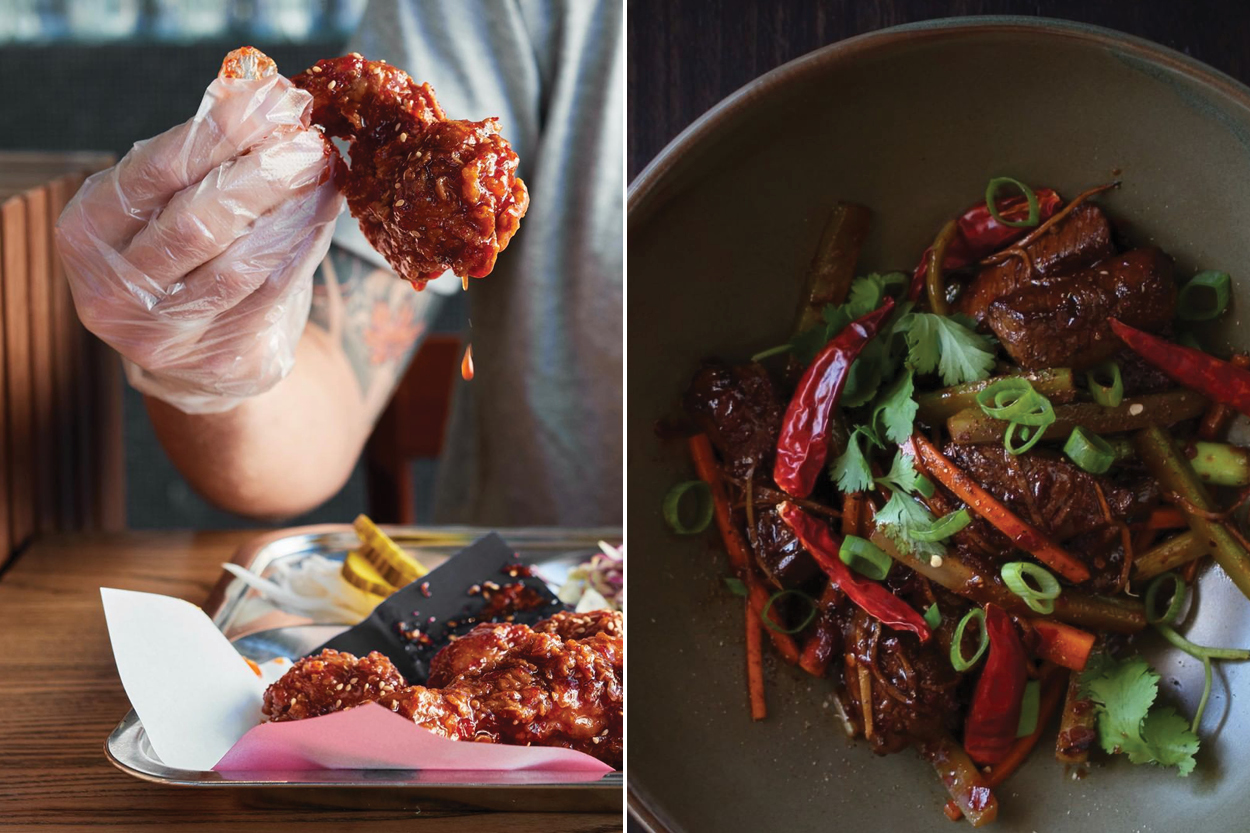 Danger spicy chicken nibbles from Simon & Lee
You can't go to Simon & Lee without trying its famous Korean fried chicken, and for good reason. Those looking to flex their tolerance (and perhaps question their own sanity later) can try the 'danger spicy' chicken, which comes complete with disposable gloves to help you tackle the fiery pieces with aplomb. Try the 'safe spicy' if you don't have anything to prove.
Wok seared eye fillet with doubanjiang and dried chillies from Ghost Street
With a menu centred around Beijing's famous food street, it's easy to find something with a bit of spice at this subterranean eatery. One of our favourites is the perfectly tender wok seared eye fillet paired with a hot Chinese bean sauce, ginger, celery and finished with dried chillies for an extra layer of heat.
Bakso abang abang from It's Java
The beauty of the noodle soup from this Indonesian eatery is that you can tailor it to suit your tastes. With beef meatballs, two types of noodles, stuffed tofu and bok choy, its warming broth is made even more delicious with the addition of vinegar and kecap manis. In our case, it sings when loaded with It's Java's free-flowing housemade sambal sauce — of which you can help yourself to as much (or as little) as you please.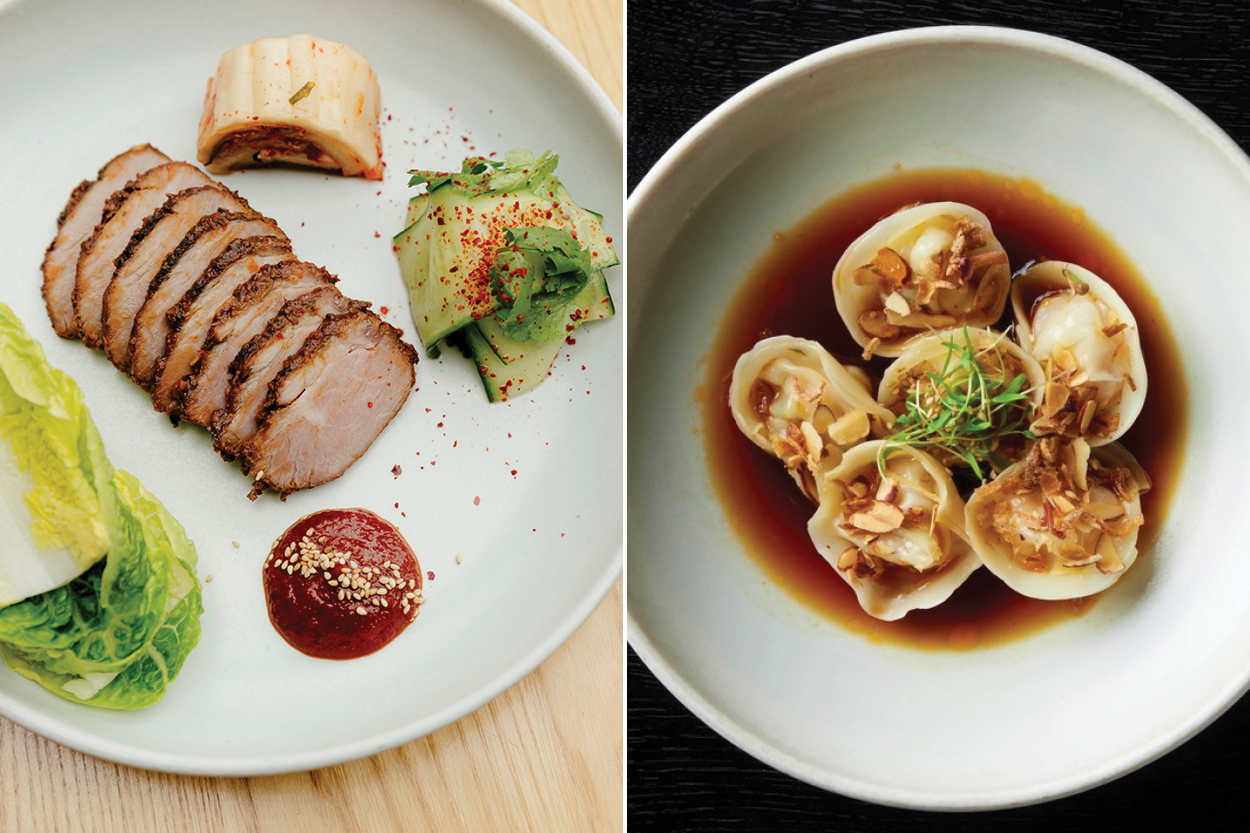 Spicy BBQ pork scotch from Hello Beasty
Bringing the heat to Viaduct Harbour, Hello Beasty's Spicy BBQ pork scotch is packed with spicy Sichuan flavour before being grilled to perfection on the hibachi. The dish is perfectly paired with lettuce ssam, kimchi and a yuzu cucumber pickle to balance out the heat.
Steamed prawn dumplings with ginger soy and housemade chilli oil from Ebisu
Unsurprisingly, the traditional Japanese influence on Britomart's Ebisu brings flavours to the table that satisfy our spice cravings in infinite ways. Yet it is the steamed prawn dumplings that stand out when we're seeking an extra punch. Served with ginger soy, housemade chilli oil, shaved almonds and crispy shallot, it perfectly hits every flavour note with an element of inspiration and surprise, down to the last morsel.