When David Lee and Oliver Simon opened the Korean-fusion café, Simon & Lee in Parnell back in 2017, they ignited our interest and educated our palates on the intricacies of Korean cuisine.

Turning their backs on the elevated café classics that were virally popular at the time, such as meringue-loaded French toast and brioche bun eggs Benedict, the duo unapologetically broke the brunch mould.

Serving intimidatingly red-hued spicy rice cakes, Korean fried chicken platters and hearty dumpling soups topped with shredded nori, their eatery quickly rose to fame at the top of Auckland café rankings. Continuing in the same boundary-pushing vein, on June 11, Lee and Simon are joined by Jason Kim and Nathan Lord in opening Gochu, an 80-seat Korean restaurant and bar within Commercial Bay.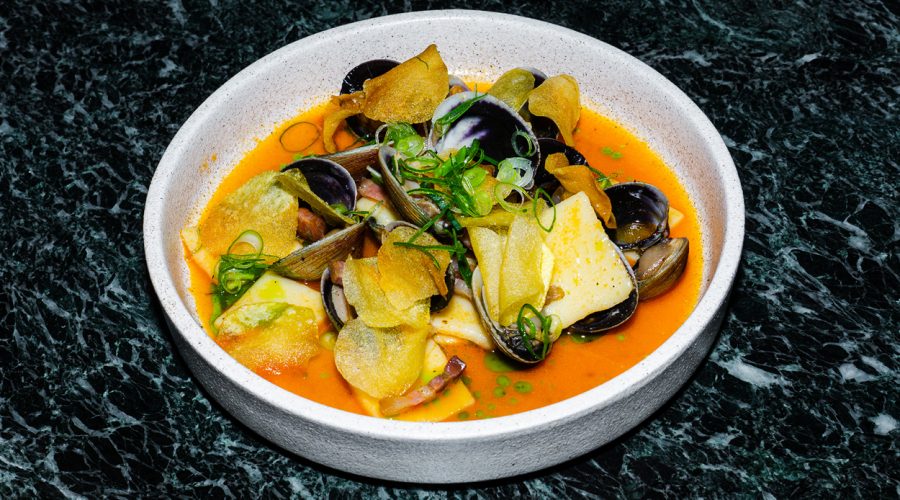 Firmly committed to introducing authentic Seoul flavours to our shores, executive chef Jason Kim created Gochu's menu to offer accurate interpretations of loved Korean delicacies. Sujebi, for example – touted as the 'peasant dish' by Koreans – sees hand-pulled dough, cooked in a comforting broth, which Kim has tweaked and redefined as a Korean-style gnocchi. While the LA Galbi – a dish created by the Korean immigrants of Los Angeles – includes succulent slices of beef short rib, accompanied by perilla leaves and tender leek.
During the day, Gochu Noodle Bar will cater to the varied clientele at Commercial Bay, offering business professionals and the like, a quick, tasty bowl of Korean noodles.
Gochu is sure to prove this duo's prowess beyond just brunch, adding more diversity and flavour to our gastronomic scene.
Commercial Bay officially opens June 11, 2020.
Visit 1 Queen Street, Auckland CBD.