Whether you're in need of a celebratory sweet centrepiece or simply require a little treat to get your morning off to the perfect start, the following bakeries are making a name for themselves in the pastry, bread and cake department. But, don't take our word for it, this is the time to conduct some of your own 'research'.
Daily Bread, Britomart, Pt Chevalier, Newmarket, Ponsonby
Since opening its first outpost in Pt Chev in early 2018, Daily Bread has pursued (and achieved) excellence with its famous range of artisanal baked goods. While the bakery is home to some of the best sourdoughs in town, Daily Bread's other treats like its cheese twists, cardamom morning buns, and various fruit danishes are just as sought after, as are their delicious pies and sandwiches. Recently, Daily Bread extended its footprint significantly, with the final-stage opening of its newest location in Britomart. There, in a sprawling, heritage-listed building (skilfully reimagined by Peddlethorp Architects) Daily Bread Britomart has its very first, fully operational kitchen, which means a delicious a la carte menu alongside all the bakery classics we know and love. So, whether you're seeking a light bite or something more substantial, Daily Bread's newest iteration certainly delivers. and if you don't have time to get into one of Daily Bread's locations, its highly sought-after baked goods can be ordered online, with delivery Auckland-wide.
Off to the side of Amano's famous all-day offering is the equally-iconic Amano Bakery, providing a bounty of classic French and Italian pastries, bread and other tasty treats baked fresh everyday. From its Maritozzi (flaky choux pastry filled with vanilla bean custard, almond and almond flakes) to its unparalleled almond croissants to its Friday Specials (last week it was a rhubarb, pistachio and chocolate croissant), there is something to satiate any kind of craving at this popular spot. And if you have a special celebration coming up, Amano Bakery's cakes are some of the best in town and are able to be ordered online.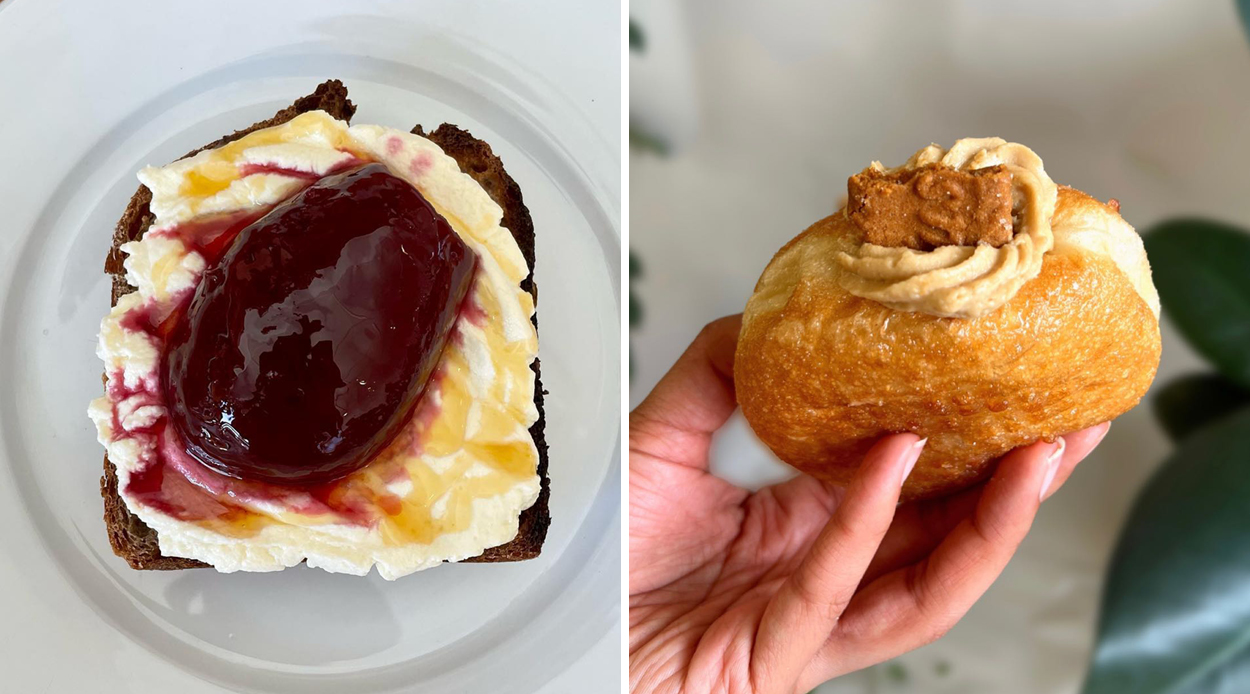 Set in a cute little Grey Lynn spot with a cosy upstairs that is often bathed in sunlight, Florets has fast become one of Auckland's most beloved bakeries. The brainchild of Founder Maya Handley, and the evolution of her popular by-delivery sourdough business Kōpiko, Florets is her first brick-and-mortar store. There, she sells her delicious loaves (made using organic, whole-grain, spray-free and locally sourced ingredients) and has partnered up with other like-minded makers of curate a unique and delicious offering. Alongside offering a raft of expertly-made bread, Florets also has a deli-like line-up of jams, preserves, locally-made muesli, drinks, eggs, teas and more, all sourced from local purveyors. It also boasts a delicious dine-in menu, where toasts are topped with Black Dorris plum or poached tamarillo and quark, sandwiches and toasties are filled with the likes of danbo and mozzarella cheese, pear, mustard and pickle, smoked fish, tomato and cheese and more, and chilly winter days can be counteracted with a bowl of ever-changing soup specials (from leek and potato to minestrone).
Tart Bakery, Grey Lynn, Karangahape Road, Commercial Bay
Thanks to the ingenious bakers at Tart Bakery, those who eat vegan needn't miss out on a flaky pastry or even a pie. In fact, everything on offer at this popular spot is entirely vegan and so good, that even the most discerning pastry connoisseurs would struggle to tell the difference. Personally, we're partial to the filled doughnuts, although the selection is go vast it can be hard to choose and the bakery's new Commercial Bay location means even more Aucklanders are in the vicinity of Tart's moreish goods.
This bona fide baking institution has long been on our list, and for very good reason. The experts at Bread & Butter approach bread-making with integrity, only using ingredients grown using sustainable farming practices. All the flours, seeds and other bread ingredients are either certified organic or certified sustainable (meaning they are grown using regenerative agricultural principles), and they do not use any artificial ingredients, emulsifiers, preservatives, baking enzymes, artificial flavours, colours, dough conditioners or other 'technical' ingredients. The result is spectacular and real bread that we can feel good about eating, alongside a raft of delicious sweet treats, sandwiches, pies and more. Oh, and if you haven't tried Bread & Butter's pretzel bread before (where have you been?) consider this your sign to do so this weekend.
4&20, Remuera
While you've probably already heard of the lauded European bakery, its baked NY cheesecake features a Belgian brownie, and is enough to make you weak at the knees. For later in the year, its selection of Christmas treats, including a sensational spiced Sri Lankan Christmas cake, is a cut above.
In the realm of French bakeries, La Petite Fourchette is must-visit. Offering a wide range of both savoury and sweet French delicacies, you'll find macarons, éclairs, tarts and quiches. And, of course, a perfect croissant.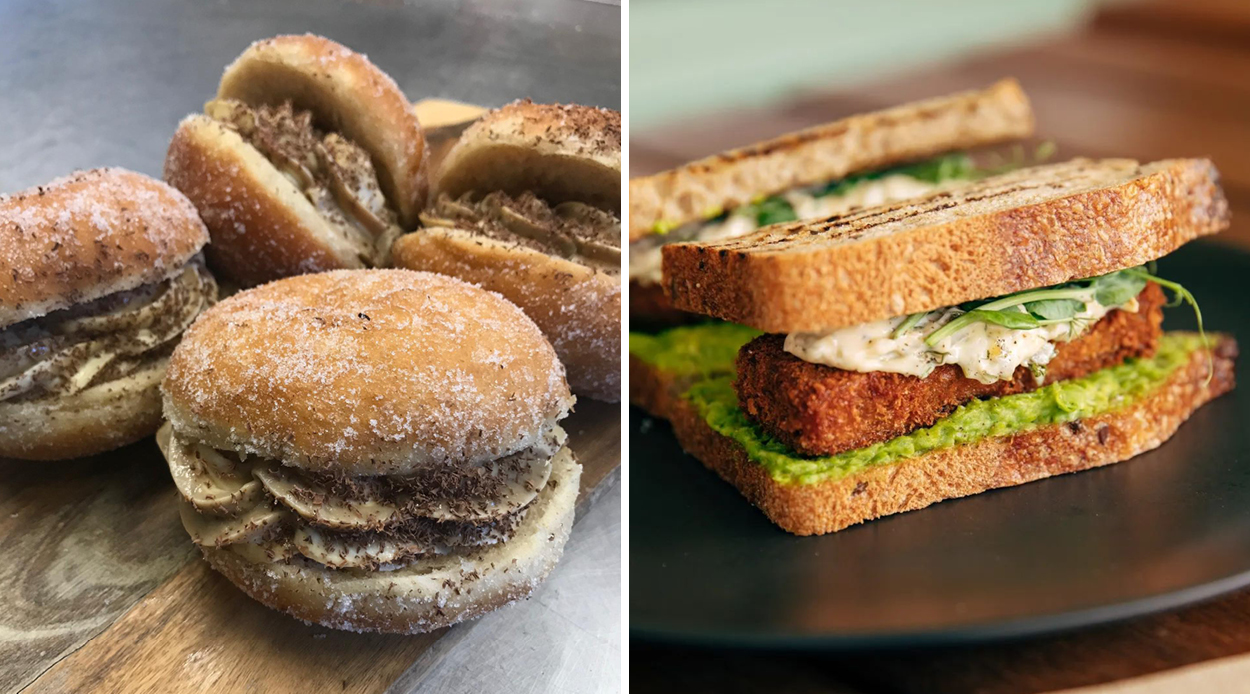 Serving up sourdough, Viennoiseries (baked goods made from yeast-levened dough) and coffee, The Real Bread Project is an absolute treat for Helensville locals, and those willing to make the trip. We promise you, the whole loaves of bread, donuts, pies and more are nothing short of excellent.
This Karangahape Road cafe and bakery is renowned for its incredible sandwiches. Take away or dine in, the likes of 'The Vege One' — organic homemade ricotta, roasted butternut puree, sauteed silverbeet and walnuts — or 'The Fish One', with house cured and smoked kahawai fish fingers, mushy peas and tartare sauce, are bound to satisfy. Always take a loaf of freshly baked sourdough with you when you leave, you won't regret it.
Since 2007, the ever-popular Little & Friday has been on hand to offer Aucklanders a much-needed pick-me-up in the form of its irresistible baked delights. Have recently relocated its Belmont site to the bustling centre of Ponsonby Road, Little & Friday's recognisable cakes, quiches, donuts and more are still as fantastic as ever.
Busy Oven Bakery, Ponsonby
Busy Oven's pies are among the best in Auckland, fact. For those days when only a mince and cheese pie will do, washed down with a Just Juice and chased with a nap, Busy Oven is the one to visit — 170 Richmond Road, Ponsonby
Much like Busy Oven, Baker's Cottage is a classic Kiwi bakery — the ideal pitstop for a quick lunchtime fuel-up in the form of one of the bakery's pies or sandwiches, and a sweet treat. We're partial to a juicy square of custard slice.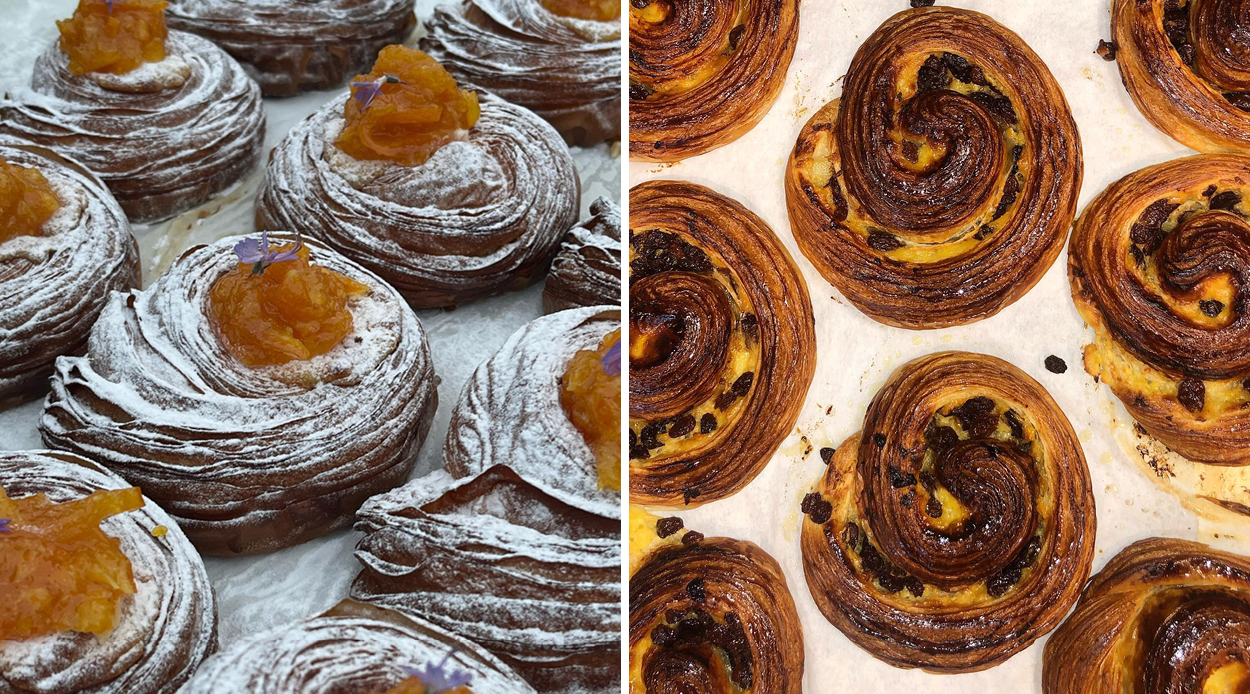 Judging by the queue and sold-out pastries every weekend, this French bakery is definitely not a well-kept secret. However, that doesn't stop it from being one of the best in the city. In particular, its canelé are unmissable, as is the pain aux raisin. La Voie Francaise's bakers do a really good filled sandwich, too.
Marking the evolution of what started as an online micro-bakery, Mor recently opened its first bricks-and-mortar location on Remuera Road and the response has been incredible. It's hardly surprising really, considering the care and attention that Mor's Founders, Laura Metcalf and Kelsie Culpan, put into everything they create. From impossibly flakey butter croissants to a range of more unique patisseries like orange marmalade and vanilla custard danishes and lemon curd and mascarpone pastries, the ever-changing offering at Mor has us revisiting for our fix every single week.
Mibo, Mount Eden
Tucked away on a street in Mount Eden, this stylishly sweet spot offers melt-in-the-mouth pastries that marry traditional patisserie with unique flavours to offer something completely out of the ordinary (in the best way). Owner Emma Zhao really wanted to create a bakery that folded elements of her Chinese upbringing into the pastries she created, so Mibo (which comes from the word for 'bread' in Shanghainese) was born, and her experimental pastries started to draw in customers. Now, Zhao has continued to grow her offering, her creations including the likes of Injeolmi danishes (inspired by injeolmi/kinako dango and featuring roasted soy bean custard, red bean, mochi and roasted soy bean powder dusted on top), ube danishes, peanut butter pain au chocolate with salted caramel glaze, and more.
At this plant-based patisserie, Owner Drissilla David serves up utterly delicious snacks that taste just as good (if not better) than the real thing. From the plant-based 'ham and cheese' croissant to the delicious almond croissants, as well as a raft of savouries, pastries and more, Maison des Lys is the perfect place to pop into for a tasty pastry with a twist on tradition.
Paris and Bali collide in this cute patisserie that serves an array of sweet treats that uniquely meld French and Indonesian flavours. Manis, translating to 'sweet' in the owners' native Indonesian tongue, is a tasty collision of cultures, offering traditional Balinese pastries like martabak (a sweet pancake) and pie susu (a sweet milk tart) alongside French viennoiserie — including a number of variations on the classic croissant. There are also plenty more savoury pastry options (from pain au pesto and salami croissants to mouthwatering, filled house-made rolls) perfect for anyone seeking a wholesome workday lunch.
This very cute, recently-opened CBD bakery specialises in cute little stuffed croissants, petite and perfect Swiss Rolls and a very glorious croissant-doughnut hybrid that looks like a stack of hot waffles. Here, the pastries are popular for a very good reason and are best when washed down with something from the expansive drinks menu — such as bubble tea, fresh fruit tea, drinkable yoghurt, sweet iced lattes, and all the usual caffeinated suspects.
Named for the French word that literally means 'friend' but whose linguistic origins are found in the words for 'with' (co) and 'bread' (pain), this cute new spot epitomises the idea of breaking bread — and it has the loaves to prove it. An authentic French bakery serving a range of freshly-baked pastries and breads, Copain is the culmination of its owners' (Natalie and Romain Le Gal) years of experience owning and running lauded French patisseries around town, including La Petite Fourchette. At Copain the cabinets are overflowing with sweet treats like chouquettes, beignet and viennoiserie (including brioche, pain au chocolat, pain au raisin and croissants) and savoury bites like pies, quiches, sandwiches, panini and pizza by the slice. It also sells La Petite Fourchette's sweet patisserie collection which includes madeleines, mi cult, macarons, tiramisu, tarts and enticements. A must-try if you haven't already.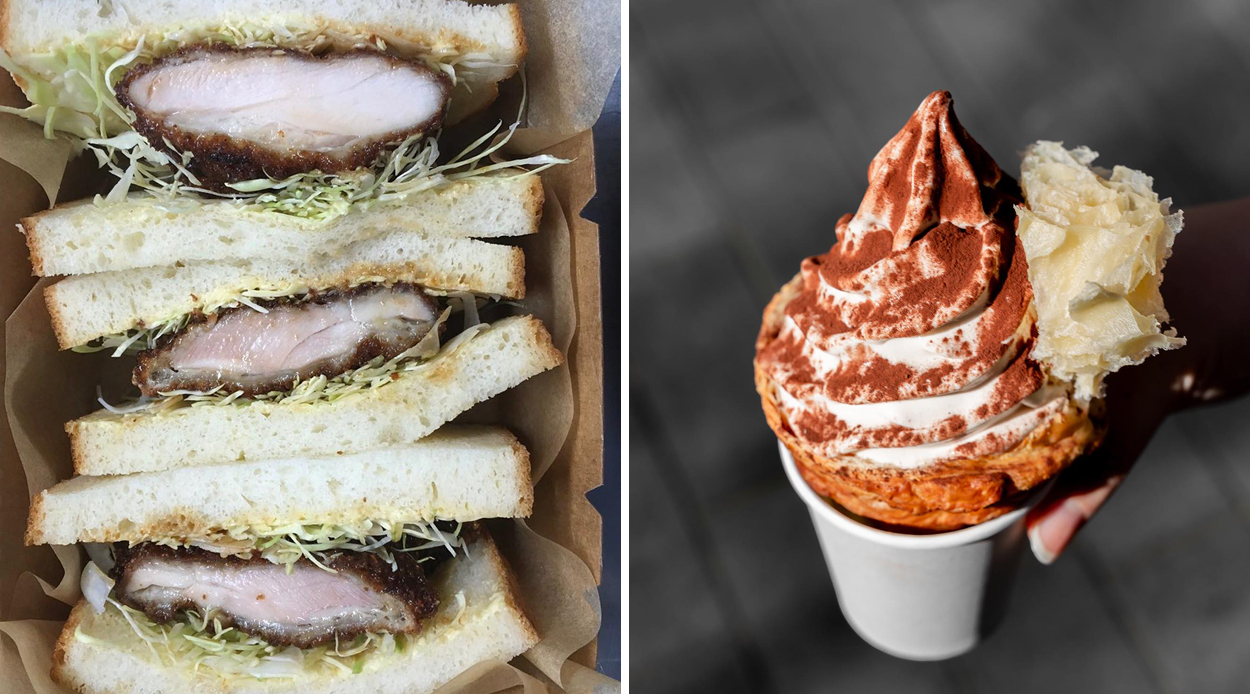 Malisa Nguyen opened Luna Bakehouse as a combination of her love for the Vietnamese flavours of her home and traditional French patisserie. The result is a charming bakery and uniquely creative bakery in Newmarket, in which everything is made fresh daily and hungry punters can enjoy treats like hand-laminated matcha almond croissants, double ube halaya cruffins and summer passionfruit danishes. Also on the menu, for something quite different, is a selection of soft-serve, including a tiramisu, affogato iteration and a nostalgic, Milo one.
A concept that started in the kitchens of fine-dining restaurant Kazuya, Mizu Bread is an exceptional bakery whose following has continued to steadily grow since it opened back in 2019. Now with its very own space on Symonds Street, Mizu Bread has honed its offering, with delicious menu items and baked goods perfect for anyone looking for a quick bite or something more substantial. Recent highlights on the menu include the salty and buttery shio pan bun and the delicious cheese puff bites. That said, if you have never tried Mizu before, you cannot go past the katsu sando here — it's a showstopper.
At this beautiful, gallery-like patisserie in Parnell, discover a range of jaw-dropping pastries and sweet-treats that taste just as good as they look. Made my expert pastry chefs, the offering at Atelier Shu takes classic European-style pastries and infuses them with irresistible, pan-Asian flavours. There, you might find a light choux au craquelin filled with a soy custard and topped with delicate swirls of black sesame mousse, or a tart and earthy matcha yuzu pastry. There are various flavours of shell-shaped madeleines and caramelised, crusty canelés, seasonal fruit tarts and peanut praline Paris-Brests. Kōkako Organic Coffee Roasters coffee and Fine & Dandy teas are on offer to sip between each delicious bite.