Joining northeast Auckland's ever-growing community, Kneads All Day is a brand new daytime eatery specialising in unique brunch fare and house-made baked goods.
The latest hospitality proposition from the team behind several successful ventures including Parnell's Winona Forever, Rude Boy Deli in the CBD and Just Like Martha in Three Kings, Kneads All Day has harnessed the same formula of tasty, of-the-moment dishes and a contemporary, design-led interior — evolved in its own distinct way for this new addition.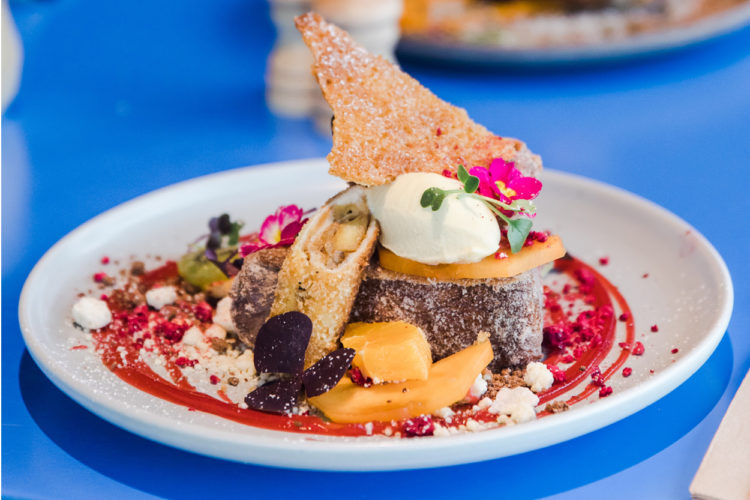 Kneads All Day's menu takes recognisable brunch fare and pushes it to a new and inventive dimension, helped along by the cafe's in-house bakery where diners can witness loaves and pastries being crafted. While those familiar with the stacked cabinets of the other cafes will know they have a hearty emphasis on decadent sweets, Kneads' selection skews more towards the savoury, with plenty of healthy takeaway options like salads, quiches and sandwiches.
According to owner Sam Raina, a West Harbour local himself, the offering of Kneads All Day has been designed to cater to Hobsonville's diverse community, with fusion touches throughout the menu, and a consciously comprehensive selection of vegetarian and vegan dishes.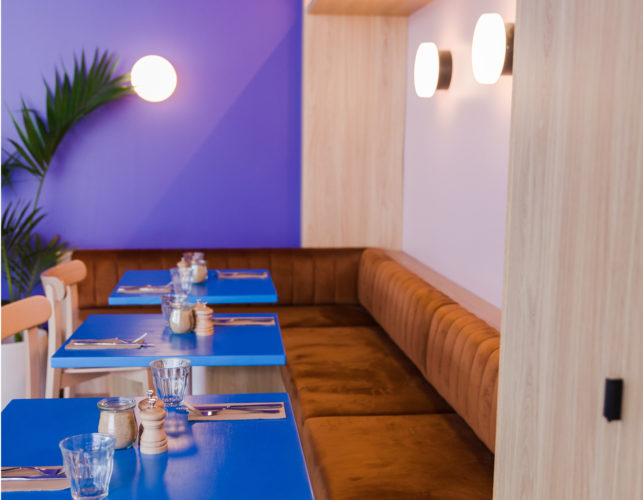 We're told the vegan toast is a highlight, encompassing Sichuan-spiced mushrooms and pumpkin, smashed red beans, a sesame crust and cashew pesto. On the opposite end of the scale, there is a stout beer-infused eggs Benedict, and a buttermilk fried chicken with caramelised onion aioli and coleslaw with gridded "hashtag" fries.
Creamy mushrooms are served on house-made, fermented oat sourdough, topped with a hazelnut and macadamia crumb and poached egg; while a dish of smashed peas is colourful and textural with the addition of pumpkin puree and spiced seeds, creme fraiche and grated parmesan, all served with toasted sourdough.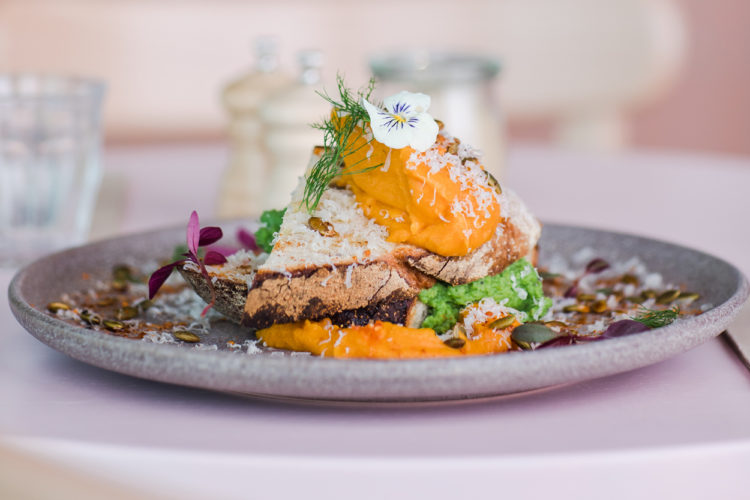 Local studio Millé, which specialises in hospitality design, was inspired by Hobsonville's history as the previous site of one of Auckland's biggest ceramics and brick-maker companies (the founding family of which later moved to New Lynn to create Crown Lynn ceramics). The team harnessed a softened industrial feel when it conceptualised Kneads' interiors, with tiles, terrazzo and timber. Saturated blue tables and purple walls punctuate the space and recycled terracotta light fittings echo the clay ovens within which the bread is baked fresh each day.

Seating 65 inside and 24 outside, Kneads All Day is in a prime spot for all-day sun, and with its comprehensive and thoughtful offering throughout, we suggest you make haste to go and check it out for yourself.
Is there a new opening you believe should be on our radar? Let us know at [email protected]
Opening hours:
Monday to Friday: 7am — 4pm
Saturday & Sunday: 8am — 4pm
Kneads All Day
120 Hobsonville Road,
Hobsonville