A beautiful, gallery-like patisserie has just opened in Parnell, and we're already predicting many-a regular for its exquisite pastries and serene ambience. Named Atelier Shu, it is located at 1 Faraday Street, a cool and contemporary area that's only increasing in popularity and visitation.
After lockdown last year, owner Samantha (whose nickname 'Shu' informed her shop's name) says she decided to turn her attention to doing something meaningful, locally. "Making beautiful things has always been my passion," she says, "and I like to make nice things to share with people."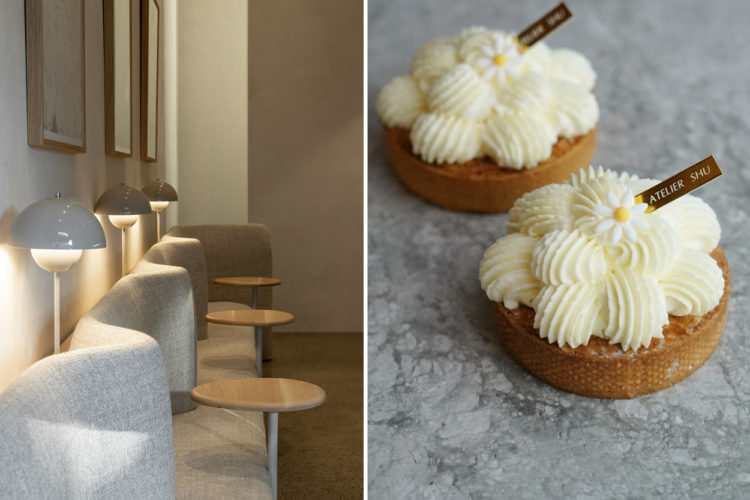 Chen has also hired two expert pastry chefs — one of whom has 14 years of pastry experience from working in Singapore, and the other has been baking professionally for 6 years. Hiring people with overseas experience is important to Chen, which makes sense given Atelier Shu's offering takes classic European-style pastries and infuses them with irresistible, pan-Asian flavours.
Expect the likes of a light choux au craquelin filled with a soy custard and topped with delicate swirls of black sesame mousse; or a tart and earthy matcha yuzu pastry. We're struck by how beautifully finished everything is, evidently this is down to the expertise of Chen's team. There are various flavours of shell-shaped madeleines and caramelised, crusty canelés; seasonal fruit tarts and peanut praline Paris-Brests. Kōkako Organic Coffee Roasters coffee and Fine & Dandy teas are on offer to sip between each delicious bite.
Everything is made in-house, with half of Atelier Shu dedicated to displaying its goods and the other operating as a kitchen. Chen enlisted the skill of Devon McIntyre at Pennant & Triumph to create the minimal yet welcoming interior.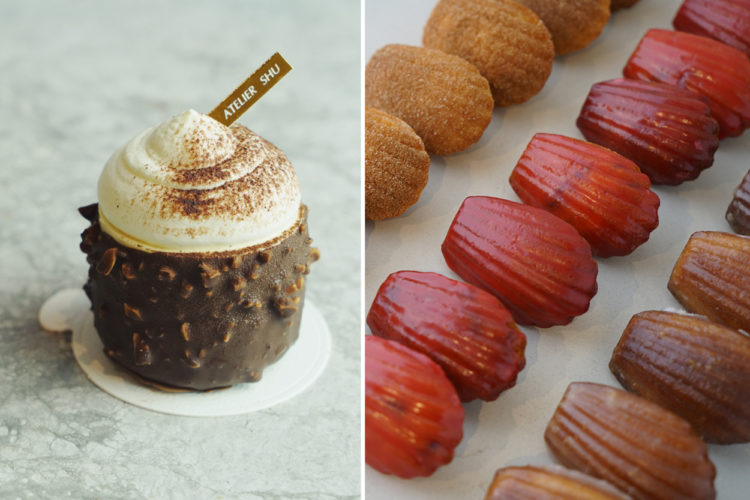 "The design of this space is intended to act as a subtle reflection to the artistry and craft of delicacies on offer," shared McIntyre about the process. "This is articulated through form and materiality with the use of gentle curves and a soft tonal material palette made up of tundra grey marble, oak timber, hand-rendered plaster and brass accents."
Pennant & Triumph treated the design of the counter and the banquette seat like individual furniture pieces, with a strong emphasis on detail, craft, quality and timelessness. Furniture designer Tim Webber was enlisted to fabricate the custom-designed banquette seat, with other local craftspeople further enhancing the artisanal feel.
Having just opened a couple of weeks ago, Atelier Shu will be slowly but surely expanding its offering, with various drinks and other flavours set to join the line-up as the seasons change. For now, rest assured Chen is keeping the crowd favourites on the menu — although you'll have to get in early before they sell out.
Is there a new opening you believe should be on our radar? Let us know at [email protected]
Opening hours:
Monday to Friday: 9am — 4pm
Saturday & Sunday: Closed
Atelier Shu
1 Faraday Street,
Parnell