Never has the idea of 'bad taste' been more à la mode than right now. Style motifs from the early noughties (until recently, considered boorishly over-the-top) have been riding high on the coattails of sartorial nostalgia and creating eye-catching moments on and off the runways. Unlike the style slaves of the noughties, however (for whom low-slung velour tracksuits were serious 'fashion'), those buying into the trend today are doing so with far more self-awareness. They're saying "yes I know I'm wearing a bejewelled vest but that's the look, silly," and in doing so, are heralding the renaissance of camp — a movement seemingly tailor-made for the Instagram era, but certainly not one born from it.
Immortalised by Susan Sontag's 1964, 58-point guide, Notes On Camp, and recently announced as the theme for this year's Costume Institute exhibition and gala at The Metropolitan Museum of Art, camp champions kitschness. It is, as Sontag outlines, "the love of the unnatural: of artifice and exaggeration," and modern iterations of the sensibility in fashion have been quick to gain traction by feeding the Internet's appetite for showmanship and excess. Consider the commitment of Alessandro Michele to his mind-bending Gucci universe — the ultimate example of modern-day campness— or Saint Laurent's ostentatious tributes to 80s hedonism. Camp is joyful and revels in irony, theatricality and pastiche. And while it's naturally flamboyant, its impact on fashion and culture goes far beyond the queer community with which it is historically associated. At a time when the camera-ready proponents of social media seem to be dictating a stylistic uniformity, the return of camp to the mainstream is something we would all do well to embrace.
Rei Kawakubo certainly thought so. In presenting her AW18 collection for Comme des Garçons last year, the designer cited Sontag's essay and the ideas of camp as her chief inspirations. She outlined how the ideology of campness was one we needed to be adopting, saying "camp is really and truly something deep and new and represents a value we need," citing its capacity to "express something deeper and… give birth to progress," as validation for its importance. This sentiment was echoed by Andrew Bolton (head of The Met's Costume Institute) who, in announcing this year's exhibition theme said, "we are going through an extreme camp moment, and it felt very relevant to the cultural conversation."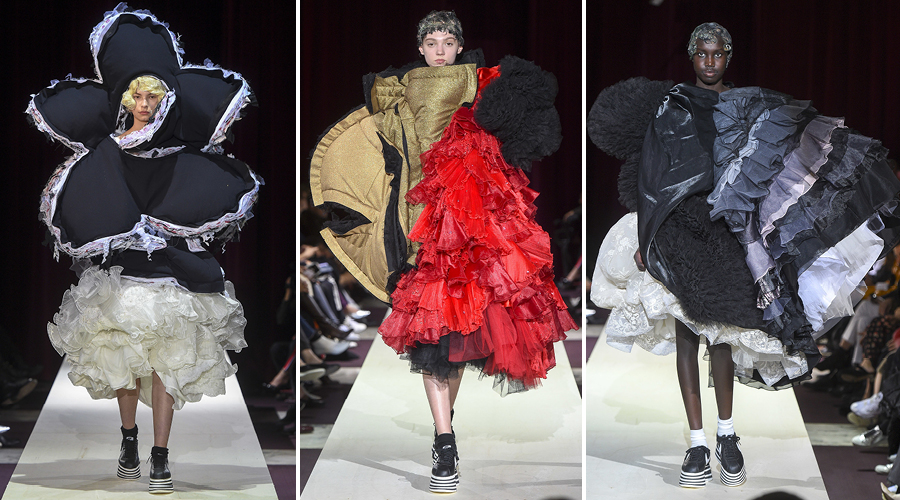 At its heart, camp is as political as it is aesthetic. A more apt antidote to the recent rise of conservatism I can't imagine. Where intolerance has grown, it has stepped in as a stylised, humorous counterpoint. Camp is "a mode of enjoyment," Sontag outlined, "of appreciation — not judgement." Injecting a certain joie de vivre into the everyday, it offers some welcome relief from the darker corners of today's cultural landscape. And although it is inherently fun, performative and built on parody, camp goes deeper than simply being a set of superficial rules. It requires a fearless stepping away from the crowd and a rejection of the judgement that has become so easy to impart on others (and ourselves).
In terms of fashion specifically, the movement is alleviating modern dreariness. The painful monotony of young generations dressing like clones (because of a social-media-driven pressure to fit in) has resulted in less willingness to embrace subversive fashion. A realisation that caused me to question how ready I had been to take risks in my own wardrobe. The answer? Not very.
Stylistic motifs of camp are disruptive, and not for the faint-of-heart, but delving into the collections of designers like Mary Katrantzou (and her bold, colourful silhouettes), Michael Halpern (and his unbridled use of sequins) and of course, Alessandro Michele (with his runway dragons, severed heads, extravagant detailing and expert pastiche) proved a timely reminder for me to dress more for myself and re-discover the individuality I felt my repertoire had been lacking.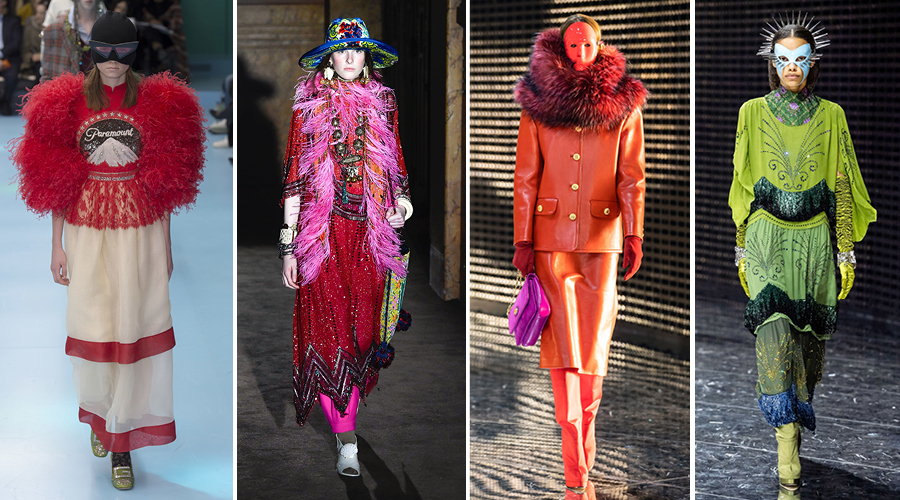 When it comes down to it, as much as fashion is an important cultural and social marker and something that should be subjected to analysis, it should also be fun. The resurgence of camp reminds us of this. Think about how quickly Tomo Koizumi's outlandishly ruffled dresses went viral after the relatively unknown designer presented at NYFW in February; or the furore from fashion's cognoscenti around Molly Goddard's latest collection. Camp's decorative, high-gloss nature is a rich, wellspring of inspiration for designers and consumers alike and its "spirit of extravagance," as Sontag articulated, encourages us to remove the sartorial restrictions we place on ourselves.
I'm not saying you need to delve into the dress-up box (unless that's what you really want to do, in which case, go for it). But perhaps it's time to start experimenting with the combination of high and low in your wardrobe. Take that piece you were saving for a special occasion and wear it with jeans, or combine a distinctly minimalist tee with a pair of bright, patterned trousers. Foster those parts of your personality that are a little outrageous and for goodness sake don't take everything you see on Instagram as the definitive stylistic blueprint.
If embracing a more camp outlook has taught me anything, it's that individual style is a far more valuable commodity than any of the new-season pieces — and is much harder to come by. In the words of Oscar Wilde, a prolific proponent of camp, "one should either be a work of art, or wear a work of art," words to live by, we think.