Simon & Lee has become the go-to spot when it comes to satisfying fried chicken cravings. The Korean-Western fusion eatery sure knows how to fry up an extra-crispy morsel, glazed with a special sweet and spicy sauce. And although its platters of juicy, double fried chicken shot it straight to the top when it burst onto Auckland's dining scene, the Parnell eatery is capable of a lot more than just fried chicken. Apparently, it has nailed the bao too. The eatery offers a delicious line-up of baos with a range of meats including classic pork, fried chicken and beef, but we recommend you get all three as the perfect dinner spread. Here's what awaits…

Pork belly bao
The pork has been slow-cooked to melt in the mouth and boasts a sweet, sticky element derived from a slather of hoisin. Thin sheets of cucumber line the base of the pillowy bao, lending the soft texture some much-needed crunch. The sour, pickled white kimchi cuts through the pork's succulent richness and offers the bao a palate-cleansing freshness.
Beef brisket bao
Sporting a tender braised beef brisket, this bao is juicy and simply delicious. The flavourful beef is paired with a crunchy slaw that perfectly balances the soft, gravy-like beef. The bao is garnished with fragrant coriander, making the flavours and aromas somewhat reminiscent of beef rendang.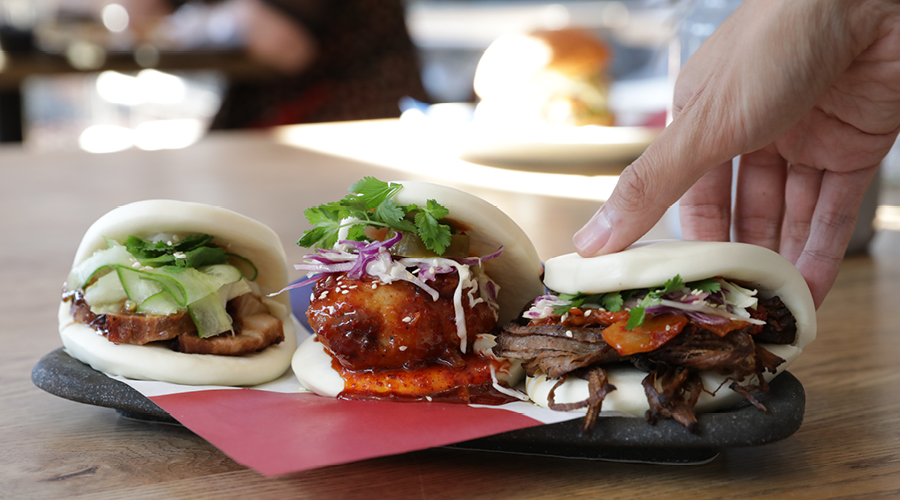 Fried chicken bao
It wouldn't feel right to walk out of Simon & Lee without tasting its widely-acclaimed fried chicken. Here, a single serving of the tasty bird is tucked into a bao. The fried chicken is crispy and glazed with Simon & Lee's signature sweet and spicy sauce and is accompanied by white kimchi, jalapenos and coriander for the ultimate Korean-Western fusion experience.


Simon & Lee
115 St Georges Bay Road
Parnell
Auckland