Wellington — the capital city of New Zealand. Renowned for its cold breeze and historic landmarks such as the Te Papa Museum and the almighty Beehive. Over the last few years, the windy city's culinary scene has been on the rise, with new restaurants opening in quick succession and a line-up of steady stalwarts. More and more people seem to be recognising Wellington for its food, often heading to the capital for weekends filled with non-stop eating. An endeavour we recently undertook ourselves, here, we deliver a list of the culinary highlights. This is what to eat next time you're in Wellington.
The caramel slice from Sixes & Sevens
Although this slice may look simple, the flavours are anything but. Sixes & Sevens' caramel slice features three layers of perfection. The bottom layer is a thick, fudgey brownie that has intense cocoa richness and semi-bitter chocolatey flavours. The middle layer is a thick, decadent sheet of sweet and sticky caramel and the top, is hardened chocolate which offers a crunch with each bite. The flavours blend and balance beautifully to become one of the most indulgent caramel slices we have ever tasted.
Doughnuts from Little Dough Co
If you want to be guaranteed a fresh, fluffy doughnut, the key is finding a bakery that makes them in small batches. Doughnuts do not have long shelf lives due to their deep-fried nature. Little Dough Co's doughnuts are only available from Friday to Sunday and can be found at only two locations — Customs Brews on Ghunzee St and Ekor on College Street. The doughnuts come in two different flavours which change weekly and include matcha cream, salted caramel glaze and rocky road, to name a few.
Goldburger from Shepherd Restaurant
Earlier this year, Shepherd Restaurant made its way to Auckland for a highly-acclaimed collaboration with Culprit. The Goldburger was featured on the pop-up's menu and Aucklanders were all over its signature yellow milk buns. Wellington locals are privileged to have the opportunity to bite into these burgers every Sunday at Shepherd's space on Eva St, but even if you're not in a burger mood, this restaurant is still well worth a visit for breakfast or lunch.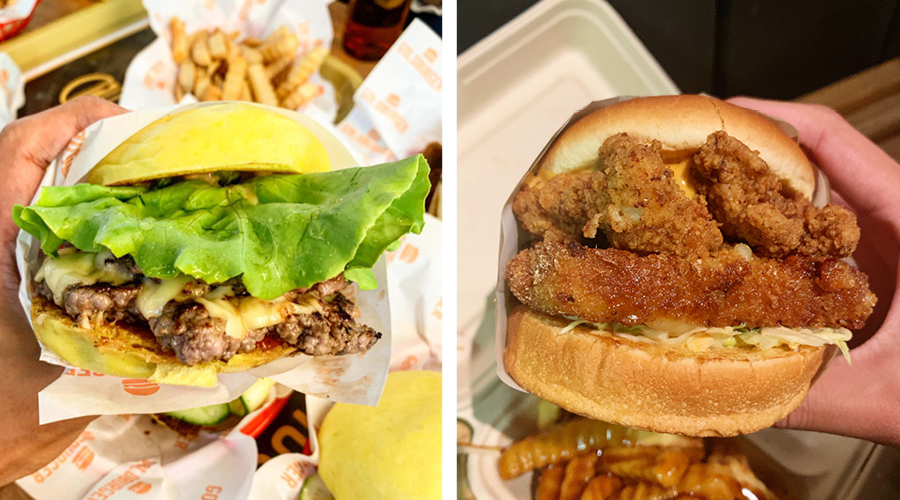 The Jackpot from LUCKY
Fried chicken burgers will never be the same after you take a bite into The Jackpot by Lucky. The small and cosy food stall is open from 11am until after midnight, making it an appropriate meal for any time or any occasion. The menu is short, and The Jackpot burger is the way to go. The soft, toasted-buns are filled with juicy yet crispy fried chicken and a thick slab of deep-fried halloumi cheese. The crunch from the slaw and pickles elevates the texture of the burger while the spiced and creamy Lucky sauce enhances its rich flavours.
The SMK cornbread from Sweet Mother's Kitchen
It may not be the trendiest eatery in town but Sweet Mother's Kitchen is undeniably delicious. Serving the classics such as curly fries and fried chicken, it's hard to go wrong when it comes to this stalwart. The SMK cornbread is not something you see every day, especially in the Auckland dining scene. The warm, fluffy bread is packed with kernels of sweet corn and is slathered in butter, which it soaks up perfectly.
Fillet steak from Ortega Fish Shack
Ordering steak at a seafood restaurant may seem odd, but it's a known fact among Wellington locals that Ortega Fish Shack's steak is not to be overlooked. The knife cuts effortlessly through the steak which is drowning in a Café de Paris butter sauce, adding creamy indulgence. This pairs perfectly with the side of crispy, shoestring fries that absorb the flavours on the plate.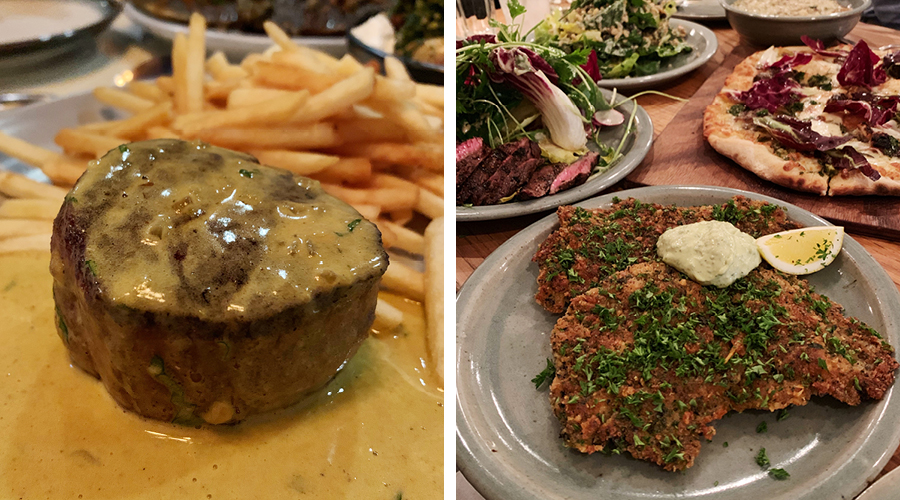 Wet rabbit risotto from Loretta
The all-day eatery, Loretta is always a good idea, no matter what meal you're going for. The wet risotto on the dinner menu is a soul-warming bowl of creamy goodness. The combination of parmesan, butter and arborio rice is the definition of decadence, while the rabbit meat is melt-in-the-mouth tender. Loretta is also renowned for its vanilla bean cheesecake and free form pie, so remember to save some extra room for dessert.
Fix & Fogg PB&J brownie with trimmings from Lashings
Everything about the Lashings brownie is perfect. From its gooey, chewy texture to its soft crisp edges and deep cocoa chocolate flavours, you could not fault the slice even if you tried. We recommend you get the PB&J brownie, warmed up, so the swirls of peanut butter and raspberry jam intertwine with the chocolate. The brownie is topped with a scoop of mascarpone cream, chocolate drizzle and shavings and each spoonful is pure magic.
A dining experience at Rita
Learn from our mistakes by thinking ahead and booking a table at Rita. The small, intimate restaurant is an apparent must-try when visiting Wellington and the fact that you have to reserve approximately a month in advance validates that. The three-course set menu changes every day, depending on seasonal produce and the moods of the chefs. The kinds of dishes to expect include braised lamb shoulder, snapper and trevally in a saffron broth and rhubarb sorbet — all having the quality of ingredients as the central focus.