What better time than the weekend to gather the troops and head out for yum cha? It's a brunch experience like no other, where numerous varieties of dumplings roll out of the kitchen on trollies and different cuts of meat such as roast pork, BBQ duck, tripe and tendons abound. The best and only way to do yum cha is to get a group together for a long session of conversing over some dim sum dishes and copious amounts of hot herbal tea (a classic tactic to help your digestion cope with the non-stop eating that is required).
Here we've rounded up the best yum cha restaurants in Auckland and the must-have dishes you absolutely cannot miss at each.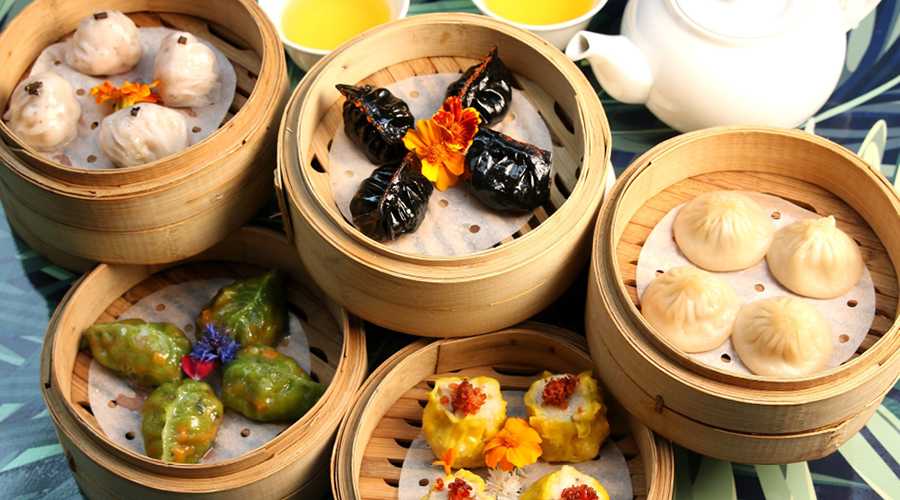 Huami
'Ha kao' fresh truffle prawn dumpling
Whether you spell it har gow or ha kao, the fact that these delicious dumplings are an absolute staple to any yum cha experience remains steadfast. On its lunch menu, Huami has given the classic dish a sophisticated spin by adding truffle to each morsel and packing the delicate skin with plump and juicy prawns. Huami's evening menu also offers some of the most high-quality Chinese we have ever seen with its aromatic, fruit wood-roasted Peking duck one of the best this city has to offer.
Sun World Restaurant
Rice noodle rolls with XO sauce and sesame balls
Tucked away on the corner of Khyber Pass and York Street, this Newmarket gem is one of the best yum cha restaurants in town. Sun World has all the staples, from the steamed pork buns to the har gow (steamed shrimp) dumplings, but it's the rice noodles with XO sauce that take centre stage at this restaurant. The dish consists of large noodle sheets that have been rolled and cut into smaller sections, then doused in a spicy seafood sauce, otherwise referred to as 'XO.' The sesame balls also cannot go amiss. These fried, chewy morsels are filled with steaming-hot, gooey sesame and sugar paste, and it's almost impossible to stop at just one.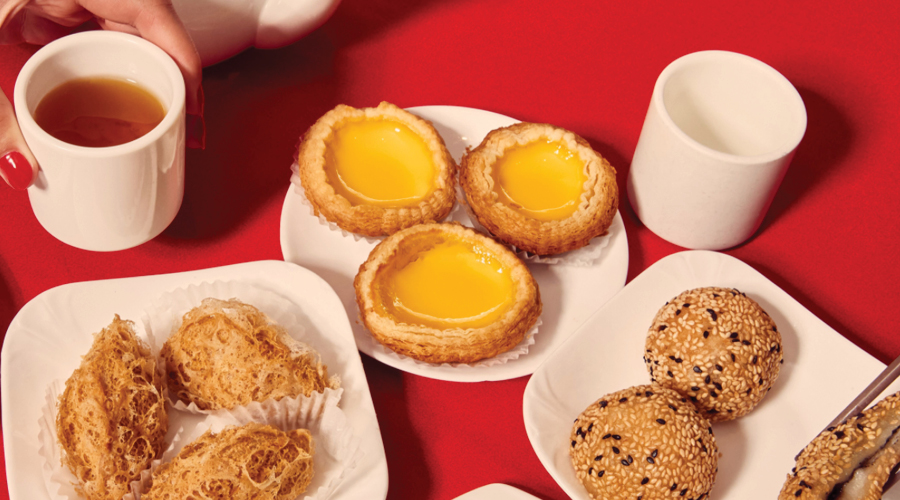 Grand Harbour Restaurant
Oysters with salted egg sauce and egg tarts
It would be a crime if we talked about yum cha and did not mention Grand Harbour Restaurant. One of the first yum cha restaurants to open in Auckland, this establishment is considered an undisputed OG. For almost 20 years, Grand Harbour has been drawing people to Viaduct Harbour, and it's still going strong. Although every dish at Grand Harbour is divine, the oysters with salted egg sauce are a showstopper. The oyster remains snug in its shell and is doused in a creamy, rich sauce that works to balance its fresh ocean flavours. Another unmissable dish is the egg tarts — offering some of the flakiest, most buttery pastry in town.
Pearl Garden
Custard buns
With 45 years of experience up their sleeve, Newmarket stalwart Pearl Garden never fails to deliver the goods. While you can count on the prawn toast, prawn and chive dumplings and steamed pork buns to satisfy your savoury cravings, it's the golden custard buns that have been crowned Pearl Garden's must-try dish. Gooey yet not overly sweet, the custard filling is sure to have you coming back for more.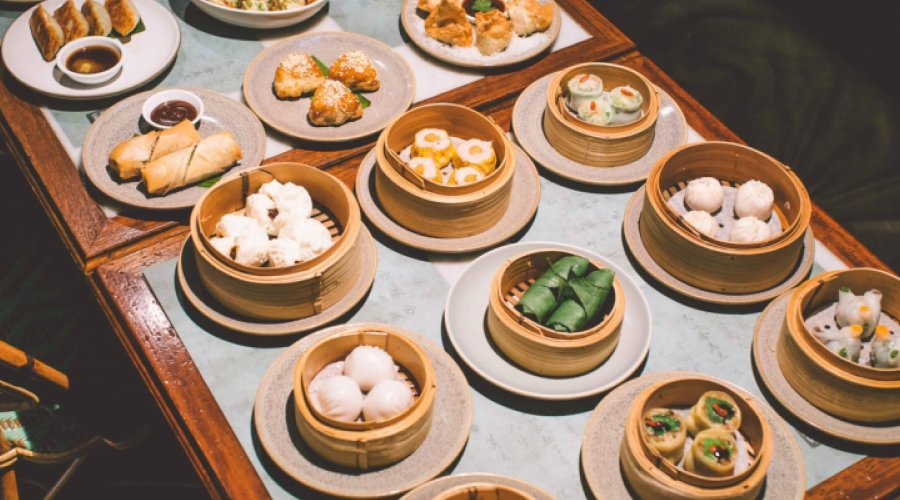 Asian Wok
Tempura prawn rice rolls
North Shore locals don't always have to cross bridges to satisfy their yum cha cravings, with Asian Wok in Browns Bay offering a wide selection of modern and creative dishes. Our favourite is the tempura prawn rice rolls. This dish is similar to prawn chee cheong fun (mentioned below), but instead of steamed prawns, the rice rolls wrap around deep-fried prawns which have a golden crisp exterior to contrast the soft noodle sheet. Asian Wok also does a remarkable shu mai that is filled with juicy pork and more prawns than we've seen anywhere else.
Grand Park Restaurant
Shark fin dumplings (minus the shark)
Located in the heart of Epsom, the sister restaurant of Grand Harbour — Grand Park may have entered the Auckland yum cha scene four years after its iconic sibling, but that's not to say it's any less spectacular. Grand Park provides a huge variety of dishes, ensuring that there is something for everyone to enjoy. Named after their curvy shapes (and NOT their contents), the shark fin dumplings are a firm favourite among Grand Park regulars. These iterations contain no shark meat, instead filled with thin noodles along with shrimp, crab and an assortment of mushrooms.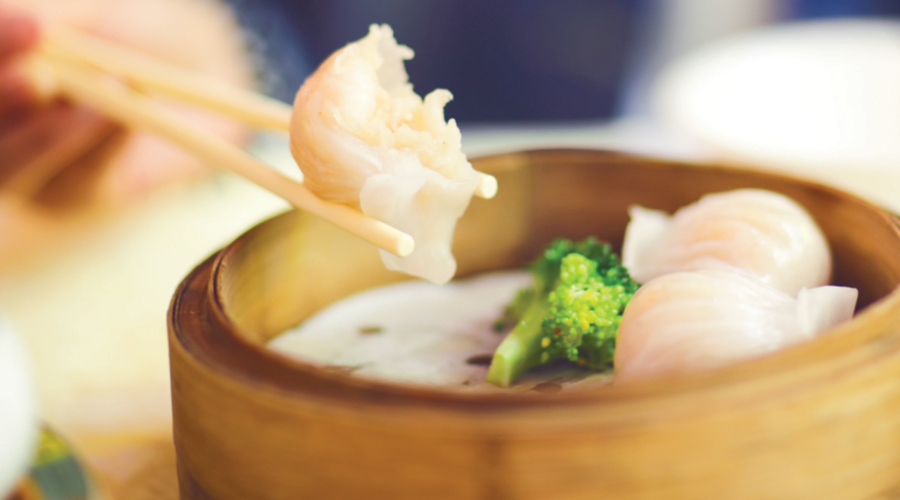 Lucky Fortune Restaurant
Prawn chee cheong fun and durian balls
When it comes to yum cha, service is not usually the priority. The restaurants are manic, filled with hungry customers and the trolley service can get quite frantic and overwhelming, making service feel somewhat rushed. That said, good service is what Lucky Fortune Restaurant in Three Kings is renowned for. That, and its prawn chee cheong fun of course. The steamed rice paper roll is filled with plump prawns and the entire dish is drenched in a sweet soy sauce for a flavoursome kick. Another highlight here is the durian balls offering the perfect way to end the yum cha feast. Renowned for its unique aroma and flavour, durian is a fruit with pungent notes. Here, its strong flavour has been encapsulated in a chewy, mochi ball and balanced by a generous helping of whipped cream.