"We're a fusion of Japanese, Korean and Chinese, and all those flavours, when done well, are really punchy, really clean, really vibrant."
"I've always had a passion and drive for Asian-fusion cuisine," Stu Rogan explains to me, going on to underline how this, along with his feeling that "it was time for me to do my own thing" led to the reason we were both here. Standing with the head chef and owner in his new eatery, Hello Beasty, still infused with that 'new build' smell, I could feel the palpable excitement of possibility and the promise of potential. I'm sure I wasn't the only person in Auckland expecting big things from the renowned chef's latest venture — and as it turns out, I was right to.
The space (formerly the infamous Cowboys bar) is bright, thanks largely to an open, west-facing frontage, which allows light to spill into the eatery's sun-drenched front courtyard and clean interior. Against the natural timber tones of the floors and tables, a panoply of colour stands out via the back feature wall, a floral lighting installation by Angus Muir, the richly-appointed, dark purple, velvet booths that line the restaurant's right side  and a neon rendition of the cat that has become the eatery's mascot. It's an interior that came into being with the help of the experts at Material Creative who took Stu and his wife (and collaborator) Emma's clear vision and turned it into a reflection of the pair's underlying ethos. "We're very relaxed" Stu explains to me, "that's what we're all about," and it shows in more than just the eatery's design. The tables are compact, the set-up is laid-back but the staff are also friendly and approachable, the bar is bustling and the dishes are designed to share.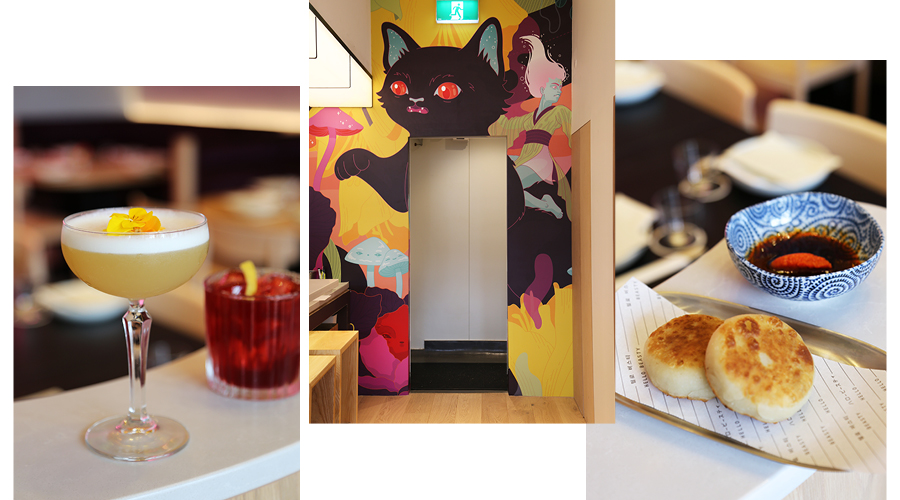 The menu, as Rogan outlines, is "a mixture of Japanese, Korean and Chinese," explaining how those culinary canons can be very traditional and classical on their own, and how he "wanted to contribute something fun." It's clear this chef is putting his own spin on how the cuisines come together. "These flavours," he says, "when done well are really punchy, really clean and really vibrant," which are three adjectives I would happily apply to Hello Beasty's menu. With dishes like fresh, Line-Caught Trevally served with avocado purée, pickled radish, sesame laver, chives and white soy ginger dressing and Crispy Soft Shell Crab with Yuzu kosho, coriander chimichurri and miso caramel, anyone can see how Rogan is combining classic flavours with seasonal ingredients. "We're all about having fun with the food" he says, "while at the same time, using local New Zealand produce… and bringing that into our style of cuisine." That in mind, certain signatures like the KFC (Korean Fried Cauliflower) are likely to remain a permanent fixture on the menu, where other dishes will come and go based on seasonal availability. First-time visitors should sample a selection of the potstickers and buns, including the Fried Sticky Beef Cheek Buns, and definitely try the Chicken Tsukune Sausage with its accompanying cured egg yolk and tare sauce that is designed to mix at the table, causing it to emulsify and achieve a rich, complex flavour profile.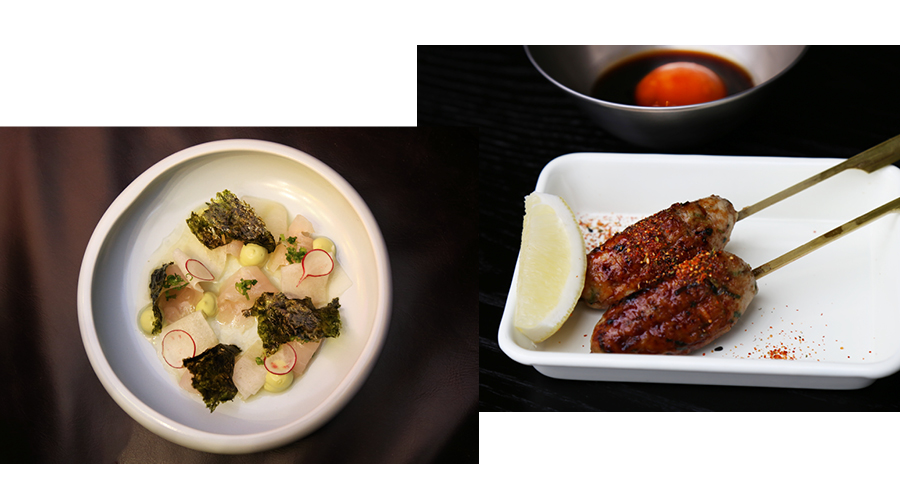 Considering that Hello Beasty was roughly six years in the making, Rogan explains how he really was just waiting for the right space to come along. "[Viaduct Harbour] has all day foot traffic, lots of tourism, and is an area that all nationalities come to, so for us, this location was a dream come true." And despite lamenting the build experience as "tense, tiring and exhausting," the reward of watching punters pile into the booths for the lunch hour seemed to make it all worthwhile. "I want people to walk away having experienced amazing food…an atmosphere that is relaxed, casual, a little buzzy and a little noisy," Rogan discloses, and from what I've seen, it's an apt description of what to expect from a meal at Hello Beasty. Granted it's still early days, but if this is the starting point, we're looking forward to watching this eatery continue to grow into its potential.
To book a table at Hello Beasty, click here.
Opening seven days, 11am – late
Hello Beasty
95-97 Customs Street West
Viaduct Harbour