Octopus is one of those things that's easy to get wrong, but hard to pass up when it's done right. For dishes that do the seafood justice, look no further than the following offerings from these local restaurants.
Grilled octopus with yuzu pepper soy, aji amarillo mash & shichimi pepper from Azabu
From the first day Azabu opened its doors, its grilled octopus has been a standout. The iconic dish comprises seasoned, grilled and sliced octopus, served on a bed of mash — currently it's a delightful whip of potato mixed with aji amarillo. This hot yellow chilli pepper is used a lot in Peruvian cuisine and has a slightly sweet flavour with plenty of heat. A citrusy yuzu pepper soy sauce and the final sprinkle of spicy Japanese shichimi pepper enhance the overall complexity yet cohesiveness of this dish.
South Island octopus with potato, smoked mayonnaise, seaweed butter, chili and spinach from Ostro
A long-standing favourite on the Ostro menu, Josh Emett's incarnation sees perfectly charred octopus accompanied by golden, fried potatoes that have crisp exteriors and fluffy centres, and a smoked mayonnaise to enhance the charred flavours of the delicacy. Adding another dimension to the flavour is butter which has been infused with seaweed and is complemented by a drizzle of chilli, achieving the perfect hybrid of spicy and umami.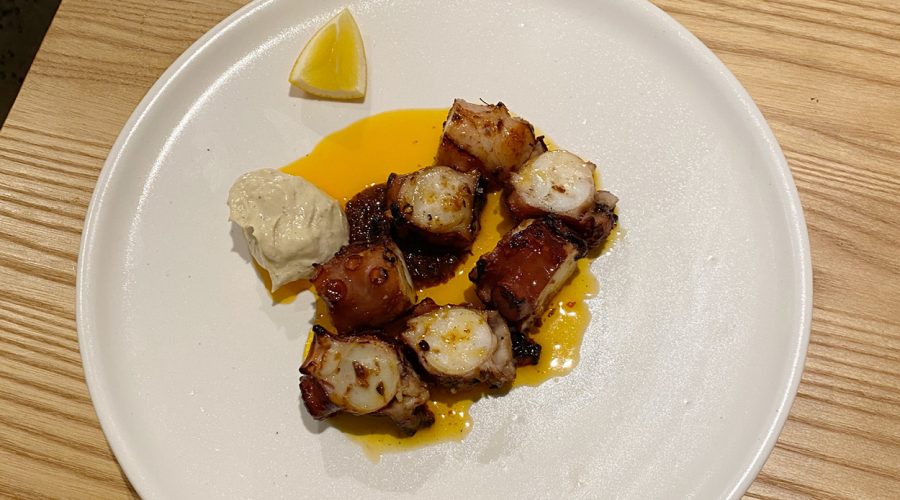 Octopus, X.O from Omni
With culinary influences from Norway and Hong Kong, it's no surprise the talented team at Omni know how to throw down a damn good octopus dish. Grilled until beautifully charred, Omni's octopus is chopped into bite-sized pieces you can easily pluck up with your chopsticks and pop into your mouth. The texture is tender yet pleasingly chewy, with XO sauce adding an irresistible umami element and a thoughtful triangle of lemon offering a bright burst of citrus to cut through the richness.
Wood fired octopus, braised fennel, celeriac, bottarga from Lilian
This special dish from neighbourhood eatery Lilian lets whole octopus tentacles shine. Braised then finished over the wood fired grill, they're served on a celeriac puree with olive and preserved lemon gremolata, finished with a small herb salad, basil oil and grated bottarga (salted fish roe).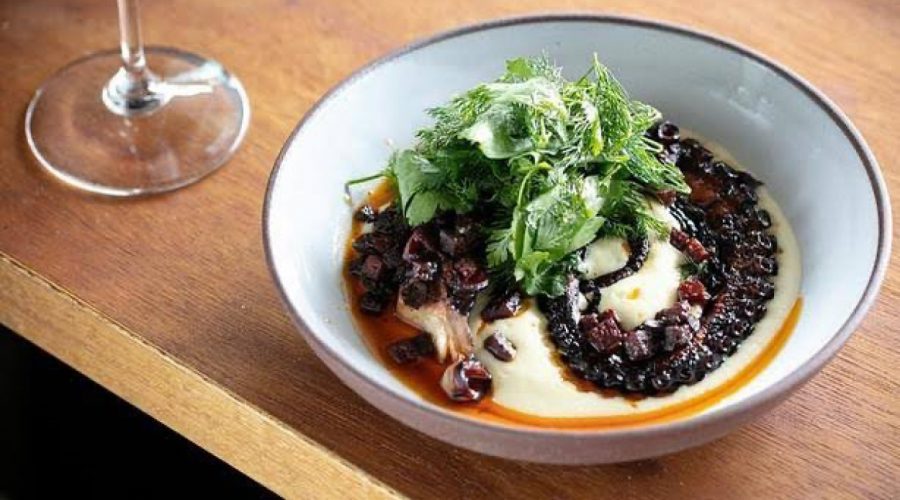 Seared octopus, parsnip velouté, chorizo vinaigrette and herb salad from Bar Céleste
One of the most in-demand dishes on Céleste's menu, the octopus is back and as delicious as ever. Served atop a silky parsnip puree, with a salty, savoury chorizo vinaigrette and fresh, fragrant herb salad, this dish hits all the right flavour notes with each satisfying bite.
Charcoal grilled octopus, baby fennel, tomato, cannellini beans and lemon dressing from Gusto at the Grand
Renowned chef Sean Connolly shines a light on the unsung hero of Italian cuisine at his restaurant, Gusto at the Grand. His rendition of octopus carpaccio is the palate cleanser that everyone needs. Thin slivers of delicately cooked octopus are sprinkled with capers, shallots, fresh chilli and a drizzle of EVOO for the ultimate example of tasteful simplicity.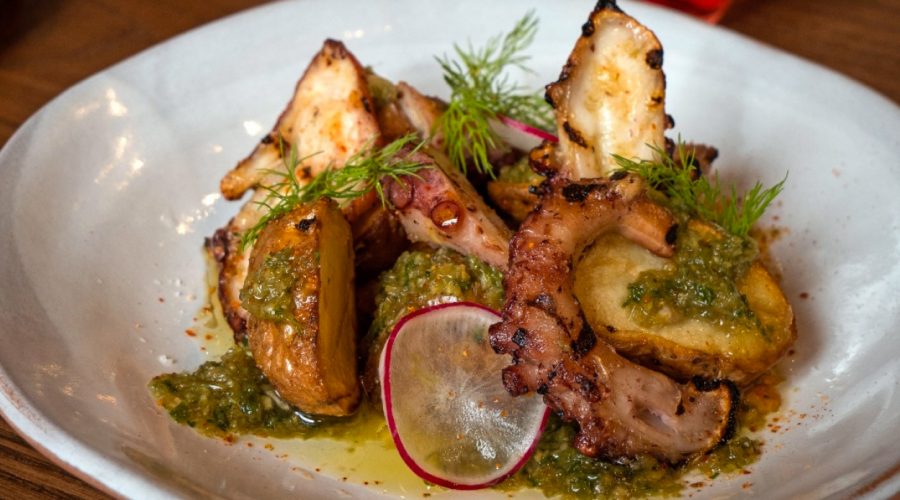 Grilled octopus with potato, muhammara, and ginger-spring onion relish from The Poni Room
Commercial Bay hotspot The Poni Room serves its tasty octopus dish with crispy and fluffy roasted potatoes, a Middle Eastern red bell pepper dip called muhammara and a zesty relish — ideal when washed down with a glass of rosé from the restaurant's ample selection.
Octopus sashimi ceviche with 'Myoga' ginger from Cocoro
Cocoro chef and owner Makoto Tokuyama's ceviche dish sees delicate slices of slow braised octopus served with Japanese Myoga ginger, giving the dish a dimension of earthy zest and showcasing the tenderness that this seafood is capable of achieving.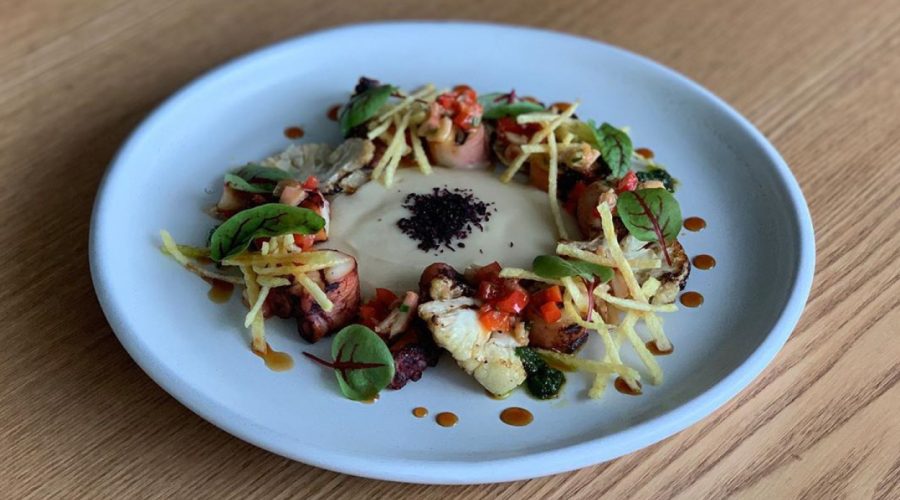 Chargrilled octopus with cauliflower, capsicum and ponzu from Izu
Papakura-based modern Japanese restaurant Izu is all about utilising the freshest local ingredients for a memorable and beautiful eating experience, and its octopus dish is no different. A light and delicate yet still satisfying addition to the menu, chargrilled octopus meets roasted cauliflower and capsicum, topped with a fresh ponzu dressing.
Takoyaki from Nishiki
If you're a bit tentative about wrestling a whole tentacle, consider Nishiki's takoyaki as the perfect gateway dish. A street food favourite in Japan, takoyaki is a sort of dumpling which sees tiny bits of octopus swirled through a savoury batter and cooked into deliciously crispy balls. Enjoy topped with sticky, sweet sauce, Japanese mayo and plenty of gently moving bonito flakes.