After the Koreans gave us double cleansing, we were convinced that we had skincare nailed. It turns out that, actually, we were falling just one step short: it's triple cleansing that we need to be subjecting our faces to. Touted as the best way to not only thoroughly remove makeup but offset the negative impacts of pollution on our skin too, (a discerning factor in our increasingly polluted environment), this is the one extra skincare step your face will forever thank you for.
The process is simple, really. While there are a few variations, the core of the practice is around using three, separate forms of cleansing. We suggest you begin by using micellar water, or by giving your face a rubdown with a cleansing wipe, to gently remove impurities on the surface of your skin. Sothys Micellar Cleansing Water is a firm favourite in our books, as it's perfect for all skin types — especially sensitive. For the second step, massage an oil cleanser, like TATCHA's nourishing One Step Camellia cleansing oil, onto the skin to remove oil-based impurities, before rinsing off. Finally, add a foaming cleanser to your damp face, to clear the last of those water-based impurities – we can't get enough of the NUORI Vital Foaming Cleanser, thanks to its luxuriously creamy texture. Gently remove the final cleanser before patting the face dry.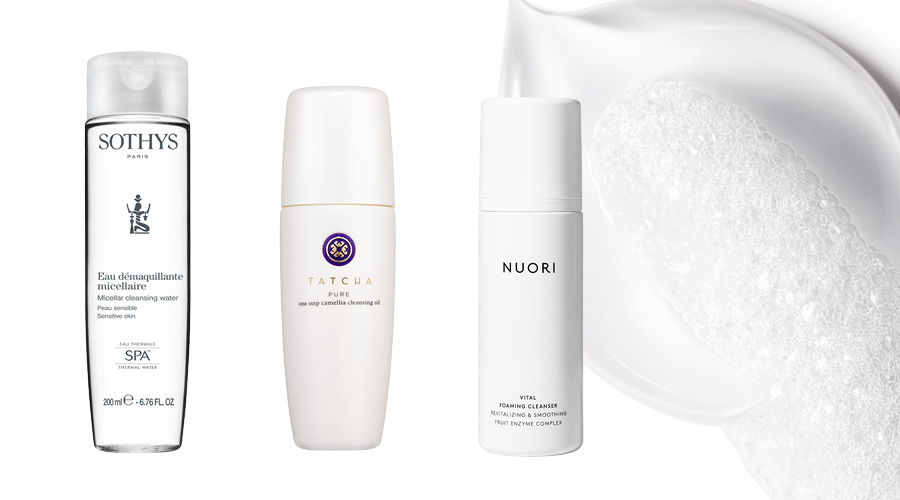 While undeniably a more thorough, effective way to cleanse the skin, it's important to remember that how frequently you opt for a triple cleanse should depend on your skin type. Triple cleansing is beneficial for those who regularly apply a lot of makeup, work in dusty environments or spend a lot of time outdoors, but we wouldn't recommend subjecting your skin to it on a daily basis. (Plus, who really has the time?) To avoid stripping your skin of its natural oils, we instead suggest you treat yourself to a thorough triple cleanse once or twice a week, just like you would an indulgent face mask.