Some of you might have heard about my questionable behaviour last weekend. Combining a humble gas station steak pie with a Whittaker's peanut slab created not only the ultimate sweet and savoury combination but also ended up going somewhat viral — covered by national news and local radio stations. I named the culinary combo the Cooney Hooney after our Senior Editor, Margie Cooney, who was the one who told me about it. (Disclaimer: she did it once, years ago, and advised me not to eat the whole thing.) And because it was a food pairing that, at first glance, seemed utterly outrageous, the Cooney Hooney drew vitriol from the public. Comments swooped in left, right and centre from people in disgust, and who, despite not having tried it for themselves, decided that just looking at a picture of it was enough.

But after the dust had settled, and people actually let their curiosity get the better of them — the tone seemed to change. Most who actually tried the Cooney Hooney only had positive things to say about its warm, salty and sweet nature. Which just proves the age-old adage true: don't knock it 'til you try it.
That in mind, we thought it a good time to encourage you to expand your culinary horizons further. If last weekend's experience has taught us one thing, it's to be adventurous with the food you eat. Branch out and try flavour combinations you would never think would work. As these dishes around Auckland prove, sometimes the weirder, the better.

Ebi Mayo Roll from Ebisu
Japanese food purists are usually outraged when they read up on what is in Ebisu's infamous Ebi Mayo Roll. While tiger prawns sitting on top of an avocado roll, drizzled in mayo with tobiko topping sounds like a dream it's the addition of rockmelon that comes as a surprise. But before writing it off, open your mind — this unexpected, fruity twist is what makes this sushi roll work. After biting into the plump prawn, and tasting the creamy avocado, the burst of sweetness from the rockmelon comes out of nowhere and complements the flavours perfectly.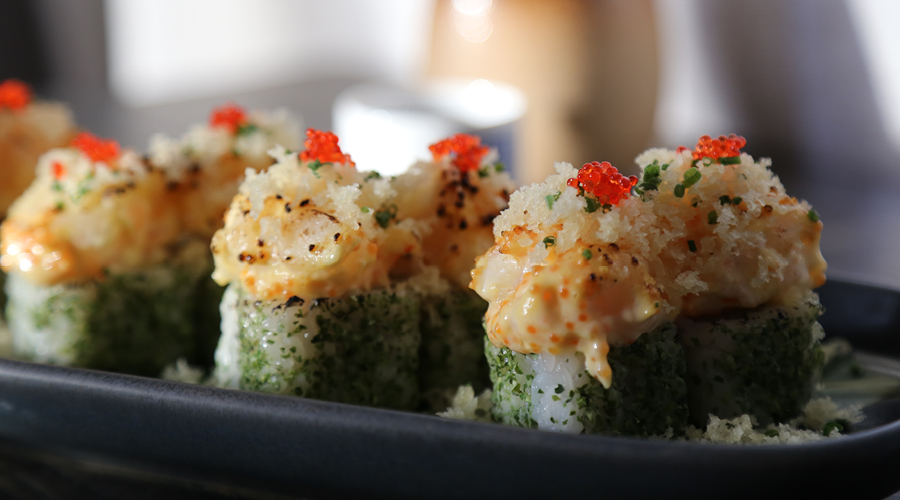 Raspberry, coconut, coriander ice cream from Duck Island
Renowned for its variety of sophisticated flavours, especially the signature roasted white chocolate miso and salted caramel, Duck Island has no boundaries when it comes to creative combos. And while patrons know not to expect the usual when walking into this ice cream store, the raspberry, coconut and coriander flavour still garners double-takes. Coriander in ice cream might sound strange but if you actually think about it, the additional herb makes perfect sense, especially when paired with fruit. Cutting through the richness of the coconut while adding zest and freshness to the raspberry, coriander is definitely an asset to this scoop.

Dessert from Sidart
At this progressive fine-dining restaurant, the exceptional menu throws any idea of normal out of the window from the get-go. Executive Chef and Co-Owner of Sidart, Sid Sahrawat is constantly pushing the gastronomic boundaries to make his one-on-a-kind flavours and offer an unparalleled gastronomic experience. But it's in the final dessert that Sahrawat regularly blows his diners away. Despite the fact that the dishes at Sidart are always changing depending on the season one example we have had before is the Roquefort cheesecake. This dessert saw a combination of flavours that, by themselves, would lend themselves far more to a savoury palate. Decadent yet fresh sheep's milk Gorgonzola cheesecake was combined with aromatic truffle ice cream, rich olive oil shortbread, pungent red wine jelly and a red wine syrup, and reminded us of a dessert version of a grazing board.

Matcha scone filled with red bean and butter from The Candy Shop
Scones are no longer limited to just the savoury cheese and sweet date judging by The Candy Shop's rendition of the classic cafe cabinet treat. Here, the moist scone is infused with an earthy green tea matcha powder for a slight bitterness which sounds strange, but with the addition of sweet red bean, balance is restored. The main problem for scones, in general, is that they can often be dry, but the amount of butter placed inside these beauties take any risk of this down to zero. Butter and red bean is actually a common combination in modern Korean bakeries as the butter enriches the fluffy and sweet red bean, making it an indulgent experience.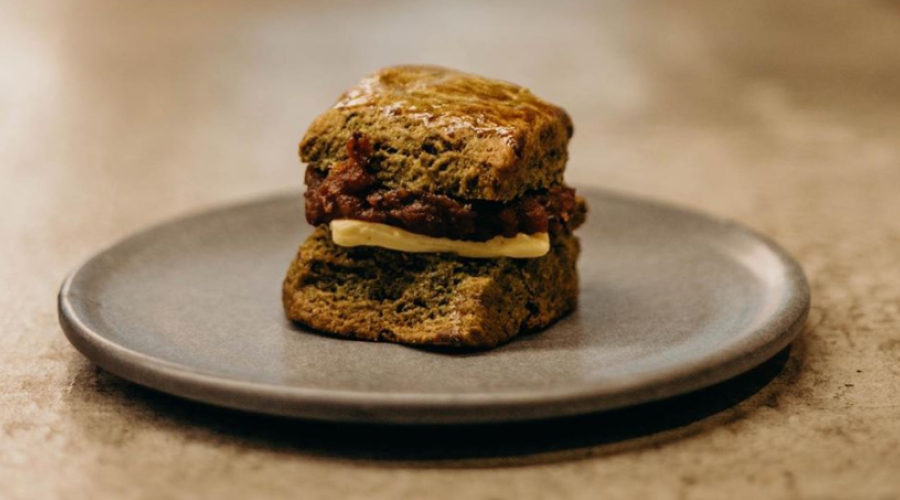 Glazed doughnut burger from Sneaky Snacky
In the age of social media food that looks spectacular but tastes underwhelming, you might have already written off Sneaky Snacky's doughnut burger as just another example of that. But having tasted it for ourselves, we can guarantee that it's one of the most sinfully delicious things in town. The fluffy doughnuts are glazed in thick sugar syrup and inside, sits salty and succulent wagyu patties and a spicy kimchi fritter for an extra kick. In this beast, you get sweet, salty, spicy and it's truly sensational.

Jerusalem artichoke ice cream from Han
This root vegetable is an oddity on its own and Min Baek, head chef and owner of modern Korean restaurant, Han, has made it even stranger by using it for ice cream as part of his latest dessert — The Winter Garden. The nutty flavour of the artichoke actually pairs perfectly with the sweetness of the dessert, where its flavours complement the 'edible soil' made from crumbled dark chocolate. Baek also incorporates fruity sweetness by adding a compressed tamarillo and persimmon and tops it all off with crispy Jerusalem artichoke and dehydrated persimmon leather.