In this regular new column, our Editor-in-chief embraces her long-held passion for food, sharing the unexpected, fascinating and delicious experiences from restaurants, bars, pops-up and cheap and cheerful spots all across the country.

A lot has been written about the challenges that Queenstown and its surrounding lake areas have faced over the past two years. Not only do these communities rely heavily on international tourism, but the continual influx of semi-skilled workers from abroad (who are keen to work while enjoying the magic of the area) have long gone. You don't have to travel far to see just how hard it remains for many well-established operators in the region to obtain decent staff. I frequently heard stories of both restaurants and hotels having to limit their capacity — despite the increase in demand thanks to the arrival of the Aussies — because they just don't have the employees. Businesses have worked so hard to survive the plight of two years of internment closures and it's incredibly frustrating and sad to see the number of operators unable to run at full capacity despite the demand being there. We can only hope that with the much-anticipated reopening of our boarders on the 31st of July, this great region will benefit from an influx of people, and the powers at be will make it easier for hospitality workers to return to our country and take up their critical posts once more.
My companion for this 48-hour eating marathon was the equally food-savvy, Rachelle Duncan (of Driving Miss Duncan fame). Having recently purchased a home in the region, she wanted to educate me on everything new and the noteworthy in her new locale. Thanks to her deft abilities behind the wheel, she was also (handily) my driver. Thelma and Louise were off.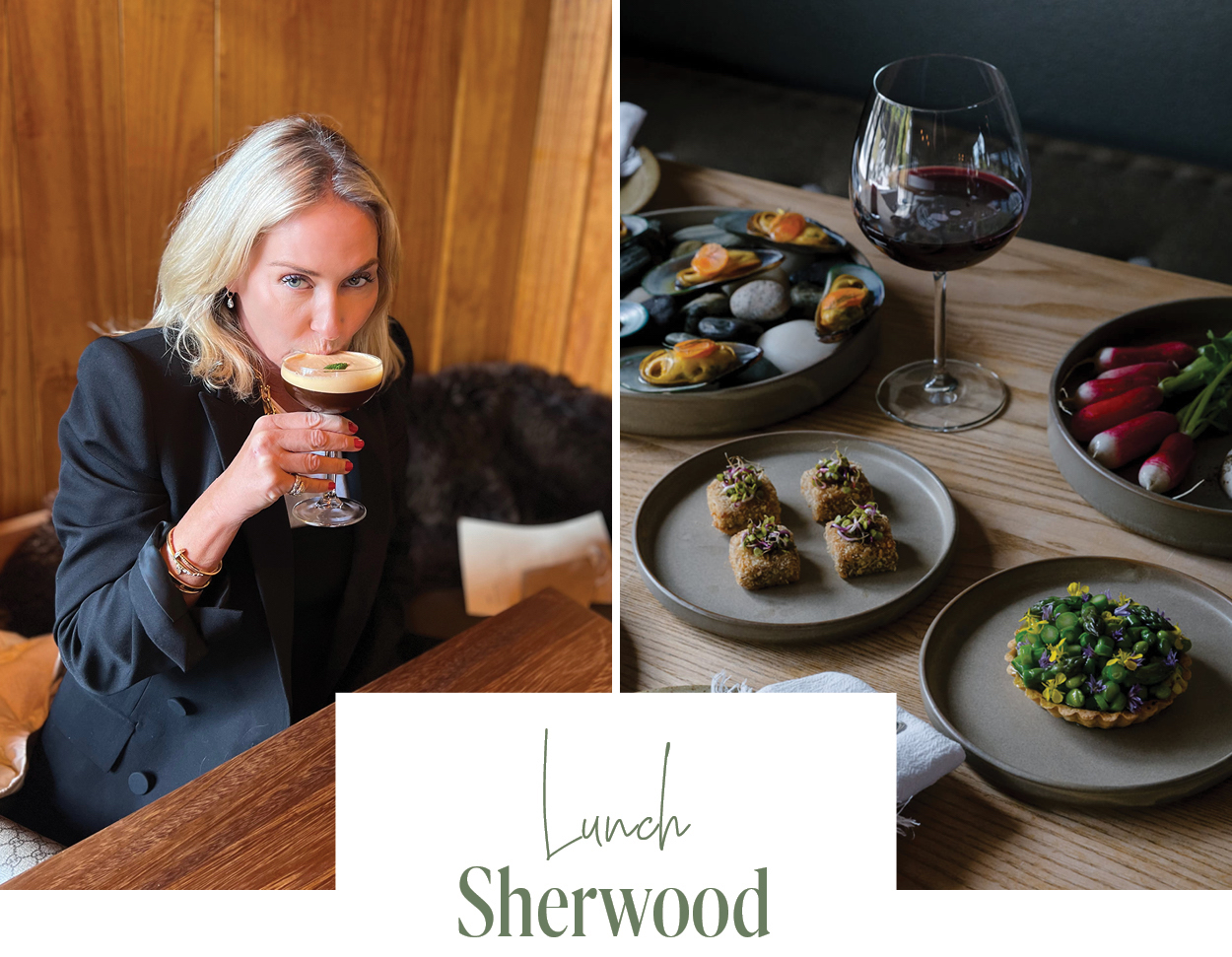 It was time for a journey to Queenstown, and our first stop was lunch at Sherwood. Loved for its passionate commitment to being both organic and 100% sustainable, the Sherwood kitchen is very much focused on a homegrown ethos. With a philosophy of things "not having to travel far" to make it onto your plate, the team at Sherwood have converted a large piece of land on the hillside that was covered in bracken and a few wilding pine trees into a large ever-changing vegetable garden, which is farmed by organic principles. On the day we dined, we could see a few people toiling the soil through the windows, giving us a strong sense of the commitment to the cause of doing the right thing. It's a principle that most eateries in this area are not only embracing, but are stoically standing by, which is something to be admired given the harsh, ever-changing climate.
With another long day of eating ahead, we opted for a selection of lighter plates from the reduced lunch menu. Pickled Stewart Island Mussels served with carrot and saffron offered a light tang, while the smoked Moki croquettes made us both feel nostalgic for the smoked fish patties of our childhood. The chicken oyster skewers did a marvellous job of harnessing the most moist, tender part of the bird, and were lathered in a delicious barbecue laque — a serious standout. The drinks menu here is also worth noting — a plethora of fantastic natural wines from the barrel, alongside an inventive cocktail list. With a long day ahead, I threw caution to the wind and ordered the chocolate mint espresso martini which was not only delicious but certainly aided in putting some wind back into my sails.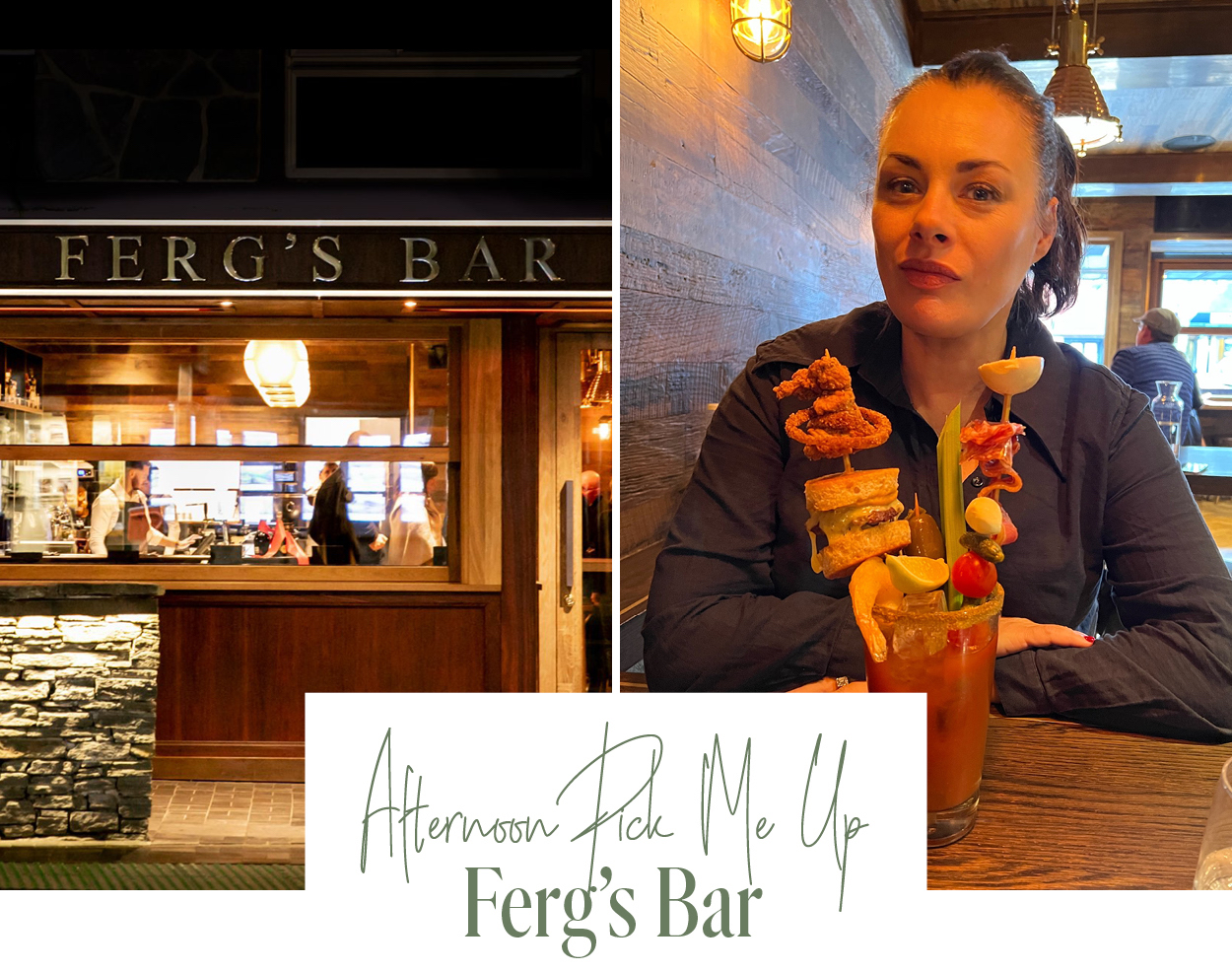 You'd be hard pressed to find anyone that hasn't had a Fergburger at some point in their lives. These are the stuff of local legend, their popularity proven by the lines of patient punters that continue to form from morning until well into the night. Even the recent addition of Fergbaker — which in my opinion is the only place one should buy any bread, pastries or pies, because they are just so damned good — has a cult-following of its own. But we were there for Ferg's Bar. Open from morning until late night, there you'll find both a great selection of cocktails and wine, along with a menu of delicious local fare. Perusing the menu, we were immediately struck by the 'Ferg's Bloody Caesar'. After my companion read out the ingredients; vodka, Clamato juice, Worcestershire, Kaitaia Fire, buttermilk fried chicken, maple glazed bacon, tempura prawn, beef slider with cheddar and chipotle mustard, pickled egg, onion rings, bocconcini, pickles, pork and fennel salami, we were, needless to say, a tad confused as to whether this was listed on the wrong part of the menu, and was not a cocktail, but in fact some sort of dish. Giving into our curiosity we ordered it regardless — and boy were we surprised with the outcome. If you're looking for the ultimate day after cure, then this is undoubtedly it. While much has been documented about the life-reviving abilities of a Bloody Mary, throw in some tasty complements and you'll have yourself back on the road to recovery in no time. We guarantee it.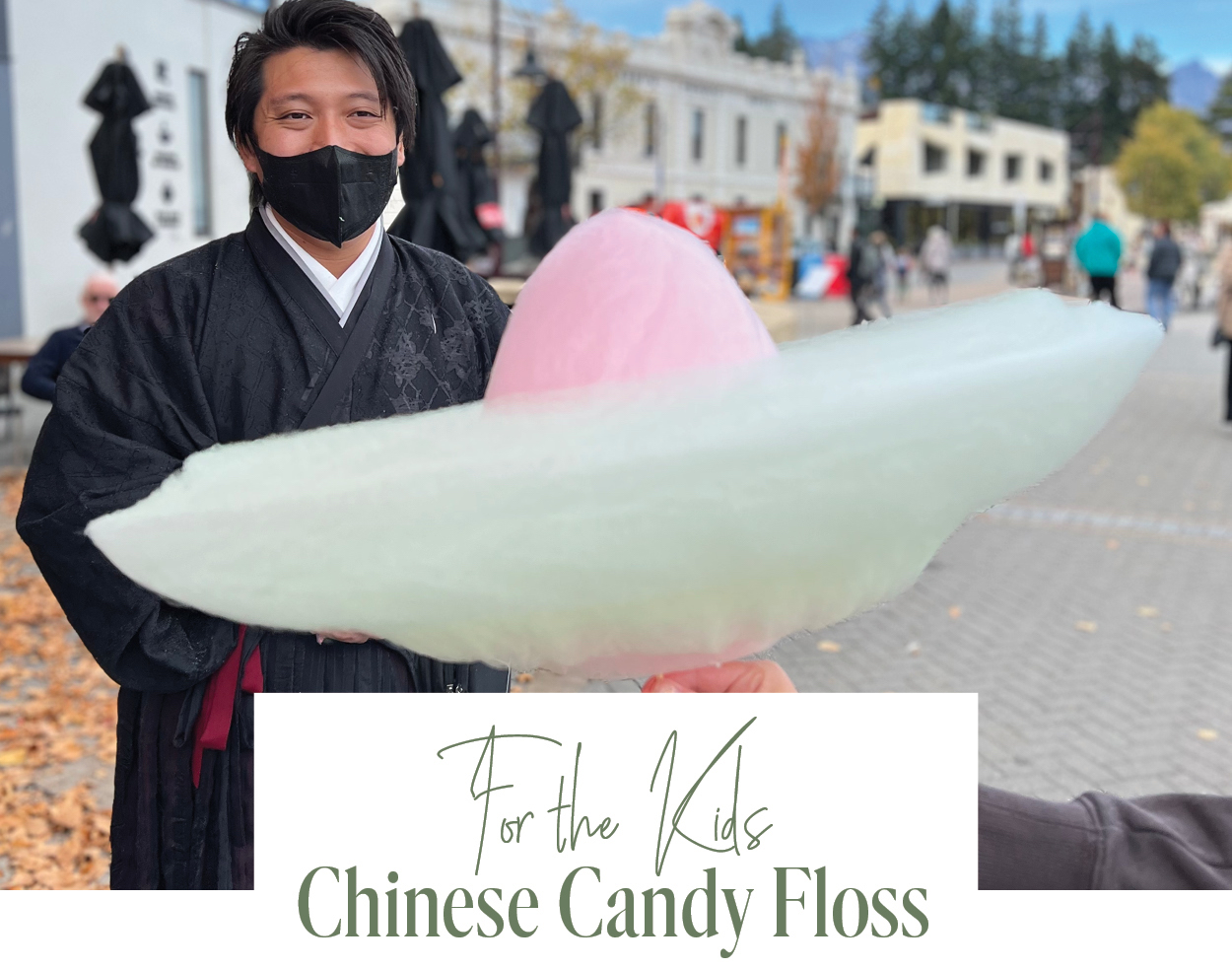 It would be remiss of me not to mention this artfully-prepared nostalgic treat. We stumbled across this small cart manned by a delightful Chinese man, who explained that his candy floss creations were traditional in his home country. A definite winner for kids, or those who (like me) can never pass up candy floss, this particular iteration was created in shapes that were out of this world, the owner's deft technique delivering artful masterpieces.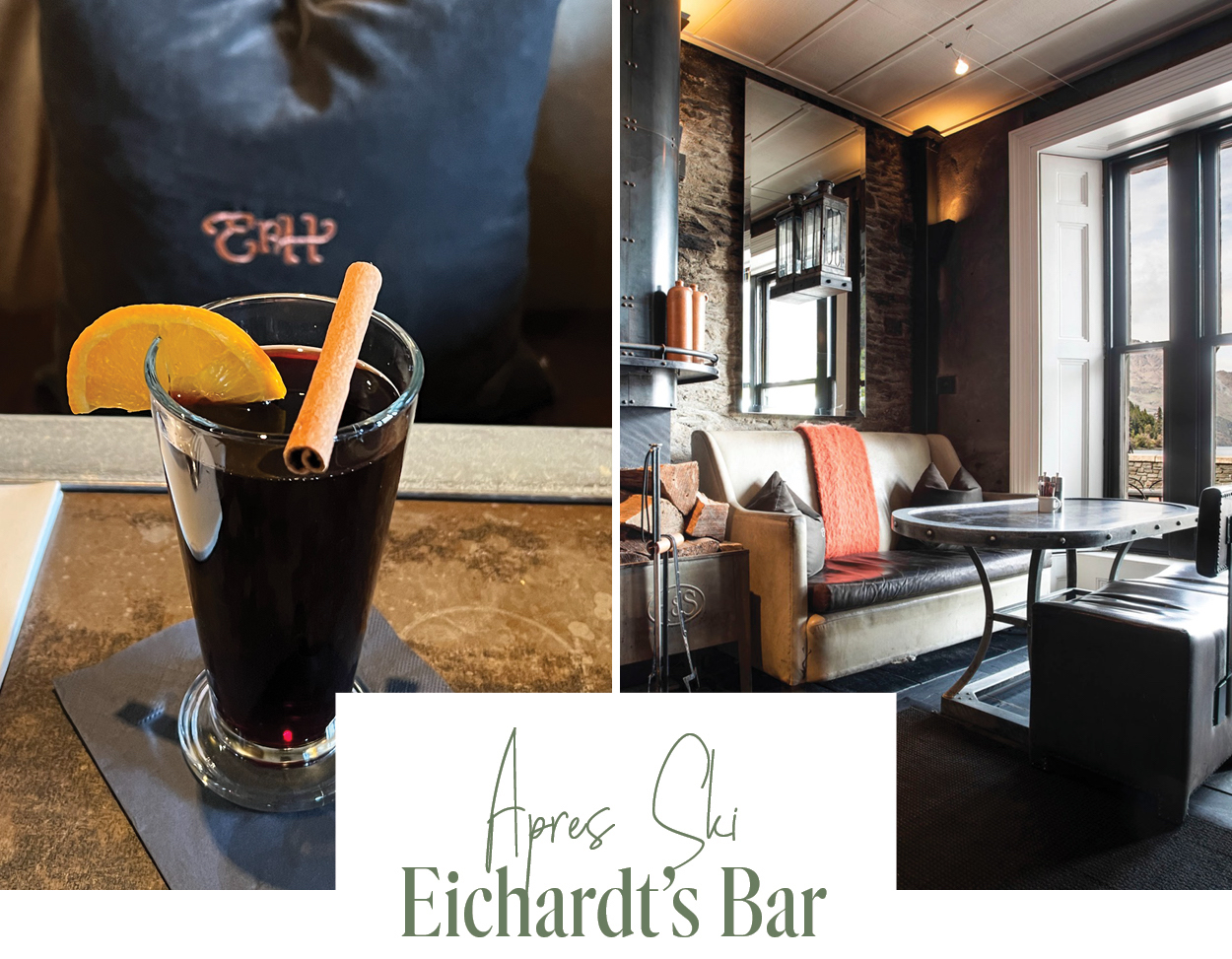 It's been a while since I pulled up a fireside seat at the original Eichardt's Bar. On this sunny but crisp afternoon, the fireplace was a welcome draw card for a couple of tipsy birds looking for a warm place to roost prior to our dinner plans. Alongside an extensive menu of local wines and unique cocktails, the team here have always been known for their ability to craft a decent mulled wine. Not to be mistaken for those bitter renditions we've all been guilty of slugging back on the mountain, Eichardt's version sees the rather cunning addition of either Grand Marnier or Hennessy, to give it that much needed kick. Because after simmering all day, it's likely that most mulled wines have little to none of the good stuff left. A cheeky glug of spirits, it gives it a wonderful boost. We enjoyed ours with a side of locally caught and cured Stewart Island smoked salmon served with crispy capers and aioli.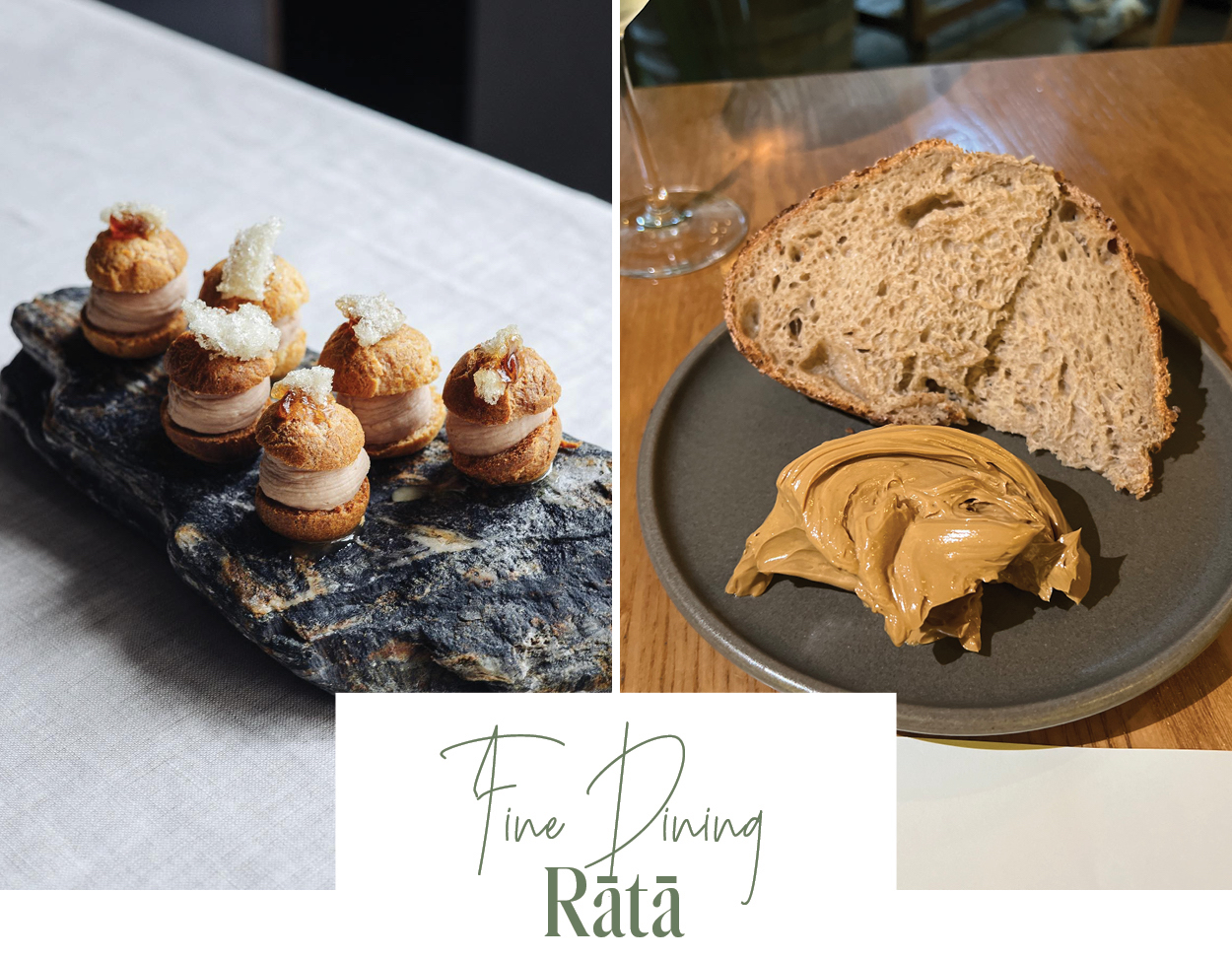 With new Executive Chef Michael Bickford on the tools at Rātā, I was keen to experience what he had brought to the much loved fine dining eatery, (that just happens to be celebrating 10 years of operation this year). The wonderful thing about turning up at Rātā is the immediate recognition by the staff, Claire Abbott has been Restaurant Manager here since it first opened, while assistant manager Joe Daniels has been working the floor for eight years. It's a testament to owner Fleur Caulton's leadership that she's maintained such loyalty from her staff, you can tell they love to work here, and that passion ultimately enhances the diner's experience.
We started with a selection of snacks; dainty duck-parfait-filled profiteroles, Apatu smoked eel and Te Kouma Bay oysters with ginger and bonito vinaigrette and yuzu, which were all exceptionally flavourful bites. The most outstanding, however, was probably the least photogenic (so much so that Miss Duncan described it as resembling something her dog might leave on the lawn) — marmite butter served with Speights Old Dark Sourdough. This creamy, coiled mastery should be jarred and sold as a takeaway option, it's just that good. So good in fact, that I refused to allow anyone to remove it from the table for the entire evening to allow me to keep going back for more.
We then launched into starters by way of an artichoke dish with pickled cabbage, confit garlic and almond coffee. For a vegetarian option, it was nutty, smooth, and utterly delicious. I was keen to try the scallops, and despite Miss D's hesitation, Joe convinced us that they were worth it. He was not wrong. The picture-perfect arrangement of ever-so-lightly seared scallops with cucumber, fennel, hemp seed and finger lime showcased just how worthwhile scallops can be. Too-often people are put off by their richness, but Bickford has done a sensational job of showcasing their more delicate, flavoursome side.
Hesitant to order more (thanks to our already-stretched appetites) we were persuaded to extend ourselves just a little further, which turned out to be the right decision. The lemon sole, with Café de Paris, agria and burnt lemon, came as a perfectly-formed fillet balanced on top of a crispy potato rosti, with butter sauce as the ideal accompaniment. The portion size was not too overwhelming and prepared us for the next dish: Black Origin beef, both an oyster blade and short rib cut, cooked two ways and
served with spring onion and pickled and seared kohlrabi. Unsurprisingly, the meat was melt-in-your-mouth soft, while the spring onions and kohlrabi did a wonderful job of freshening the palate.
A rousing call for a side order of Brussels sprouts from a couple of gals who love them delivered exactly what we were looking for, charred sprouts, served with chorizo, smoked yoghurt and baharat — perfection.

With a mere 48 hours to get around a rather extensive list of eateries, it would be remiss of me to not include the following places that, while I didn't dine at this time, I always enjoy and most definitely recommend.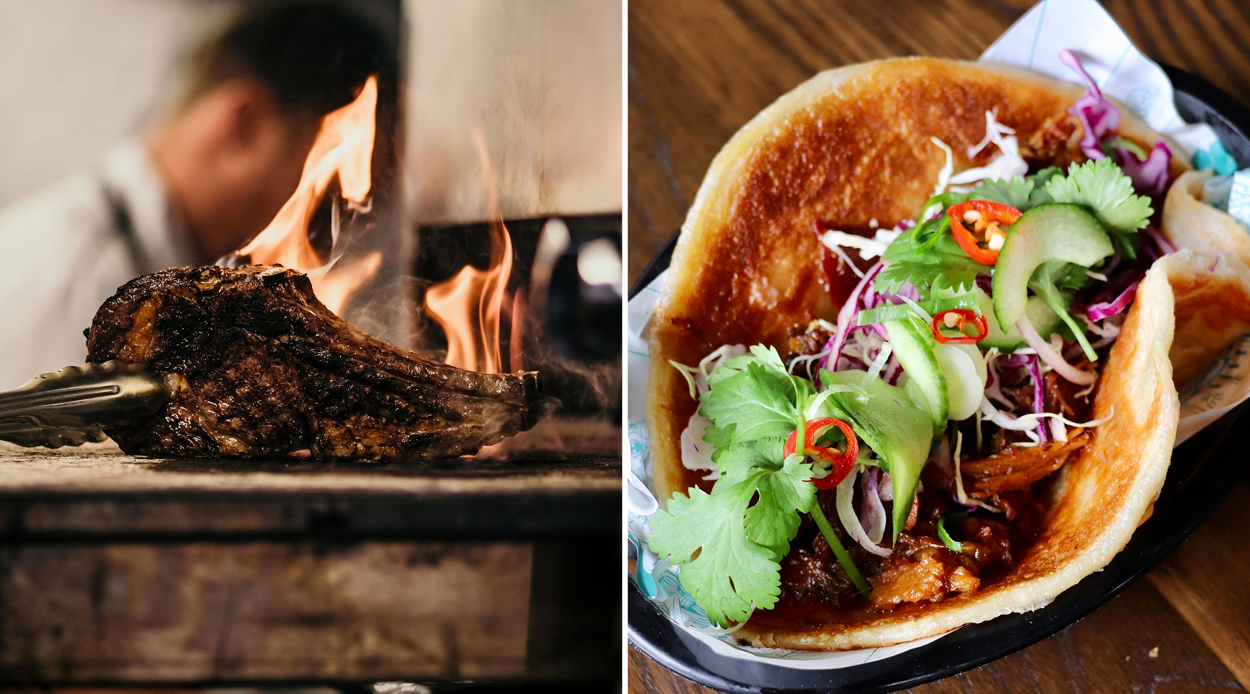 Jervois Steak House
One of the jewels in Nourish Group's crown, the South Island chapter of Jervois Steak House (JSH), is arguably one of the best restaurants in Queenstown. Offering premium cuts of meat with all the trimmings accompanied by soulful sides like truffle mac and cheese and baked candied kumara, JSH is the best steak restaurant in the region. Equally perfect for a large group as it is for an intimate cosy and delicious dinner.
Hawker & Roll
Here, expect Malaysian-style street food dishes that combine big, bold flavours with locally-sourced ingredients. Do not go past the Hawker Roll, a dish that sees a variety of mouth-watering flavours wrapped in flaky roti canai or a crisp lettuce cup.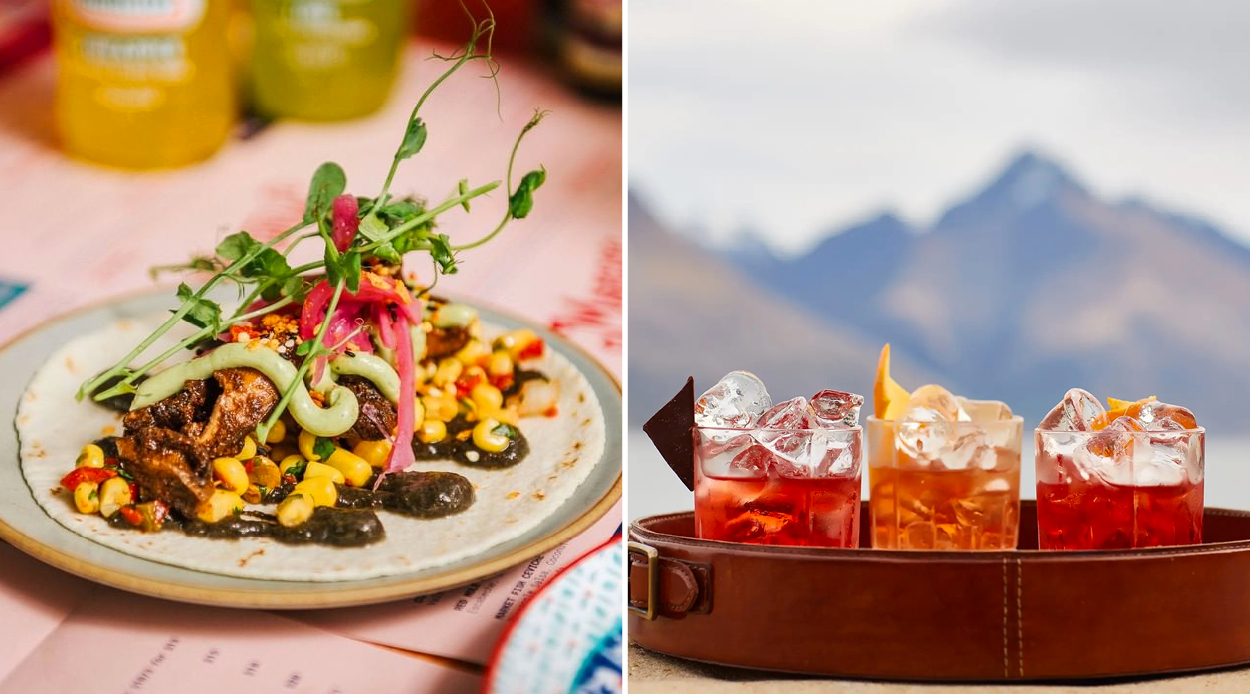 Margo's Mexican
Fajitas, tacos and tasty Mexican flavours abound at this Central Queenstown eatery. Offering a downright fiesta of bold dishes that present the Mexican food we know with fresh, interesting twists — think Coca Cola barbecue pork ribs, goat barbacoa empanadas and Baja-battered cauliflower tacos — this fun, modern spot is exactly where to go for a salt-rimmed margarita and a seriously delectable spread.
The Lodge Bar
From its lakefront position alongside the Rodd & Gunn store, The Lodge Bar exudes the ambience of an elevated mountain cabin. With animal hides strewn over plush, fire-warmed armchairs, this restaurant's exceptional fare and curated wine and cocktail list makes it the perfect place to relax and take in the view.
The Winery
With over 1000 wines in stock (from all over the world) and 80 available for tasting, The Winery is a great place to visit if traipsing around the wider Central Otago wine region feels simply too much. Wines can be ordered by the glass or bottle, and are best when enjoyed alongside The Winery's varied selection of delicious cheese boards and flavoursome tapas.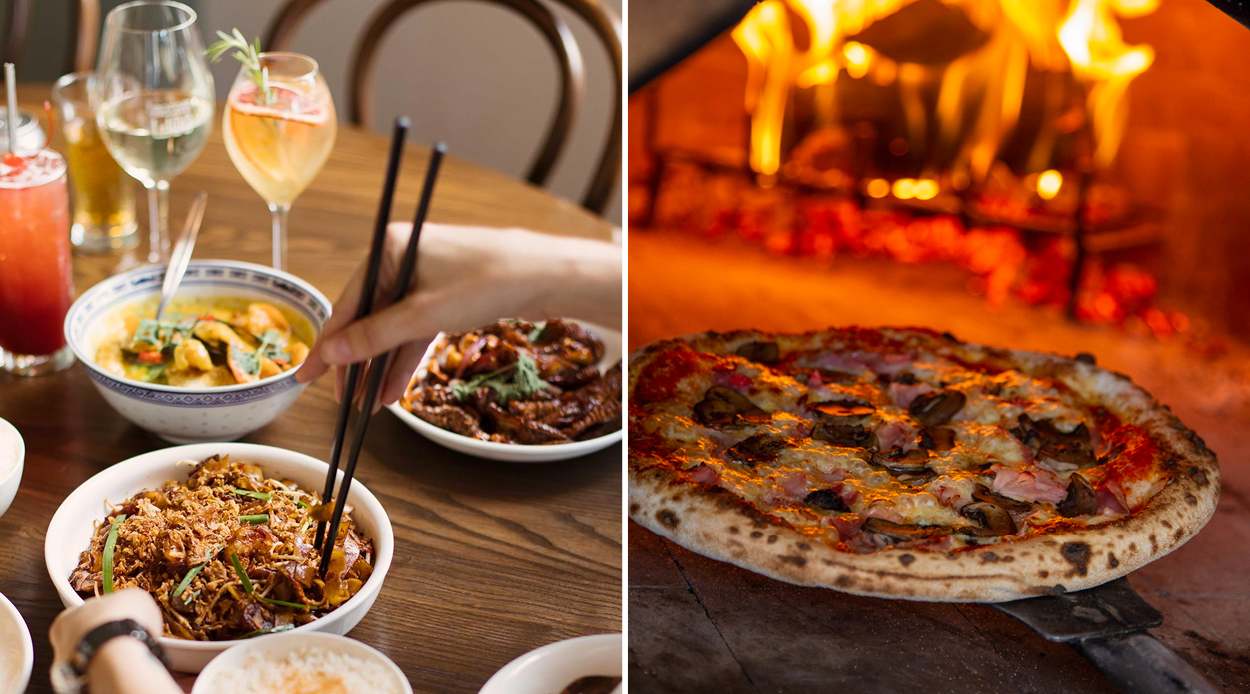 Madam Woo
If it's a touch of spice you're after, or flavours that pack a punch, look no further than Queenstown's Madam Woo. Serving a range of Malaysian-inspired dishes from tasty beef rendang with nasi lemak to five-spiced fried chicken, this laid-back eatery is as good for those who want to dine in, as it is for an easy takeaway.
11th Avenue by Frank's
This is a new addition to the region that we unfortunately ran out of time to visit. We have, however, heard good things. Serving breakfast through to dinner, the menu features simple fare such as tacos, souvlaki, Buddha bowls, steak and chips and fish and chips, in a relaxing environment. Which sounds worthy for those looking for something a little more low key.