It often happens that the humble cookie is outshone by the newer and somewhat more creative sweet treats on offer at cafes and eateries around Auckland. But there's nothing quite like a well-baked cookie with crisp, golden edges and a soft, chewy centre. That said, we decided to round up where you can find the best in town so that you too can rediscover the magic of this classic treat.

The classic chocolate chip from Moustache Cookies & Milk Bar
When searching for the best chocolate chip cookie in town, we were seeking a buttery, soft texture and one that wasn't overcomplicated with triple chocolate variations or secret hints of spice. Moustache's chocolate chip cookies are consistent in terms of both flavour and presentation. The perfect circle golden base is dotted with pieces of Whittaker's dark chocolate, making the cookie the perfect balance of rich and sweet.

The chocolate chip and walnut from Doe Donuts
Arguably the heaviest cookie we've ever come across, this chocolate chip and walnut number from Doe Donuts could be considered a safety hazard. The thick mountains of cookie dough have been baked until crunchy and golden on the outside but unbelievably soft on the inside. Milk chocolate chunks and walnuts are laced throughout the cookie, lending sweetness and bursts of nuttiness with each bite. Pop these beasts in the microwave for approximately 15 seconds and they become extra ooey and gooey.

The Gold Digger from Best Ugly Bagels
When Best Ugly Bagels first announced the contents of its cookie, we'd be lying if we said we weren't a touch sceptical. The combination of Central Otago apricots, coconut, rolled oats and M&M's seemed strange, but we weren't going to knock it before we tried it. Teaching us that branching out our comfort zones will lead to great things, the Gold Digger cookie turned out to be pure gold. The soft cookie boasts strong notes of golden syrup and oats while the M&Ms add a nostalgic element and the apricots enhance the cookie's chewy texture.

The s'mores Kookie dough sandwich from Kookie Haus
The highlight of baking cookies at home is being able to eat some of the leftover dough, so why not combine this element into the final cookie? Kookie Haus entered the Auckland cookie scene at the humble night markets, and it wasn't long before the stall started quickly selling out at every market they parked up at. This popularity lead to the team opening a permanent space and today, Kookie Haus has two stores, one in Ranui and the other in the CBD. Its s'mores Kookie dough sandwich is one of a kind — boasting two, cocoa-rich chocolate cookies sandwiching a decadent cookie dough patty and sticky, melted marshmallow.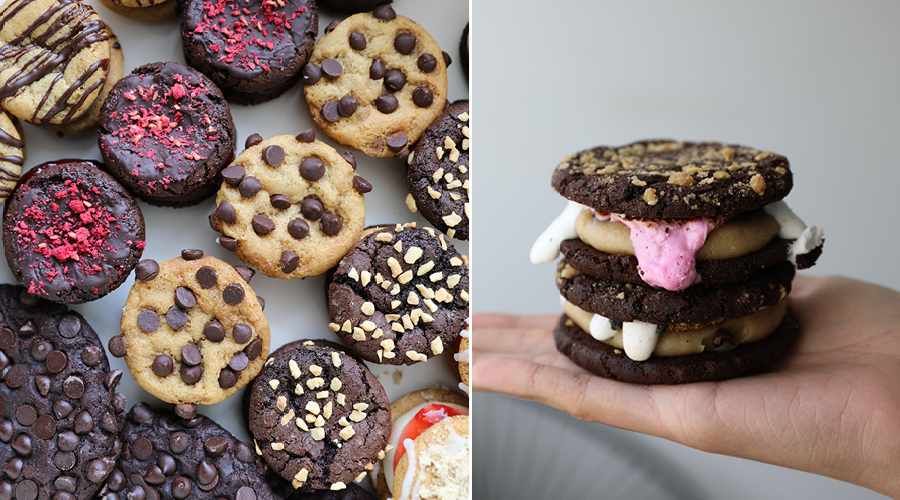 The vegan caramel chocolate chip cookies from Ripe Deli
For all those plant-based folks, Ripe Deli has outdone themselves with its latest creation — a cookie so good you wouldn't believe that it contains no animal products whatsoever. Introducing, Ripe's vegan caramel chocolate chip cookie. The golden edges gradually get softer and chewier as you reach the middle, where a gooey dollop of caramel takes centre stage. The caramel elevates the chewiness of the cookie as it cools down to a sticky texture and is guaranteed to impress anyone, vegan or not.

The chewy caramel Swedish shortbread from Ace
This newly-opened hole-in-the-wall coffee shop is not only home to some of the best brews in town, but also a selection of house-baked cookies which you won't be able to find anywhere else. Although the triple chocolate, white chocolate and rice bubbles are nothing short of divine, it's the chewy caramel Swedish shortbread that has us returning for more. This cookie is shaped in a way that makes it dunk-friendly and boasts the most potent flavour of butterscotch caramel. Unlike regular dense shortbread, this one is chewy and soft and becomes even more delicious when it soaks up some hot, semi-bitter coffee.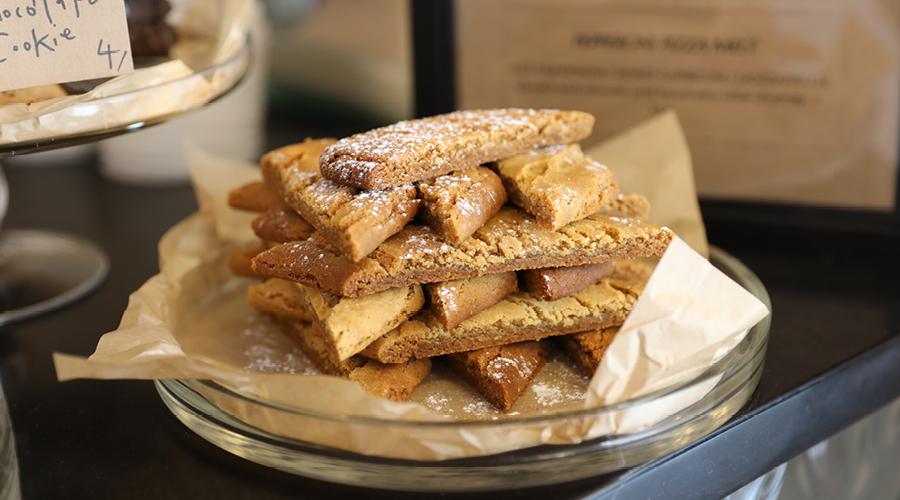 The ginger snap cookie from Baby
Hard and crunchy are what we would usually associate with a ginger snap cookie, but Baby's rendition of the ginger cookie is anything but. The thick morsel is heavily spiced and is so moist, it's closer to a cake than it is to a snappy biscuit. The outside is coated in sugar crystals, which offers an extra textural element and sweetness to contrast against the strong aromas of ginger and cinnamon.
The Maltesers cookie from Savoury Sweet
If you are a lover of chocolate, look no further than the Maltesers cookie from Savoury Sweet. This lunch bar is only open on the weekdays, so we advise you to pay a visit on a Friday and stock up for the weekend because you'll surely be craving one of these. The chocolate cookie is loaded with cocoa powder for a rich chocolatey flavour and is topped with Maltesers, which not only add extra sweetness but also a heavenly crunch.