Ever since Moustache Milk & Cookie Bar opened its doors near Queen St, six years ago, it was clear that Auckland had been blessed with something special. Milk and cookies is a universal combination that is objectively one of the most perfect pairings to ever grace this Earth and anyone who can't see that must have some deep-rooted issues.
But since its launch, Moustache Milk & Cookie Bar has gone through a number of ups and downs, including being unable to meet the sky-rocketing rent of their CBD store which forced the business to temporarily shut down. Owner and Founder, Deanna Yang decided to move on and bought a truck before she was finally able to relocate to a permanent spot at the University of Auckland (UoA), where Moustache soon became a significant part of campus culture — and the ultimate way to stave off stress come exam time. At the same time, a Moustache outpost was opened on K'Road, which would house the operation's main kitchen. Now, due to the upcoming construction at the University, Moustache has had to move its campus operation to Orakei Bay Village — and we think this one will stick.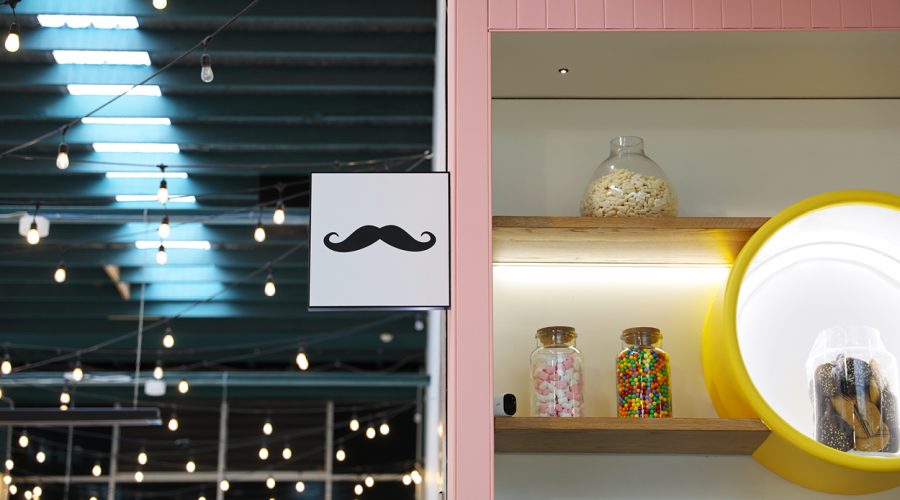 Taking over what used to be The Botanist, Moustache has decked out the space in pretty pastels that exude a sense of child-like nostalgia, perfectly matching the sweet treats and delicious beverages being offered. The cookies by Moustache are easily the best you'll find in this town. Using only premium ingredients and no preservatives, these cookies are like the kind you'd make at home — simple but tasty and always served warm. Moustache seems to have the ability to make its cookies at such a rate that they're almost always fresh out of the oven when you order, giving them that melted, ooey, gooey texture that has made them such a universal hit.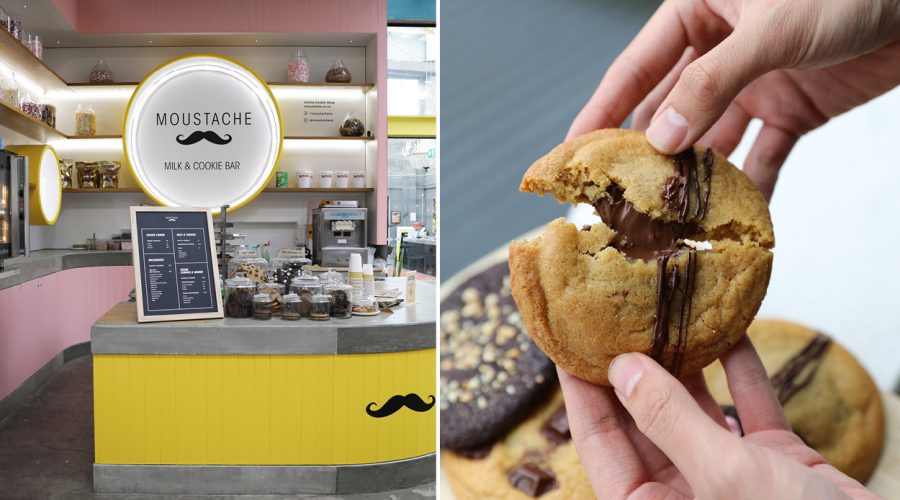 The original chocolate chunk is a crowd favourite, of course. Impossible to fault, the buttery cookie is speckled with chunks of Whittaker's chocolate. But our Digital Editor, Clara, loved the Black Forest, while I cannot rave enough about the Cinnamon Donut. The Oreo and Marshmallow is another must-try as the dark, rich cookie is made even gooier and stickier from its marshmallows. When you visit, make sure you try Moustache's special cookie pies — extra-thick cookies that are filled with either Nutella, caramel or Snickers — and their selection of milkshakes as they are unbelievably decadent and delicious. We went for the vegan peanut butter version and couldn't even tell that there was no dairy — it was pure magic.
Opening hours:
Monday to Friday — 9am until 5pm
Saturday and Sunday — 10am until 5pm
Moustache Milk & Cookie Bar
Orakei Bay Village
228 Orakei Rd
Remuera