After taking over a coveted cafe spot in K Road's St Kevin's Arcade, where they turned the much-loved Alleluya into the equally beloved Bestie, partners Emma Lyell and Tane Williams have expanded their delicious offering into Eden Terrace with their new venture, Baby.
Setting up shop in the space that was formerly Bluebell's Cakery, the duo was attracted to the sheer amount of room this new location afforded them — a welcome reprieve from the perils of Bestie's more restricted kitchen. Now, Lyell says, they are able to be more creative and importantly, increase their output. Lead by Head Baker Daisy Reed, much of Bestie's cakes and slices will now be supplied from the new kitchen, which also means a possible future foray into catering.
Baby is a welcoming and cosy coffee drop-in, spotlighting expertly made Eighthirty coffee and delightfully indulgent cabinet food. Serving up what Lyell describes as "old school classics… with a twist" the menu comprises only three items (including a toastie, which you can't go past), while the cabinet line-up, featuring crumble cakes made with seasonal fruit, a snickers slice and a number of vegan treats, is undoubtedly the main drawcard. Positioning itself as the perfect place to stop in for a takeaway coffee and slice, or a great local in which to perch-up for a quick morning treat on the way to work, Lyell and Williams' culinary philosophy seems to centre around perfectly realised simplicity — and it's serving them well.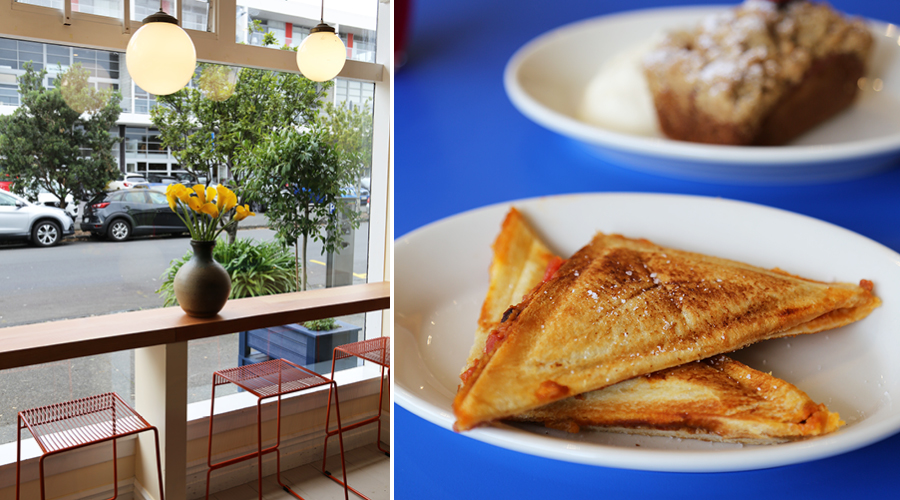 Decorated in the somewhat unusual combination of bright blue and orange, the cafe is at once striking and warm. It's a reflection of the element of nostalgia in the food, harking back to the funky days of yesteryear when maximalism was the key to a well-realised interior. But here, it works. With large front windows allowing the all-important natural light to filter in, and a feeling of laid-back cool permeating the space, Baby is being bold where many new hospitality openings err on the side of safety.
Opening only on weekdays while Lyell and Willams figure out how best to split their time between the two locations, it is clear that these two have found their niche.
Baby
67 France Street
Eden Terrace
Auckland