Is there anything better than relishing a balmy evening outdoors with a glass of something good in hand? In honour of warmer weather and longer evenings, we've rounded up some of the city's coolest hidden courtyards. From the lush and leafy to the cute and cosy, these courtyards are the place to be.
Clay
Natural wine and delicious bites can be enjoyed in peace out the back of Karangahape Road wine bar Clay, where the courtyard catches the golden afternoon sun. While the menu changes weekly, you can always expect excellent small plates, an irresistible handmade pasta dish (or two) and some of the best pizza we've ever tasted.
East Street Hall
The hottest place to be on a balmy summer's night, East Street Hall's out-back area draws crowds of enthusiastic revellers in droves, and is handily shielded from the view of passers' by. Settle in with a fresh, herbaceous cocktail and a plate of silky hummus on the side if you're feeling snacky.
Pasta & Cuore
There's nothing better than a romantic Italian meal under this eatery's verdant trellis, cosily hidden from the hustle and bustle of Mount Eden Road. Bonus: This humble eatery is also home to some of the best pasta in Auckland.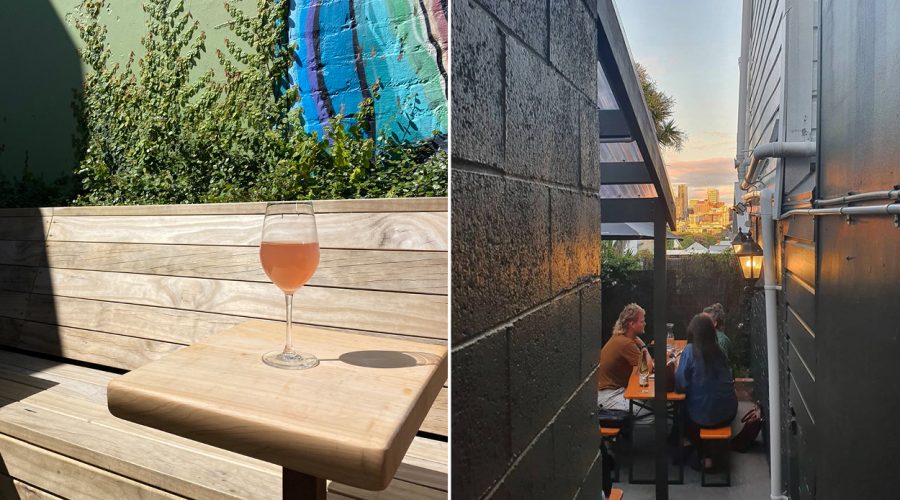 Conch
Rain or shine, night or day, Conch's out-back area is cosy and comfortable, with private booths that always make us feel at home. Sit pretty from 4pm with Happy Hour, which will see you sipping tap beer and rosé for the nice price of just $7. There's also a tasty menu of handmade tacos, arepas and pizzas if a bite or two is in order.
Beau
Nestled in Ponsonby's Three Lamps, wine bar Beau enlivens the area with its tasty bites, great drinks and hidden, sunny courtyard. The menu is perfect for grazing, with picks like oysters, charcuterie and prawn po boys sitting alongside small plates and large plates such as roast cauliflower, fried chicken and fresh ceviche.
The Kimchi Project
This Korean-inspired eatery on Lorne Street is a must for its light-filled courtyard at the rear, filled with plants and hanging lamps. Open for brunch, lunch and dinner, this all-day eatery deserves a visit any time of the day. As its name suggests, kimchi is the star, with dishes such as kimchi waffles fries, kimchi seafood laksa and kimchi fried rice showcasing its deliciousness.