Unless you've been hiding under a rock, chances are you have heard about East Street Hall, the new collaborative venture from the hospitality maestroes behind Bar Céleste and Annabel's wine bar — Nick Landsman, Emma Ogilvie and Henry Mitchell Temple.
Situated just off Karangahape Road on East Street, in what used to be the community hall of the Samoan Church, the soaring mid-century space is airy and light-filled, with an eye-catching colour palette curated by renowned interior designer Katie Lockhart and a large courtyard out the back.
Having been christened last week with one hell of an opening party, East Street Hall has already solidified its reputation as the place to go if you want to let loose — however, the culinary offering is anything but an afterthought.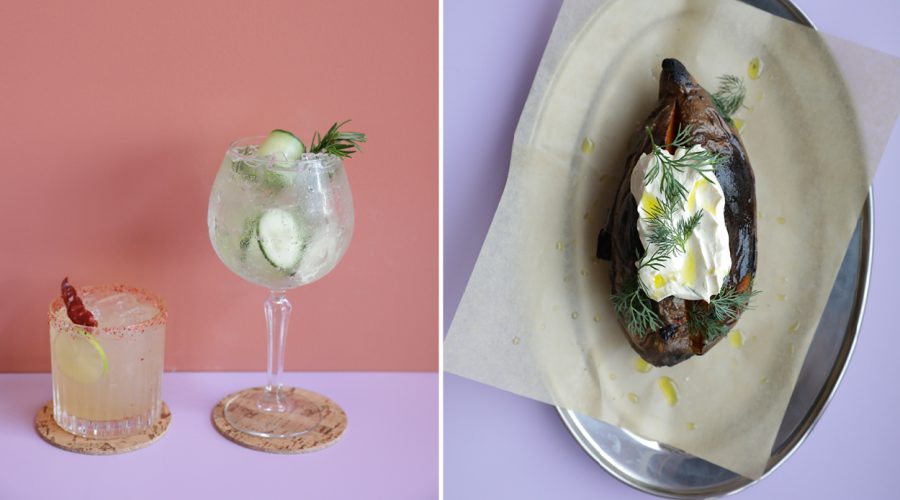 The focus is on Jewish Israeli fare, a diverse cuisine loved by the East Street team for its freshness and vegetable focus. Being half Jewish, Landsman also grew up eating the style of food, simple yet delicious and varied, and both Ogilvie and Landsman ate a lot of it during their time living in Paris.
Helming the East Street kitchen is head chef Henry Onesemo, whose CV spans the likes of Apero, Lillius and Michael Meredith's previous fine dining restaurant Meredith's. When the team was deciding what cuisine to serve at this new venture, they looked at what was missing or could be added to within Auckland's food-scape, and while Céleste and Annabel's are both Euro-centric, a Mediterranean lean felt right for East Street — food that's easy to share, moreish but also healthy, and goes well with a fresh, herbaceous cocktail.
Snacks span flatbreads, flavourful dips like baba ghanoush, capsicum tapenade, a daily hummus — the one we tried was fragrant with toasted fennel seeds — and spiced nuts. Small plates encompass a beautiful raw snapper dish with green chili, red onion, coriander and harissa; a falafel plate; Israeli chopped salad; and smoky, charred kumara, served with crème fraîche and dill.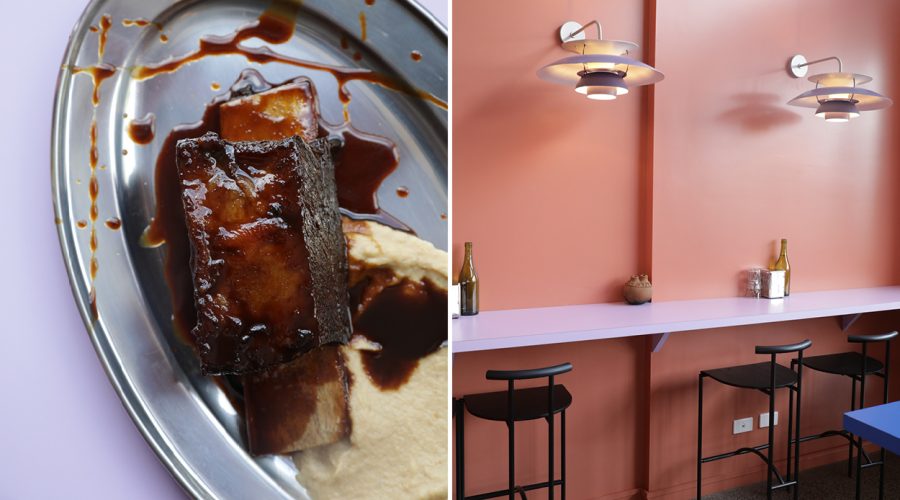 Larger dishes comprise a whole roast cauliflower, simple yet singing with savoury flavours, served with schug (a Mediterranean herby hot sauce) and tahini; chicken schnitzel; and a beef short rib. Rich and tender, the short rib is plated with a creamy, silken cauliflower puree and a deeply concentrated jus. The Pita section is sure to be a popular go-to, with fish, lamb and falafel options served with fresh herbs and sauces.
In-keeping with Céleste, and increasingly Annabel's, East Street's wine list features predominantly organic, natural wines, including an impressive selection of magnums — may we suggest the magnums are a clever ordering tactic if you're with a group and want to cut down on time spent waiting for a drink. The spiced margarita is extremely moreish, as is the generously proportioned gin and tonic.
With a strong events focus, the team at East Street Hall is set on becoming a dynamic, cultural space, with DJ Soraya LaPread curating the music offering, and plenty of room to hold any number of happenings. And, even if your eventual goal is to let your hair down and have a boogie, with the excellent culinary offering we suggest you get there early enough for dinner.
East Street Hall
5 East Street
Auckland CBD