We all know that feeling — you're out for a meal and have been given a good amount of time by the waitstaff to make your choice. But indecision lingers, exacerbated by the pressure of having to decide when you're just not sure what the best dish might be.
To help combat what we'll call 'ordering stagefright', here are some of the standout dishes we've eaten recently for you to put at the top of your list next time you're dining out.
Kumara skins from Brolly
The perfect combination of contrasting flavours with earthy, roasted kumara, creamy, truffle-laced goat feta, and a hint of sweetness from honeycomb, these bites are the perfect pair for any one of Brolly's delicious cocktails.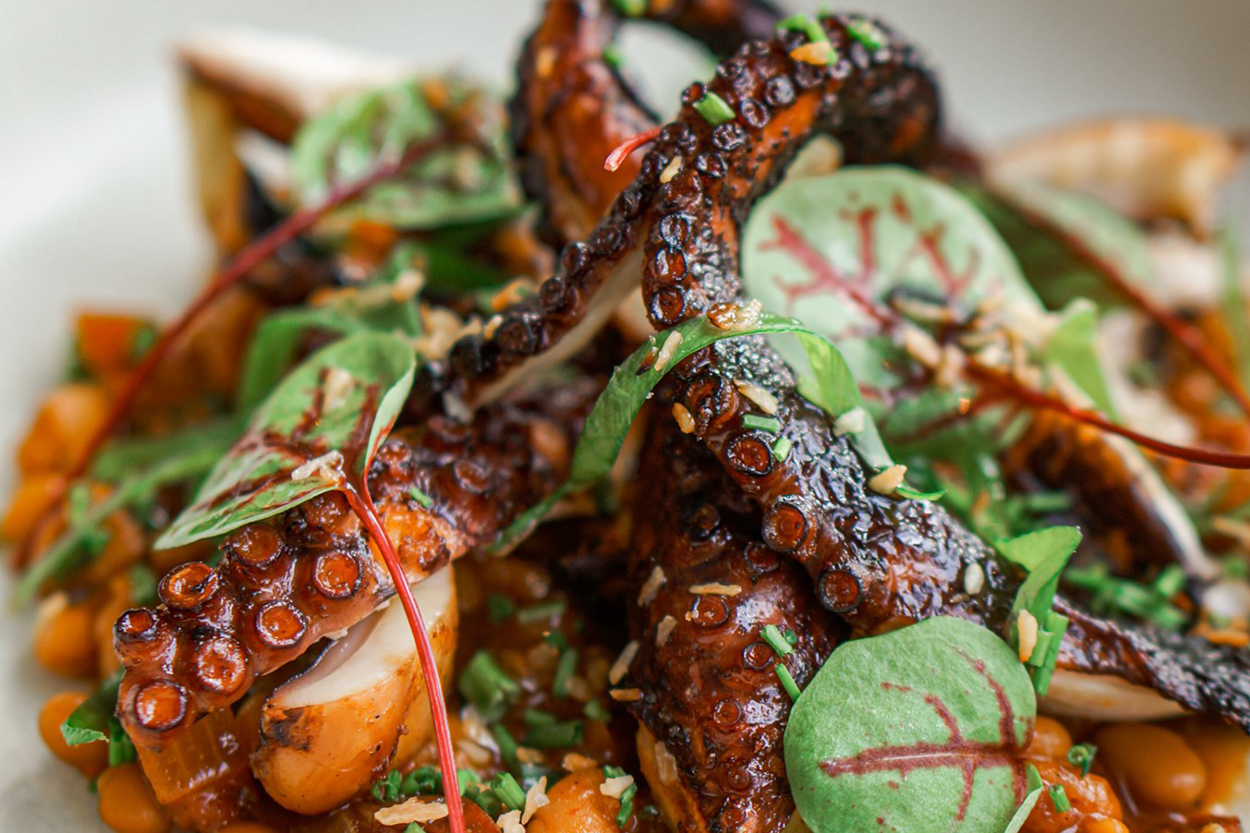 Charred octopus from Grangers
Fans of smoky flavours will love this dish, a flavourful medley of chargrilled octopus with fragrant chorizo and cannellini beans. We like to supplement this with a plate of grilled flatbreads and a glass of something good.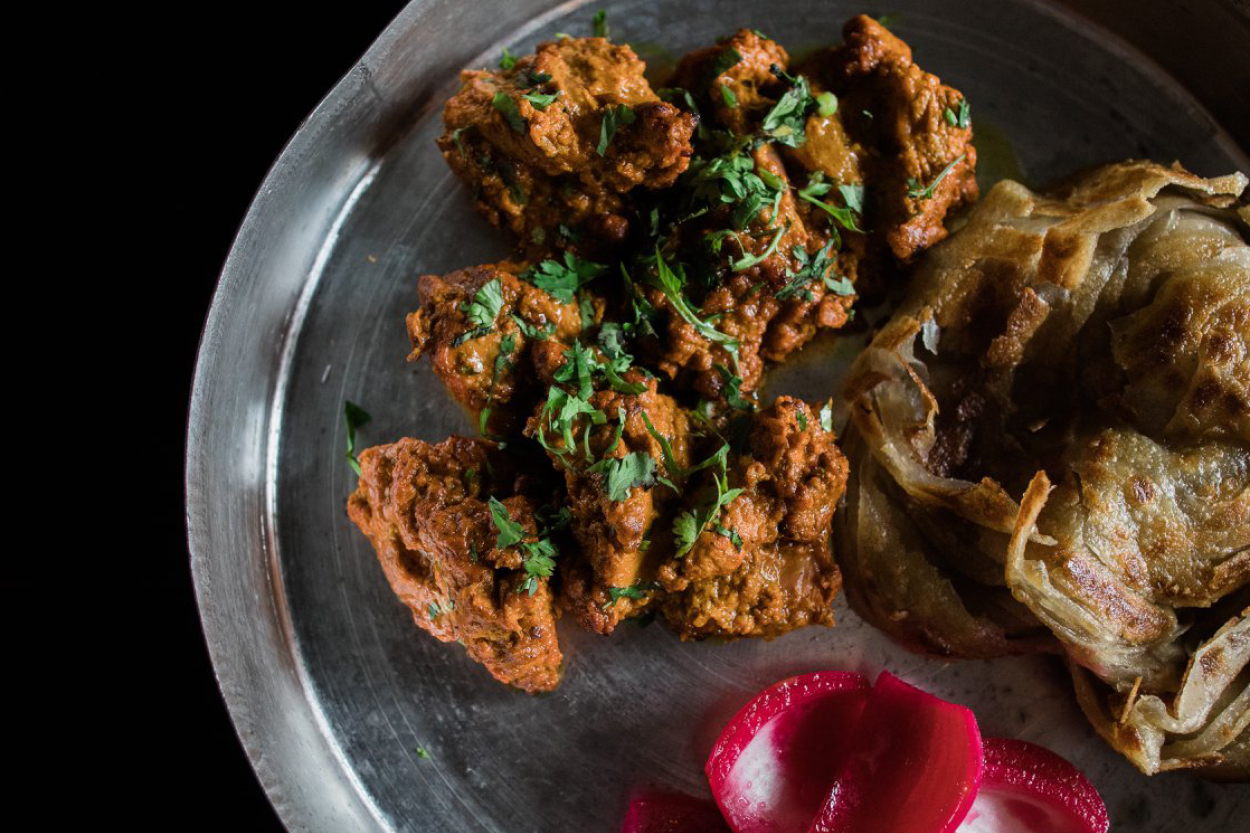 Paratha Kebab from V.T. Station
Known throughout India as a 'boti kebab', this dish comprises succulent pieces of lamb that are served with flaky Paratha breads. Tear off a piece of the bread and use it as a mode of transportation for the lamb — you'd be hard-pressed to find a more addictive mouthful.

Lamb chops from Alma
With their menu of flame-kissed, Andalusian sharing plates drawing in the hoards seven days a week, Alma is an ideal stop for everything from a drink to a luxurious meal. If eating, make sure you don't overlook the lamb chops, served on a creamy ajo blanco base and topped with a rhubarb chutney that perfectly offsets the richness of the meat.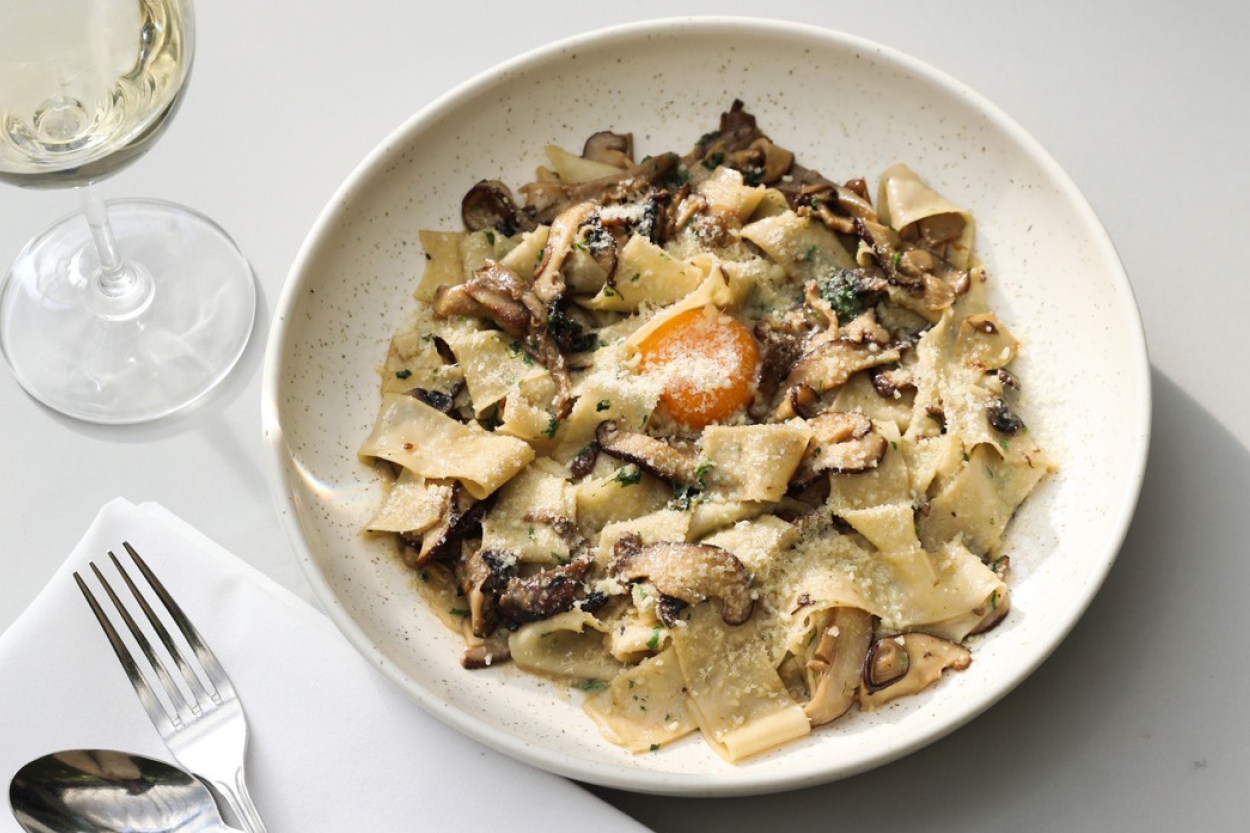 Wild Mushroom Tagliatelle from Non Solo Pizza
While we all have our favourites from this Parnell institution, it's the menu's new additions that we're drooling over currently. The wild mushroom tagliatelle is a particular highlight; served with a fresh egg yolk and lashings of parmesan, with a plate of this in front of us, suddenly the winter doldrums don't seem so bad.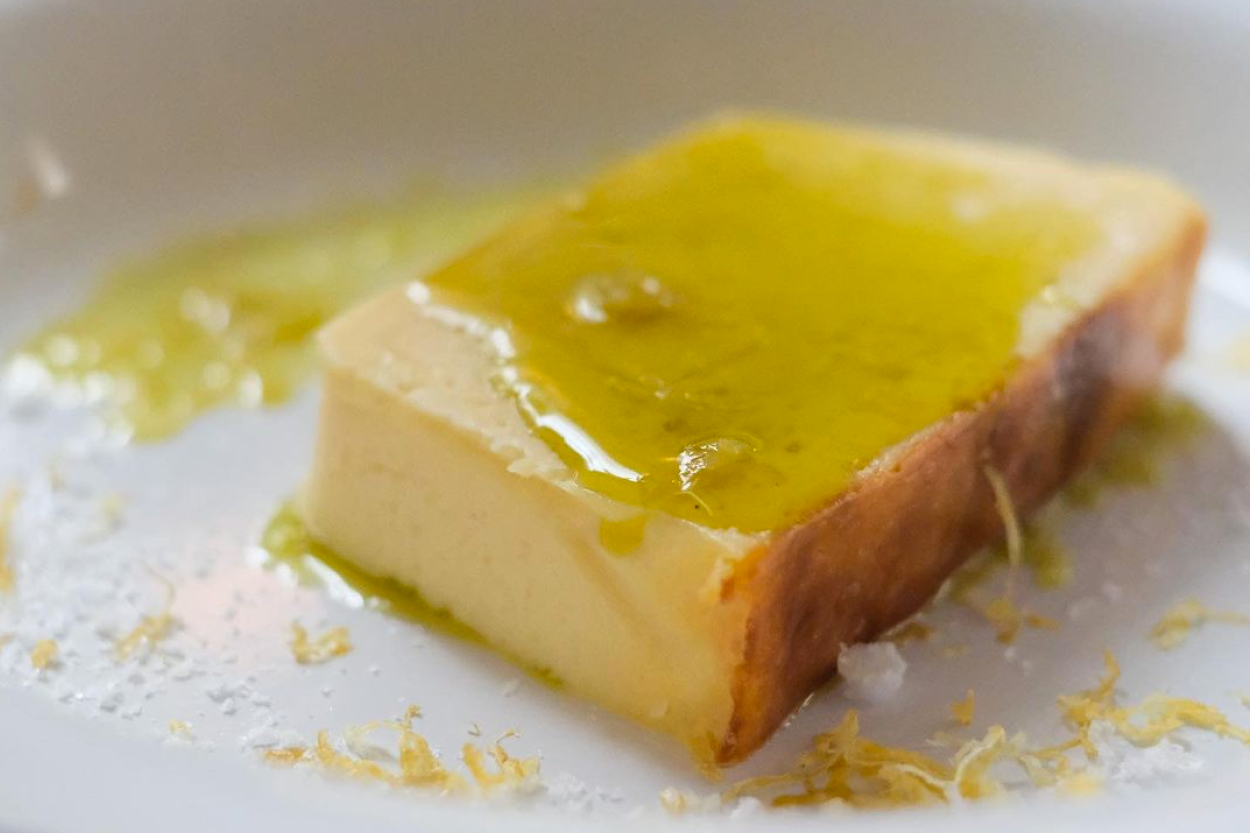 Cheesecake from Pici
While this popular pasta spot opened late last year, we're still not over its signature dessert — a weighty slice of cheesecake, served drizzled with a generous glug of olive oil, sea salt and lemon rind. If you haven't tried it, we dare say it's essential you make a visit a priority.
Cheddar pao, honey, goat curd from Mr Morris
From the excellent service to the stellar menu, we can't fault anything at Britomart restaurant Mr Morris. Starting a meal with the innovative snacks is a must, and we currently can't get enough of the cheddar pao wtih honey and goat curd. Similar to Brazillian cheese bread (or 'pao de queijo') these beauties are very comforting with a satisfying chewiness, and are topped with the eternally delicious combination of goat curd and honey.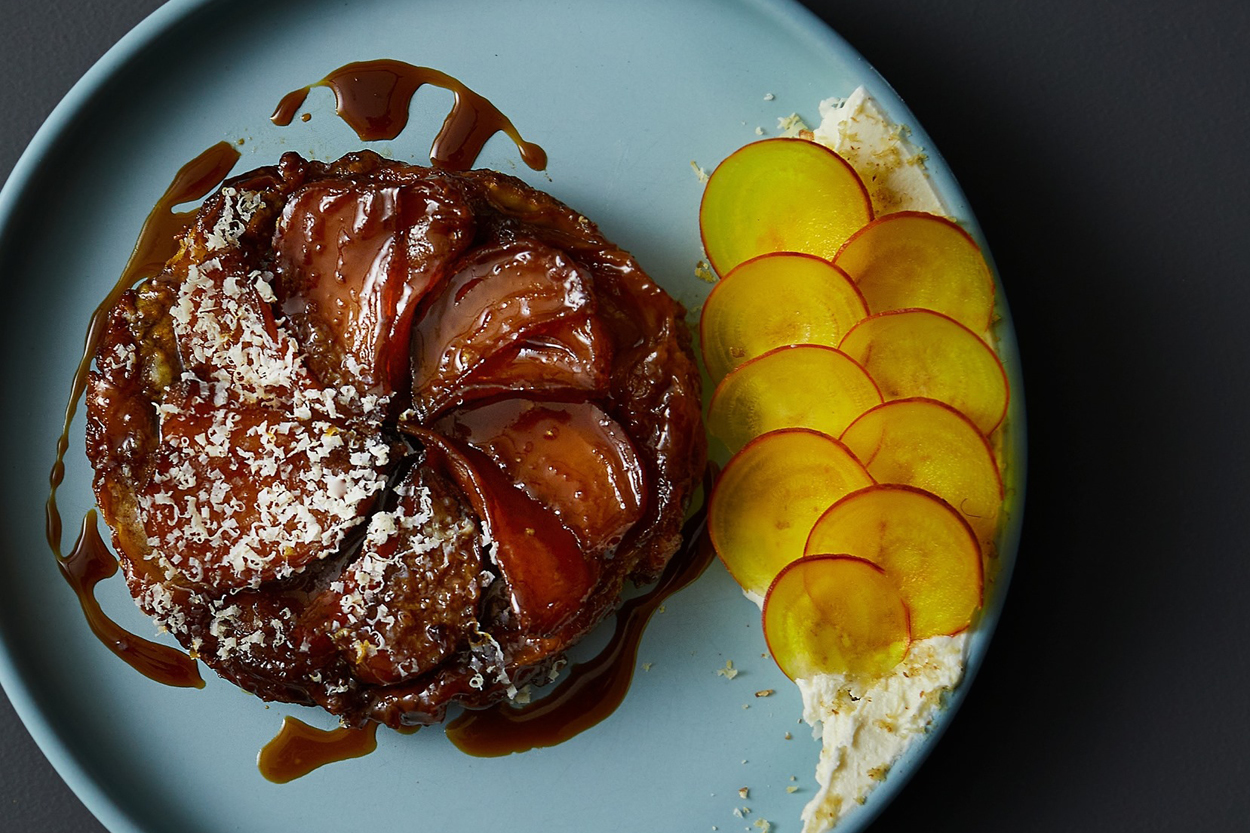 Tarte Tatin from Euro
With a delicious French-inspired winter menu, Euro is transporting us to Paris with the Tarte Tatin from the 'Le Jardin' section of the offering. Golden beetroot replaces the usual apple in this flaky pastry tart, and on the side is a garnish of thinly-sliced beetroot on a pillowy cloud of whipped chevre studded with walnuts.
San Daniele e Gnocco Fritto from Spiga
There may only be a handful of seats at pint-sized Italian restaurant Spiga, but that doesn't stop us from making a beeline to the Remuera eatery whenever we get the chance. We can't resist the San Daniele e Goncco Fritto, a moreish starter of freshly-sliced prosciutto with delicate and light mini pizza dough balls.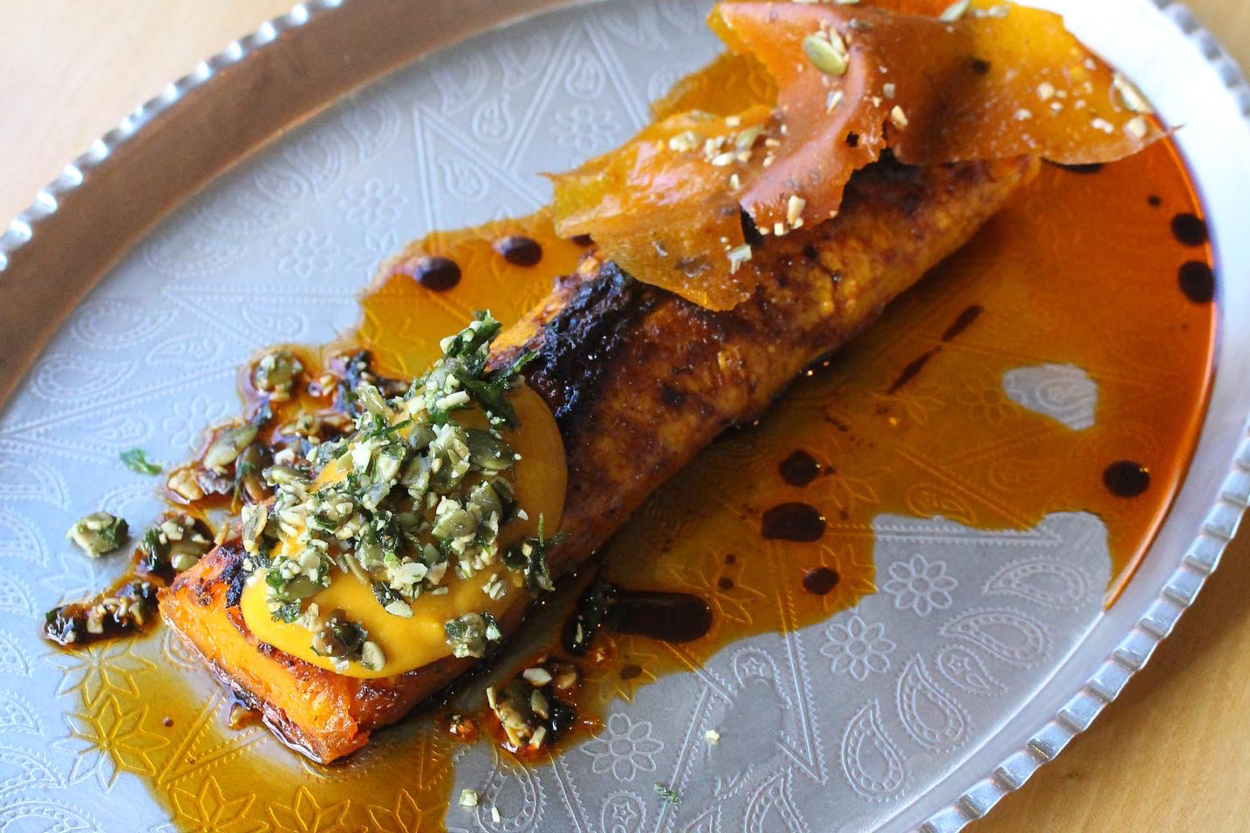 Roasted pumpkin from Gemmayze Street
A symphony of butternut pumpkin, this dish from K' Road's Gemmayze Street explores the versatile root vegetable in all its glory. Marinated in roasted garlic, za'atar and Lebanese chilli flakes, the roast pumpkin is then served with a red onion reduction, pumpkin puree and a pumpkin seed cracker — the fact that it's gluten-free, dairy-free and vegan does absolutely nothing to detract from this dish's heavenly taste.
Katsu sando from Masu
Our appetite for the Japanese street food-favourite katsu sando shows no signs of waning, and our latest crush can be found at Masu. This perfect mouthful is formed of a sesame brioche slider within which crumbed pork, tart and mustardy karashi miso sauce and garlic mayonnaise are a match made in heaven.
Coastal Spring Lamb Rump from Ki Māha
A trip to Waiheke Island is improved to no end with a visit to Onetangi restaurant Ki Māha. Our particular favourite dish right now is the coastal spring lamb rump, perfectly cooked and served wtih roasted shallots, fried artichoke, peas, buffalo curd and a flavoursome anchovy salsa verde.