Chances are if you're on TikTok (or frequent any form of social media), this trending baked feta pasta recipe will have popped up on your feed over the past year. Ridiculously simple and insanely delicious, this recipe uses everyday ingredients, creates minimal dishes and takes just a few easy steps, which even novice cooks can nail. We agree this viral sensation is definitely worth the hype, so why not take the time during lockdown to try it and decide for yourself?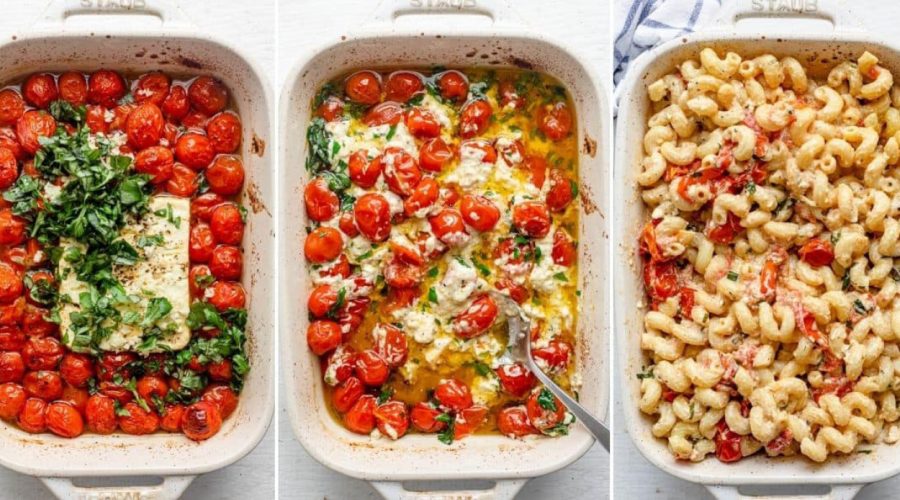 Baked feta pasta recipe
Ingredients
500g cherry tomatoes
4-5 garlic cloves, unpeeled
A block of feta
½ cup olive oil
Salt and pepper
Dried oregano
350g (approx) pasta of choice such as rigatoni, macaroni, fusilli or orecchiette
Fresh basil, sliced or torn
1. Preheat oven to 200°C. 
2. In a baking dish, add the cherry tomatoes and garlic cloves. Nestle the block of feta into the middle of the baking dish. Pour over olive oil and season with salt, pepper and oregano.
3. Bake in the oven for approximately 30 minutes, or until the tomatoes are bursting and the garlic is soft.
4. While the feta and tomatoes are cooking, cook your pasta of choice in a pot of salted boiling water. Once cooked, drain and reserve.
5. Once the feta and tomatoes are cooked, remove from oven. Fish out the garlic cloves, peel and mash them back into the mixture. Add the fresh basil. Stir to combine all ingredients together into a sauce.
6. Add your pasta. Stir to combine and coat the pasta in the sauce. Enjoy.
This dish is easily adaptable and can be tweaked to suit your preferences — you can add chilli flakes, lemon zest or extra herbs such as parsley to the end result.