As we on this side of the globe head into summer, our festive season is often inextricably intertwined with a renewed appreciation for nature in all its glory. From days at the beach to bush walks and lingering evenings under clear skies, a collective outward breath seems to occur as an increase in fresh air works its magic.
Fittingly, this festive season sees coffee brand Nespresso capture its own smidgeon of nature's magic and deliver it to coffee lovers everywhere, with the release of its limited-edition, Gifts of the Forest collection. Inspired by the beauty and depth of nature's forests, the collection features a range of limited-edition coffees for both the Original and Vertuo systems, along with festive-inspired accessories.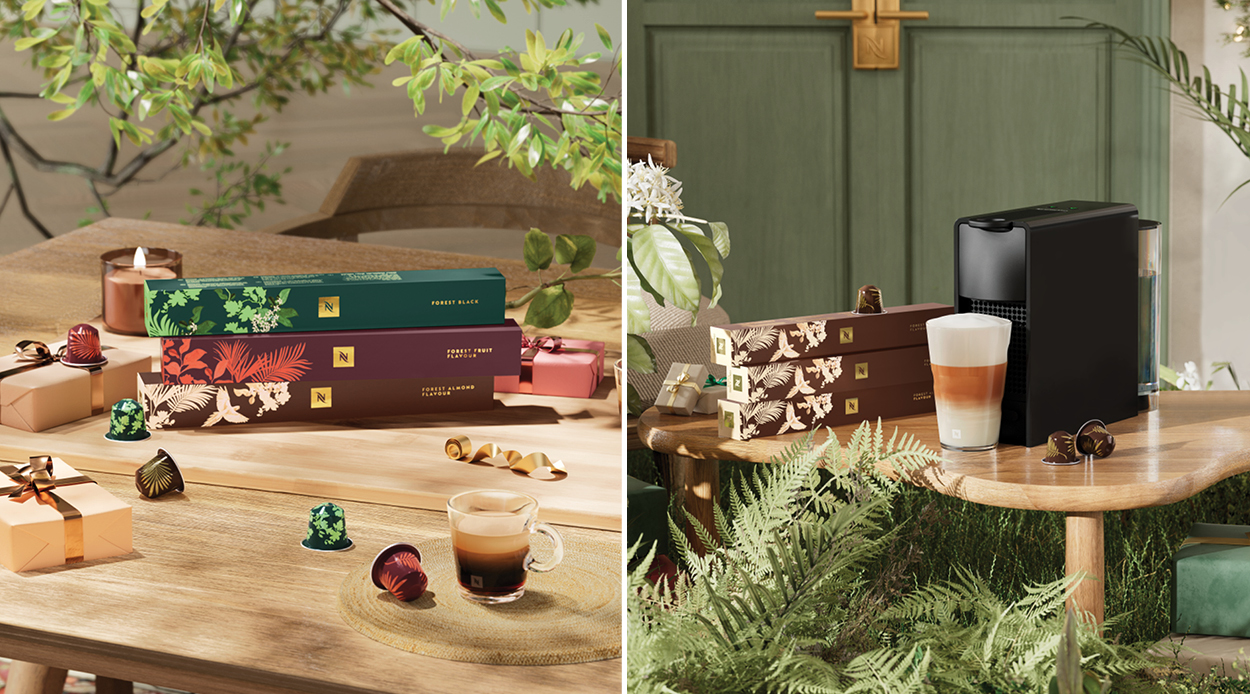 Gifting for the gourmand just got even easier with the selection of flavours — comprising two flavoured coffees and one black coffee — that channel various notes from forest fruits to hints of exotic woodiness. They are wrapped in eye-catching motifs designed especially for the packaging by Colombian luxury fashion designer Johanna Ortiz, making reaching for each pod an artful touch.
The Forest Black coffee is a spicy espresso with unique woody notes, while the Forest Fruit Flavour is a south American Arabica with juicy berry aromas and a lingering cereal character that imparts a sweet, pastry note — ideal for the festive season. Forest Almond Flavour has a sweet nuttiness, its almond notes marked by vanilla and light fruitiness.
Within the accessories selection, there is a revamped to-go Touch travel mug in a festive sparkling gold, and a new 'Deep Cherry' shade of Nespresso's Nomad travel mug.
In the spirit of gifting, Nespresso is also giving back to the forest so central to both its growing processes and the theme of its latest release. It has announced its contribution towards protecting 10 million trees in the Amazon Forest in La Pedrera, Colombia, in collaboration with Conservation International and La Pedrera's Madroño community.
Clearly, Nespresso is spreading joy far beyond just our daily cuppa this festive season.
Enjoy a Forest Fruit martini with this bespoke Nespresso recipe:
A bright and refreshing take on the classic Espresso Martini, this is perfect for summer. The Forest Fruit Martini has lively notes of jammy berry and a hint of chocolate. 
Ingredients:
Nespresso Forest Fruit Flavour (Espresso 40ml extraction)
6 ice cubes
15ml Blackberry syrup 
15ml Kahlua 
30ml vodka
Blackberry for garnish 
Equipment needed:
Nespresso (Original) machine
Cocktail shaker
Martini glass (chilled)
Method:
1. Place ice cubes, vodka, Kahlua and blackberry syrup into a shaker.
2. Extract coffee directly into the shaker as the last ingredient.
3. Place lid on shaker and shake hard for 30 seconds to 1 minute, or until ice forms on outside of shaker.
4. Remove lid and strain into a chilled martini glass.
5. Garnish with blackberry floated on top.