In this regular new column, our Editor-in-chief embraces her long-held passion for food, sharing the unexpected, fascinating and delicious experiences from restaurants, bars, pops-up and cheap and cheerful spots all across the country.

A lot has been written about the challenges that Queenstown and its surrounding lake areas have faced over the past two years. Not only do these communities rely heavily on international tourism, but the continual influx of semi-skilled workers from abroad (who are keen to work while enjoying the magic of the area) have long gone. You don't have to travel far to see just how hard it remains for many well-established operators in the region to obtain decent staff. I frequently heard stories of both restaurants and hotels having to limit their capacity — despite the increase in demand thanks to the arrival of the Aussies — because they just don't have the employees. Businesses have worked so hard to survive the plight of two years of internment closures and it's incredibly frustrating and sad to see the number of operators unable to run at full capacity despite the demand being there. We can only hope that with the recent reopening of our boarders to visa-waiver countries, this great region will benefit from an influx of people ahead of the winter ski season, and the powers at be will make it easier for hospitality workers to return to our country and take up their critical posts once more.
My companion for this 48-hour eating marathon was the equally food-savvy, Rachelle Duncan (of Driving Miss Duncan fame). Having recently purchased a home in the region, she wanted to educate me on everything new and the noteworthy in her new locale. Thanks to her deft abilities behind the wheel, she was also (handily) my driver. Thelma and Louise were off.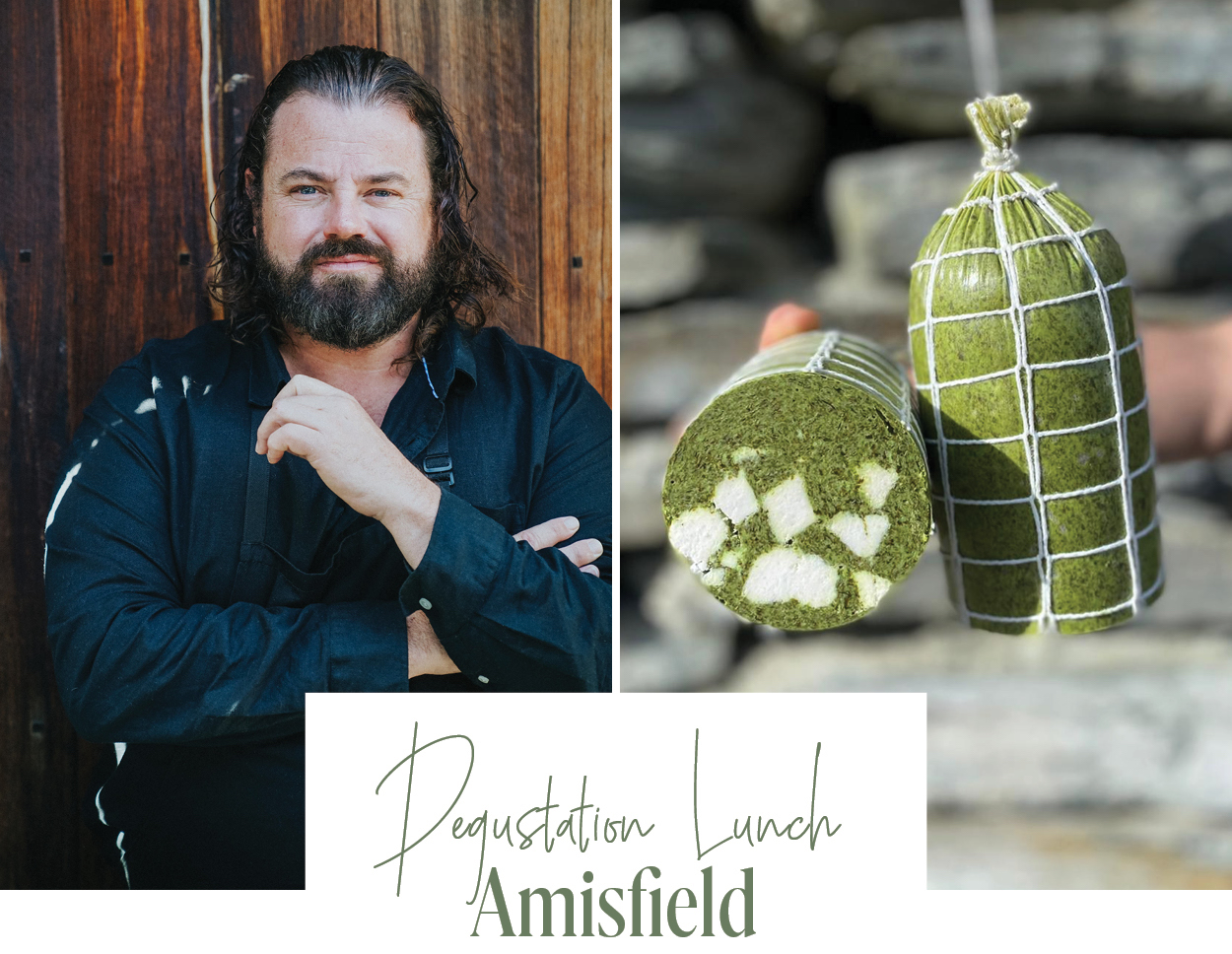 A visit to the Arrowtown/Lake Hayes region cannot go without a feast at the globally-renowned Amisfield. After almost 10 years at the helm, Executive Chef Vaughan Mabee (pictured left) heads up a team of 18 in his kitchen that is part food prep, part experimental R&D space. I had sent a message to Mabee when I landed to say that I was on my way for lunch. He joined us when we arrived, sharing that he had just been nominated as one of the World's Top 100 chefs — the first NZ chef to have received such an honour, and something that is long overdue. It's clear that there is some serious genius at play in Mabee's kitchen. The thought and consideration that goes into conceptualising every dish borders on the scientific.
Over lunch we talked about his insistence on presenting a truly seasonal menu at all times, which in an area with such a dramatically changing climate, comes with a number of inevitable challenges. But you get the feeling that Mabee prefers it that way. "There needs to be more understanding about the importance of eating from the land," says Mabee in reference to his passion for both foraging, hunting or fishing for many of the items that appear on the menu at Amisfield. "When you're eating something that's lived a natural life in the wild in its ideal environment, it should be an honour to eat and enjoy it." And he's not wrong, the flavour profiles on his menu are so authentically regional, you can see how Mabee and his team are doing all that they can to honour both the specialness of the environment and the species that live there.
Recognising the changing needs of its diners, Amisfied now offers both an a la carte menu for lunch, and a shorter version of its famed degustation, while evenings are dedicated solely to the full degustation experience. If you haven't indulged in one of Mabee's gastronomic journeys of discovery around Central Otago, I insist that you do. Examples of his immensely creative mind are at play everywhere. Even a simple bread service includes small black loaves crafted from black truffle with Japanese milk to create an impossibly soft brioche bun, served with truffle butter and three-year-old cultured butter, shaped to look like river stones. It's a game in itself to find which of the stones on the plate are actually butter and which are literal stones. The bread is served with a selection of NewFish (a venture in which Mabee is involved and that was featured in our Winter 2021 issue) delicacies, including pāua saucisson — basically a salami crafted from pāua and pig fat — alongside his latest plant-based creation, an incredible 'mortadella' made from ocean wakame and sea lettuce, with white chunks (as per a traditional slice of pork mortadella) made from coconut and nut oils, smoked to replicate the flavour. If you close your eyes, you would swear it was a traditional mortadella, yet it's 100% plant-based and includes none of the nasty fillers or preservatives that many meat-alternatives do.
With the season's abrupt changes on the horizon, Mabee and his team have turned to the ocean for their winter menu, along with introducing things that have been artfully preserved or aged from the abundant harvests of previous seasons via some impressive scientific mastery. Thanks to the harsh climate of this region and Mabee's commitment to remaining local, a lot of preservation work (using various vinegars and fats) is required in the months leading to winter, which is now paying off with a unique menu that will delight diners in the months to come.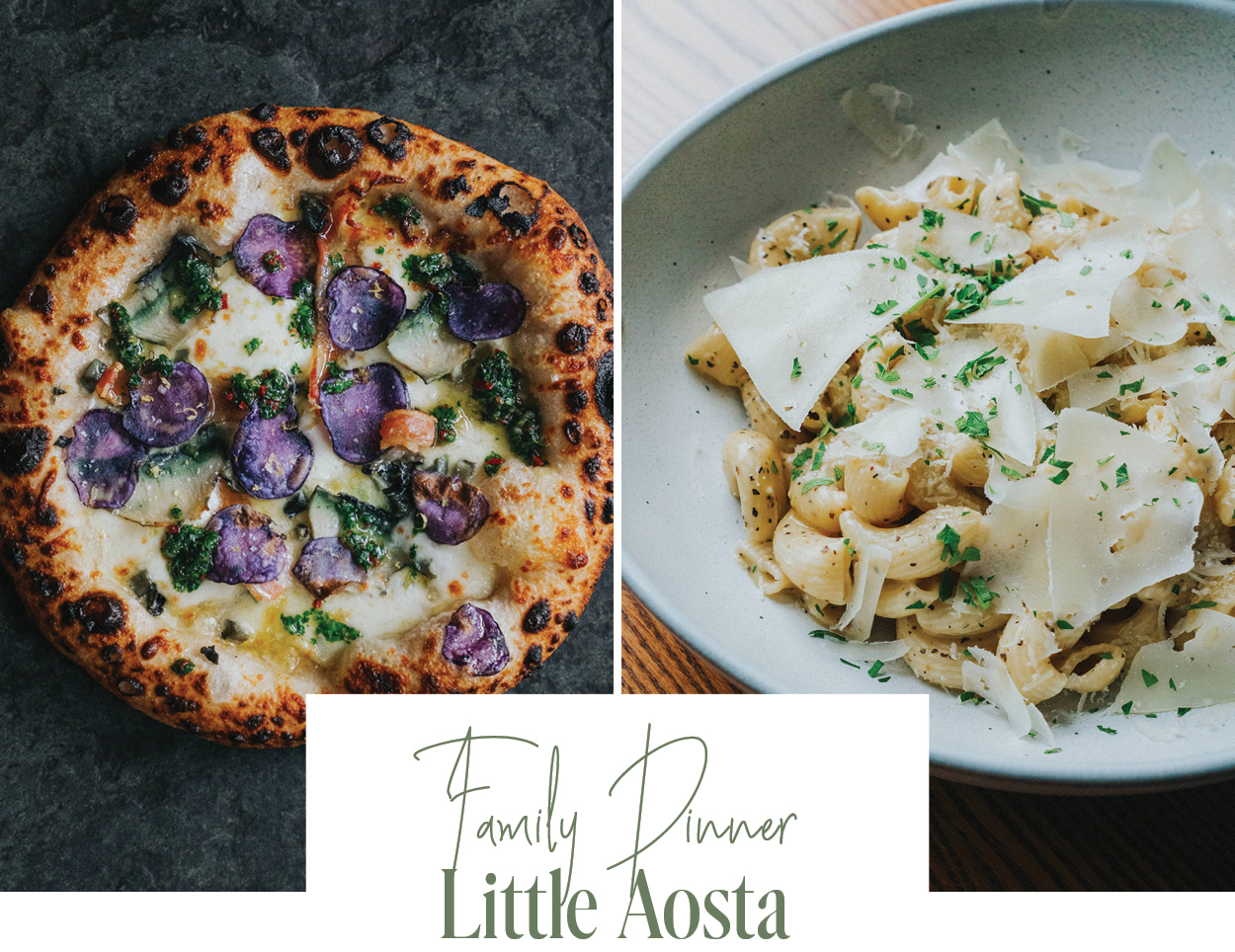 After Ben Bayly shared his concept for Little Aosta with me earlier in the year, I have been recommending it to friends visiting Arrowtown ever since. So it was finally time to try it for myself. An extension of Bayly's rapidly-growing empire, Little Aosta is tucked behind its larger, more refined sibling, and as the name suggests, offers a more casual homestyle family take on the Northern Italian cooking Aosta is loved for (also making it a great place to take little people).
Helmed by Executive Chef Steven Sepsy, who oversees both Aosta operations, the kitchen houses a woodfired oven, which informs much of the delicious smoky food on the menu. A selection of woodfired pizzettes — with options as varied as barbecued pineapple and Havoc ham, through to a more adventurous and exotic pāua, purple potato and lardo — are all cooked in the woodfire oven, as are the meatballs, sausages and steak. Even an antipasti serving of Sicilian green olives are given the woodfired treatment to remarkable success.
We kicked things off with the highly recommended Julie's Frito Misto — a hand foraged selection of vegetables, herbs and flowers that the kitchen staff pick each morning from Julie's Garden in the Gibbston Valley. Fried to crispy perfection and served with a refreshing "salsa tartara" this is a fantastically naughty way to get your five plus requirement in before you've even started on the serious stuff.
The pasta bowls are impressive to say the least, and are most definitely designed to share. The 'Pac n Cheese' is a mac n cheese, cacio e pepe hybrid with pancetta and pecorino and is not to be missed, and we were told that the slow cooked beef brisket bolognese is another crowd favourite. All pastas are served in large bowls, enhancing the 'famiglia Italiana' experience to its fullest.
We ordered the Wakanui beef tagliata, which again, was roasted to perfection in the woodfired oven and served with Rocket Man's rocket, which had that wild peppery taste that will never be found in a bag from the supermarket.
All-in-all, the experience at Little Aosta was perfect. I can see we'll be spending plenty of time here in the forthcoming ski season. And, if getting a table is a challenge, they've very wisely added a takeaway option, which is sure to come in handy for those who can't face the public after a long day tackling the slopes (adults included).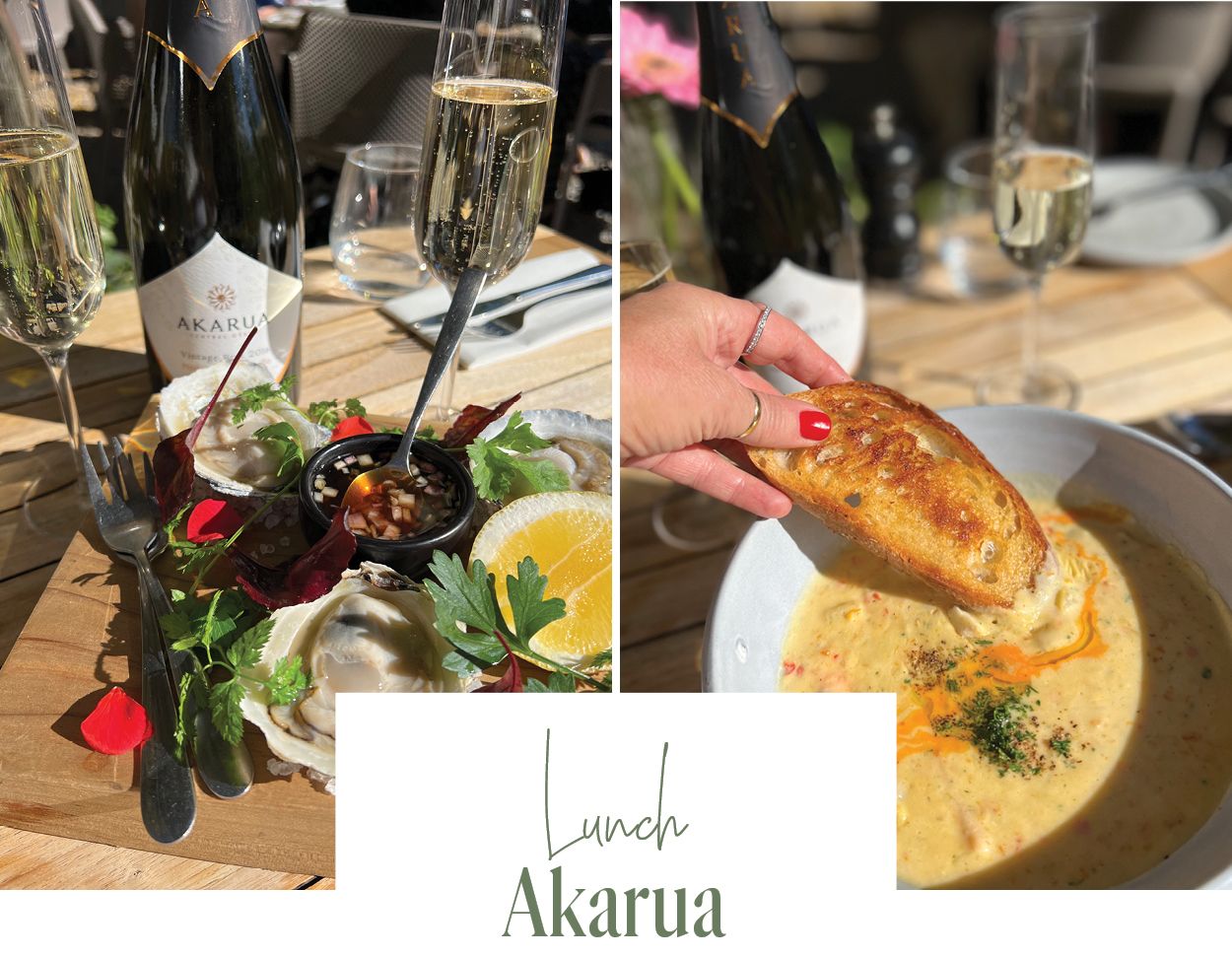 With Rachelle's new home conveniently located within walking distance of Akarua Wines & Kitchen by Artisan, this is our first stop. Renowned for its magical outdoor courtyard and its cottage garden festooned with flowers, Akarua is the ideal spot to dine with a group. The menu largely consists of shared plates such as Central Otago Te Mana slow cooked lamb shoulder and Mount Cook Alpine salmon (neither of which should be bypassed), served with an array of seasonal sides. This is the sort of family style dining that is ideal after a morning on the slopes.
With a long day of eating ahead of us, we instead opted for a light starter of seared prawns served with squid ink mayo and toasted buckwheat that added a delightful texture, along with some (omnipresent in these parts) Bluff oysters, because you can't get much closer to the source than here.
But the real standout was a new addition to the menu in the form of a seafood chowder. Not shy on seafood, this one seems to include the entire ocean's bounty to fantastically decadent effect. Served with toasted ciabatta, this hot velvety soup is a great nourishing option for those who don't want to share. And we both agreed it was a taste sensation.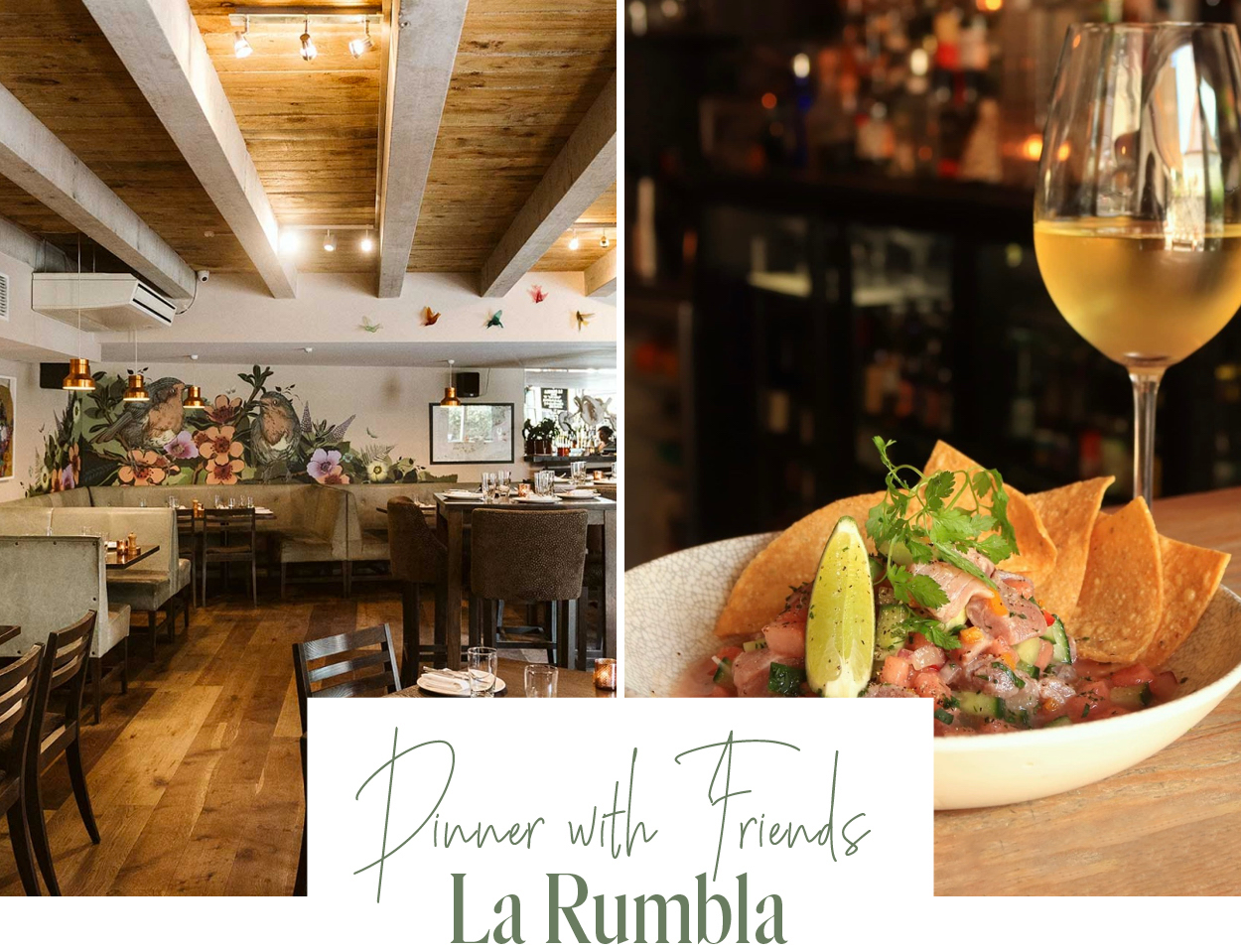 Over my many years of being a regular visitor to Arrowtown, the fine folks at La Rumbla have become friends. (I am making some assumptions here — they have witnessed some rather raucous behaviour, without judgement, which leads me to think of them as more than just acquaintances.) The camaraderie that exists among the floor staff is immediately felt when you walk in the door. Sam Maxwell, the ever delightful waiter is always happy to warble a little ditty to entertain the table, while Ben Crowson is one of the funniest and nicest guys around, who always has some cheeky intel on what's been happening in 'the village' (as Arrowtown is commonly referred to by locals). Arrowtown and its denizens have a reputation for enjoying a good time regardless of what day of the week it is, so if you're feeling upbeat, I highly recommend setting your sights on La Rumbla for an evening that's fuelled by excellent Latin American cuisine, sensational cocktails prepared by the talented Jordan Lazzopina and the kind of la vida loca vibe that being on holiday should bring.
We kicked things off with a round of spicy margaritas — arguably the best in town, washed down with an order of locally caught Blue Cod ceviche, habanero and orange tiger mil, avocado, kumera and sesame-masa tostadas. These were a taste sensation. Next up was the Calamari Frito, which is a long-standing favourite with anyone who visits, followed swiftly by the Grilled Fiordland Octopus, served with roasted new potatoes, sweet peppers, salami and ancho-garlic oil.
Well-and-truly satiated, but keen for more fun, we followed the 'Pied Piper' — Sam, to his gig at the nearby Blue Door. Sam is an excellent musician (which, as I mentioned, you may hear touches of during service at La Rumbla) and he and his band put on a great after-dinner show.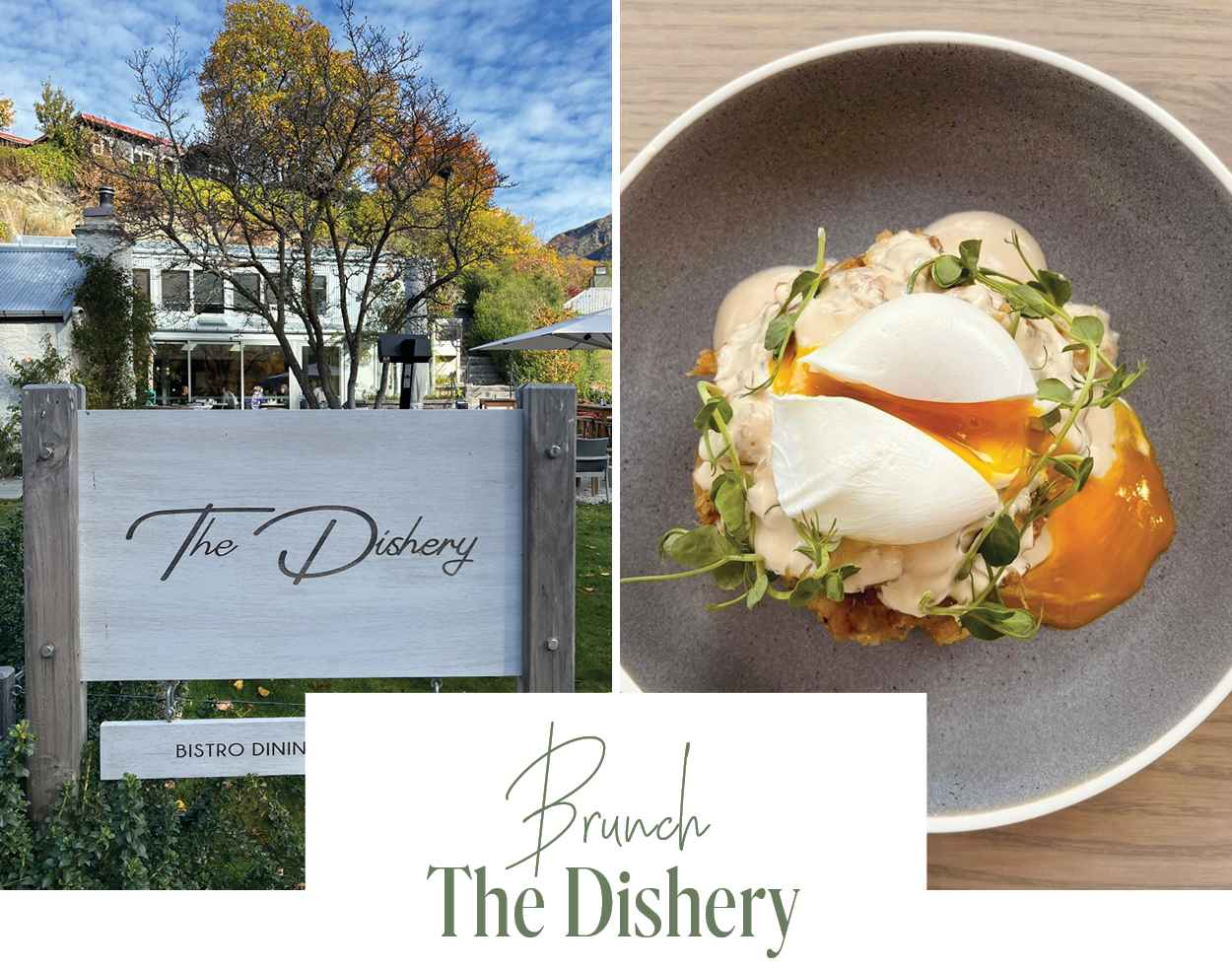 Tucked off the main Arrowtown drag and nestled down beside the old Chinese Village, The Dishery is a great off-the-beaten-track spot for morning coffee, brunch and lunch. With both indoor and outdoor seating, the view here across the river and through to the mountains beyond is breathtaking. At the time of my visit (at the end of April) the vibrant autumn leaves were dramatic and utterly spectacular.
While The Chop Shop will always be a great spot for a hearty brunch, The Dishery's menu is equally as solid and crowd-pleasing. We opted for the chorizo hash, with crispy potatoes, sautéed broccoli, poached free range egg and hollandaise, and sesame banana bread with hokey pokey, miso caramel, mascarpone and banana. Need I say more?
Come lunchtime, there is a great selection of hearty salads, pastas and more. The Dishery is definitely worth seeking out.

With a mere 48 hours to get around a rather extensive list of eateries, it would be remiss of me to not include the following places that, while I didn't dine at this time, I always enjoy and most definitely recommend.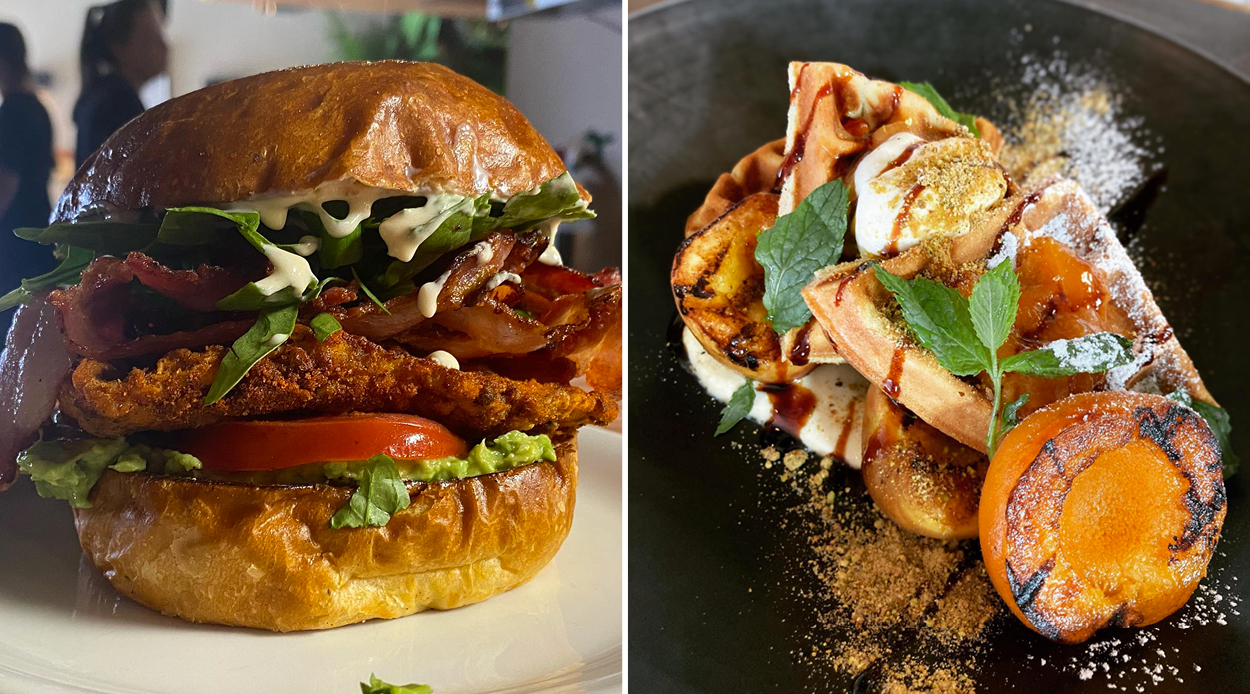 Slow Cuts
Dubbed the place where locals love to eat, this Arrowtown favourite is where tender and flavoursome slow-cooked meats, rotisserie chickens, burgers, ribs and other hearty food is served by operators renowned for their friendly service.
The Chop Shop
Quirky and different, with food that packs a punch, The Chop Shop is tucked away above Arrowtown's main street. We would call it a hidden treasure, but almost everyone knows how good it is, which makes waiting for a table expected (but worth it).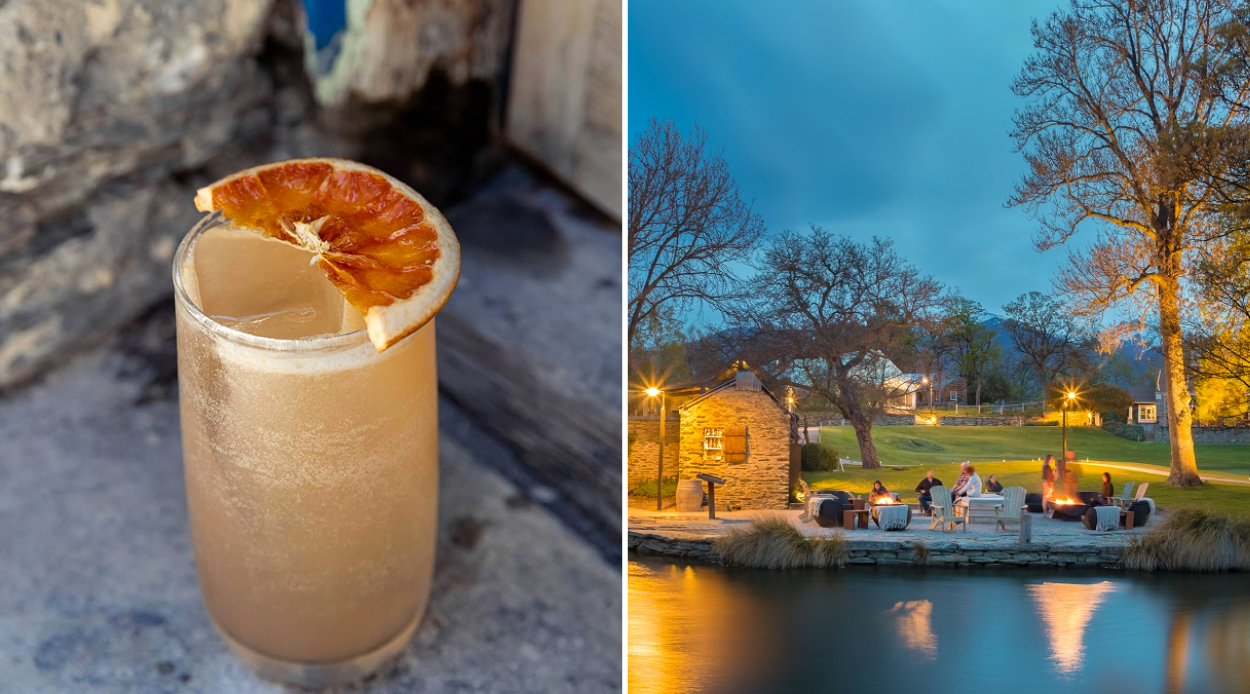 Blue Door
A hidden gem in the heart of Arrowtown, Blue Door offers a cosy, intimate setting in which to enjoy an after-dinner tipple or a drink with friends. With comfortable chairs, a roaring log fire and often, live music providing the perfect après-ski soundtrack, trust us when we say that after a long day on the slopes it will be almost impossible to leave.
Smithy's Smoke House
What could be better on a crisp winter's afternoon than sitting near an open fire and indulging in a wood-fired pizza? Smithy's Smoke House (at Millbrook Resort) offers just that. Here, you can enjoy a decent array of whisky, beer and wine, all while being warmed by the open fire while admiring the sunset.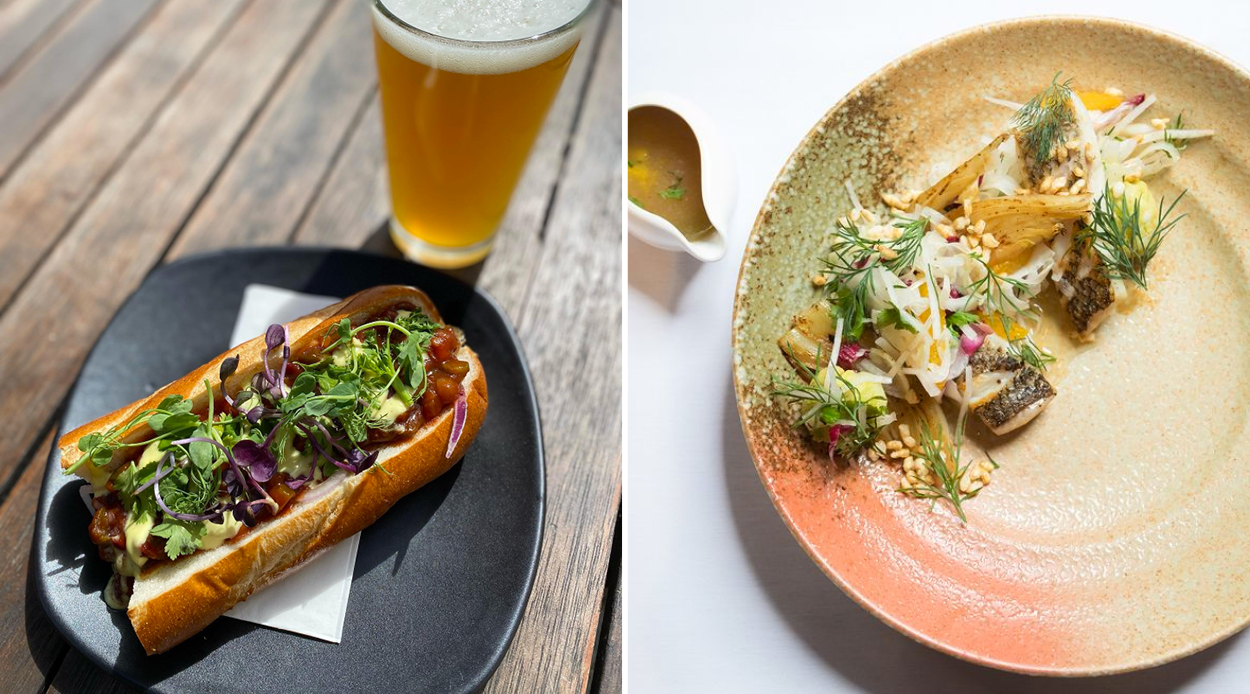 The Fork and Tap
This classic Arrowtown watering hole is as beloved for its charming, historic location as it is for its consistently lively atmosphere, delicious craft beers, wine and menu of tasty, easy-to-share food. Laid-back, approachable and (on a good day) drenched in sun, this is the perfect spot to mingle with the locals and share stories of the day's adventures.
Kobe at Millbrook
For those staying in Millbrook, Kobe is always a great family dining option and the only Japanese restaurant in the area. We received word that they have recently updated their menu, so it's sure to be worth a try this winter season. Secure your table well in advance, as they do book out.