To leave behind the pitfalls of holiday over-indulgence, perhaps a New Year re-set is in order, to focus on nourishing not only the palate but also the body.

What we won't advise is 'getting back on track,' with all its joyless implications. Enjoying life is never something to regret, and your holiday celebrations were never off track to begin with. But life is happier with balance and January is always a good month to take a breather from any gastronomic excess. Finding healthier alternatives is far easier now, with Auckland's burgeoning number of restaurants serving deliciously nutritious dishes. Here are some of our favourites.

Breakfast
The Ful Medames from Honey Bones
At Honey Bones, the majority of the dishes will boost your health kick. We would usually recommend the Halloumi Bowl but recently the Grey Lynn café has spiced up its menu with a new dish — the Ful Medames. Inspired by a traditional Egyptian breakfast renowned for its high protein and fibre, this hotline to health mixes cherry tomatoes with shallots, herbs and poached eggs and a side of toasted Turkish pide to soak up the sauce.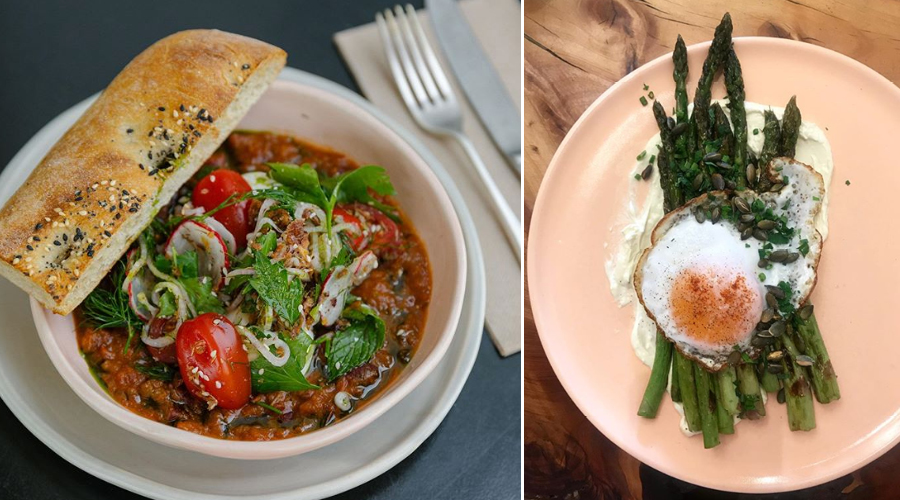 The Fried Duck Egg with Asparagus from Orphans Kitchen
There's a good reason Orphans Kitchen is a Ponsonby icon. It constantly pushes the boundaries with a creative menu that finds inspired variations on regular breakfast fare like eggs on toast. Our current obsession is the fried duck egg with asparagus, creamy labneh and pepitas. This relatively simple dish showcases the natural flavours of its premium-quality ingredients. Delicious, healthy and satiating.

The Green Brekkie from Ozone Coffee Roasters
This all-day eatery is a favourite for many of us at Denizen, especially with the wide range covered by its inviting menu. From decadent pancake to light and nourishing lunch, Ozone has you covered. The Green Brekkie offers a mini-detox, with its verdant tones including Organic Market Garden (OMG) leaves and asparagus, along with kimchi, tempeh, and dukkah.

Lunch
The Pesto Chicken Salad from Goodlife Superfood Co.
Goodlife Superfood on Fort Street and in the Wynyard Quarter offer quick and healthy eating.  Both branches are crowded with customers during peak lunch hour, and we suspect many of them are there for the Pesto Chicken Salad. Tender chicken, grilled to perfection,  rests on a vibrant green bed of baby spinach, laced with parmesan and orzo and doused in a flavourful pesto dressing.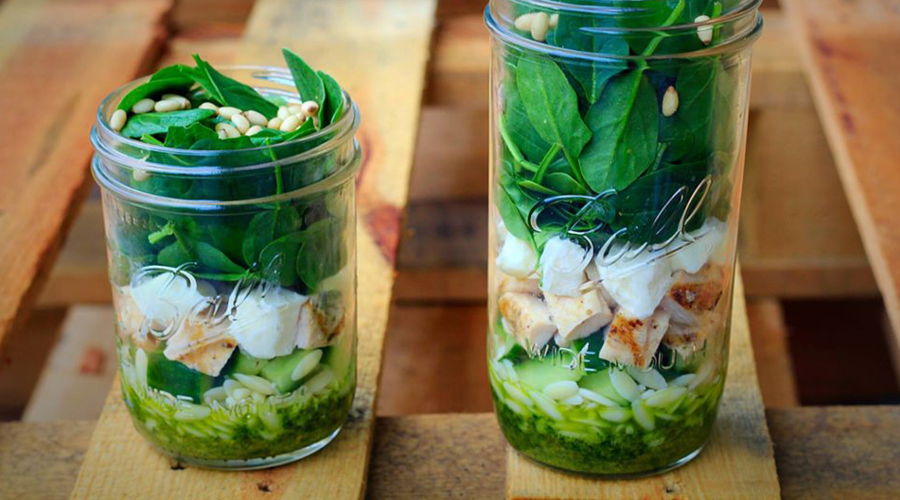 The Brassicas Salad from Hēmi Eatery
When opening Hēmi, the executive chef James Miller embraced the dawning truth that today's diners, often with personal palate preferences and dietary restrictions, embrace the idea of taking a certain gastronomic control when eating out. So Miller created a versatile menu that is able to be easily customised. We especially recommend the Brassicas Salad with its medley of broccoli, silverbeet, kale and cress in a ginger-miso dressing. Loaded with flavour, it's then taken to another level by the addition of a satisfyingly salty halloumi.

The Soba Joba from The Candy Shop
Usually a combination of the  Korean Fried Chicken, polenta chips and Bulgogi Waffle Cheese Fries lure us to The Candy Shop.  Yet it's no sacrifice to replace these mouthfuls of joy with the equally delicious healthy options, with which this Newmarket eatery has balanced out its menu. The Soba Joba Salad offers a mixture of buckwheat and matcha noodles, doused in fresh tomato salsa making melody with green beans, shiitake mushrooms, onion slaw and a zinging sesame dressing.

The Hoki Summer Rolls from Luna's Express
Turning down the Bánh Mì sandwiches from Luna's Express is not easy,  given that they may well be the best Bánh Mì in Auckland. But the Hoki Summer Rolls make for a lighter and very fresh alternative, especially if you're after a fast lunch option. The rice paper rolls are bursting with fresh herbs balanced by a subtle touch of vermicelli noodles. The Hoki fish has been lightly grilled, and the special finishing touch comes from a turmeric marinade popping with flavour.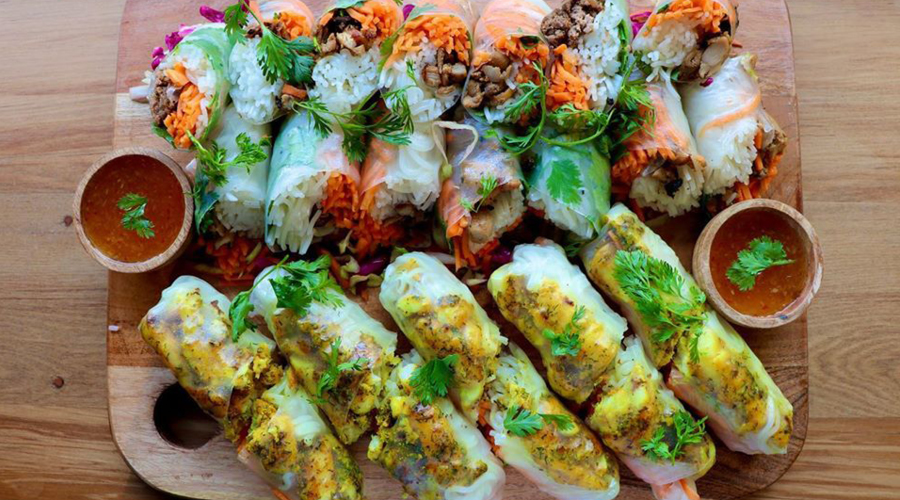 Dinner
The Green Goddess from Soul Bar & Bistro
When someone mentions Soul Bar & Bistro, it's the Calamari with Almond Skordalia and the Mac 'n' Cheese that often come to mind. And that can mean that customers miss out on the Green Goddess Salad which is not only a Soul staple, but also a healthy highlight. It's built on a base of edamame and peas, rather than the usual spinach, and topped off with avocado, broccolini, cashew and crispy quinoa furikake. We recommend adding a Chilli Jam Chicken Skewer to build in some extra tang along with the heart-health protein.

The Tuna Tostada from Azabu
Finding healthier options at Japanese restaurants is not an onerous task, as long as you steer clear of dollops of mayo or tempura fried temptations. The Tuna Tostada offers a base of thin and crispy cracker, which may not be nutritionally dense but will enhance your light-eating goals. It's topped with diced tuna sashimi, pickled daikon, chopped jalapeño, corn, red onion and a light drizzle of wasabi tartare. A mandatory starter for the Azabu dining experience.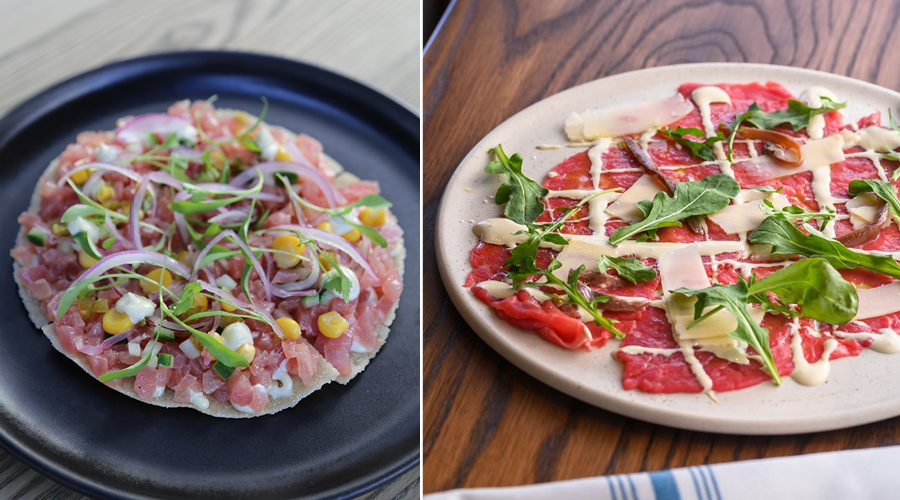 The Carpaccio from Andiamo
Italian cuisine has a questionable reputation when it comes to finding healthier alternatives. Renowned for its richness and the density of carbohydrates, many people see a visit to their local ristorante as a setback to stricter health guidelines. This is a misconception. When cooked the true Italian way, it's a cuisine of freshness and simplicity which leaves the waistline intact. Perhaps the best example of this is Andiamo's Carpaccio. The thin slices of raw beef come to life with a light sprinkle of flavour-full parmigiano-reggiano over garden-picked rocket leaves. Deliciously light and nutritionally healthy.

The Cured Big Glory Bay Salmon from Ostro
Give yourself a pat on the back for turning down the iconic Lobster Snapper Pie but don't  fear missing out, as Ostro offers much else that marries high flavour with bursting health. The Cured Big Glory Bay Salmon is a dish that sings of summer, with a plate lined with labneh on top of which lie melt-in-your-mouth chunks of the freshest salmon. Paired with bursting salmon caviar, crunchy pickled daikon, carrot and granite, it's a multi-faceted and complex plate of creaminess, freshness and punchy flavours.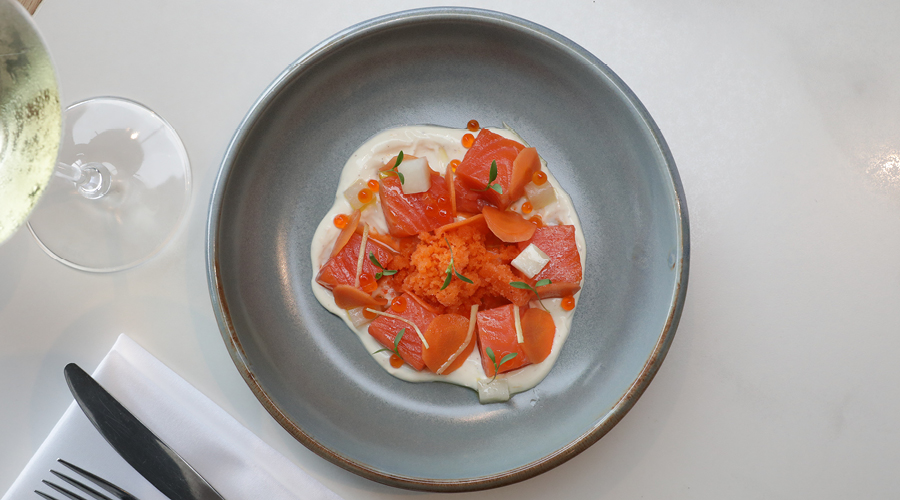 The Carrotes Rapées from Céleste
As regular patrons of Céleste who have tried every dish on the menu, the Carrotes Rapées is a firm favourite that is ordered every time we visit. This dish has redefined carrots for us, proving that it's a seductively moreish vegetable. Described as thinly shredded carrots simply doused in dill and crunchy pistachios, the carrots seem to harbour what we suspect is a hidden key ingredient that the menu will never reveal. In fact that magic touch marks out this neo-bistro. The fare is always light while still showcasing the rich natural flavours and avoiding any hint of over-powering sauces. Mouth-wateringly good.