Whether the saying 'breakfast is the most important meal of the day' is true or false, that's beside the point. What's important is, breakfast is delicious and that's a fact. From both trusty regulars and new obsessions, these brunch dishes from our favourite cafes are all the motivation you need to get out of bed.
Cilbir Eggs or The Full Bones from Honey Bones
It's easy to see why both locals and hungry visitors flock to Grey Lynn's Honey Bones every Saturday (or every day for that matter). The middle-eastern inspired menu is so good that it's hard to pick just one dish. The Cilbir is a crowd-pleaser with perfectly poached eggs nestled in a bed of creamy Greek yoghurt and served with a side of crisp sourdough and chilli butter to mop it all up. For those wanting something a little more classic, the Full Bones has all your bases covered. Two eggs, bacon, mushrooms, hash, avocado, whipped feta and sourdough. What more could you want?
Stracciatella Pita from Williams Eatery
Williams' ever-revolving menu of pitas is not to be missed. No matter what delectable flavour combination might be on offer during your visit, we can guarantee you that it's going to be good. Currently, the Wynyard Quarter eatery has a stracciatella rendition on the menu featuring their crispy, buttery pita topped with oozy stracciatella cheese and fresh radicchio, with pickled rose onions and heirloom tomatoes for crunch and flavour.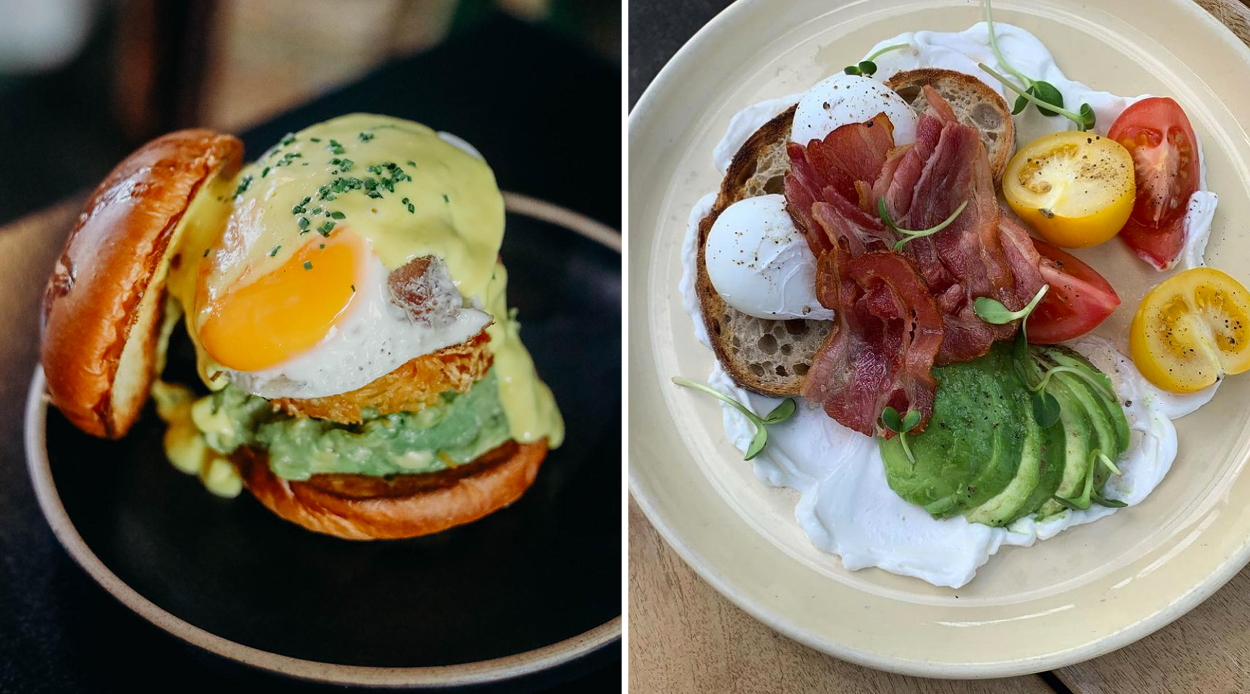 The Breakfast Burger from The Candy Shop
With a name that suggests more guzzling on gummy bears than indulging in hearty breakfast fare, since opening in 2018, The Candy Shop has gone on to build a solid reputation for its genre-bending food. The delectable breakfast burger is arguably the best in town, loaded with a fried egg, bacon, a crispy yet fluffy potato rosti, herbed avocado, creamy hollandaise and a salty, sweet and sticky bacon jam.
Odettes Complete from Odettes
For a fresher take on the classic big brekkie, opt for the Odettes Complete. A staple on the menu since day dot, the dish comes with two poached eggs, a colourful array of juicy heirloom tomatoes, avocado, crispy bacon and an addictively good whipped feta that will have you scraping up every last bite.
Kedgeree from Ozone Coffee Roasters
From the first time we first visited the Ozone Coffee Roasters to this very day, the smoked fish kedgeree has never done us wrong. The rice is mixed with creamy labneh, salsa verde and kumara crunch for texture. Last but not least, a poached egg adds richness to the entire dish as the golden yolk runs through the rice. Swoon.
Ricotta Toast from Florets
For those wanting something extra wholesome, Grey Lynn newcomer Florets has you covered. Founder Maya Handley has garnered a dedicated following over the last two years for her delicious organic, whole-grain loaves that are made using locally sourced ingredients. Our pick for something sweet is the homemade ricotta honeycomb and olive oil or slow jam served on oat porridge sourdough. For savoury lovers, the whipped macadamia with peas and beans on rye is also delicious.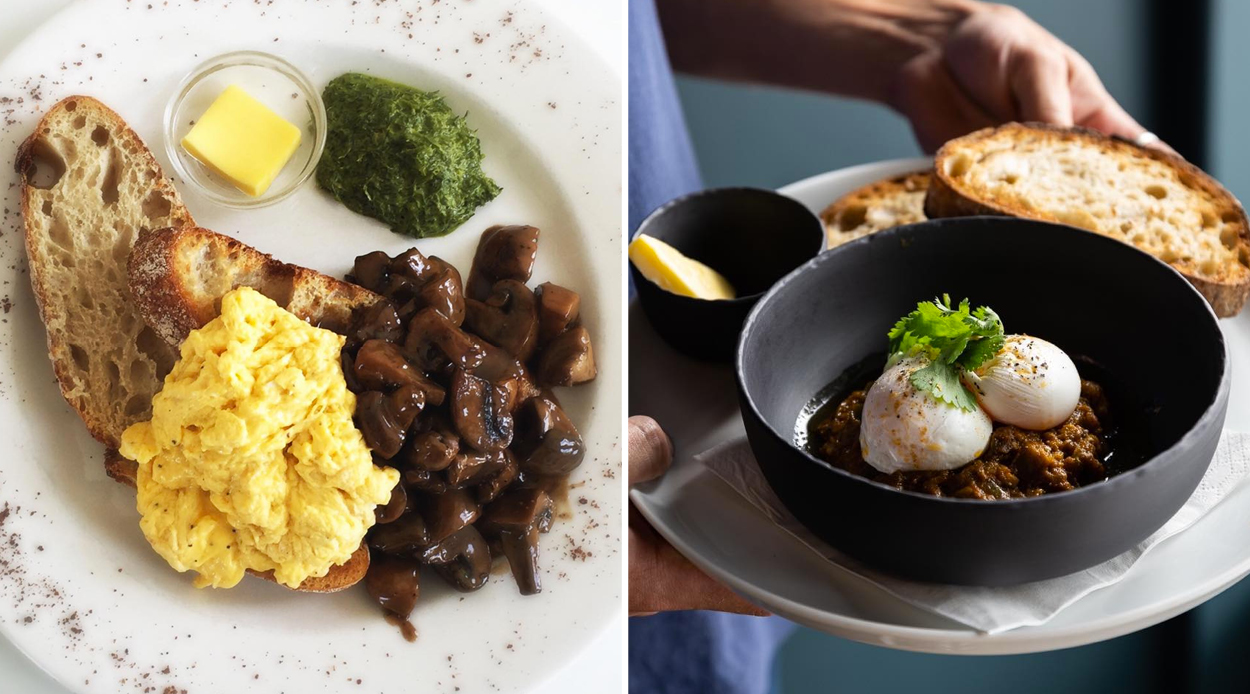 Half-and-Half from Dizengoff
Not a new dish, but one that consistently guarantees premium quality — the half-and-half from Dizengoff. Any mushroom fan is bound to know about this dish — rumour has it that this is the best interpretation of creamy balsamic mushrooms in town. Meanwhile, the other half of the plate is accompanied by scrambled eggs to create a perfectly balanced breakfast.
Bharta Eggs from Seabreeze
Seabreeze, a Westmere favourite, is renowned for the bone marrow burger for lunch and the Bharta eggs for breakfast. The perfectly poached eggs are served with an aubergine puree and whipped yoghurt. Finally, the chilli butter adds a decadence to the breakfast, making it the perfect accompaniment to the crispy, toasted sourdough on the side.
V.B from Hare and the Turtle
We love it when a place does one thing well, and for New Windsor cafe Hare and the Turtle, that's sandwiches. We can't go past the V.B, a sinfully good sandwich that consists of a fried egg, melted Edam cheese, crispy hash brown and chutney, all in a housemade bun.
Acai Bowl from Little Bird
When you're in serious need of healthful nourishment, look no further than Little Bird's acai bowl. A thoughtful and tasty blended bowl of acai berries, organic berries, coconut yoghurt, banana and "grawnola", this is exactly what you need to feel re-energised and ready to take on the day.