Whether the saying 'breakfast is the most important meal of the day' is true or false, that's beside the point. What's important is, breakfast is delicious and that's a fact. From trusty regulars and new obsessions, these brunch dishes from our favourite cafes are all the motivation you need to get out of bed.
Hot cakes from Dear Jane
Mt Albert's Dear Jane may be the new kid on the block, but they're most certainly experts when it comes to cooking up a damn good hot cake. Served as one airy, light pancake, Dear Jane's version is punctuated with blueberries and coconut, and served with seasonal fruit, maple syrup and mascarpone.
Fish cake from Bestie
Trust K Road cutie Bestie to serve up one of the best fish cakes we've come across. A smoked salmon fish cake is loaded with fennel, cucumber and walnut slaw, perfectly poached eggs and tempura fennel, plus pink peppercorns to boot.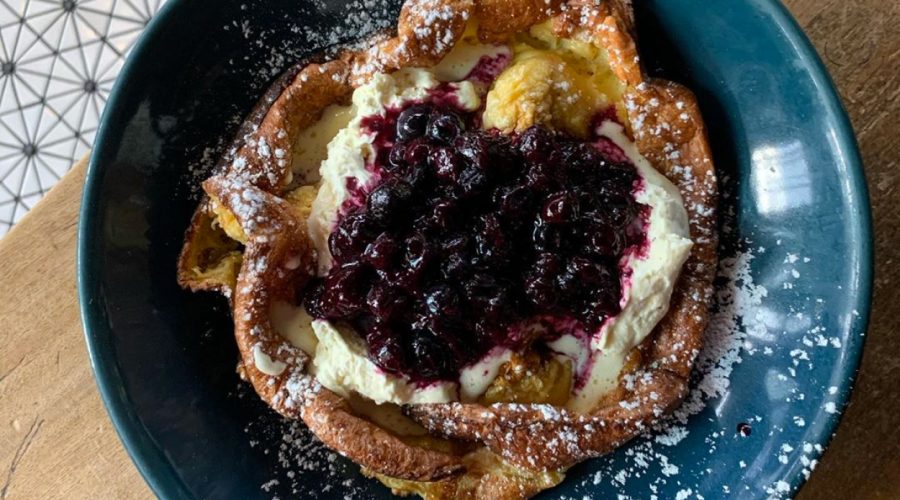 Dutch baby from Odettes Eatery
If you're yet to experience the deliciousness that is a Dutch baby, head along to Odettes quick smart. Part pancake, part Yorkshire pudding, this dish is must for anyone who prefers their brunch sweet and sugared. Odettes' version is a doozy, with crème fraîche, blueberry compote and rose sugar.
Istanbul scramble from Honey Bones
Honey Bones steps up standard scrambled eggs by taking Turkish pide, slathering it with creamy whipped feta and topping it with the fluffiest scrambled eggs. Then comes the curried cauliflower, followed by a drizzle of za'atar and chilli oil for an extra kick. It would be remiss not to mention the crispy sage, which acts as an aromatic finishing touch.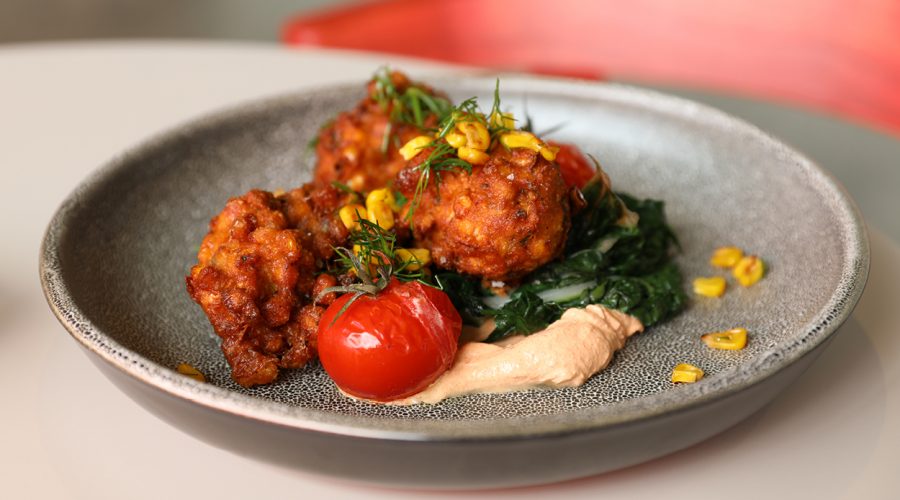 Corn fritter balls from Lola
Lola's menu features the classics and the somewhat forgotten, championing nostalgic meals that aren't so widely popular within the mainstream cafe scene. With this in mind, it's no surprise Lola's take on this dish is one of the tastiest interpretations around. The morsels (which taste almost like falafel) are loaded with juicy corn kernels and sit atop a herby labneh with blistered tomatoes and local greens. You can add house-cured salmon or bacon if you feel so inclined.
Rice porridge from Williams Eatery
You know what's underrated? Porridge. Warming, healthy and satisfying, porridge is arguably the perfect breakfast meal. The iteration on Williams Eatery's menu is more luxe than you'd probably make for yourself at home, with orange blossom, pistachio granola and cranberries. Wholesome.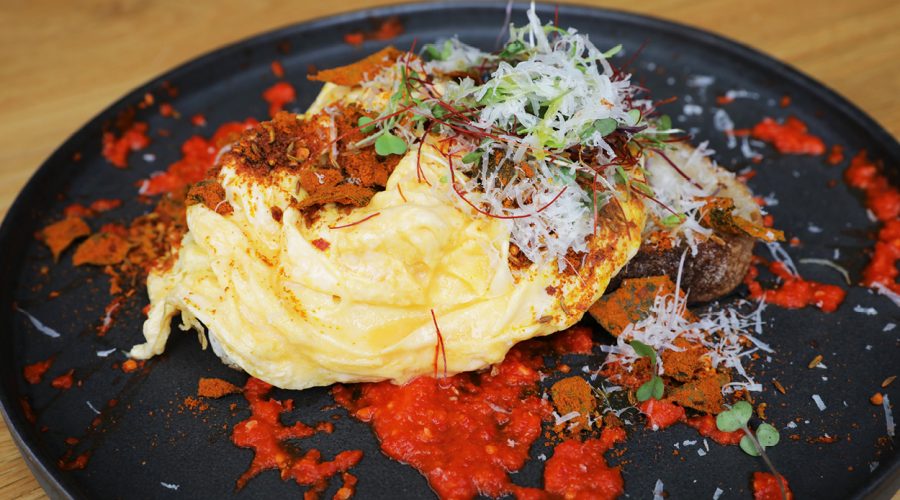 Fermented chilli scramble from Wren Cafe
We all love a classic scrambled egg for breakfast, however the fermented chilli scramble from Mt Wellington's Wren takes it to the next level. A crispy slice of sourdough is topped with fluffy scrambled eggs flecked with parmesan, coriander, chilli floss and fried curry leaves. The sauce is laced with aroma-rich lemongrass, giving a zestiness which contrasts nicely with the creaminess of the egg scramble.
Kedgeree from Ozone Coffee Roasters
From the first time we first visited the Ozone Coffee Roasters to this very day, the smoked fish kedgeree has never done us wrong. The rice has been mixed with creamy labneh, salsa verde and kumara crunch for texture. Last but not least, a poached egg adds richness to the entire dish as the golden yolk runs through the rice. Swoon.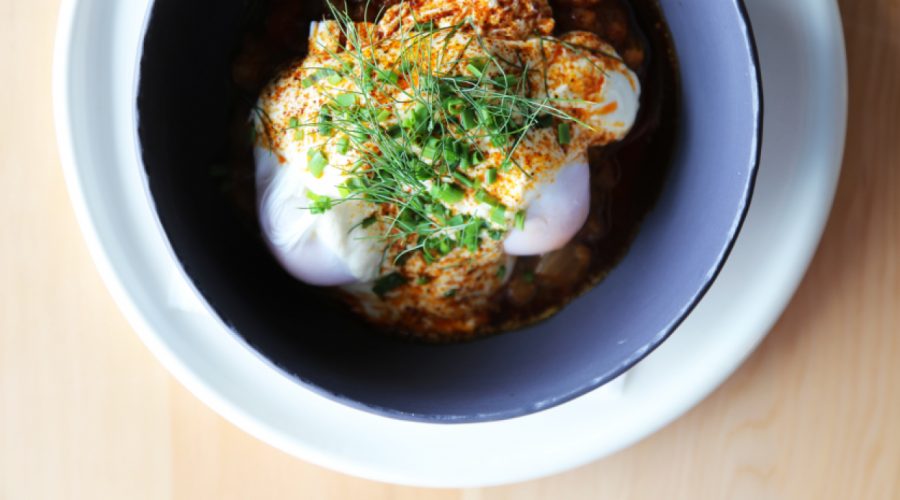 Bharta eggs from Seabreeze
Seabreeze, a Westmere local favourite, is renowned for the bone marrow burger for lunch and the Bharta eggs for breakfast. The gorgeously poached eggs are served with a beautiful aubergine puree which mixes into the whipped yoghurt and forms a lovely flavour that resonates with a baba ganoush dip. Finally, the chilli butter adds a decadence to the breakfast, making it the perfect accompaniment to the crispy, toasted sourdough on the side.
1/2 and 1/2 from Dizengoff
Not a new dish, but one that consistently guarantees premium quality — the 1/2 and 1/2 from Dizengoff. Any mushroom fan is bound to know about this dish — rumour has it that this is the best interpretation of creamy balsamic mushrooms in town. Meanwhile, the other half of the plate is accompanied with scrambled eggs to create a perfectly balanced breakfast.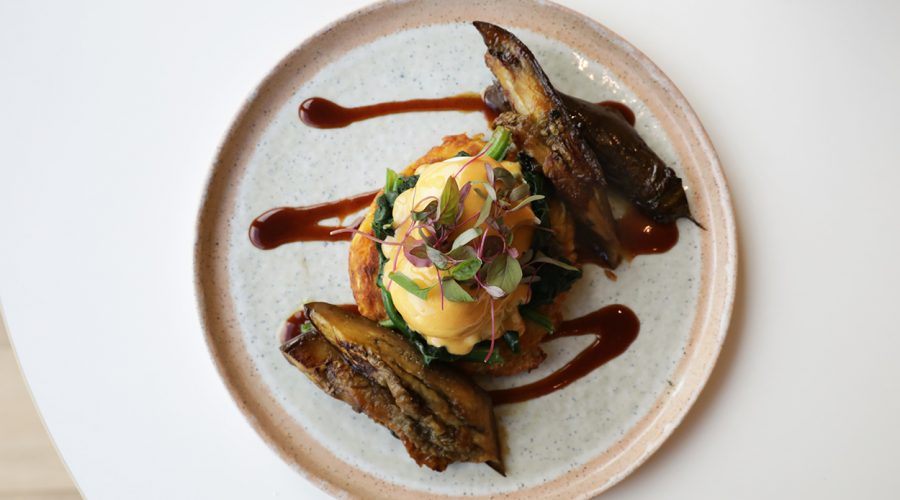 Eggs Benedict with miso eggplant from Fields
With the aim to recreate brunch classics with a contemporary twist, Fields chef Logan Wang has played around with this morning staple by swapping out English muffins for a Japanese pancake, otherwise known as okonomiyaki, and your choice of side (think salmon, bacon or teriyaki eggplant).
V.B from Hare and the Turtle
We love it when a place does one thing well, and for New Windsor cafe Hare and the Turtle, that's sandwiches. We can't go past the V.B, a sinfully good sandwich which consists of a fried egg, melted edam cheese, crispy hash brown and chutney, all on a housemade bun.
Acai bowl from Little Bird
When you're in serious need of nourishment, look no further than Little Bird's acai bowl. A thoughtful and tasty blended bowl of acai berries, organic berries, coconut yoghurt, banana and grawnola, this is exactly what you need to feel re-energised and ready to take on the day.