Grey Lynn is abuzz with the arrival of Florets, a new bakery and cafe with a deliciously wholesome offering and welcoming site. The evolution of founder Maya Handley's popular by-delivery sourdough business Kōpiko, her first brick-and-mortar store opens with a new name and fresh partnerships with other like-minded makers.
Having trained in New York, Handley has garnered a dedicated following back home for the last two years, for her delicious loaves that are made using organic, whole-grain, spray-free and locally sourced ingredients.
"It was always my intention to open a physical space once my customer base and dough formula was established," she tells Denizen. The search for the perfect location took about a year, and the heritage building that Handley settled on is ideal in that it's well-placed for both her centrally-located and West Auckland customers.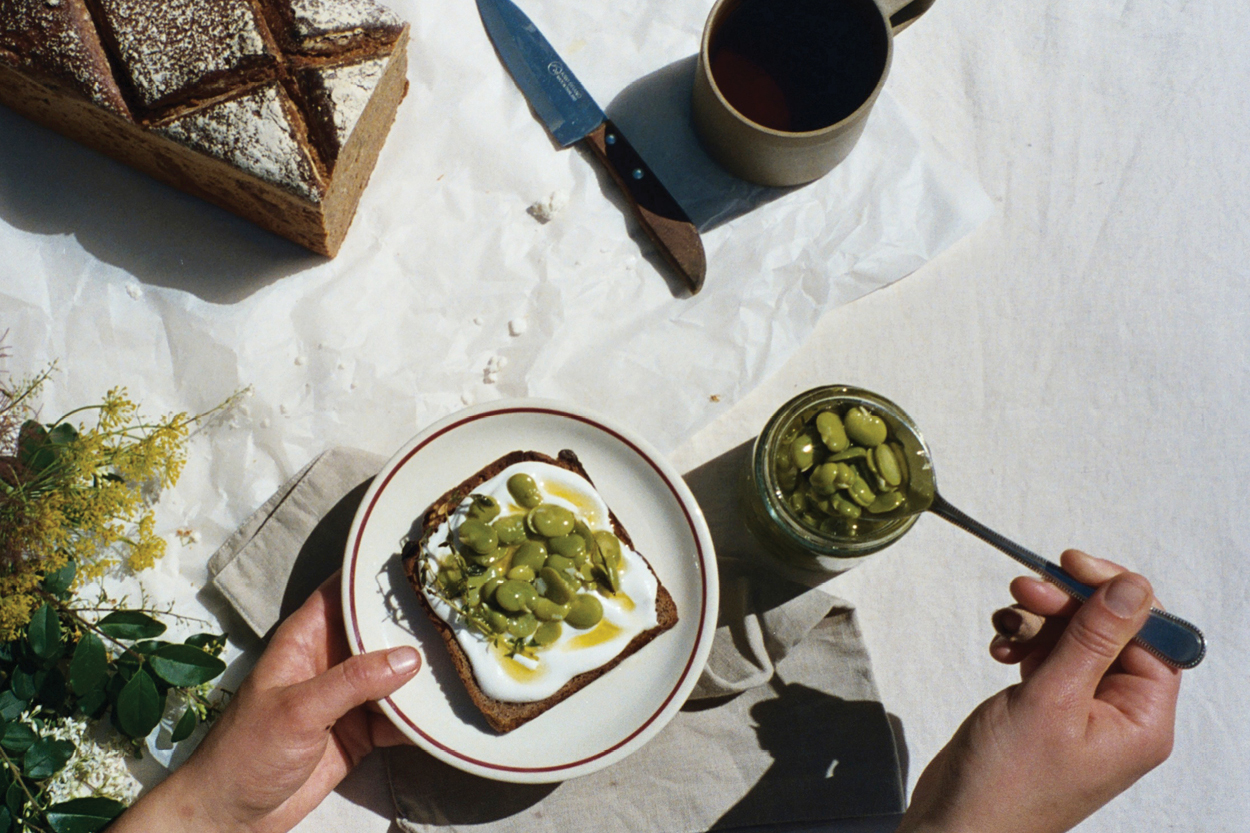 The Hatch and Sam Boanas-designed, two-level space is comfortably intimate, and that's exactly how she intended it to be. "We wanted to create a bakery where we could share the experience of what we're making with customers," she says, "a direct connection from where we're baking and shaping the bread, to where people are eating it."
Florets' dine-in menu has been created in collaboration with Freya de Beer Smith of Pomona, whose deli goods are heroed in the sandwiches and on toast, and are also for sale to take home. Like the bread they pair with, Pomona's pickles, cheeses and condiments are meticulously handmade using organic, local produce.
Within the sandwich selection, find the likes of heirloom tomato with charred peppers and quark and smoked fish rillettes with sea greens and fennel, and pickled egg salad with horseradish. On toasted "oat porridge" sourdough, there's whipped macadamia with broad beans and herbs, and homemade ricotta with honeycomb and olive oil or slow jam.
All of the above sound simple, but every bite sings thanks to each element being of such high quality. There are also a couple of sweet treats at the counter, like sourdough banana loaf and seeded morning cookies. Flight Coffee is providing excellent brews to pair with all of the above, and you can buy any of Florets' loaves to take away, with the delivery service still continuing for those who like their bread transported to their door.
Florets celebrates the beauty of collaboration — it's even in the name. "A wheat flower head is made up of many tiny flowers, known as florets," said Handley in an Instagram post. "I like that florets always exist together in a group to form a whole flower. In the same way, a bakery cannot exist by itself, we rely on the farmers who grow our grain and the community we bake for."
"We are very grateful for the support of our customers", she said, "which allows us this opportunity to open a bakery and we're excited to be able to bake more bread and serve a wider community from our new home."
Opening hours:
Wednesday to Sunday: 7:30am — 2:30pm
Closed Monday and Tuesday
Florets
596 Great North Rd,
Grey Lynn