Balmy summer days have been replaced by cold, rainy nights, and a hunger for foods that warm us from the inside out. While it's not quite soup weather yet, we're nearly there, and dinner reservations see us seeking comfort and warmth. The city's restaurants know this too, with many adapting seasonal menus to offer the best winter warmer dishes that are inspired and soul-soothing.
So for when the fireplace doesn't feel quite warm enough, or your usual favourites no longer cut it, these are the dishes across the city that you need to be eating for a touch of winter warmth.
Slow-Cooked Coastal Lamb Shoulder — Hello Beasty
While Hello Beasty's menu is designed to be shared, we wouldn't blame you for keeping this dish to yourself. Again drawing on the wintery flavours of lamb at its best and served with red chilli, Szechuan sauce, coriander and mint, it incorporates heat in every sense of the word and is drawing us down to Viaduct Harbour this winter.
Chestnut Gnocchi — Faraday's Bar
Faraday's Bar — located in Faradays department store — is perhaps Parnell's best kept culinary secret, with a refined menu that heroes some of the country's best produce. Now, as cooler days start to take over, its dishes like Faraday's chestnut gnocchi that we turn to. Served with mushrooms, egg yolk and pecorino, this is a creative take on classically comforting flavours, and we can't get enough.
Chargrilled Chicken — Amano
Amano can always be relied upon for its sensational takes on seasonal produce, and this dish is no exception. Embracing the best of winter foods, this chargrilled chicken feels much like a precursor to a Sunday roast, only here, its celeriac, onion and rosemary that drive the flavours. Our advice? Order with side of chargrilled Brussels sprouts to round out the meal.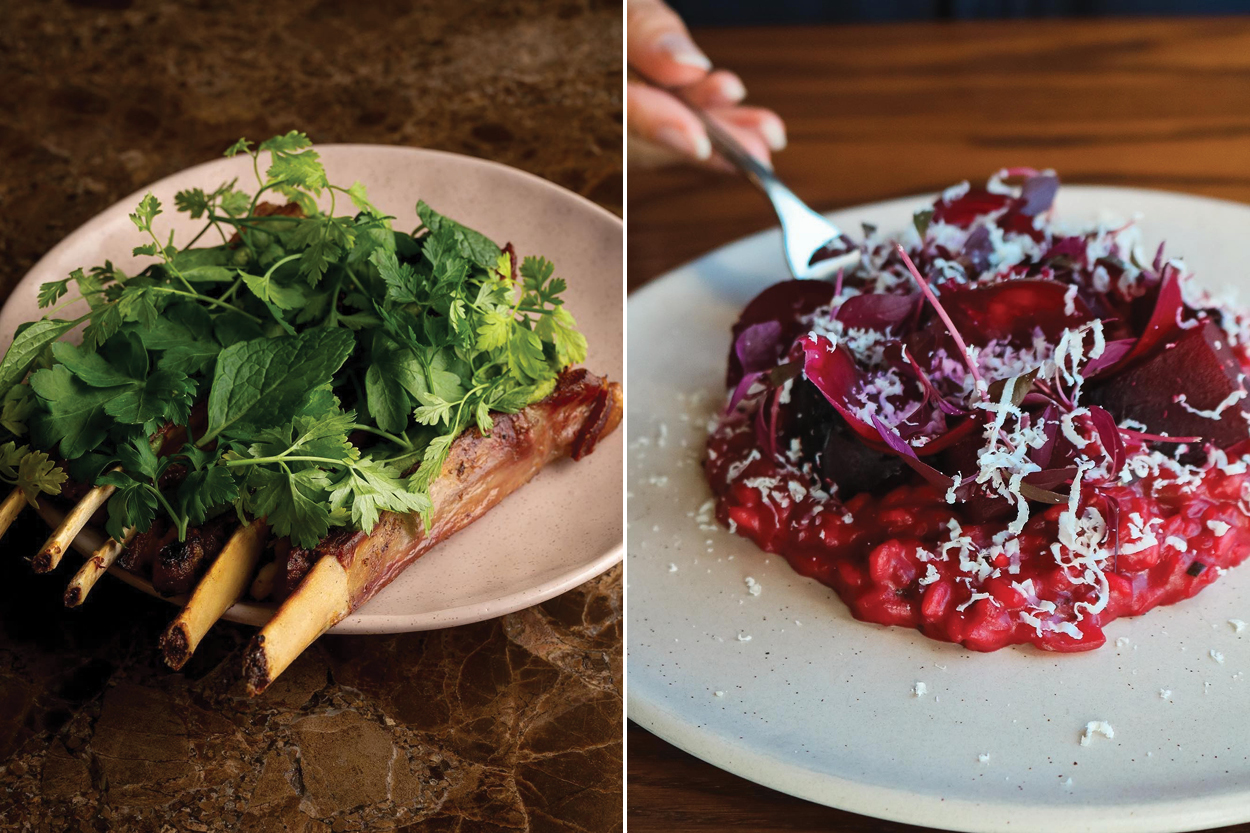 Lamb Ribs 'Pyanggang' — Bar Magda
Lamb is one of the most comforting things to eat in winter and Bar Magda's fresh take offers both the warmth and flavour we crave. Made via a traditional Filipino method of cooking, this iteration of lamb ribs is served with soft herbs and green sambal, and is a flavoursome, moreish dish we can't help coming back to time and time again.
Beetroot Risotto — Andiamo
This Herne Bay mainstay offers exactly what we crave in the cooler months, with a number of dishes designed to satiate our seasonal needs. That said, the new beetroot risotto is a particular standout, offering a comforting combination of red wine, roasted shallot, salt-baked beetroot and ricotta salata.
Roasted Eggplant — Onemata
Although often praised for its elevated seafood offering (which makes sense considering its views across the water) Onemata's vegetarian options are nothing to be sniffed at. In fact, the roasted eggplant is one of our favourite dishes, particularly at this time of year. Served in a pool of babaganoush with truffle and date syrup, the magnificent flavours of this dish shine in their simplicity, and will enchant even the most avid meat-eater.
Aged Beef Fillet — Non Solo Pizza
Hearty, beautifully-cooked and full of mouth-watering flavour, Non Solo Pizza's aged beef fillet is a must on any winter warming list. Proving the power of simple foods done perfectly, this beloved dish pairs its expertly-prepared meat with slow-roasted tomatoes, crispy polenta and a healthy dose of garlic butter, for good measure.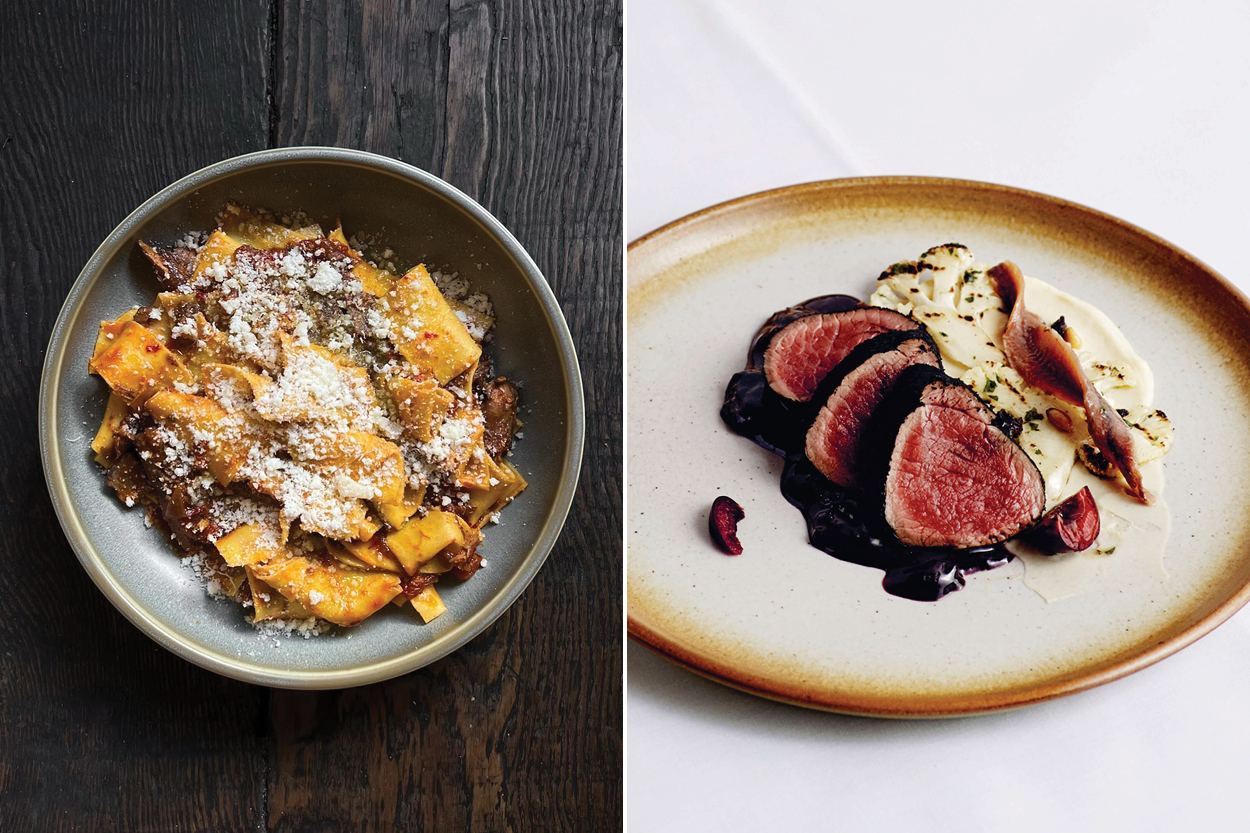 Maltagliati & Beef Cheek Ragu — Cotto
Cotto's seasonal pasta dishes have all of the makings of winter classics, and the restaurant's refined approach keeps the offering elevated. Here, mouthwatering beef cheek ragu is combined with fresh handmade pasta and peppercorns to offer the perfect medley of warmth, comfort and flavour.
Grilled Venison — Cazador
Dominion Road's Cazador is renowned for its approach to meat that is second to none in this city. With a delicious menu and cosy interior perfectly suited to winter, Cazador boasts a range of options that will warm the soul this season, but its grilled venison is one of our favourites.
Ricotta Tortellacci, Pumpkin, Sage, Pancetta — Ortolana
Offset rainy days by cosying up in the pillowy fit-out of Ortolana to enjoy this delicious ricotta tortellacci. The classically warming combination of pumpkin and sage hits the perfect note, making this dish must for anyone seeking some lunchtime comfort on cold days.
Paoutsakia — Lokanta
Grey Lynn's Lokanta is a hidden gem, beloved for its homely take on Mediterranean cuisine, and its Paoutsakia is a must-try. A traditional, beautiful dish of melting eggplant stuffed with Turkish green beans, potato and chickpea smash and rocket, it is exactly this kind of tasty goodness we want to eat right now.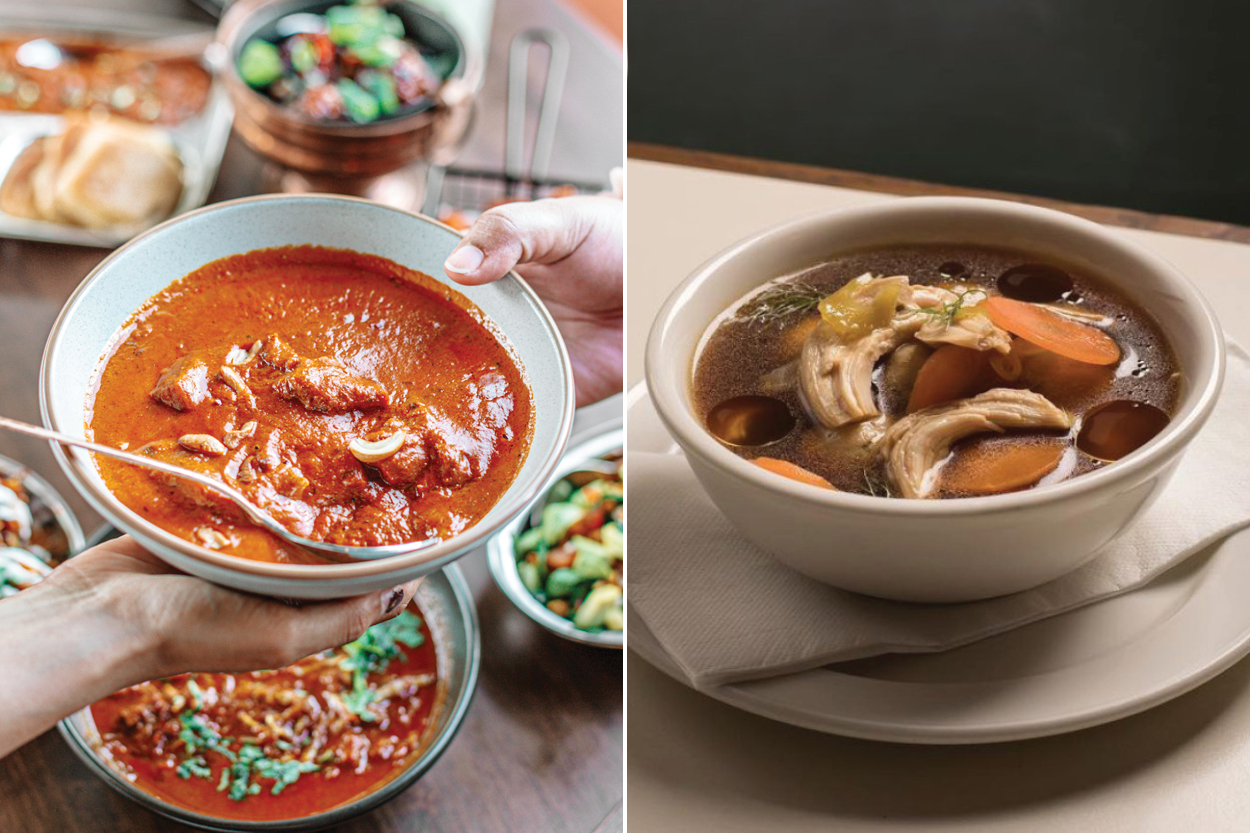 Murgh Makhani (with Garlic Naan) — Mumbaiwala
When it's cold outside, few things hit the spot like a butter chicken. At Mumbaiwala, the elevated take on Indian cuisine provides the perfect comfort. Murgh Makhani is a traditional take on butter chicken (and so good that we are ruined for others), served with impossibly tender chicken pieces in a rich silk (Makhani) sauce with fresh tomatoes, sundried fenugreek and a side of satiating garlic naan.
Matzo Ball Soup — Federal Delicatessen
Known as the 'Jewish Penicillin', this particular type of chicken soup boasts the remarkable ability to make one feel like all is right with the world. The Fed's take is truly delicious, and will indeed encourage this feeling of toasty wellbeing, served as it is with shredded chicken and bagel matzo balls, for a dish is destined to warm you from the inside out.
Alpine Merino Lamb Rump — Oyster & Chop
Viaduct Harbour's Oyster & Chop is renowned for its cuts, and the Alpine Merino Lamb Rump can't be faulted. Cooked to your definition of perfection, this is one of the best places for a steak in the city, and one that should not be looked past this season.